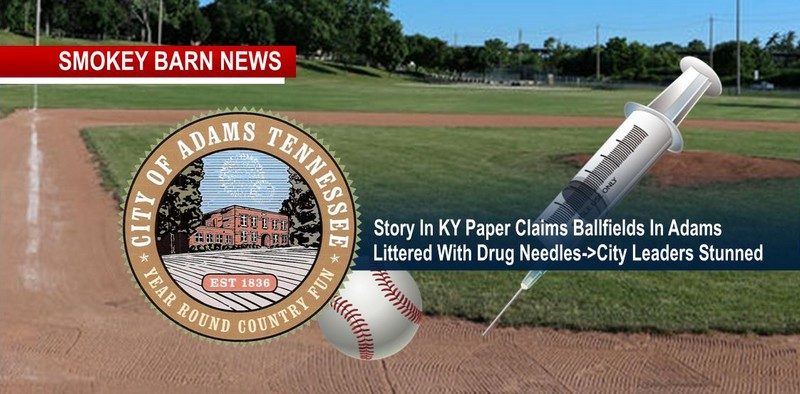 Story In KY Paper Claims Ballfields In Adams Littered With Drug Needles – City Leaders Stunned
ADAMS TENNESSEE: (Smokey Barn News) – City leaders in Adams have been left scratching their heads following a recent story in a Kentucky paper. The story alleges that officials have to clean drug needles (syringes) off their ball fields before they can play games.
The story, which appeared this week in the Kentucky New Era reads: "Todd County Health Department Director Jen Harris considered the news that folks in neighboring Adams, Tennessee, have had to clean syringes off their ball fields so they can play games.
"Not too long ago in Mount Sterling, more than 240 miles away in eastern Kentucky, 12 people died from a bad batch of heroin in one weekend, and in Todd County, four people have died due to opioid overdoses in the weeks since Christmas, the director told magistrates on Friday during a Todd County Fiscal Court meeting."
As you can see, the quiet community of Adams (with a population of about 650) has been placed in the same company as Mount Sterling Ky (population 7,209) and Todd County Ky (population 12,243) both carrying larger demographic related issues.
After discovering the report in the Kentucky New Era, Smokey Barn News did some investigating. We reached out to Adams Fire Chief Ray Brown, Adams Mayor Mary Mantooth and other city officials. We also reached out to the Robertson County Sheriff's Office, the Robertson County 911 Dispatch Center, the Robertson County Emergency Management Agency and Robertson County Schools. All said they had no reports or calls about drug needles on the ballfields in Adams.
Smokey Barn News then reached out to the Kentucky New Era about the allegations to see if we could gather more info that could possibly lead us to the name of the person or persons that were allegedly finding the needles. Officials in Adams are very interested in chatting with this person to try and determine if, in fact, the city does have a problem. "If it's real, then maybe we need to step up patrol in the area," said Fire Chief Ray Brown.
Smokey spoke to Tonya Grace, a Staff Writer at the Kentucky New Era, and the author of the story. She told Smokey Barn News in a voicemail that the Todd County Health Department Director (mentioned in the story) received the information from Guthrie's former Police Chief Mathew Humble who received the information from a friend. Grace added that Humble had tragically lost his life a few months ago to cancer at age 37. Humble's Obituary
In one last attempt to get to the bottom of the allegations, Smokey Barn News discovered that the new Guthrie Police Chief, Dean Blumel, and the former Chief, Humble, were good friends so we called him. Blumel, who has lived in Adams for over 20 years, told Smokey Barn News that he did indeed remember Humble talking about someone he knew finding a drug needle on a ballfield someplace but Blumel could not recall what city it was and it was his impression that the incident was just a singular event, not an ongoing problem like the article implies.
One way or another, officials in Adams are eager to talk to the person or any person that may be picking up drug needles on their ballfields before games. It's not just a matter of the city's reputation, it's a matter of public safety. Officials in Adams made it clear, if they do have an issue, they would like to address it as soon as possible.
If you have any information pertaining to this story email us at [email protected]
Smokey Barn News (Advertisement)
We bring you ALL the News in and surrounding Robertson County, Tennessee.