Surveillance Video Captures Fatal Robertson Accident…
SPRINGFIELD TENNESSEE: (Smokey Barn News) – In Robertson County, we have had our share of crashes. Back in May, we released a report from the THP indicating that Robertson County ranked 20th out of 95 counties in Tennessee for rollover crashes alone. Smokey Barn News has covered many of these crashes and the tragic aftermath they leave in their wake.
On Friday, two vehicles collided head-on on Hwy 41 between Springfield and Greenbrier killing one person and injuring three more. Full report What sets this incident apart is that it was captured on the surveillance camera of a local business, Highway 41 South Motorplex. The company told Smokey Barn News that they decided to release the video to the public because, for them, watching the video was a wakeup call and they felt it would benefit other drivers to see what can happen in just a second.
This video captures the awesome power that is the potential that we all face every day on our roads. With many narrow two-lane roads in Robertson County, we are all heading right at each other at over 100 miles an hour just inches apart. In effect, we are all putting our lives in each other's hands every day. Reaching in the glove box or just answering the phone can pull your attention away from the road. Look away for just one full second and that's enough time to put you in oncoming traffic.
We will offer a warning, the video below is graphic and a man lost his life. This is not an attempt to be gratuitous but just simply to remind each of us, particularly this time of year, to drive carefully because it only takes a second to change your life and someone's else's life forever.
The thoughts and prayers of the staff at Smokey Barn News are with the family and friends of everyone touched by this tragedy as they face the days ahead.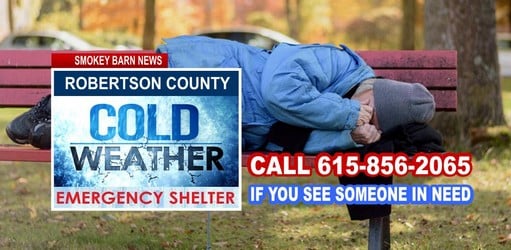 We bring you ALL the News in and surrounding Robertson County, Tennessee.