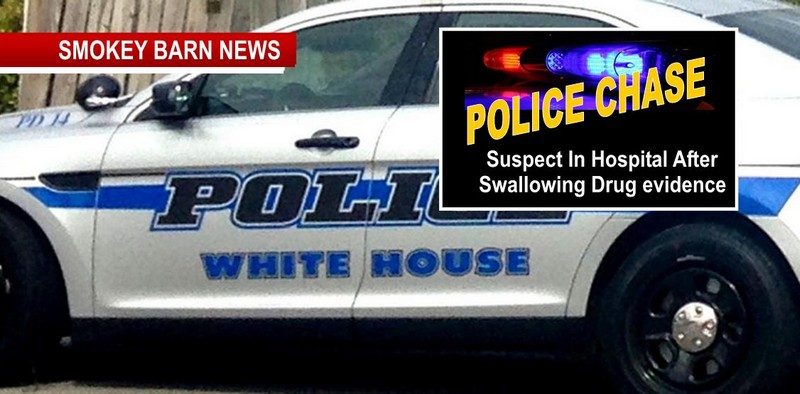 Suspect Swallows Drugs After Police Chase, Officials Waiting For Evidence To Emerge
WHITE HOUSE TENNESSEE: (Smokey Barn News) – White House Police are in a wait-and-see mode after a suspect admitted he swallowed a bag containing crystal meth following a chase through the city Wednesday afternoon.
The chase started around 3 pm when White House Police attempted a traffic stop on Hwy 76. Instead of pulling over, the suspect took off heading onto I65 North, according to White House Police Chief Pat Brady. Just as police considered ending the pursuit for public safety reasons, the suspect cut through the median at the 109 and headed back South on I-65, reentering White House jurisdiction. The chase ended up back on Hwy 76 East followed by a turn onto Sage Rd where the suspect abanded his vehicle near the Standard Apartment Complex. MAP A short foot pursuit followed ending in a breezeway where the suspect was captured.
Immediately after the suspect was taken into custody he told police that he had swallowed a bag of meth. We can only guess the suspect's confession came in hindsight over concerns that the bag could rupture. According to White House Police Chief Pat Brady, if the bag did rupture, it could put the suspect's life in danger.
Chief Brady told Smokey Barn News that the suspect was transported to an area hospital where he will be monitored through the night for his own safety until the drugs reemerge. Brady added that, when the drugs do emerge, they will be taken into evidence.
Felony Evading, Possession of schedule II, and Tampering with evidence are some of the charges the suspect could be facing, Brady said.
Smokey Barn News (Advertisement) 
We bring you ALL the News in and surrounding Robertson County, Tennessee.