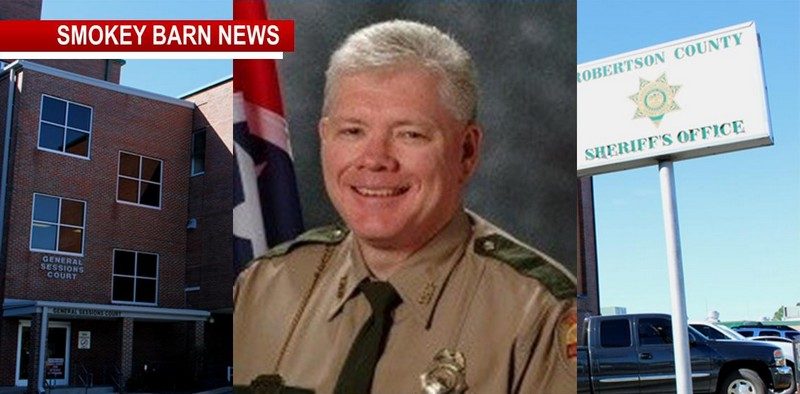 Teddy Douglas Announces Run For Robertson County Sheriff
ROBERTSON COUNTY TENNESSEE: (Smokey Barn News) –  Following 31 years with the Tennessee Highway Patrol, Teddy Douglas has announced a run for Sheriff of Robertson County.
"My name is Teddy Douglas and I am a candidate for the Office of Sheriff here in Robertson County. I am a lifelong resident of Robertson County. I was raised in the Stroudsville community, attended elementary school at Bell School in Adams and graduated from Jo Byrns High School in Cedar Hill. The information below sets out a little about who I am and sets out some concerns I have and why I want to be "YOUR" Sheriff. I need your help and input to make changes that will be beneficial to all citizens of Robertson County. It's time for your voice to be taken seriously. If you honor me with your vote I promise that your voice will be heard and acted upon. I can't please everybody but I can listen.
"I recently retired from the Tennessee Highway Patrol with over 31 years of service, served 5 years with the Goodlettsville Police Department, totaling 36 years of law enforcement experience. Upon retirement from the Highway Patrol, I was a Lieutenant in the Nashville District in charge of the Special Programs Unit covering twelve counties in the upper mid-state.
"I currently serve on the Board of Directors here in Tennessee for a National Railway Crossing Safety Organization known as Operation Lifesaver.
"I sincerely want to return to the basics and bring the Sheriff's Department back into the community. We must establish a commitment to our citizens, one and all, to be a positive example and have true concern and compassion for those in need. The Sheriff's Department needs to get into the community and focus on crime prevention and education. This can't be done if they are not out in the county patrolling and communicating with the citizens. No restrictions on how many miles they can patrol. The Sheriff's Department must return to its roots and provide a sincere interest in the issues that concern our citizens. If there are no communications within the community then things grow stagnate and people lose confidence in the Department. This day and time there are a lot of issues abounding in the law enforcement arena. Law enforcement must step up and take responsibility and be committed to crime prevention and accountability. Our population, especially our youth which are our leaders for tomorrow, must have respect for law and order and it's the duty of all law enforcement to set an example and be positive role models. I will put the Deputies out in the county and I will have them involved in your community.
"I will seek to provide the best training for the Deputies and Correctional Officers to assist them in being the best at what they do. I seek a committed crime fighting Department that is devoted to curtailing drugs, burglaries, property thefts, vandalism, crimes against persons, etc.…and make this our top priority for all of Robertson County.
"I seek to have a working relationship with all entities within the County and their resources to provide additional efficiency for them and the Sheriff's Department.
Teddy Douglas for Sheriff of Robertson County
"The Sheriff's Department has an outstanding group of men and women who put their lives on the line every day for you and me. We must not only give them the respect they deserve we must give them the training, resources and leadership they need."
Goals
• Increase patrols in the rural areas of the county. This can decrease the number of burglaries, thefts and vandalism for starters. Starting point for line of communications.
• Increase public confidence in the Department. We must be genuine in our efforts to fight crime and support the victims. We must have compassion and a genuine interest in solving crimes and more importantly …preventing them.
• Create a line of communication between the Sheriff's office and other entities as well as the citizens. You have to listen to learn. I want to create not only a line of communication with the citizens but other law enforcement agencies, teachers, clergy, medical professionals, attorneys, farmers, industry leaders and most importantly, the victims. We must hear their voice and be a sounding board for them.
• Increase enforcement on drug crimes throughout the county not just in one small area.
• Increase training for not only road personnel but correctional personnel and court security personnel. Training is of the utmost importance in providing professional service to the citizens.
• Review all jail intake procedures to provide a quicker intake and exit.
• Review acceptance on number of state and federal inmates being incarcerated in the jail. Review fiscal impact of this practice.
• Review Dispatch and response functions and how to better serve citizens when requesting services.
• Work closely with the County Commission to maintain a conservative budget to lessen burden on taxpayers.
"I have listed just a few of the goals I feel could help the Department become more efficient and better at providing "customer service" to you the taxpayer. Preventing crime is a primary focus. As I have said previously I can't learn while I'm talking so please let me know of areas of true concern you might have that can make the Department grow in a positive way. Not all crimes can be prevented nor all cases solved but we will never know if we don't try.
"Working together as a whole, Robertson County can do nothing more than become greater each day. I look forward to working with each and every one of you.
"I have devoted over 40 years of my life to public service and it has been a privilege to serve. I feel that there is much more that can be done to make our community safer and stronger. Robertson County is growing and the Sheriff's Department needs a leader that has led and can lead. I have led from the front, not the office. I will continue to do so with the best interest of all citizens at heart. When I first became a Trooper I had the honor of working for some very devoted men. They were different in their own way. But they instilled in me Honor, Truth and Courage, which I embellish to this day. Some allowed me to see how to treat people and how not to treat people. I learned that not all people are the same but we must approach each with an open mind or else we become judgmental and selfish. Think about it…
"If you are ready for change, ready for proven leadership, true experience, real concern and a commitment to listen and act…….please help me become "YOUR" Sheriff."
Other Candidates:
Chief Deputy Van Dyke Announces Run For R.C. Sheriff
Joe Macleod Announces Run For Robertson County Sheriff

Smokey Barn News (Sponsor/Advertisement)

We bring you ALL the News in and surrounding Robertson County, Tennessee.