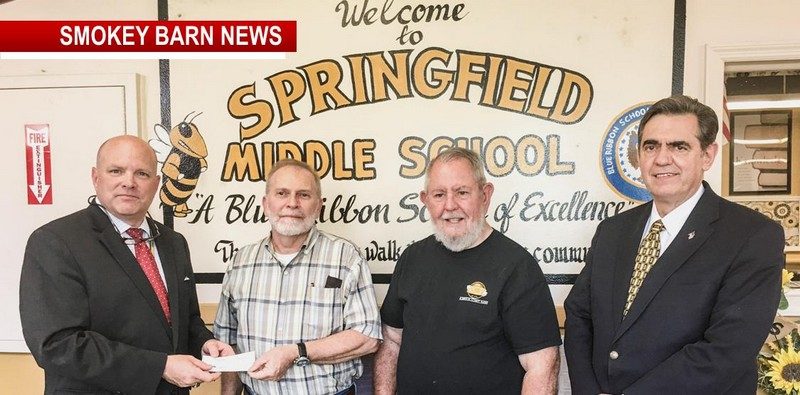 Two Gifts Kick Off Springfield Middle School Fundraiser
SPRINGFIELD TENNESSEE: (Smokey Barn News) – Ever wanted to own a seat in a theater? Ever wanted to have your name attached to a piece of history for generations to see? Here's your chance.
While the Springfield Middle School theater is still receiving a much-needed facelift, MORE– the school initiated their official Theater fundraiser on Wednesday, April 19, when they received two special gifts for the project.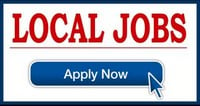 The first gift was a $15,000 donation by the Robertson County Players. This group has partnered with SMS over the years and has traditionally used the theater for their productions. They've had to forego that opportunity while renovations have been under way and are now looking forward to the grand reopening of the facility, which will once again place them on the stage they've occupied for years. To that end, they presented SMS principal Grant Bell a donation for use on renovation expenses.
The second special gift was from 1972 SHS graduate Paul Jones, who attended school in the building when it still housed high school students. Jones, a life-long Springfield resident, presented Bell a check to purchase two theater seats in his and his mother's names, and with that donation became the first to purchase seat sponsorships in the new theater.
"I thought that was a great fundraiser idea," said Jones, "and I wanted to honor my mother, Mary Elizabeth (Towe) Jones, who died last year in July, because she graduated in the class of '47. When I was growing up she used to always tell me how much she enjoyed school, and especially high school. The first seat that I bought was for her and then I bought one for myself.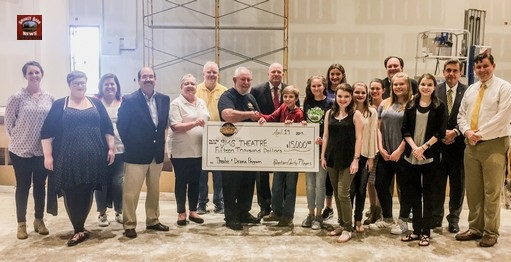 "I would encourage everyone who ever had good memories from that building, or people who have enjoyed plays there over the past years, to take advantage of this fundraiser and put their name or that of one of their family on one of the seats," he said.
Springfield High School, as well, encourages the rest of the public to take advantage of the opportunity to be a part of the restoration of this heritage building.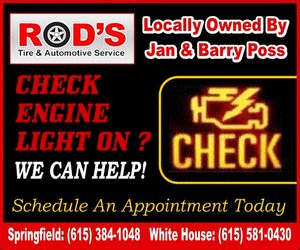 In a recent letter, Bell says, "Our goal is to offer sponsorship for every seat in our 800 seat auditorium. Individual seat sponsorship will be offered for $150 and discounts will be provided for multiple seat sponsorships. We thank you for your consideration and support as we strive to provide the best opportunity for the people of Robertson County to enjoy the arts. The SHS 1938 auditorium was one of the finest theaters in the United States. It will be again!"
For more information on how to become a sponsor, visit this website or call the school at 615-384-4821. Sponsorships can be purchased online or at the school and can be paid for by credit card or Paypal online. Cash or a check can be used at the school.
Bell noted that without the foresight of director Mike Davis this project would likely not occurred.
"I want to extend our most sincere gratitude to Mr. Mike Davis for his vision to see this project through. I will never forget the first visit he made to our theater his first month as director. He looked at me and said, 'We're going to restore this theater. Our children deserve better than this.' That vision is now becoming a reality."
The theater is expected to open in July.

Smokey Barn News (Sponsor/Advertisement)


We bring you ALL the News in and surrounding Robertson County, Tennessee.