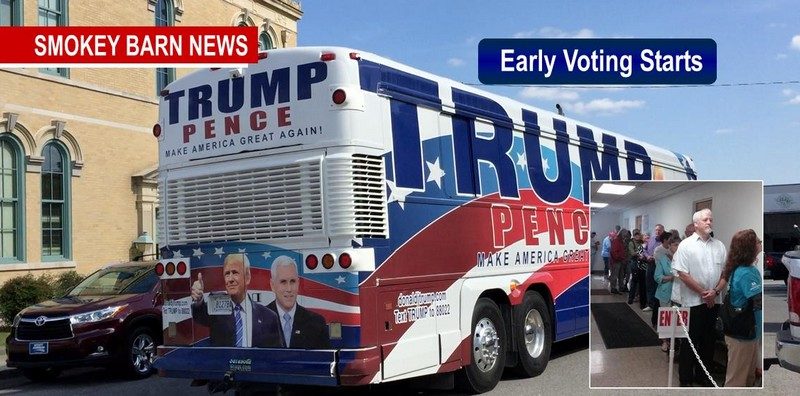 Trump Bus Shows Up As Early Voting Begins
SPRINGFIELD TENNESSEE: (Smokey Barn News) – It was a busy morning at the Robertson County elections office, according to Elections Administrator Cathy Hamsley.  "We had 85 to 100 people waiting in line to vote this morning,"Hamsley said.
By 1:15pm Robertson County already had a record turnout for early voting. "We had 821 voters come through to vote early. (Is that a big number?) That is a very big number, normally presidential elections are big but that is a record for the first day, and the day's not over yet," Hamsley said.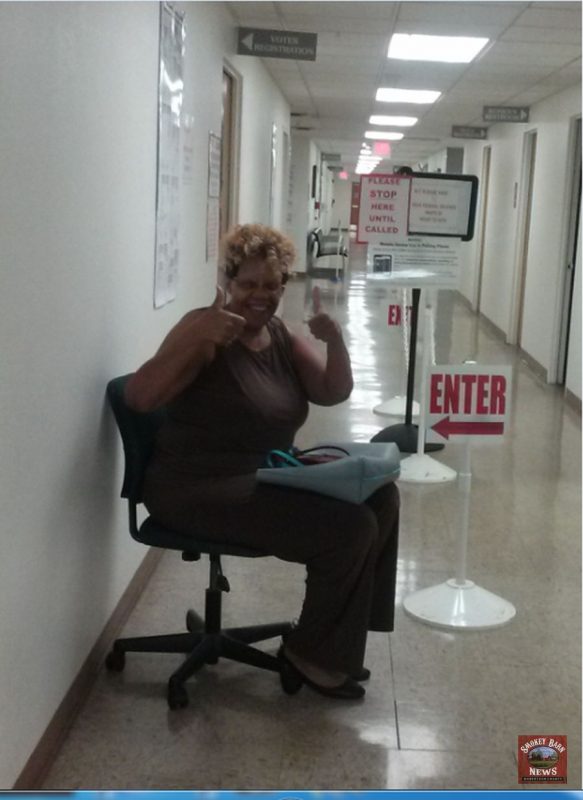 A Trump bus drove through Robertson County today. We say "a Trump bus" because as we understand it, Trump has never actually been on this bus but that didn't stop the rush on selfies with the bus. Smokey spoke to one woman that said she's voting for Hillery but still couldn't resist the opportunity to snap a shot.
The Trump bus made the rounds, stopping at O'Charley's, Walmart, the Robertson County Courthouse and (according to Hamsley) the bus showed up at the elections office and hung out for a little while too.
Smokey Barn News was flooded with calls about the conspicuous monstrosity as it pulled into Springfield.
Smokey Barn News spotted a woman looking at the bus. We asked her if the bus had any affect on who she would be voting for, she replied, "No."
The voting office is open until 4:30pm and early voting ends Thursday November 3.
Smokey Barn News snapped a few photos of Trump's bus for those of you that missed it, including a sneak peek inside the bus.
To see who's on the ballot, Click HERE
Early Voting Hours and Location:
October 19th – November 3rd
Monday – Thursday, 8:00 AM – 4:30 PM
Friday – 8:00 AM – 6:00 PM
Saturday – 8:00 AM – 2:00 PM
The Last week of early voting
Monday, Oct. 31st – Thursday, Nov 3rd
8:00 AM – 5:00 PM
Early Voting is open to all Registered Voters in Robertson County.
Avoid the rush on Election Day and take advantage of the convenience of Early Voting.
On Election Day you must vote at your assigned polling location.
Location:
Robertson County Election Office
Robertson County Office Building
513 South Brown St., Room 137
Springfield, TN
Smokey Barn News (Sponsor/Advertisement)