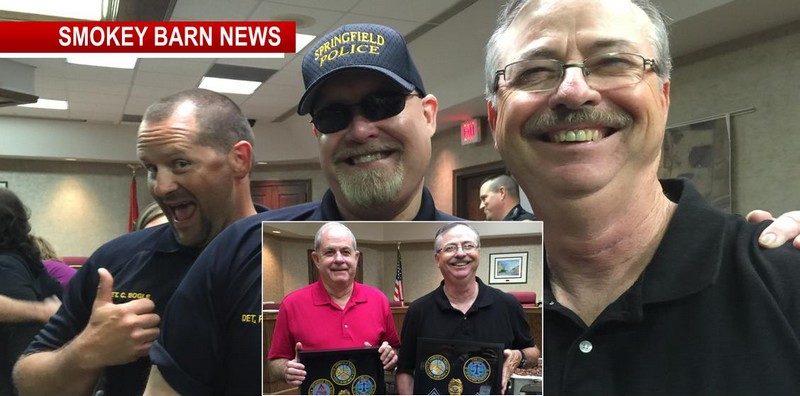 Two Top Springfield Officers Retire After Years Of Service
SPRINGFIELD TENNESSEE: (Smokey Barn News) –   Jimmy Grogan and Aaron Benton have been with the Springfield Police Department for many years.  Both men have had great careers and, by what we saw at their retirement party held at Springfield City Hall yesterday, they made lots of friends along the way.
Grogan and Benton were laughing a little about the weather, the day of their retirement party the city is hit with a big summer storm that took trees down all over the county.
Even with the weather, the farewell party was a who's-who that included the former Director of the 911 dispatch Center Elvis Wilson, the former Springfield Police Chief Mike Wilhoit, the current Springfield Police Chief David Thompson, detectives, the Springfield City Manager Paul Nutting and many more.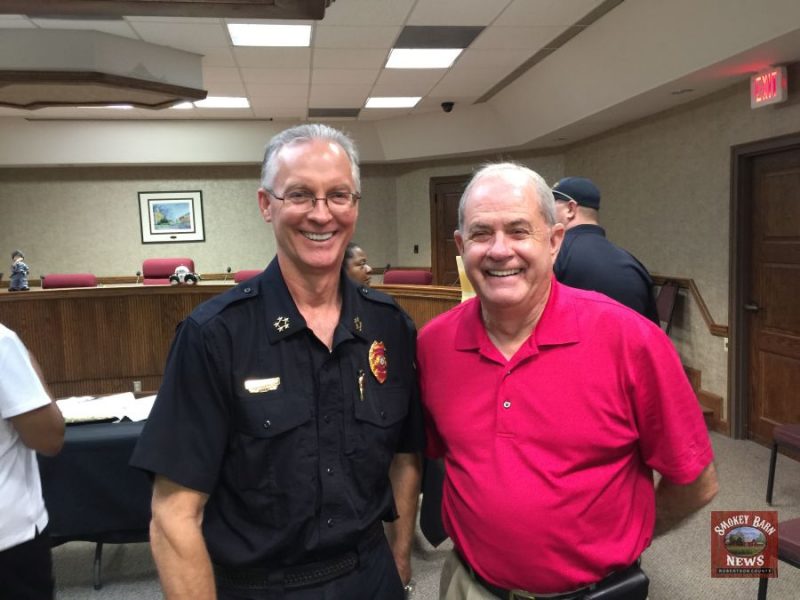 Jimmy Grogan started at the department in 1974. He was promoted to Detective in 1976, became the K9 Officer in 1978 and K9 Sargent in 1979. After being promoted to Lieutenant in 1987 he spent time as the Patrol Division Commander and Detective Division Commander.
Grogan  was also a firearm instructor and oversaw the SWAT Team and attended the FBI National Academy.
Grogan told Smokey Barn News that no one day in his long career stands out in his mind, except for the "hard times on Richards Street, they were pretty rough days. It's been an adventure over the years, long time."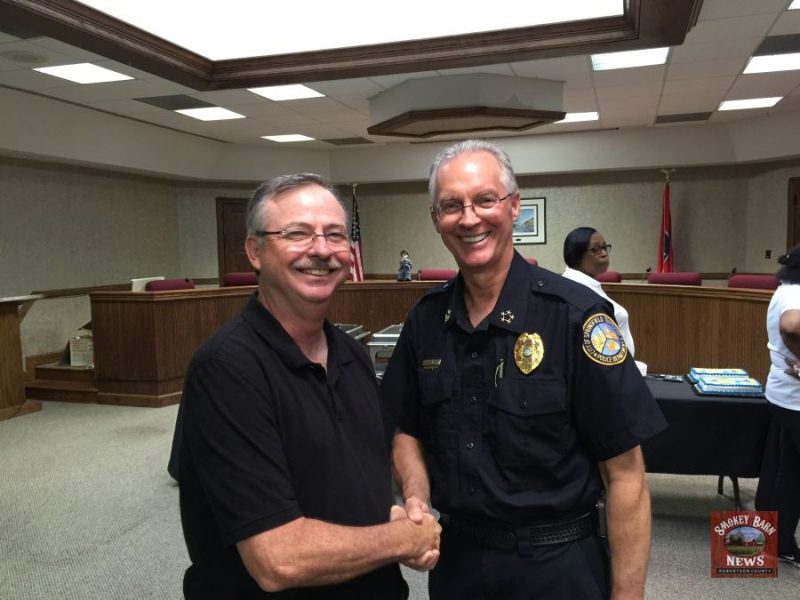 Aaron Benton started with the department in April 1997; 19 years ago and was promoted to Corporal in August of that same year. He became a Sergeant in January of 2002 and a short time later became the departments Radar Instructor.
Benton was also the In-house technician for the camera system and provided guidance and direction to many officers over the years.
Benton told Smokey Barn News that he started his career in White House in 1991. Now he's planning to do a little part time work in his retirement. "It's a good town, Springfield's a good city to work for," Benton said.
Smokey Barn News (Sponsor/Advertisement)
We bring you ALL the News in and surrounding Robertson County, Tennessee.