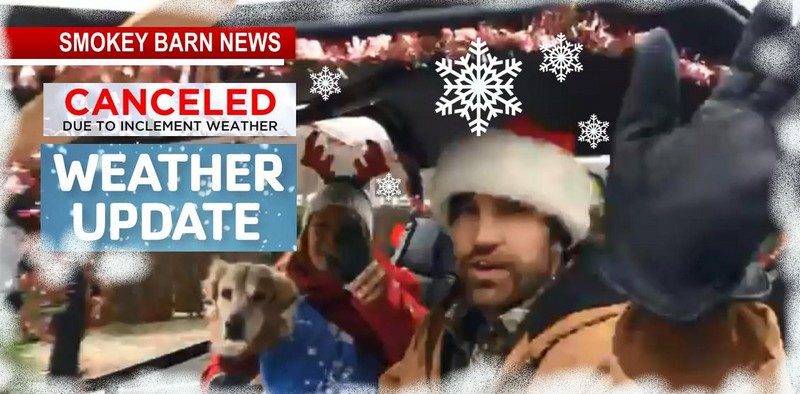 Weather Update, Holiday Events & Parade(s) Changes-Cancellations
ROBERTSON COUNTY TENNESSEE: (Smokey Barn News) – Several cities have canceled their Christmas parades due to inclement weather. Millersville is the most recent city to call off their parade but you still have two options left, Ridgetop parade tonight and Adams (Sat). We have also added other Holiday events & Light Shows, so be sure to scroll down to see your options.
MILLERSVILLE: According to the Millersville Fire Department, Due to rain being in the forecast and numerous parade entry cancellations the parks board has decided to cancel tomorrow's parade and chili cook-off.
Sorry Millersville but we did capture your parade last year, see the video below!
SEE OTHER HOLIDAY PARADES & EVENTS BELOW WEATHER REPORT
WEATHER FORECAST:
A Message from the US National Weather Service Nashville Tennessee:
What we know: This weekend will be wet and cold for everyone. It will be colder near the Tennessee/Kentucky State line, which means a better chance of seeing some type or maybe even all types of wintry precip Saturday night and Sunday morning. Right now there is at least the potential for some accumulating snow/sleet/freezing rain for you northerners.
What we don't know: Is the path of the storm system going to move north or south? Certainly it'll move slightly, they always do. If it moves north, then Kentucky will get the brunt of the winter weather and Middle Tennessee will get mostly rain with some snow mixed in. That would be ideal (at least for us). BUT if the system moves further south, then it will bring colder air and the potential for ice and snow closer to I-40.
Current Forecast predictions……
A wintry mix is expected in the mid-state this weekend. Best chance for snow, sleet and ice accumulations appears to be Saturday night through Sunday evening.
A surface low-pressure system, moving along the gulf coast, will spread a mixed bag of precipitation northward into middle Tennessee this weekend.
Tonight and early Saturday
The first round of wintry precipitation will occur tonight and early Saturday, especially along the Interstate 40 corridor. This should be mainly a snow and rain, with slushy snow accumulations of a few tenths of an inch possible. It might be enough to at least whiten the ground in some areas.
Saturday night through Sunday evening
A better chance for a wintry mix will occur Saturday night through Sunday evening, consisting of a mix of snow, sleet and light freezing rain. There's a possibility for an inch or two of snow and sleet in areas north and west of Nashville and along the highland rim, then eastward to the Cumberland plateau.
Right now, it looks like our extreme northeastern areas could get upwards of 3 inches. If skies remain cloudy over the east on Sunday, as expected, believe high temperatures along the Cumberland plateau may not get out of the lower to middle 30s. The Nashville area could see a slushy half inch to one inch of snow and sleet Saturday night and Sunday.
Sunday night and early Monday
As colder air spreads in behind our departing low-pressure area Sunday night and early Monday, we could see some additional snow accumulations of few tenths of an inch. Note that there is still a great deal of uncertainty with this winter weather scenario. Please stay tuned as advisories and or watches will be issued if needed. A better idea of what will transpire will come into focus as the events draw near.
REFRESH THIS PAGE FOR UPDATES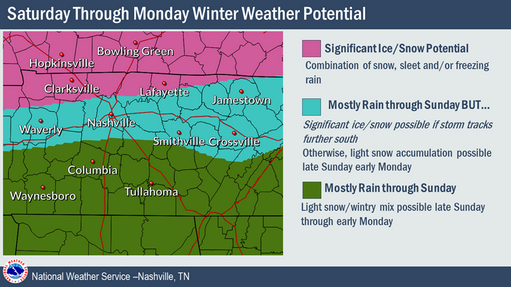 SEE LAST YEARS MILLERSVILLE PARADE
SEE OTHER HOLIDAY PARADES & EVENTS

Community Events & Announcements 
ROBERTSON COUNTY & SURROUNDING MIDDLE TENNESSEE
COMMUNITY EVENTS & ANNOUNCEMENTS
December 7: Christmas Concert With "The Browders" at Calvary Baptist Church in Greenbrier, TN
Smokey Barn News (Advertisement)

(Sponsored)

December 7: Ridgetop Natural Gas Christmas Parade @ 7PM Theme: "Christmas Under The Lights" (RAIN DATE: Dec. 8)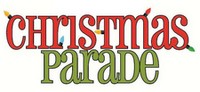 Friday, December 7th at 7:00 p.m. Refreshments to follow the parade at Ridgetop Station Park. Come out and have hot chocolate and cookies with Santa. Live music!
Waiver and applications for float entry must be turned into City Hall by November 30, 2018 in order to participate. Come out for a night of fun and fellowship.
Contact Ridgetop City Hall for float entry information at 615-859-0596
For a Christmas Parade Float Application – Click Here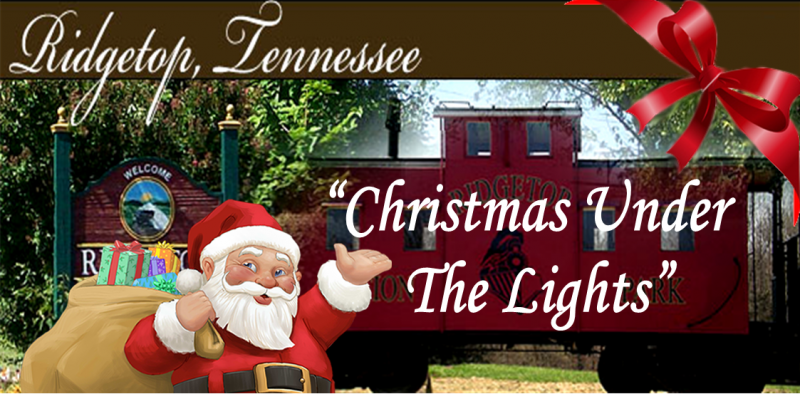 Smokey Barn News (Advertisement)


December 8: Adams Christmas Parade @4PM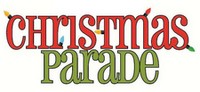 Saturday, December 8, 2018 at 4 PM:  7617 Highway 41 North, Suite 101, Adams,
Adams will be having there Christmas Parade this year the 2nd Saturday in December on the 8th of December.
The parade begins on Main Street, traveling up Commerce and Cedar Hill Road, then passing through WhiteHaven, coming down Church Street, and onto Hwy 41 and ending at Bell School.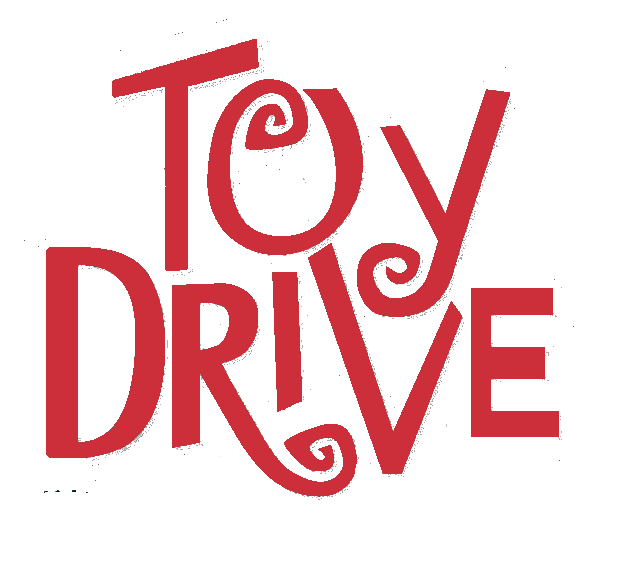 Parade entry participants should arrive 30 minutes early to fill out the entry form. Anyone interesting in being in the parade please go to South Commerce street by Adams Gas to line up around 3:00 to 3:30
First, second, and third place prizes will be awarded for best float. Awards Ceremony will be held upon conclusion of the parade in the Omer Gene Brooksher Pavilion behind Bell School.
Although there is no entry fee required to participate in the parade in the city of Adams volunteer fire department humbly ask you to donate one new, unwrapped, toy for "Toys For Tots"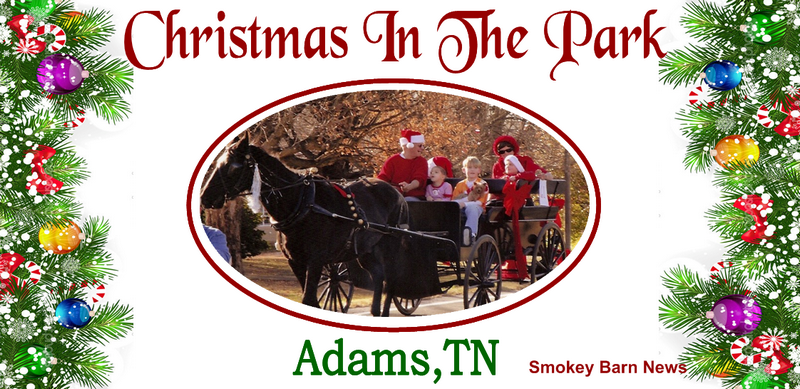 Smokey Barn News (Advertisement)


2018 Lights On Logan light show (Greenbrier)
We're back! The 2018 Lights On Logan light show will begin on December 1. This year we have 35,295 lights synchronized to 368 channels of computer controlled animation. The show will be running from December 1 thru December 31 from 5 p.m. until 10 p.m.
Address: 2760 Logan Road Greenbrier, TN 37073
Saturday, December 1 thru Monday, December 31
The light show runs every 24 minutes from 5:00 p.m. until 10:00 p.m.
(11 p.m. on Fridays and Saturdays)
Tune your car stereo to 103.9 FM when you arrive to hear the show.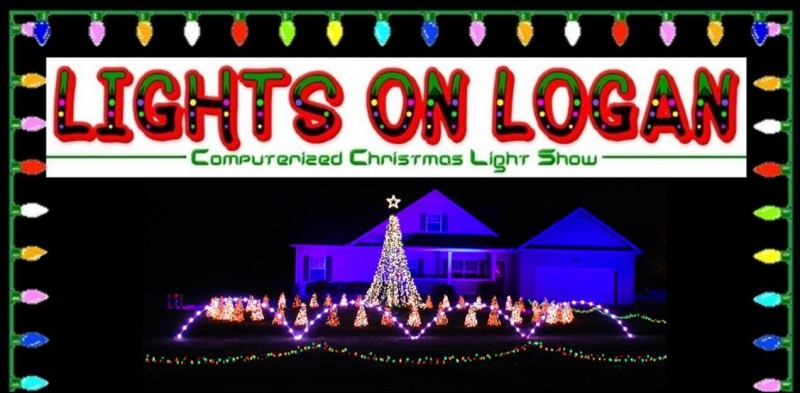 Smokey Barn News (Advertisement)


December 9:  Christmas Tour of Homes by Robertson County Historical Society
Sunday, December 9, 2018 at 1 PM – 5 PM: 124 6th Ave E, Springfield, Tennessee
It's the most wonderful time of the year in Springfield, Tennessee! Join us as several historic homes decked out in their best holiday decor open their doors for you to tour and take in their wonder. From grand Victorians built in the late 1800's to beautiful mid-moderns to a sleek new loft in the historic Woolen Mills, there's a home for everyone to enjoy! Spend time visiting with the owners to learn more about the history, and enjoy meeting new neighbors throughout the event.
If you purchase tickets online, you must begin at the Robertson County Historical Society Museum located at 124 6th Avenue West to pick up your tickets.

RSVP BY DECEMBER 10… Austin & Bell Funeral Home Candlelight Service Of Remembrance – Everyone Invited
Austin & Bell Funeral Home invite you and your family to attend our candlelight service of remembrance "A time of reflection and inspiration in memory of your loved one"
Thursday, December 13, 2018 at 7 PM: Guest speaker, tribute to loved ones, refreshments and fellowship.
To be held at Austin and Bell Funeral Home  – Greenbrier Chapel located at 2619 Highway 41 S. Greenbrier, TN 615-643-4000
Please RSVP to the funeral home in Greenbrier by December 10 if you plan to attend.
There will be a special DVD tribute during the service in remembrance of your loved one. This is open to everyone in our community. Only pictures of those responding will be included in the special presentation.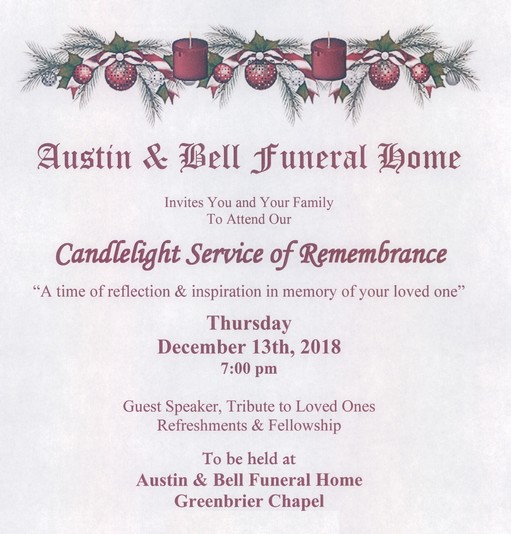 Smokey Barn News (Advertisement) 


December 11: Community Band presents a Christmas Concert at the Robertson County Senior Center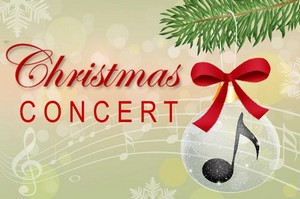 The Robertson County Community Band will present a Christmas Concert on Tuesday, December 11th at the Springfield Senior Center, located at 601 S. Locust Street in Springfield. The concert will begin at 7:00 pm and is free. Refreshments will be served during intermission.
The Community Band will perform many well-known favorites including "Sleigh Ride", "White Christmas", "An Old English Christmas", and many more.
The Robertson County Community Band, in its thirteenth season, is always looking for new members. For more information about the concert, joining the band, or sponsorship, please call Janet McClain at (615) 384-2015. McClain can also be contacted at [email protected]
We invite everyone to come enjoy this Christmas Concert with us!

Smokey Barn News (Advertisement)


ORLINDA ANNOUNCEMENT: Parade Canceled…

CANCELED: Orlinda City Council decided at its last City Council meeting to cancel this year's Christmas Parade.
It is not clear whether or not this is a permanent decision.

December 16, 2018, A Country Christmas Milldale Presbyterian Church
6275 Henry Road Springfield, Tn 37172
We will have desserts and fellowship at 6:00 PM and following at 7:00 we will have music. A Iove offering will be taking up for some need in the community.

Smokey Barn News (Advertisement) 


December Winter Wonderland! 
December 14-15 AND Dec. 21-22: Walk-Thru
at J. Travis Price Park In Springfield
FREE ADMISSION
(Drive Thru Dates: December 16-20 & the 23rd)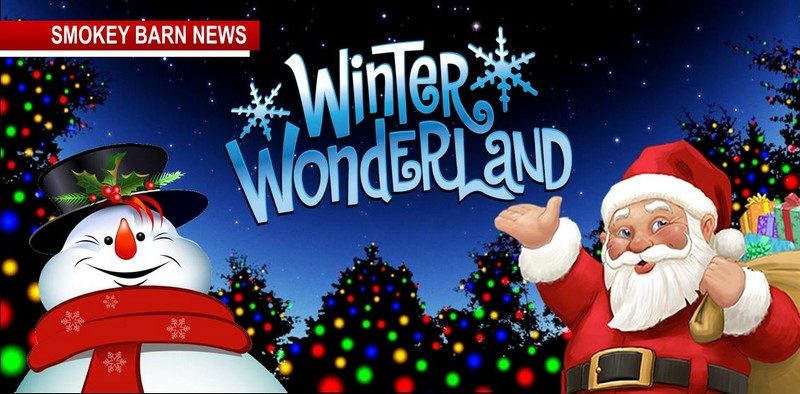 (FREE EVENT) Bring Your Wish List. Mom & Dad Can Take Pictures At Winter Wonderland visiting Santa.
Follow the lighted trails at J. Travis Price Park to enjoy the festive holiday scenes, decorations, music, hot chocolate and a petting zoo!
This event is best by following the lighted trails. You will still be amazed by viewing from your vehicle if you are unable to follow the path.
Walk Thru Dates: December 14-15 & 21-22
Santa will be on site on the walk thru dates only. Also on the walk thru dates will be free hot chocolate and free petting zoo. Additional Concessions will be available for purchase.
Drive Thru Dates: December 16-20 & the 23rd
*Gates open at 5:30pm and close at 9:00 pm for all dates.

Smokey Barn News (Advertisement)


December 18: Night with Santa and Mrs. Claus at Dk Styles Salon
DK Styles invites you to a "Night with Santa and Mrs. Claus"
Tuesday, December 18, 2018 at 6 PM at Dk Styles: 3538 Tom Austin Highway, Springfield, TN
Come out for an evening with Santa and Mrs. Claus. There will be cookies, milk, and hot cocoa. We will be reading The Night Before Christmas, The Nutcracker, and Rudolph. There will also be goody bags for all the kids. Anyone who is interested in coming please call DK Styles at (615) 384-8999 so that we can put the kiddies down.
We look forward to seeing you all there!
(Sponsored)


Smokey Barn News (Advertisement)

Smokey Barn News (Advertisement)


We bring you ALL the News in and surrounding Robertson County, Tennessee.