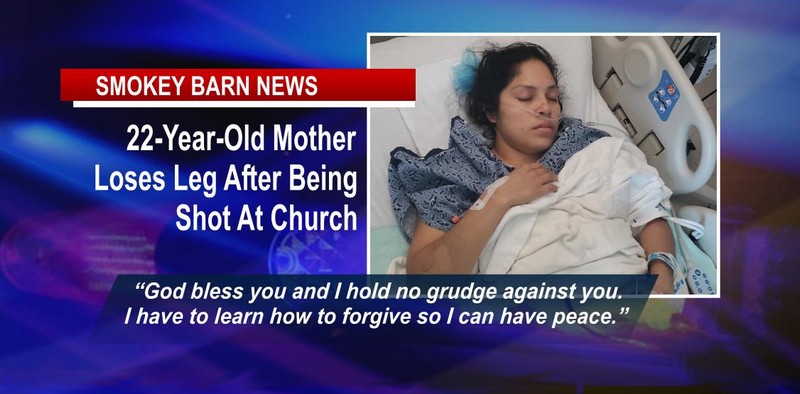 22-Year-Old Mother Loses Leg After Holiday Shooting In Springfield
SPRINGFIELD TENNESSEE: (Smokey Barn News) – A 22-year-old Springfield mother, that was accidentally shot during a church service Saturday evening, has now lost her leg at the knee due to complications from the shooting, her family said.
The incident occurred just after midnight Saturday (early Sunday morning) at the Christ Community Church (Inglesia Comunidad De Christo) located at 1501 School St. The church sits on the corner of School St and Bransford Dr just yards away and directly across from Bransford Elementary School. MAP
According to Springfield Police, a single-round penetrated the front door of the church and struck 22-year-old Clarisa Roblero, of Springfield, in the leg while she was talking with a small group that was standing around the pulpit. VIDEO REPORT
Church officials told Smokey Barn News that they were holding a 4th of July service that had just finished and Clarisa was enjoying refreshments with other members. As Clarisa prepared to take a group photo, a shot rang out from outside and Clarisa fell to the floor.
Her leg was stabilized with tourniquets by Robertson County EMS and she was transported to Skyline Medical Center in Nashville for treatment.
Clarisa's medical team made several attempts to save the leg but the damage was too severe. Clarisa's right leg was amputated at the knee Thursday.
Clarisa talked with Smokey Barn News from her hospital bed via an interpreter. Clarisa said she has forgiven the shooter. Clarisa's message to the shooter; "God bless you and I hold no grudge against you. I have to learn how to forgive so I can have peace."
Clarisa told Smokey Barn News that she moved to the United States to offer her 7-year-old son a better life. Clarisa's family does not have medical insurance and she will be needing a prosthetic limb. The family will also be facing significant expenses due to her injuries. "We would appreciate any help the community is willing to offer," Clarisa said.
If you would like to offer financial assistance to Clarisa's family, a Go-Fund-Me account has been set up to help with medical and other expenses. Smokey Barn News has confirmed that the account has been set up by a friend of the family.
Springfield police tell Smokey Barn News that they are developing suspects in the case but they do not believe the incident was a hate crime. Springfield Police Chief Jason Head told Smokey Barn News that evidence suggests that, under the cover of fireworks, rounds were fired nearby and a stray bullet struck the church and ultimately the victim who was inside.
For more details about the incident and a description of a possible suspect, see Smokey's original story.