4 Children Confirmed Dead In Springfield Home Fire
SPRINGFIELD TENNESSEE: (Smokey Barn News) –  According to Springfield Fire Chief Jimmy Hamill, four children (ages 2 to 7) have lost their lives in a home fire on Poplar Ave in Springfield early Monday.
In addition, an adult male and a child, Keaja Pope, age 8, have been transported to Vanderbilt Medical Center in Nashville, we do not know their condition at this time. The adult male, Julian Pope, is in critical condition.
The first call came in at 3:32am by a neighbor. One of the occupants indicated that the fire started at the back of the home, Hamill said. When firefighters arrived the front part of the home was engulfed in flames and heavy smoke filled the home.
It was an emotionally charged scene as police and firefighters tried to console the distraught mother.
According to Chief Hamill, two 2 year old twins; a boy and a girl, another child age 4 and another child age 7 all lost their lives in the fire. There were a total of 9 people including the parents, Julian Pope and Brittany Crayton  in the home at the time of the fire.
The names of the children lost in the fire have been identified as 7 year old Briana Lewis, 4 year old Julissiya Pope and  2 year old twins Julian Jr. and Julianna Pope, according to Springfield Fire Chief Jimmy Hamill. Click names to read obituaries.
Two of the children, and 8 year old and a 9 year old  girls were able to escape the fire with the mother, according to Springfield Police Chief David Thompson.
According to Hamill, upon arrival,  Firefighters first began an aggressive search of the home for residents even as the home was engulfed in flames.
Referring to the loss of life, Hamill told Smokey Barn News; "Terrible, one of the worst fires in my forty years of experience."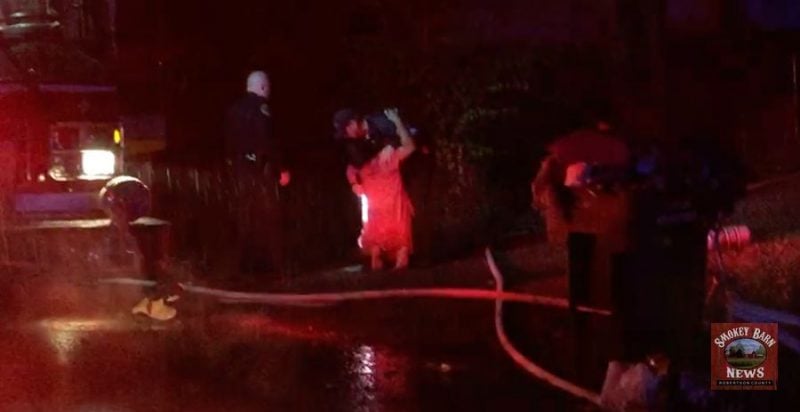 It was just four days ago that Springfield Firefighters responded to another home fire directly across the street. That home fire was ruled accidental but the coincidence will likely play on the minds of officials as they conduct their investigation.
Smokey Barn News asked Chief Hamill about the coincidence of the fire across the street, he told us that at the moment he didn't feel the fires were connected. MORE
According to Chief Hamill, though the fire is still under investigation, officials are not labeling it as suspicious and will likely be classified as accidental.
Springfield Police, Springfield Fire, Robertson County EMS and Robertson County EMA all responded to the fire.
The investigation by our fire investigator Don Stites along with the Tennessee Fire Marshall's office and the TBI, have determined that the fire started in the living room and the cause is "undetermined/unintentional or accidental."
In layman's terms, that means that investigators did not find anything suspicious like accelerants and they were likely able to backtrack the fire to a specific or single origin. The announcement means that fire investigators are officially ruling out arson as a cause of the fire.
Press Release From Robertson County Schools
On behalf of the Robertson County School Board and all personnel, our condolences go out to the family of Krisle Elementary School student Briana Lewis at their tragic loss in an early morning house fire today.
We stand ready to support the family in whatever way possible and have also provided grief counselors at Krisle to help classmates work their way through this terrible tragedy.
Mike Davis
Director of Schools
How The Community is Helping:
The story has touched hearts across America and the world and many are gathering together to support the family. There are events to help with grief, fundraisers and the United Way has stepped in with a match donation up to 5k to help the family.
Community Memorial Service & Candlelight Vigil:
The Robertson County Mayor is set to Speak at a community memorial service and candlelight vigil planned for Friday December 16th at 5:30pm at Legion Field located at 4660 Memorial Blvd. in Springfield to honor and remember those lost in a tragic house fire on Monday Dec. 12th.
Crestview Elementary & Area Robertson County Schools:
Our Crestview Elementary family is heartbroken over the loss of 4 children in our community. Our thoughts and prayers are going out to the family and friends of those students. We are joining forces with schools in our county to start a coin drive in our school starting tomorrow. We are pleading with the families of every student in Robertson County to join our efforts. Students can bring donations of any amount, nothing is too small. They can turn their change in to their teachers each day this week and we will collect the funds Friday. We are a large county with big hearts. Let's all join together and show our children that even the smallest donation can make a huge impact.
If you would like more information on getting this going in your school please send us a message. This will need to be approved by the principal in your school.
If any businesses or individuals would like to make a donation you can do that through Crestview Elementary PTO. We have an established 501c3 and can provide you a donation letter for a tax deduction.
The thoughts and prayers of the staff at Smokey Barn News are with the family and friends as they face this tragedy.
United Way of Robertson County Donation Match:
United Way of Robertson County is going to partner with Crestview Elementary and other Robertson County schools in the coin drive for the Pope family. The Robertson County United Way will match dollar for dollar up to $5,000. Every donation made, no matter how big or small, will make a difference.
The county wide coin drive will go through Friday at the end of the school day. We urge you to participate and double your donations.
Funeral Arrangements:
Visitation will be Saturday from 11 a.m. to 2 p.m. at Springfield Baptist Church with a life celebration service following at 2 p.m.  for the four children.
The four deceased children are Julianna Ty'Shae Pope, born in Nashville, TN on Aug. 23, 2014;Julian Theodore Pope, Jr., born in Nashville, TN on Aug. 23, 2014; Julissiya Demetri "JuJu" Pope, born in Nashville, TN on Jan. 4, 2013;Briana Chi'Anne Lewis, born in Montgomery County, TN on Nov. 12, 2009.
Interment will follow in Springfield Memorial Gardens.  Springfield Memorial Gardens, Funeral Home & Cremation Center has offered to cover all funeral expenses for the family.
Smokey Barn News (Sponsor/Advertisement)


We bring you ALL the News in and surrounding Robertson County, Tennessee.