7-Year-Old Girl Injured After Car Crashes Into Springfield Home
REPORT UPDATED… See updates below…
SPRINGFIELD TENNESSEE: (Smokey Barn News) – A 7-year-old girl was injured and a home heavily damaged after a vehicle plowed into a Springfield area home Tuesday evening.
The crash occurred on Hwy 49 East just after 10 pm. The home is positioned in a sharp curve in the 7900 block of Hwy 49. MAP Smokey Barn News has covered several accidents at this same location but, until this evening, none of the adjacent structures sustained any damage.
According to the residents of the home, there were 4 people inside the home at the time of the crash. The 7-year-old girl saw the car coming and made a run for it but she was hit by flying glass, the family said.  After having glass removed from her knees, she was released from the hospital.  The family heard their daughter's scream followed by a very loud crash that just about tore off the front of their home. After impact, the vehicle landed in the middle of the living room and a good portion of the front of the home was gone. There is so much damage, you'll have to study most of the photos below to see the vehicle.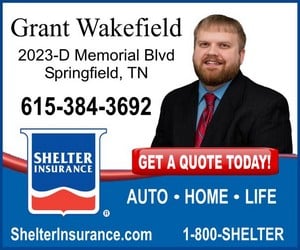 Reportedly the driver was also transported to an area hospital, their condition is still unknown, we have reached out to the THP and EMS for more info.
UPDATE: According to the Tennessee Highway Patrol, Cornez L. Maxwell, 34, of Portland Tennessee, driving a 2015 Honda Accord was negotiating a left curve traveling West on Highway 49 E. and failed to maintain the lane of travel exiting off the roadway right. The vehicle then struck a tree before striking the front of the house,  caming to rest inside the front room of the residence. According to the THP Prelininarry report obtained by Smokey Barn news,  Maxwell (pending the outcome of the investigation,) will be facing DUI 1ST, Reckless Endangerment, and Financial Responsibility.
With the THP, Robertson County EMS, the Orlinda Fire Department, the Robertson County Sheriff's Office, and the Robertson County Emergency Management Agency all responded to the scene.