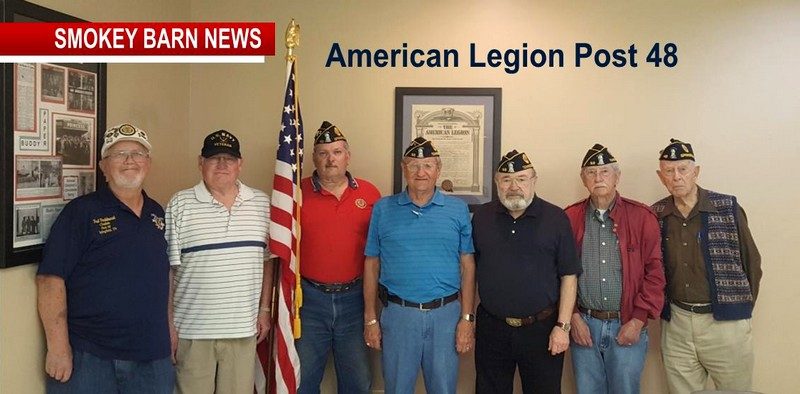 Pictured from left to right are: Fred Parkhurst (Chaplain), Cordell Short (Adjutant), Dr. Dale Barner (Commander), Gary Odom (Finance Officer), Roy Ditmore (1st Vice Commander), Aubrey Suter (Service Officer), and Roy Stark (2nd Vice-Commander).
American Legion Post 48 Elect Centennial Leaders & Upcoming Events
SPRINGFIELD TENNESSEE: (Smokey Barn News) – Post 48, Springfield, American Legion, Department of Tennessee, has elected officers to lead it into the next century of American Legion history.
American Legion celebrated its 100th birthday on March 15, 2019. On that date in 1919, the first American Legion caucus, held by members of the American Legion Expeditionary Force met in Paris, and the American Legion came to life. Each year, Legion posts across our country hold events, private and public to commemorate this anniversary. This commemoration is intended to emphasize, to the Legionnaires what the Legion represents, both to themselves and the community at large.
The American Legion was founded on four pillars: Veterans Affairs and Rehabilitation, National Security, Americanism, and Children & Youth. Each of these pillars encompasses a variety of programs that benefit our nations veterans, its service members, their families, the youth of America and ordinary citizens.
To be eligible for membership in the American Legion, you need to be assigned to at least one day of federal active duty service any time during the eligibility periods as determined by the U.S. Government, and received an honorable discharge/discharge under honorable conditions, or currently serving in one of the U.S. Armed Forces. If you are currently on active duty, or you have served on active duty since August 1990 – present, or you have served in one of the eligible war campaigns – you are eligible. If you are a member of the National Guard and have been activated, even if only for a day – you are eligible.
Upcoming events include:
May 25th at 6 PM — Memorial Day service at Springfield Memorial Gardens Chapel; May 27 — Memorial Day services at Morning Side at 11 AM and the Waters of Springfield at 2 PM
June 4th — Veterans Resource Fair from 10-2 at Post 45 in Greenbrier; June 14th — Flag Retirement Ceremony on at 9 AM at Post 45 in Greenbrier
Aug 20-24 – Robertson County Fair; and Aug 31st –Memorial Truck/Tractor pull. On May 18th, Commander Barner had the privilege of presenting the American legion Awards of Military Excellence and Scholastic Excellence at the JROTC awards ceremony. American Legion also provides "School Awards", to be presented, to one male and one female of the senior high school class who demonstrates courage, honor, leadership, patriotism, scholarship and service.
Dr. Dale Barner, Post 48 Commander states, "It is our honor and privilege to serve and support the American Legion programs, which not only help care for our veterans but also help to promote Americanism, National Security and to develop the character of American's youth." Citizens interested in joining the American Legion, American Legion Auxiliary, Sons of the Legion, or Legion Riders should contact Commander Dale Barner at (615) 382-3000 or Cordell Short at (931) 263-2900, or Department Service Officer, Terry Wilson at (615) 574-4298.
Smokey Barn News (Advertisement)
Smokey Barn News (Advertisement)
We bring you ALL the News in and surrounding Robertson County, Tennessee.