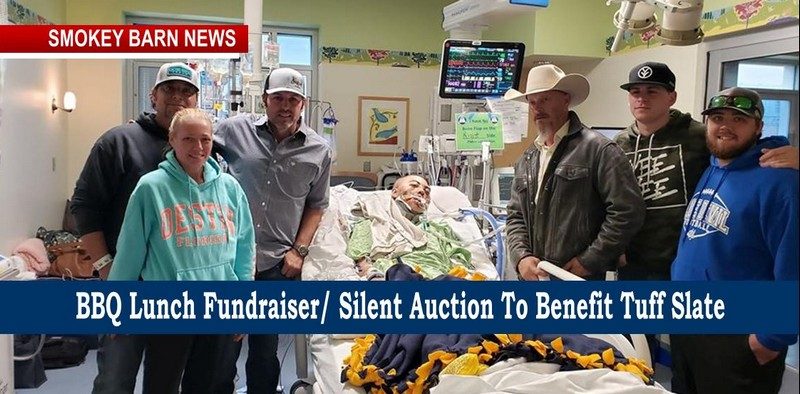 Benefit BBQ Fundraiser Planned For Injured Teen Hit By SUV
ORLINDA TENNESSEE: (Smokey Barn News) – It's been almost a week since 14-year-old Tuff Slate from Cross Plains was struck by a vehicle on Hwy 49 in Orlinda. Now the community is reaching out to the family with a benefit to raise funds to help the teen's family with medical expenses.
The accident occurred on Hwy 49 near Brewer Rd. just outside downtown Orlinda. MAP It was last Saturday night and Tuff was attending a birthday party. It was supposed to be a night of fun with friends but it turned into tragedy when Tuff was struck by an SUV.
According to officials at the scene, when first-responders arrived, Tuff, a freshman at East Robertson High School, was in the roadway badly injured. Medics transported him to the Orlinda city park where LifeFlight was waiting to take him to Vanderbilt Medical Center in Nashville. Smokey Barn News was there Saturday night, see our video report below.
Tuff's father, Toby Slate, continues to update Smokey Barn News on Tuff's progress.
Most of Tuff's injuries are in the face and head area. A portion of his skull was removed to allow the brain to swell and heal but Tuff is able to respond to questions by hand squeezing. Mr. Slate says Tuff is still on a ventilator and doctors are hopeful that they will be able to remove the equipment that helps Tuff breath next week.
"Thank you, it's overwhelming the amount of love and positivity," Tuff's father Toby Slate told Smokey Barn News. "Tuff would be so proud of how the community has come together for him."
Earlier this week the THP released their preliminary findings on the accident. They indicate the 38-year-old driver from Orlinda, was traveling west on Highway 49 in a 2005 Ford Explorer and struck Tuff as he was attempting to cross the roadway.  No charges have been filed.
The report also indicates that there were a total of 4 occupants in the vehicle. All 4 were wearing safety restraints and there was no mention of drugs or alcohol. Additionally, no one in the vehicle was injured.
A benefit lunch has been planned for Nov. 30. at East Robertson School from 11 a.m. to 2 p.m.. Lunch includes BBQ sandwichs, chips and drink for $6.
Baldwin's BBQ, Drunken Pig BBQ, Whitt's and True's BBQ will be providing the delicious eatables.
There will also be a silent auction and a bake sale. All proceeds will go to help Tuff's family with medical expenses.
If you would like to donate to the silent-action contact Amy Martin at 615-708-2554 or Julie Merrill at 615-456-2837.
If you can't make it to the BBQ Lunch, donations can also be made to the family at any Farmers Bank under the name "Tuff Slate." Or Facebook donations can be made to the family here.
HEADER PHOTO: Casey Donahew visits Tuff: "When you can't make it to see Casey Donahew so he comes to you! We cannot express our Thanks and Love!!! I can't wait for Tuff to see this!!! Mr. Donehew and your crew are definitely Angels in Cowboy Boots!"
Original Story: Teen Struck By Vehicle In Orlinda (Critical) LifeFlighted
Smokey Barn News (Advertisement)
Smokey Barn News (Sponsor/Advertisement)
We bring you ALL the News in and surrounding Robertson County, Tennessee.