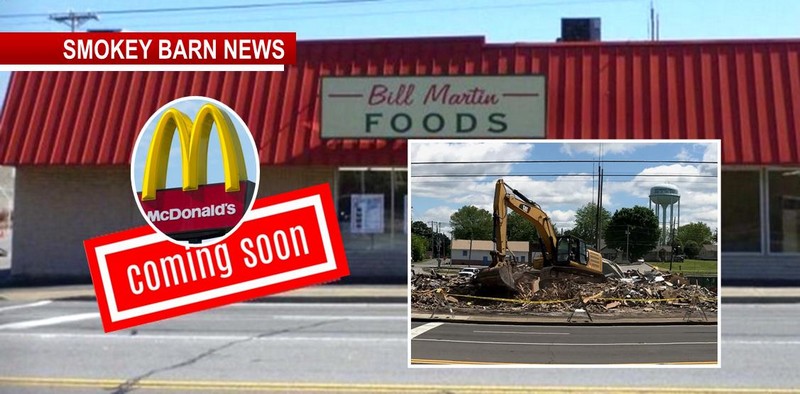 Greenbrier's Bill Martin's Grocery Store Comes Down As The Corner Is Remade
GREENBRIER TENNESSEE: (Smokey Barn News) –  Back in 2016, after 35 years in operation, Bill Martin's Foods grocery store in Greenbrier closed its doors for good.
The store sat perched at 2543 Highway 41 S, MAP right in the heart of Greenbrier. Back in 2016, then 95-year-old Bill Martin, was still in his corporate office every day.
Bill Martin (pictured left) operated the chain for 60 years and at one point had 32 Stores.
The Greenbrier store has been at its current location since 2002, we're told. Before that, it was located up the road at 2587 Hwy 41, where Mitchell's Auto Sales currently resides MAP.
In 2016 the store has released the following letter to its customers.
"Dear friends, may we take this opportunity to thank each and every one of you for making the last 35 years prosperous. We realize that this was not the result of us being better grocery men or women but the efforts of you our friends and neighbors who thought enough of us to patronize us; for this, we are deeply grateful but because of matters beyond our control our lease has not been renewed.
"We would like to thank all of you for your loyalty and tremendous support over the years, it has been a pleasure to serve you, thank you."
Given the length of time the store has operated in Greenbrier, local residents will likely be flooded with memories as they drive by and see the building is gone.
Do you have a special memory at Bill Martin's?  Tell us about it in comments below or email any photos to [email protected] and we'll add it to the story.
The Mcdonalds Corporation now owns the property and there is an approved site plan but no building permits have been submitted to the city. MORE
All four corners of the College St/ Hwy 41 intersection are in the middle of a metamorphosis. Moving counter-clockwise, Golly G's Coffee, Ice Cream & Sweets, and Frankly Yours ( a trendy boutique) with two other businesses will take the next corner. FULL STORY Jump over 41 and you'll see Brandon Frank Construction's revision of the old First Union Bank building, now home to the firm's corporate offices. The adjacent corner, across College St., sits Liberty Park, which is also under a complete remodel by Brandon Frank Construction.
Photos: Courtesy the City of Greenbrier