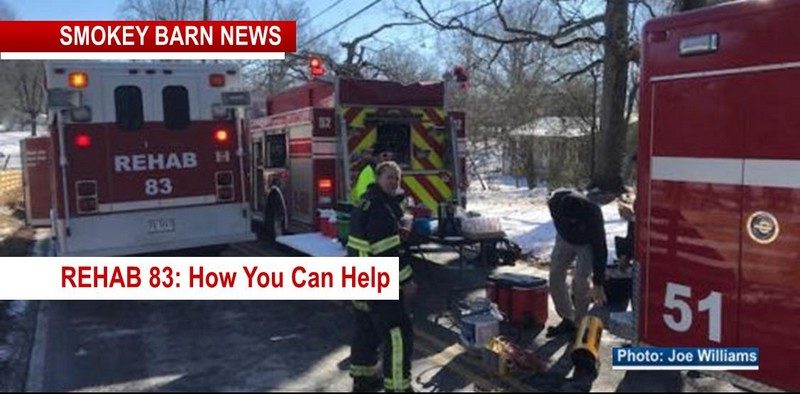 How You Can Respond To First Responders On The Front Line
ROBERTSON COUNTY TENNESSEE: (Smokey Barn News) – What if your job description included putting on a heavy fireproof suit with an additional 75 pounds of gear so you could run into a burning house. They do it every day, they're called Firefighters.
The physical stress Firefighters encounter can push their bodies to the limit. Teams of Firefighters are rotated in and out of a fire area to give them time to recover. That recovery can include water, shade or something as simple as a chair, that's where a new service has stepped in to fill the void and they're looking for volunteers.
Would you like to donate your time to support our first responders during critical response situations? An opportunity to do that that has opened up at Rehab 83. Here is what they do, and why they do it. The Sumner County Fire Buffs is a newly founded nonprofit organization in Sumner/Robertson County. Rehab 83 serves water, snacks, fans, chairs, & a canopy if needed to provide a shaded area to remove responders from the weather.
Rehab 83 serves Hendersonville, Gallatin,  Portland, Westmoreland and areas in Robertson County, such as; Greenbrier, White House, & Ridgetop.  For 1st responders a cold bottle of water, a place to sit down or a snack as they exit a well-involved fire can make all the difference.
All First Responders (Firefighters, Medics, and Law Enforcement) are subject to heat and cold stress and must receive Rehab, that's where we come in, and perhaps you, if you would like to join our team.
Firefighting – "The greatest short surge physiological demands of any profession"
Volunteer:
If you would like to volunteer with our service please follow this Link and submit your information and one of our staff members will contact you.
Donate:
If you can't volunteer your time, but would like to donate to our cause, please click here.
We are committed to serving responders 24 hours a day, 7 days a week, 365 days a year, around the clock with 100% Volunteers.
Career departments are already strapped and looking for other ways to stretch their funds.  Volunteer Fire Departments see lack of funding problems with no solution in site.
We plan to operate on donations & sponsorships alone, without placing a burden on the taxpayers of the County. Join Us as we strive to help and protect our first responders as they work to help and protect our communities.
REHAB 83 in action:
Ridgetop Home Destroyed By Fire Friday Morning
Cold Temps Spark Two Local Fires Tuesday


We bring you ALL the News in and surrounding Robertson County, Tennessee.