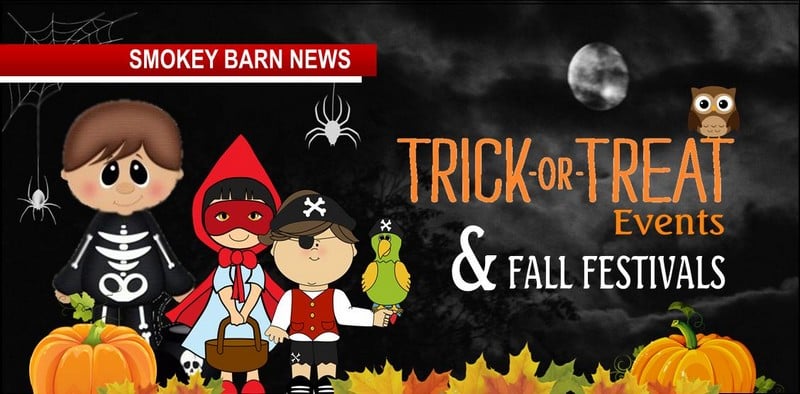 Lots Of Trick Or Treat Events & Fall Fests Across The County
ROBERTSON COUNTY TENNESSEE: (Smokey Barn News) – Show me the candy!! Smokey has searched high and low for you with times and locations of Robertson County premier Halloween events! Have fun and remember to be safe!!
For A Fun & Safe Halloween: Click Links for safety tips
A Safe & Spooktacular Halloween
October 24: Bethlehem Baptist Fall Harvest Fest
From 5-8pm at Bethlehem Baptist with food, games, trunk or treat, hayrides, inflatables, and free pumpkin patch. (MAP)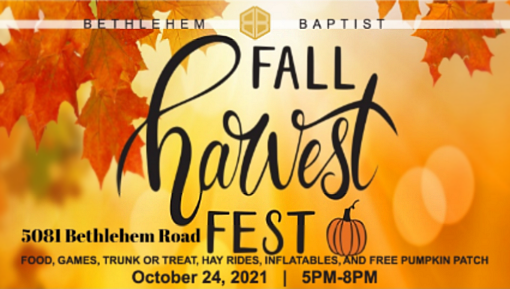 October 24: Springfield – Tent Or Treats= at Travis Price Park from 4pm – 6pm
Candy, inflatables, & games. Sponsored by Springfield Baptist Church and partnered with Springfield Parks & recreation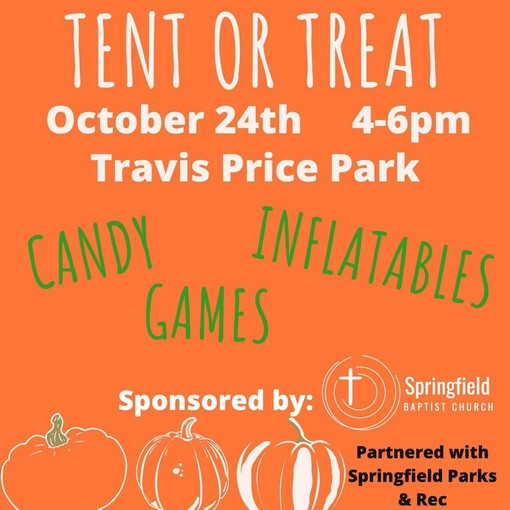 October 26: Springfield High School – Fall is in the air and we are preparing for our Trunk or Treat event!
Tuesday Oct. 26 from 4:30-6:30pm please join us in our CTE parking lot for candy, games, and community with our student clubs and organizations.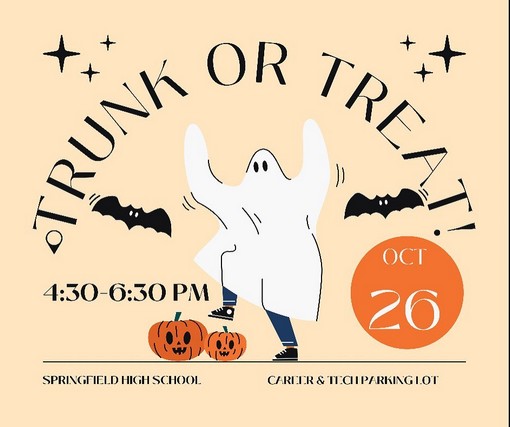 Wed. October 27: In Springfield – Classic Tin Cruise-In Trunk or Treat from 6-8PM
Held at 2008 Memorial Blvd, Springfield, TN, Between the Hardees and Burger King.
Classic car cruise-in for Springfield and the surrounding communities coming together, sharing and talking cars, trucks and bikes. Family Fun!
*Bring lots of candy!
Any questions please call Shelby Horner at 615-336-2257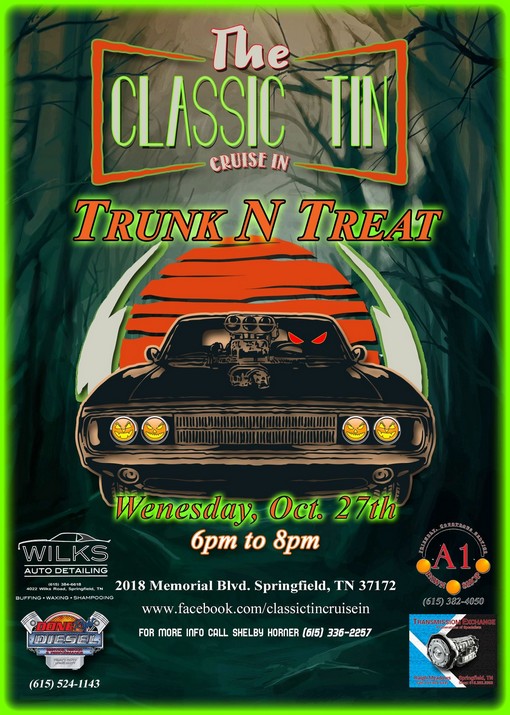 October 28: 16th Annual White House, TN Trail of Treats
6 PM – 8 PM – 508 Tyree Springs Rd, White House, TN 
The Trail of Treats will begin at the Tyree Springs Trailhead, which is located at White House High School, and will continue to North Palmers Chapel Road. The event will consist of booths setting up alongside the Greenway to give candy or treats to kids.
The City of White House extends to you the opportunity to reserve a 10' x 25' booth space. There is a $10.00 registration fee. For event guidelines and booth registration, click here.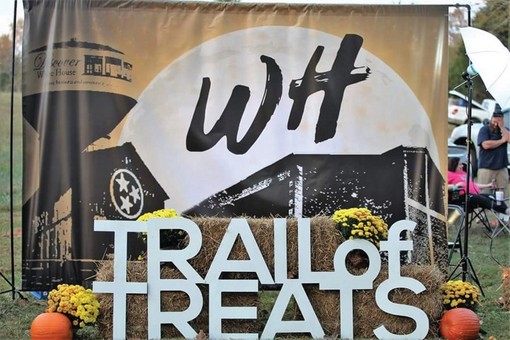 October 29th: RC Senior Center Chili On The Square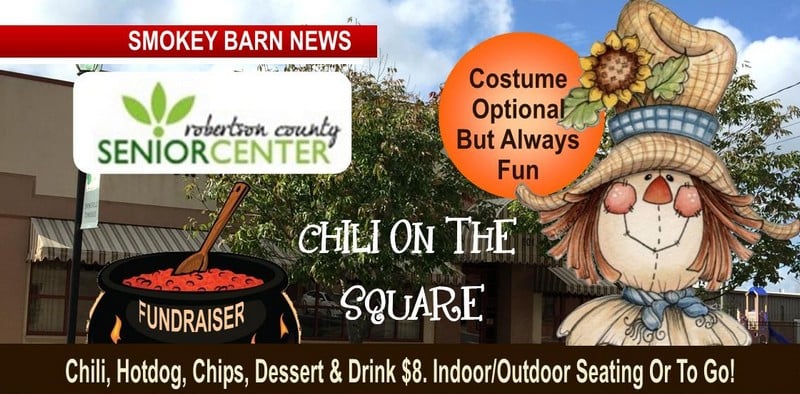 The Robertson County senior center will be holding their annual chili on the Square fundraiser Friday, October 29 from 11 AM to 2 PM.
The senior center is located at 601 Locust St. in Springfield Tennessee
For just $8 you can get a bowl of chili, hotdog, corn chips, dessert and drink! The fundraiser is open to the community and proceeds raised for day to day operations for the center.
Outdoor or indoor seating choices are available.  (Covid friendly) served in to-go boxes.
 *Costume/dress optional but always fun!
Check out all the fun activities planned this month in our October Newsletter

The City Of Adams to Hold First Annual Fall Festival October 29-30 2021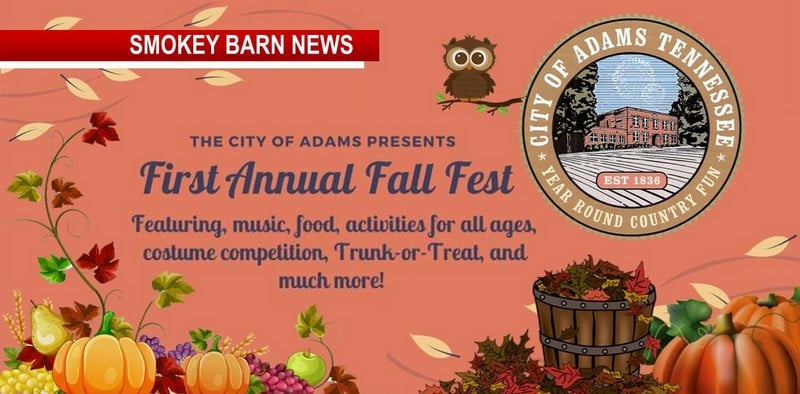 The City of Adams, Tennessee is hosting their First Annual Fall Fest and would love to see everyone there.
UPDATED TIMES!
The fall festival is set for October 29, 2021 from 3pm to 9 PM & October 30, 2021 from 10 AM to 9 PM at the Bell School and Omer gene Brooksher Pavilion and will feature music, food, activities for all ages, costume competition, trunk or treat, and much more! READ MORE…

October 30: White house Wheels of White House car meet AT 6 PM – 9 PM
Trunk Or Treat, Car Decoration Contest, Prizes & More!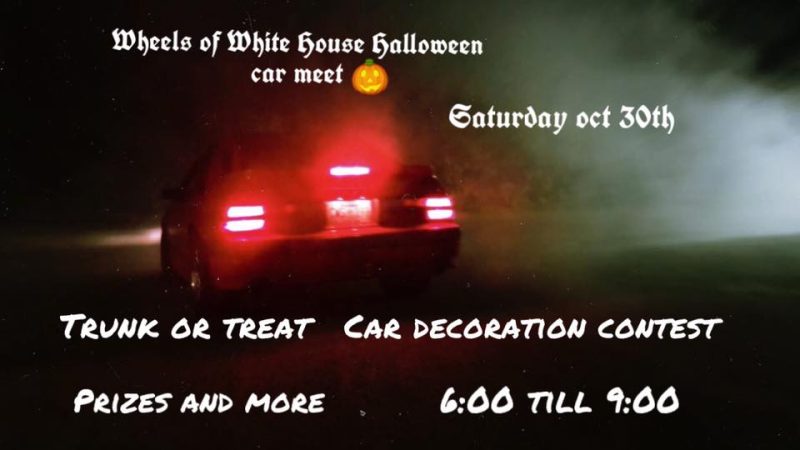 We are having a car meet/ Trunk or treat in the White House park parking lot in the back of the park so we don't bother anyone have the cops called. NO BURN OUTS we are trying to have a family event and have fun keep it peaceful so we can do more events like this. (Event by Hayden Hardy)

Greenbrier Halloween Bash 2021 October 30th Featuring Hayrides, Trunk or Treat, S'mores & Fire Pit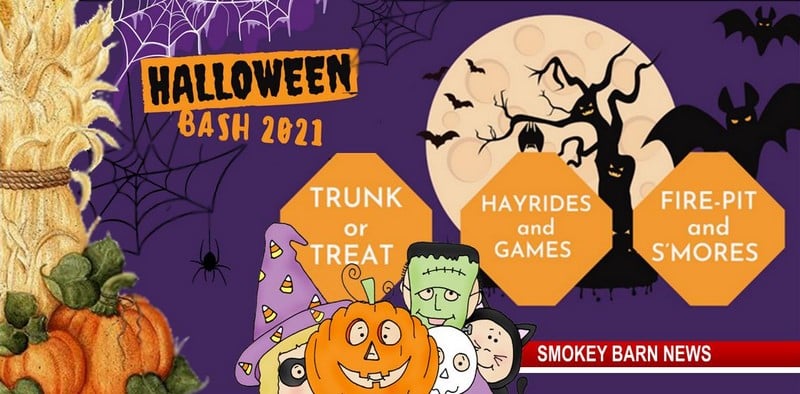 The Greenbrier Halloween Bash 2021 is back this year, just in a different location. This year it will be at Bethel Baptist church off Bethel Rd, according to organizer Tommy Stratton.
"They were so gracious enough to let us have it there. Amazing people. So with all that being. said, would love for it to be Robertson county's largest trunk or treat ever. So we need all the cars we can get. Bring a car and lots of candy for the children. Expecting 2000 or more kids. READ MORE

"We're A Go" Payne Chevrolet's Trucks & Treats Is A Go-Oct 30th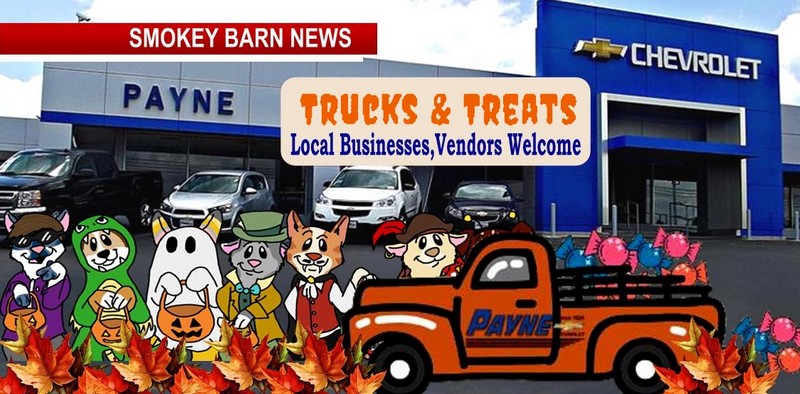 Payne Chevrolet's Trucks & Treats is back! After being unable to have our annual Halloween Trucks & Treats event last year, we're bringing it back again this year at the lot!
WHEN: SATURDAY, OCTOBER 30, 2021 AT 5 PM
Bring your kids out to trick-or-treat in a safe environment surrounded by local community vendors. READ MORE…

October 30: Annual Trunk or Treat at the Veterans Motorplex Race track during Intermission
The track will be lined with 50 plus High Powered Race cars and the children will be able to walk on the racing surface up to their favorite drivers that will be giving out candy to all the Trick or Treaters.
Get to meet and greet with the drivers, car owners and crew!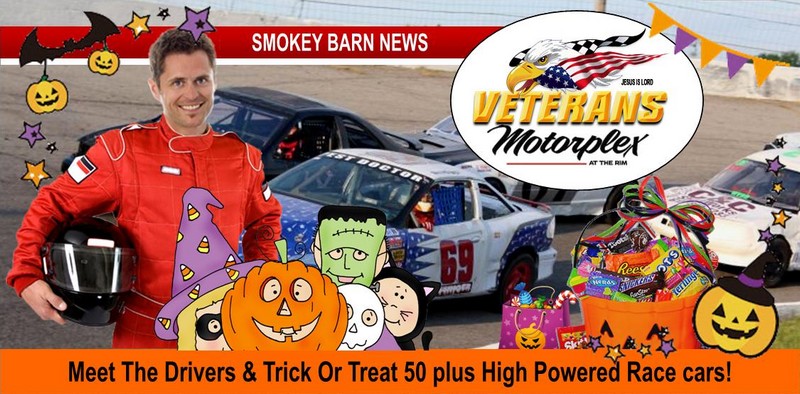 Pits open at Noon
Grandstands Open at 4pm
Racing at 6pm
Pit Pass $35 for all Drivers & Adults. Non Driving Minor child $20
ANYONE UNDER THE AGE OF 18 MUST HAVE A SIGNED AND NOTORIZED MINORS RELEASE TO ENTER PIT AREA… SORRY NO EXCEPTIONS.
WHERE:
6801 Kelly Willis Rd, Greenbrier, TN – Call (615) 643-8725
TICKET INFO:
FAMILY PACK – $30 for 2 Adults and up to 6 minor children! OR $12 for adults; $10 for seniors (62+), military and students 13-17; $5 for youth 6-12; 5 and under are free $35 for the pits.
Great Concessions, Big Wheels Races, Kids Zone and FREE PARKING!
Everyone can get great souvenir items as well as photos and videos of the racing action at the Souvenir Alley Souvenir Stand!
Follow the Track on FaceBook for info on racers, divisions, winners, photos, action-packed videos and announcements of upcoming summer events!
A fun safe time for all!

October 30: Ridgetop – Halloween In The Park
Come out and join us on the 30th!! Prizes will be awarded for best kids costume (newborn – 5th grade) as well as best themed trunk /costume. Participants needed for the trunk or treat portion, so please let us know if you want to be a part. Message us on our Facebook page. David Wiley loved Halloween, so let's help make this an event he would be proud of!
And if you can't set up, but want to donate some candy, please let us know or you can drop it by City Hall during their normal business hours.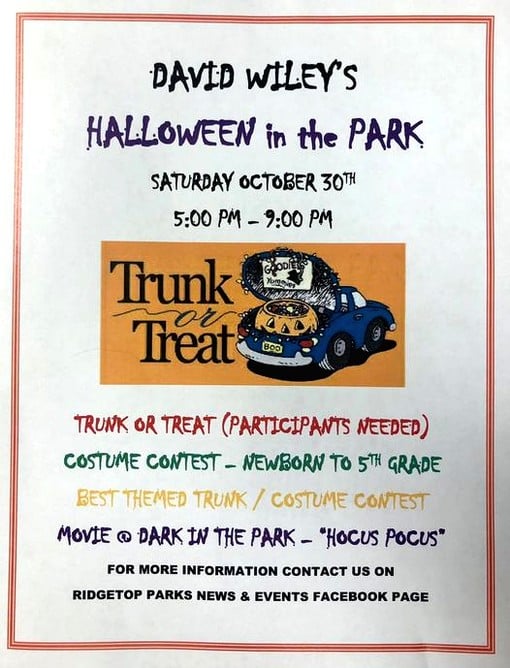 October 30: PORTLAND, TN Trick or Treat Saturday, October 30, 2021 Richland Park – 321 Portland Blvd. – 4:00PM – 6:00PM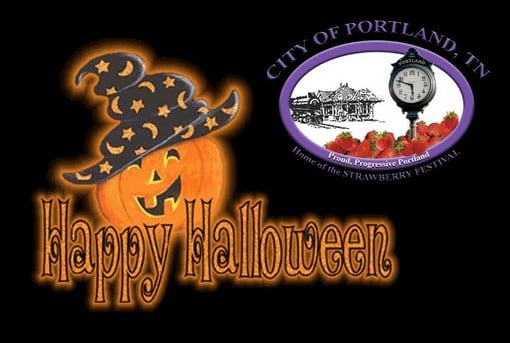 Vendors will be provided an area to hand out treats and may supplement their site with a tent or other decorations. The vendor whose staff displays the best costumes at their site will receive a free shelter rental for the business or organization.
For a vendor registration form, click here

Sunday, October 31:  Calvary Baptist (Indoors) Trunk Or Treat from 6-7:30pm

Bring your Children to safely Trunk or Treat in our Gym.
Free Hot Cocoa! Always an exciting time. Hope to see you there!!
Calvary Baptist Church: 2806 Hwy 41S Greenbrier, TN 37073
(615) 643-7737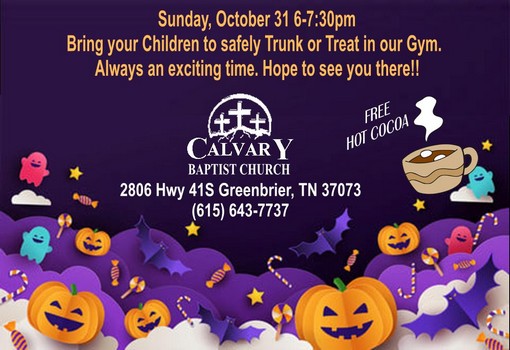 Two Annual Fall Turkey Shoots Starting October In Robertson Co.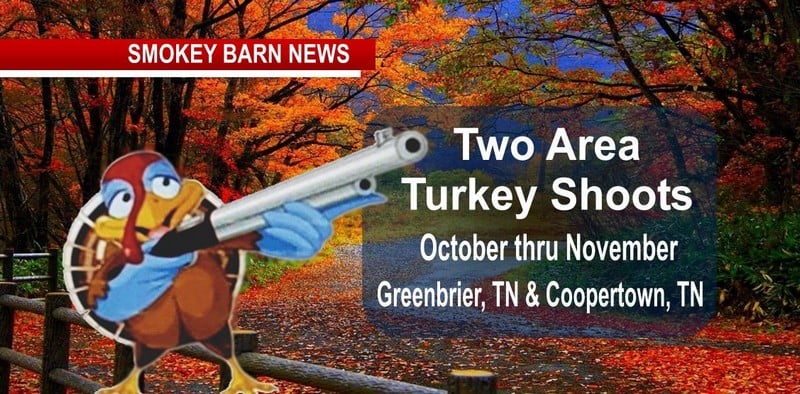 The Greenbrier American Legion Post 45 and the Coopertown Men's Club would like to invite everyone out to their annual Turkey shoots starting in October. There will be prizes, raffles along with food and refreshments. We have provided the full details below.
Greenbrier American Legion Post 45 Annual Turkey Shoot
American Legion Post in Greenbrier, TN (MAP) will be holding their annual traditional turkey shoot on Saturdays starting October 2nd from 8 AM to 12 noon through November 27the from 8 AM to 12 noon.
Stock guns only. No custom guns or barrels over 36″. Prizes include but not limited to: turkey, bacon and ham. Hot and cold refreshments will be available.
*Proceeds assist local veterans and the Greenbrier American Legion Post 45.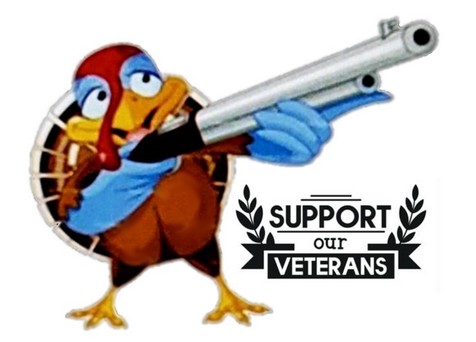 Coopertown Men's Club Annual Turkey Shoot
The Coopertown Mens Club will be holding their annual turkey shoot on Saturdays beginning October 16th from 8am to 2pm through November 20th from 8am to 2pm at the Elelmentary school across from city hall (MAP) Directions: From Highway 49 turn onto Burgess Gower Road at the elementary school 2560 Burgess Gower Rd across from City Hall.
• Turkey shot $4 each for $20 gift card
• Ham shot $6 each
• 12, 16, 20 and 410 shells provided
• No outside ammunition allowed
• We have shotguns available for use if needed
• Academy Sports gift card for Remington 1100 Semi Auto 12 gauge shotgun. Raffle tickets $1
• Breakfast, lunch and soft drinks available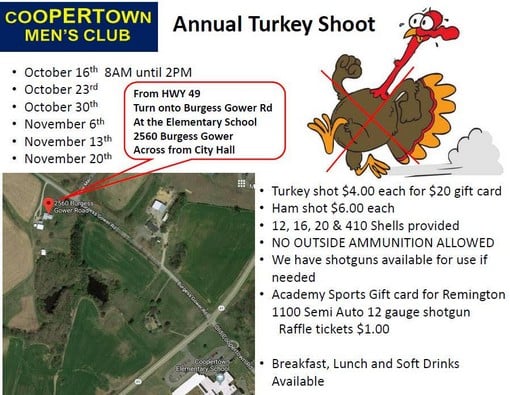 November 6: The Grove Church's Chili Supper and Cornhole Tournament
The Grove Church's Chili Supper and Cornhole Tournament on Saturday November 6th, from 5pm to 7pm. This event will take place at The Grove Church 2122 Tom Austin Hwy Greenbrier, TN 37073.
There will be family activities: hayrides, games, food, and prizes.
We will have an optional Chili Contest for those that enter during registration.
Questions? Call 615-382-1522 during office hours or email [email protected]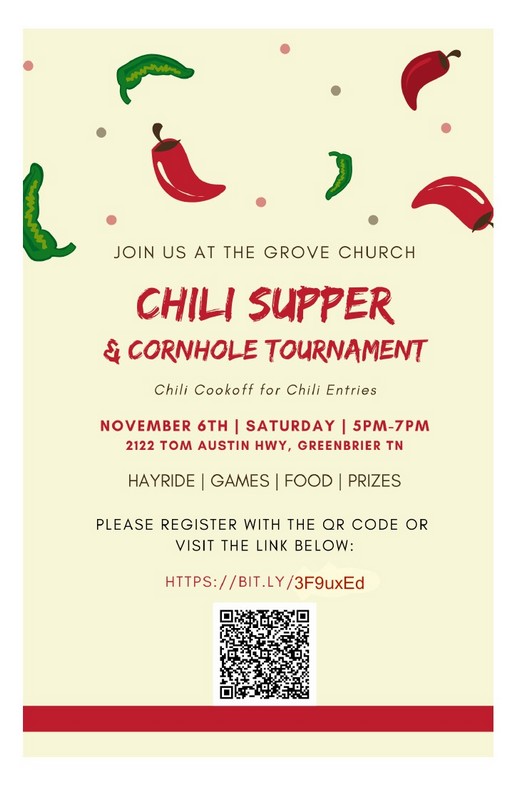 November 6: SHOW & SHINE by Springfield High School Baseball
From  9 AM – 12:30 PM: 5240 Highway 76 E, Springfield, TN
Bring your classic cars to compete for an award. First 20 registered cars also gets a free T-shirt. We will also have door prizes for registered entries. $20 first car, $10 additional cars.
FREE family fun! Come see the beautiful classic cars and enjoy the day with the Springfield High School Baseball Team. Meet your 2022 Yellow Jackets and show them your support for a wonderful season ahead. Enjoy local food vendors.
*Contact Chris Hollingsworth at (615) 992-8020 or [email protected] for questions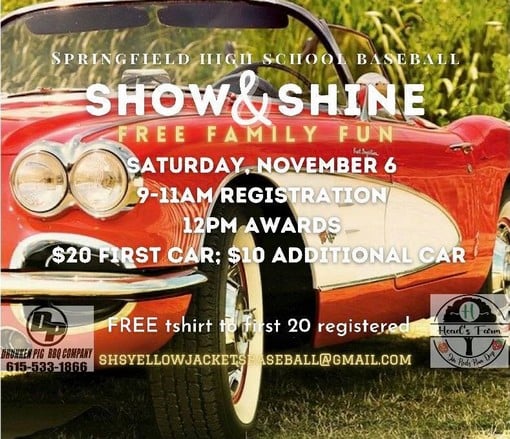 ONGOING EVENTS
Robertson County Senior Center In Springfield, TN
Lots of fun events every month, sign up for the newsletter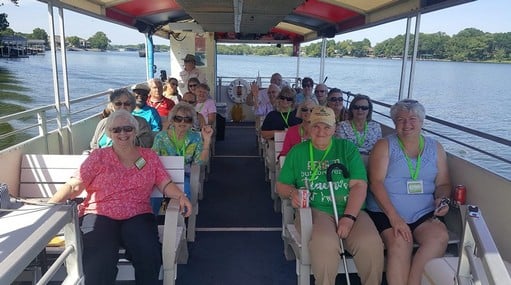 Our Operating hours will remain from 9:30am- 2:30pm. This allows adequate time to sanitize and prepare for activities.
We plan to add many activities in May like, our Harmonica class, another exercise class, etc. We also plan to start our "Out & About trips again!
WOO Hoo! Things are really looking up!
Can't wait to see your smiling face!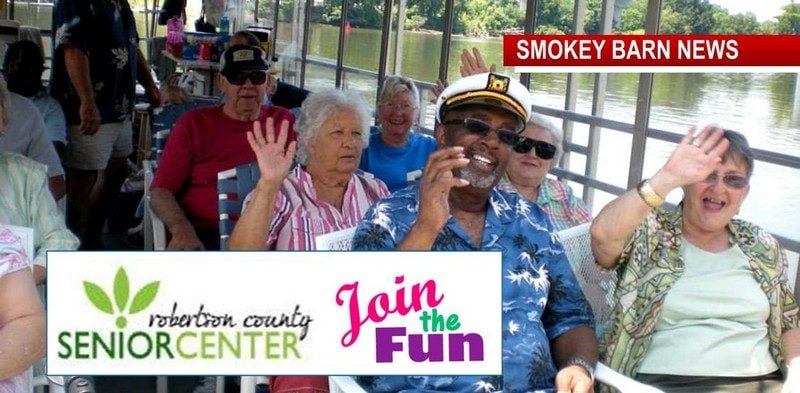 CHECK OUT OUR LATEST NEWSLETTER 
Check out all the fun activities planned this month in our October Newsletter

(Robertson County, TN)
The Robertson County Animal Control is overwhelmed by the current overpopulation of pets in our county
We have been working diligently to improve the situation in our area and lower our euthanasia rates. This has only been possible with support from our commissioners and mayor, and leadership of our Director Kevin Clinard. We promote spay and neuter. Please contact our office for information on low cost spay and neuter or to schedule to have your pet fixed.
Robertson County Animal Control
2900 W. County Farm Rd.
Springfield, TN 37172
Email: [email protected]
Phone: 615-384-5611

(Springfield, TN)
Orlinda, TN Byrum Porter Senior Center
ORLINDA TENNESSEE: (Smokey Barn News) – The Byrum Porter Senior Center in Orlinda, TN offers…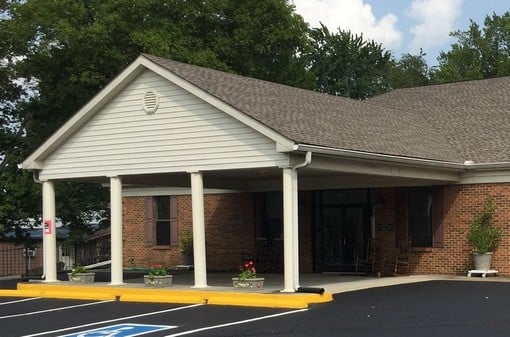 Byrum-Porter Senior Center in Orlinda, TN is open Monday – Friday from 8 am to 4 pm
We have everything from exercise classes, day trips, mystery lunches, extended trips, card games, dances and much, much more.
Checkout our newsletter to find out more about our dance themes, class times and trips on our website byrumporter.com or follow us on Facebook at Byrum-Porter Senior Center for all our fun activities.
Fitness after 50, Yoga & Tai Chi Exercise Classes, Dominoes, Canasta, Karaoke, Bridge, Shanghai Rummy, Footcare & Nail Appointments, massage appointments, paint classes and more. Request our monthly newsletter with all the details, just send an email to: [email protected]
Visit our exercise room
We have treadmills, stationary bikes, step climbers and a vibration training platform. If you can't get to our exercise classes or aren't comfortable in a group why not try this instead.
Thursday Night Dances: 
Come dance to the great tunes by The Good Time Charlie Band every Thursday night. Good Time Charlie Band rents the center on Thursday nights starting at 7 pm. Doors open at 6 pm. Limited menu available starting at 6 pm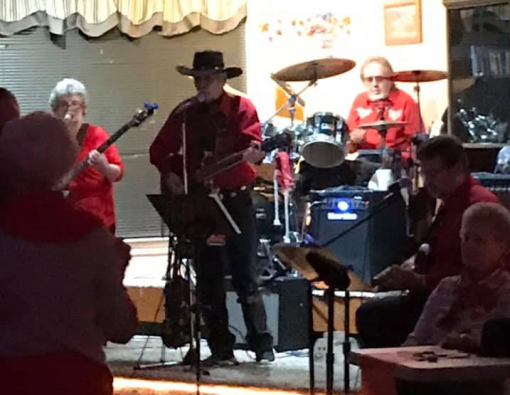 We love to Travel – Our 2021 Trips Collette Trips:
Hawaii November 4th – November 13th, learn more here.
Diamond Tours ***** new information *****
Diamond Tours is requiring all travelers with their groups to have updated Covid 19 vaccine.
To view these trips, click here.
The Ark Encounter & Creation Museum
(new date) – September 13-17
Niagara Falls & Toronto – September 5-11
Beautiful Maine – October 9-17
*All trips are subject to change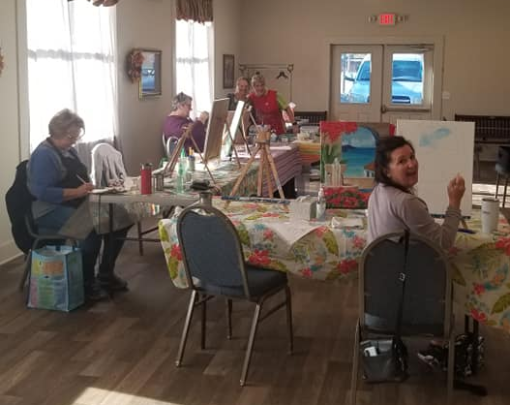 All events are subject to change. Changes will be posted on our Facebook page and our website.
Home Health supplies
We have walkers, canes, crutches, toilet risers, toilet bars, bed assist bars and a shower seat to loan if needed. We also have personal disposable hygiene items.
For updates call 615-654-3161
Location: 9123 Highway 49 E Orlinda, TN 37141
*The Center exists to make life more enjoyable for older adults, who reside in Orlinda and surrounding areas. Activities, Dances, Trips and much more.
*Coffee is always ready and waiting for you.
CHECK OUT OUR NEWSLETTER

NOTICE: Food Assistance Available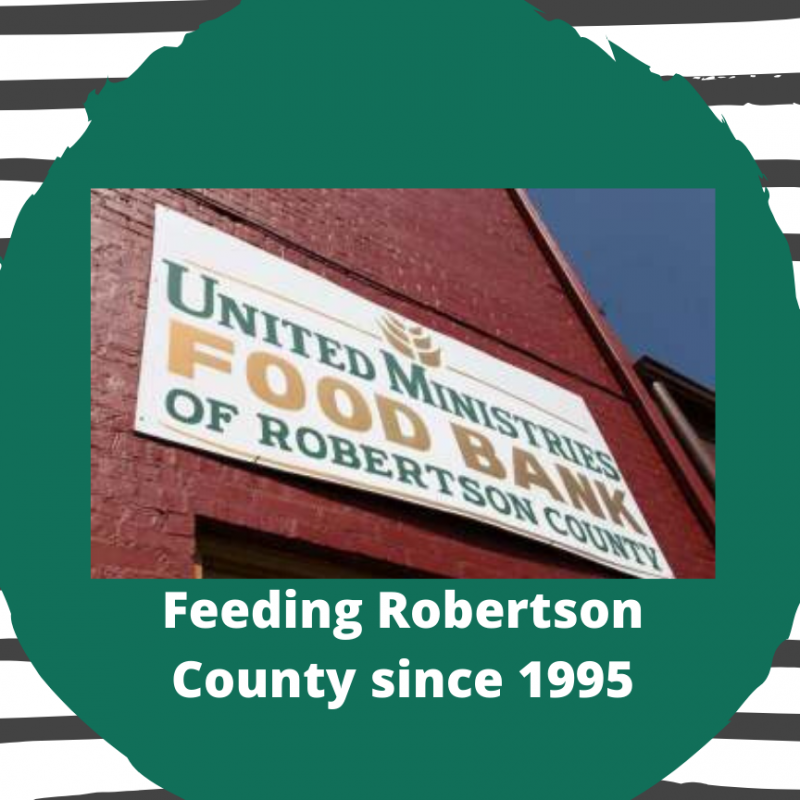 The United Ministries Food Bank would like to inform the residents of Robertson County that they are still helping with food needs.
If you are struggling to put food on your table they can help.
They are located at 808 S Main St. (beside Cope). Familes need to have ID's and Birthdays dates for all living at their residents.
Residents are welcome to come in monthly for assistance. If you have questions please call 615-384-8306.
Hours: Open Monday thru Thursday 10:30AM to 1:30 PM.

Notice: Food Pantry – Bethlehem Baptist Church Drive By Pantry 
Please drive up to Building A from the Hwy 76 entrance. Residents are asked to show proof of residence and an SSN# for each resident.
The drive-by pantry will be open on Wednesdays from 11am to 1pm.
NOTE: Beginning 9/2/2020 the pantry will be open 4:00-6:00 pm on the first and third Wednesday evenings of the month.
Bethlehem Baptist Church – 5081 Bethlehem Road – Springfield, TN. 615-643-0333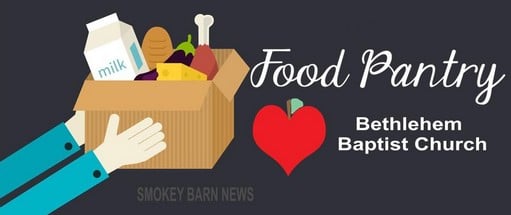 LOCAL LIBRARY EVENTS
Springfield, TN

Millersville, TN Library
Click the Banner below for the full calendar of events including Art ventures, storytimes, sign language and more!

White House, TN Library
Click the Banner below for the full calendar of events including sewing, storytimes, anime' drawing, chess club and more!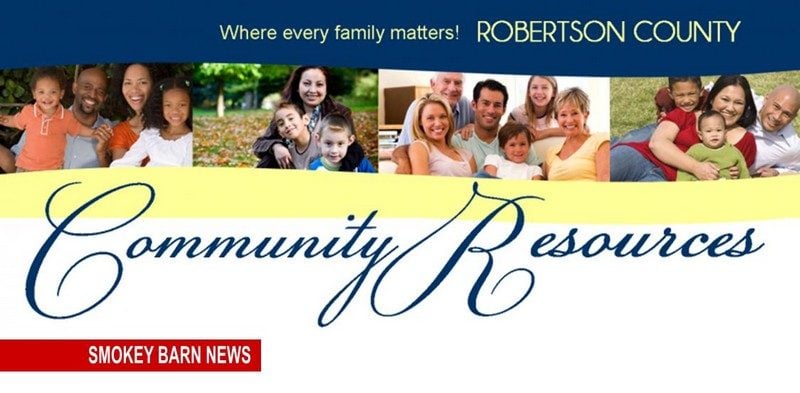 For A Full List of Family & Community Services, Resources & Meetings
Announce Your Event On
Robertson County's #1 News Source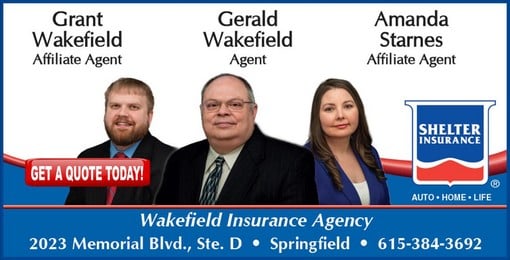 School events, church events, community fundraiser events, community gatherings, fundraisers, Announcements, Public Notices & rallies in Springfield, Greenbrier, Adams, Ridgetop, White House, Cross Plains, Millersville, Cedar Hill, Coopertown & Orlinda in Robertson County Tn, Tennessee!