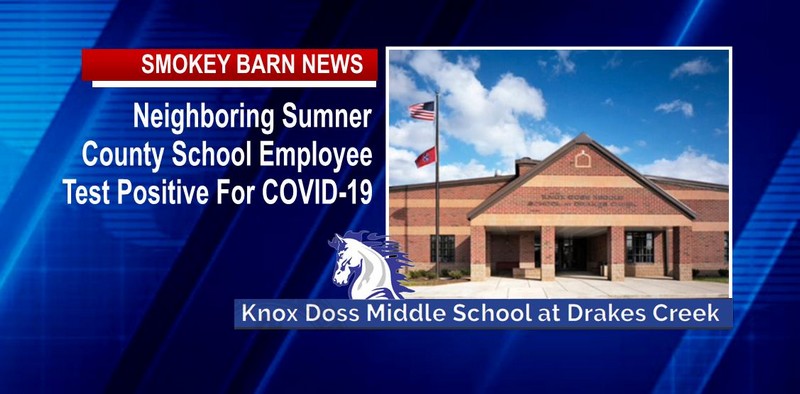 Neighboring County School Employee Tests Positive For COVID-19
SUMNER COUNTY TENNESSEE: (Smokey Barn News) – An employee at Knox Doss Middle School, located in neighboring Sumner County has been diagnosed with COVID-19. Students and staff have been asked to self-quarantine, according to a release from the district around 7:30 pm Friday.
LOCATION: Knox Doss Middle School is located in Sumner County about 8 miles from the Robertson County border.  LOCATION OF SCHOOL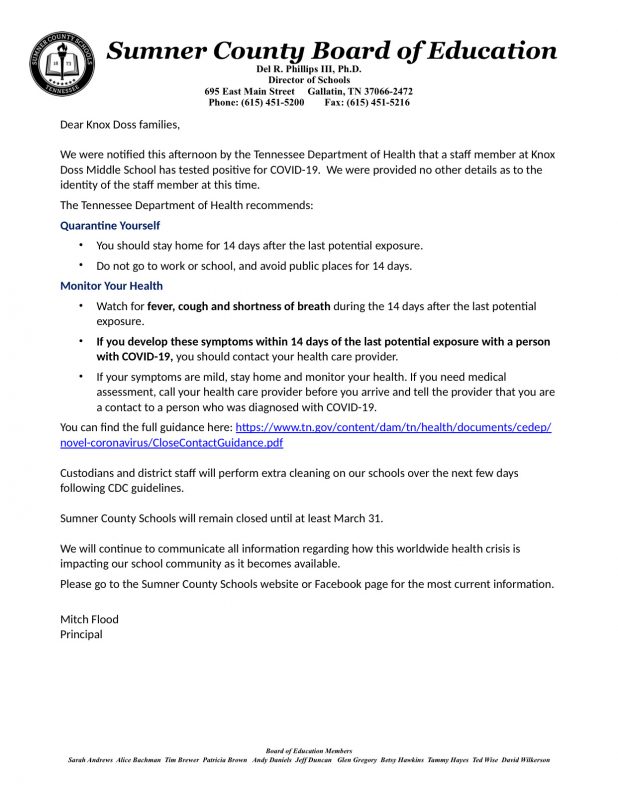 "We wanted to share information that was sent to Knox Doss families and staff today:
Dear Knox Doss families, We were notified this afternoon by the Tennessee Department of Health that a staff member at Knox Doss Middle School has tested positive for COVID-19."
Neither the district or the school were provided any details pertaining to the identity of the staff member.
The release advised students and faculty to do the following…
The Tennessee Department of Health recommends:
• Quarantine Yourself
• You should stay home for 14 days after the last potential exposure.
• Do not go to work or school, and avoid public places for 14 days.
• Monitor Your Health
• Watch for fever, cough and shortness of breath during the 14 days after the last potential exposure.
"If you develop these symptoms within 14 days of the last potential exposure with a person with COVID-19, you should contact your health care provider.
"If your symptoms are mild, stay home and monitor your health. If you need medical assessment, call your health care provider before you arrive and tell the provider that you had contact with a person who was diagnosed with COVID-19. You can find the full guidance HERE
"Custodians and district staff will perform extra cleaning on our schools over the next few days following CDC guidelines. Sumner County Schools will remain closed until at least March 31. We will continue to communicate all information regarding how this worldwide health crisis is impacting our school community as it becomes available.
"Please go to the Sumner County Schools website or Facebook page for the most current information," said Mitch Flood Principal.
SPECIAL NOTICES & ALERTS:
(Robertson County, TN) For local, City and County announcements, area business closures, cancellations, event postponements, library announcements and more – click here.