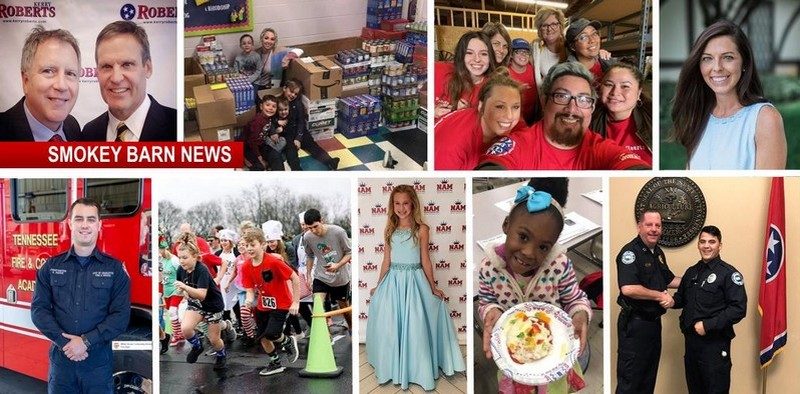 Community Heros, Holiday Events, Shining Students, Local News & More 11/17/19
ROBERTSON COUNTY TENNESSEE: (Smokey Barn News) – Welcome to Smokey's news in review. This week we have over 50 stories including upcoming Christmas Parades, Community Heros, Holiday events and more! It's a look back and forward covering news and events along with this week's top stories.
Don't be the only one around the watercooler this week that doesn't know what's going on. Smokey's People & Community News column highlights local stories of people, events, charities, and businesses that make Robertson County great!
Do you have a story you would like to submit? Smokey Barn News welcomes your community news and photos. Email your story ideas to our 24/7 news desk; [email protected]

In Springfield, TN News
Lowe's Heros Assists Open Door Pregnancy Center 
Lowe's in Springfield adopted the Open Door Pregnancy Center in Springfield this week to assist them in building shelves to meet the critical needs of the community.
The  Open Door Pregnancy Center is a non-profit organization located in Springfield that empowers women and their families who are facing or have faced unexpected pregnancies to make life-affirming decisions through education, counseling, and support. Several associates (pictured below) from Lowe's built the shelves on Tuesday. These shelves will help store and organize the Open Door Pregnancy material assistance portion for their resource center.
If you or someone you know needs support, encouragement, education, or material assistance, please reach out to The Open Door Pregnancy Center at 615-384-4673. Let Open Door Pregnancy Center help provide for families in need in the community to assist in building a strong home foundation.
The Open Door Pregnancy Center is also looking for donations of 0-6 months boy clothes that are tenderly used or new for this nonprofit organization.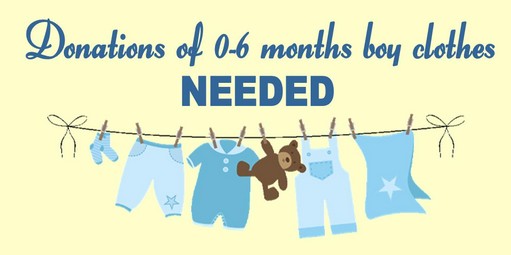 "We had a blast and can't wait to see what we get to help with next year on our Lowe's Heros community project!"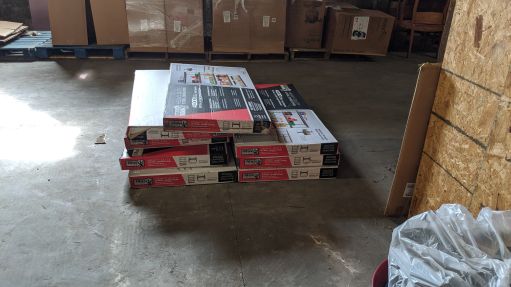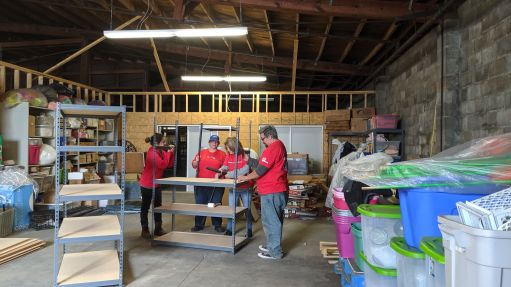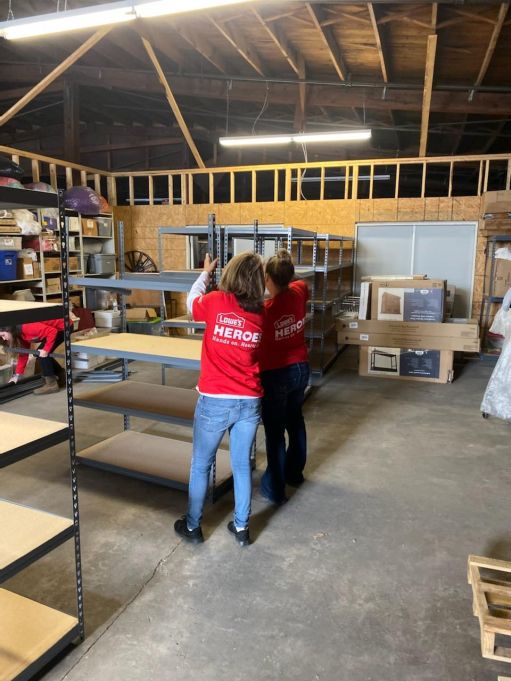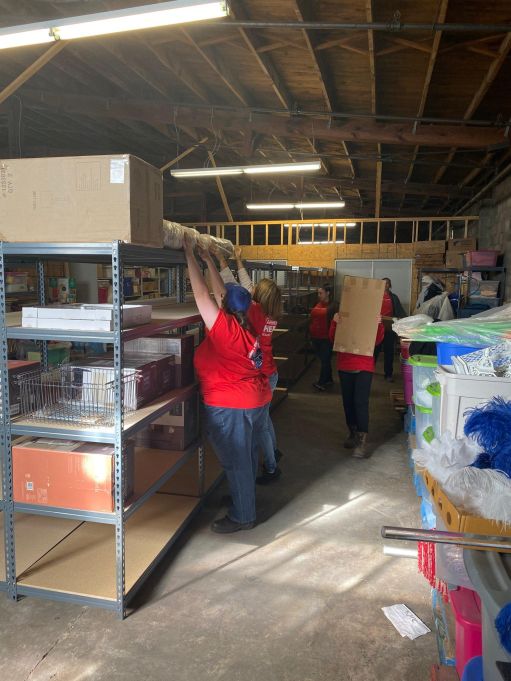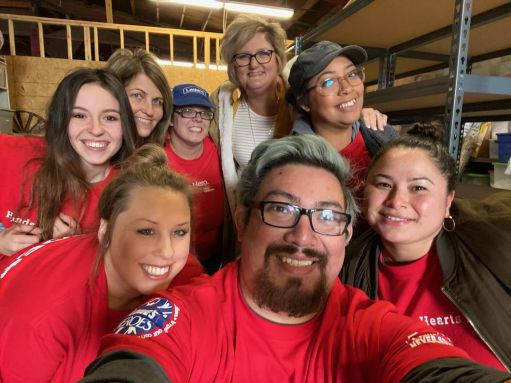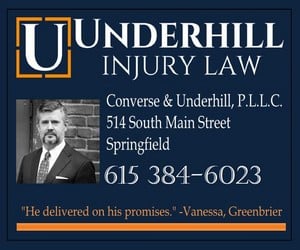 Springfield's South Haven Christian School & Daycare Dedicates New Playground!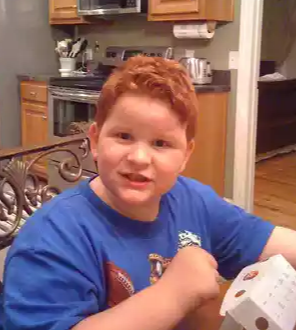 Sometimes God sends people into your life who make a great impact. One such person was Jackson Ashley. Jackson entered South Haven Christian School as a kindergartener and quickly endeared himself to his classmates, teachers, and everyone he met!
Jackson was Jack & Dana's miracle baby. After years of praying for a child, their prayers were answered on July 29, 2003 when their baby boy came into the world. At the age of three, doctors discovered that Jackson had cancer. After months of treatment, his cancer went into remission; however, by the end of Jackson's 2nd grade year the cancer returned, and it became evident that his life on this earth would not be for long. Jackson went home to be with Jesus on January 2, 2013 just shy of his 10th birthday.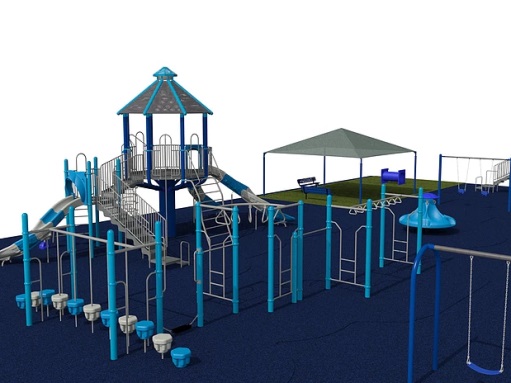 Today, Jackson is in heaven (cancer free!) walking with Jesus. How do we know this? Jackson asked Jesus into his heart when he was 7 years old. He knew that when his earthly life was over, he would be in Heaven. Although we shed tears that Jackson is no longer with us on this earth, we know that one day we can see him again if we, too, have accepted Jesus as our personal Savior.
Jackson left an impact on South Haven Christian School that will never be forgotten. In 2018, the decision was made to build a beautiful state-of-the-art playground in Jackson's memory. Jackson loved life! He loved to play and have fun! Most of all he loved Jesus.
We are honored to dedicate our new playground – Jackson's Playground.

City of Springfield, TN – Government – Congratulations to the graduates of our 2019 Citizen Police Academy!
Our police department was thrilled to share the operational aspects of their roles with you and we are very grateful for the plaque presented by the class to the department. Thank you for participating!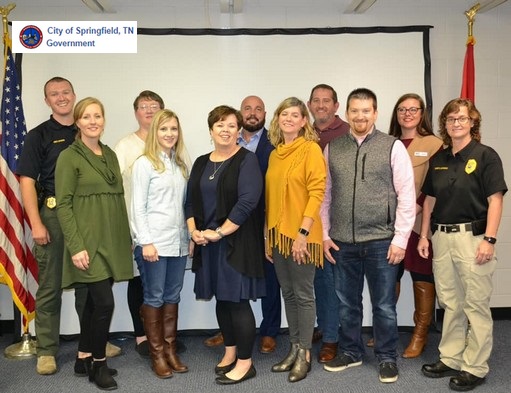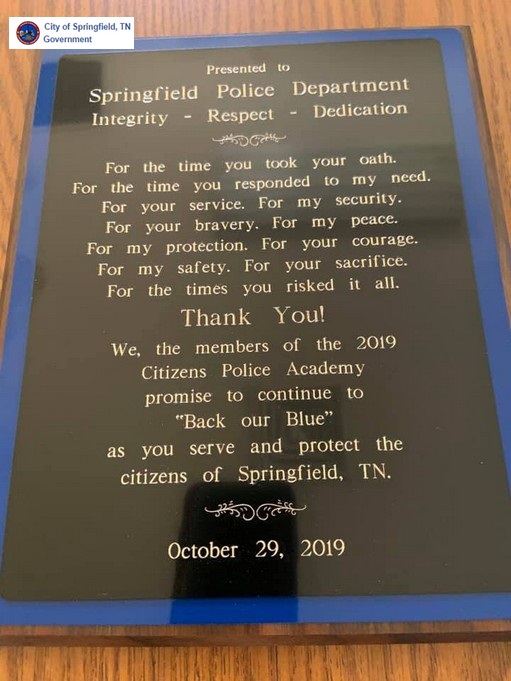 The City Of Springfield Hires Public Affairs Coordinator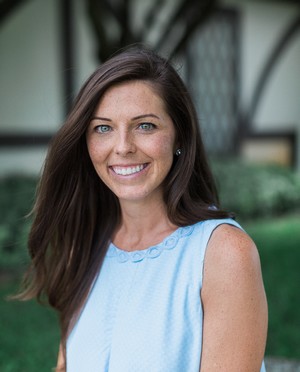 The City of Springfield has announced that Candice Tillman has been hired as the new Public Affairs Coordinator for the city. Tillman has extensive experience in the public relations and marketing fields and most recently served as a Marketing and Public Relations Supervisor for the City of Clarksville. Tillman has been with the City of Clarksville since 2010.
This position is brand new for the City of Springfield. As the city has grown, the Board of Mayor and Aldermen decided to establish the position in conjunction with city management to market and promote the city as well as to improve communication between the government and its citizens.
Additionally, the Public Affairs Coordinator will support economic development efforts and assist commercial and industrial constituents with needs from city government.
"We are thrilled to have Candice join us as the first Public Affairs Coordinator," said City Manager Gina Holt. "She has been doing for the City of Clarksville exactly what we intend for this position to accomplish. We had 84 applicants and it was very competitive, but her education and experience were a perfect match for the position."
Tillman holds a bachelor's degree in marketing from Austin Peay State University and a master's in business administration from Bethel College. She and her husband, Mark, currently live in Robertson County with their four children.
Tillman will begin her work with the City of Springfield on December 2, 2019.

Springfield's Payne Chevrolet – Mr. Wall just took advantage of our 2019 Clearance that is going on ALL MONTH LONG!!!
Thank you again for your business and congratulations on the new Silverado!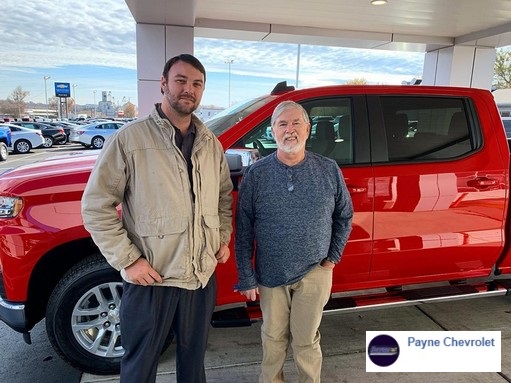 (Springfield, TN) A Message North Robertson Fire and Rescue & TN Dept of Commerce & Insurance
We urge Tennesseans to remember to NEVER use your oven to heat your home. A gas oven may go out or burn inefficiently, leading to carbon monoxide poisoning. An electric oven was not designed for space heating. Do not burn outdoor barbecue materials such as charcoal briquettes inside – even in a fireplace. Let's stay warm and safe this winter, Tennessee.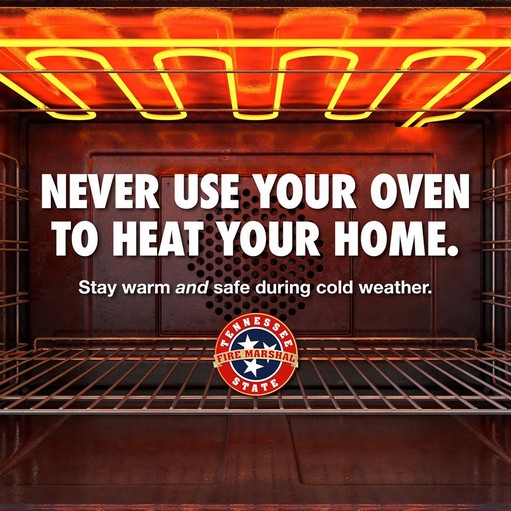 Springfield's NorthCrest Medical Center – Congratulations to Toni Bryant-Parker, Patient Access, for being chosen as the Employee of the Month for November 2019.
Toni was recognized for helping a visitor in the cafeteria. He had limited use of his hands, but Toni helped by walking through the cafeteria line with him, getting a full meal ready on his tray, and getting him seated to enjoy lunch. Thank you Toni for your kindness!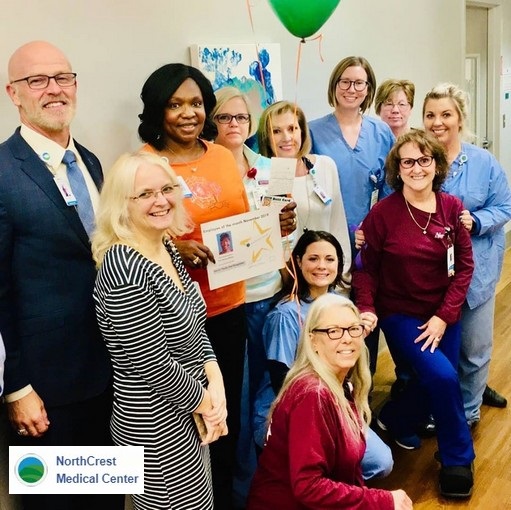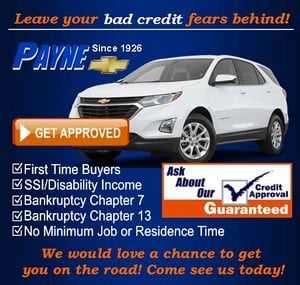 Springfield's Bransford Elementary/ UT Extension-Robertson County: Healthy Lifestyles – Friday afternoon at Bransford! 
Healthy Pizzas, Importance of handwashing  and Physical Activity Game

SAVE THE DATE…
November 23 The Springfield Christmas On The Square/Parade: By The Robertson County Chamber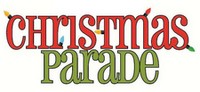 The Robertson County Chamber of Commerce will kick off the Holiday season with the annual Springfield Christmas parade on Main St. at 2:00 pm, Saturday, November 23. This year's theme: "Celebrating 200 Years". The Grand Marshals will be City of Springfield, TN – Government leaders. Shopping & Vendors on the square from 10:00 am until 3:00 pm. Parade participants & Vendors asked to bring a new unwrapped toy for the Greenridge Toy Drive. Free Santa pictures available from 10:00- 1:00


Springfield Electrolux Plant Expansion Update & Giving Back To The Community 
The Electrolux Springfield factory is going through a kind of metamorphosis as they modernize their 44-year old plant.  The firm is investing $250 million to expand production and manufacture amazing new cooking products.
Tunnel Vision
"Here's a cool fact: An underground tunnel will connect a new factory and new warehouse together. Over the last few months, we've been blowing up the bedrock, widening the road and constructing a bridge. Our products will travel from the new factory (left) to the new warehouse."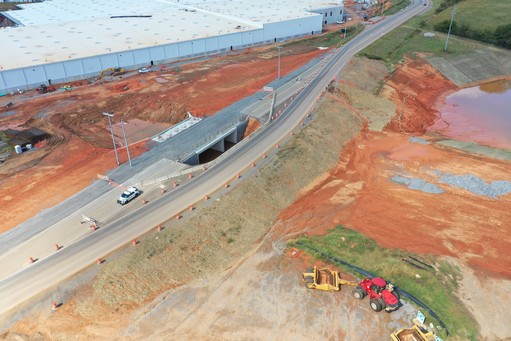 LIGHTING
"We've installed lots of windows at the new factory. Tons of natural light will make the space bright and inviting."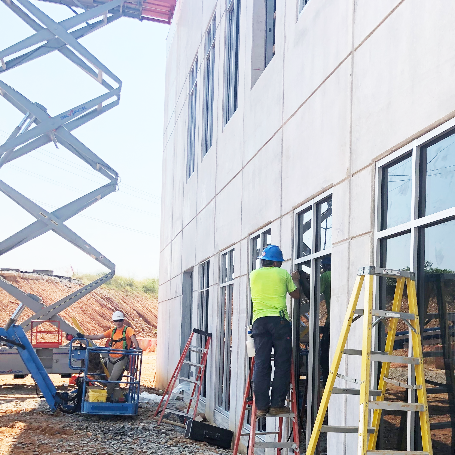 Giving back – all month long…
"We are passionate about giving back, and so are our employees! Last month, we held various fundraising activities (think bake sales, raffles and activities) to support the Robertson County YMCA After Breast Cancer program.
"Together with our employees, we raised more than $8,000 for the program. We are committed to shaping lives for the better."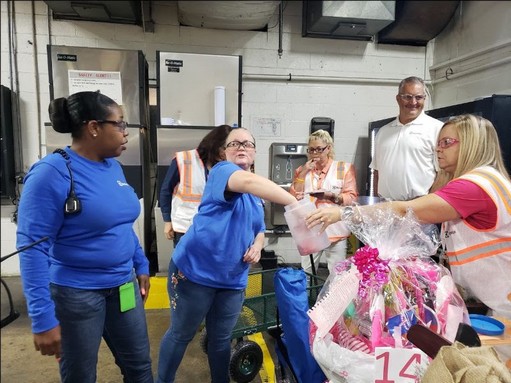 Honored as the BEST in Robertson County
Electrolux received the 2019 BEST award for Robertson County from the North Central P-16 Council.
The Council recognized our employee tech scholar program, our new on-site training lab, and our very own Tim Dowell, for his continued dedication to assisting Volunteer State's growth in the technical field.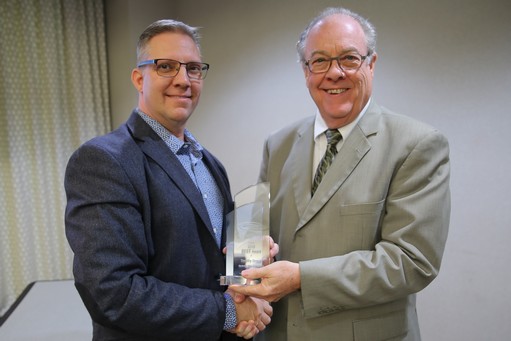 In case you missed it …
Power in partnerships. We recently partnered with our suppliers to raise $160,000 for St. Jude Children's Research Hospital.
Special thanks to local supplier Denham Blythe for their participation and support.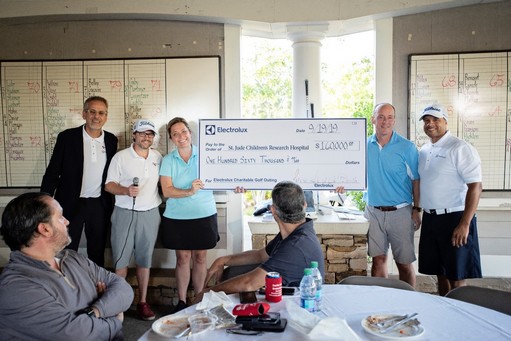 Employee Spotlight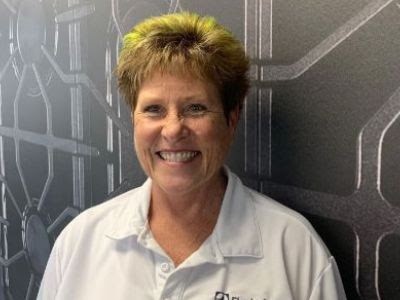 Dot McCarter began her career at Electrolux as an Assembly Technician in 1985. She knows our operations inside and out. Today, she's an Employee Support Coach who helps ensure our newest employees are set up for success.
"This job is so important to me because I help new employees get established, which gives them a better chance to learn and grow with the company. My career with Electrolux has been rewarding and I want to do my part to help others on their journey."

Winter Wonderland Lighted Trail! 
FREE
December 13-14 Walk-Thru
December 15- 19 Drive-Thru
December 20-21 Walk-Thru
December 22-22 Drive-Thru
Walk-Thru at J. Travis Price Park In Springfield
FREE ADMISSION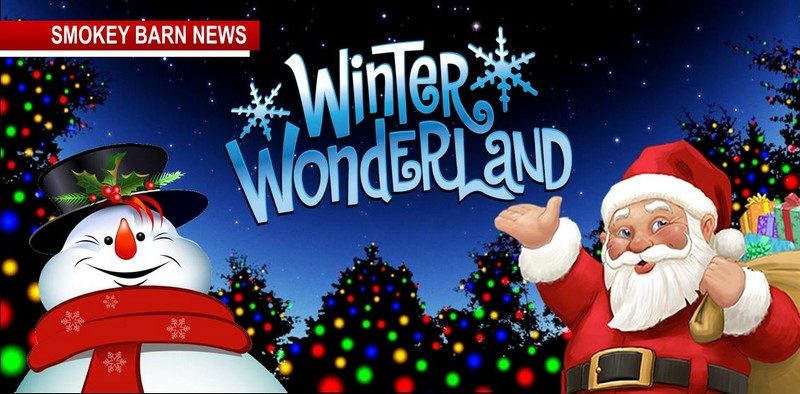 (FREE EVENT)  Follow the lighted trails at J. Travis Price Park…Enter the Candy Cane Forest to see fantasy scenes, decorations, Hot chocolate and a petting zoo!
Bring your camera for pictures with Santa! Gates open at 5:30pm and close at 9:00 pm for all dates.
Location: Travis Price Park: 4155 Wilks Rd, Springfield, TN


In Greenbrier, TN News
SAVE THE DATES…
Every Saturday Thru Nov. 30th: Greenbrier's American Legion Post 45 Annual Turkey Shoot
Saturday's from 8 AM – 12 PM at the American Legion – Post 45 , Greenbrier, TN
2730 US Highway 41S, Greenbrier, TN
Our annual event to support our programs in Americanism, Patriotism, Youth and Veterans. A family-friendly fun event for the whole family. Event is each Saturday, October 5th thru November 30th. We run until 12p or we run out of shooters, whichever comes first.

10 Yr Old Greenbrier Boy Needs Your Help
GREENBRIER TENNESSEE: (Smokey Barn News) – 10-year-old Thomas Barnett of Greenbrier has a heart for the homeless and he has a message for anyone facing hard times; "It can still get better."
Thomas delivers his message of hope during the Christmas season through gifts of coats and blankets. He calls it Thomas's Closet.
Thomas's Closet is dedicated to helping keep Robertson and Davidson County's homeless population warm for Christmas and now you can participate.
Thomas's goal is to collect as many coats and blankets as he can to deliver to the homeless for Christmas this year. "Please help us by donating what you can!! If everyone looked inside their closet I guarantee you could find at least one thing that you no longer use. Thomas's Closet is only accepting coats, blankets, scarves, gloves at this time.
No one should be cold this winter if we can prevent it. Thanks so much for your support." READ MORE…

Greenbrier High School – Rodney Swearingen: October Community Leader of the Month
Congratulations to Rodney Swearingen, local Farm Bureau Insurance agent, for being selected our October Community Leader of the Month. During football season, he recognized one outstanding player each week. He gave these athletes a commemorative football and posted it on social media. We appreciate his support for our school and community!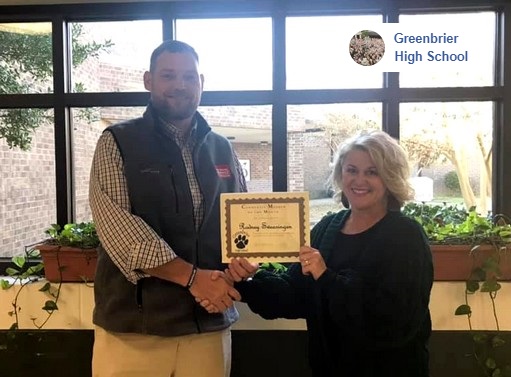 Greenbrier High School – Johnny and Autumn McCartney: October Parents of the Month
Congratulations to Johnny and Autumn McCartney for being selected the October Parents of the Month. Both parents are actively involved in assisting with the wrestling program and FCA.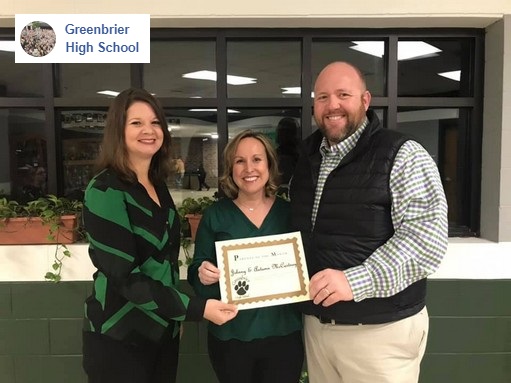 November 19: GreenRidge Chamber Meeting at 9 am
Time: 9:00 a.m.
Place: Ridgetop City Hall 1730 US 41 Ridgetop, TN 37152
GreenRidge Chamber
P.O Box 439
Ridgetop, TN 37152

BraxtonStrong Foundation – Holiday Cheer For The Elderly
HOW YOU CAN HELP BRING JOY TO THE ELDERLY
THIS HOLIDAY SEASON
"I am SO excited to get this new yearly event started this season!! I wanted to do something for the elderly in our local nursing homes! Sadly a lot of them are forgotten, don't have visitors and don't receive gifts around the holidays," said Nicole Turnbow of Greenbrier.
"So, that's where WE as a community come into action & let them know they are special!!"
"I will have a list of names & wish items for the residents. Sorta like an angel tree!  There are well over 100 residents. If you would like to pick one or more of the residents to buy them Christmas gifts…please let me know!!
"Next month, after I have gotten all their gifts ready. (Make sure if you purchase them to put from you!) I am planning to take them personally and give them out!! I would like for as many parents/kids as possible to go also. Especially children! I've already got several of Braxton's friends planning ongoing. Elderly LOVE when children come to visit them!!
"Can you all imagine how HAPPY this is going to make them during this time of the year!! Let's spread some Holiday Cheer!!
"Let me know (message here)  if you want to be a part of this special event and how many residents/angels you would like to shop for! #BraxtonStrong #GivingBack #SpreadingLove"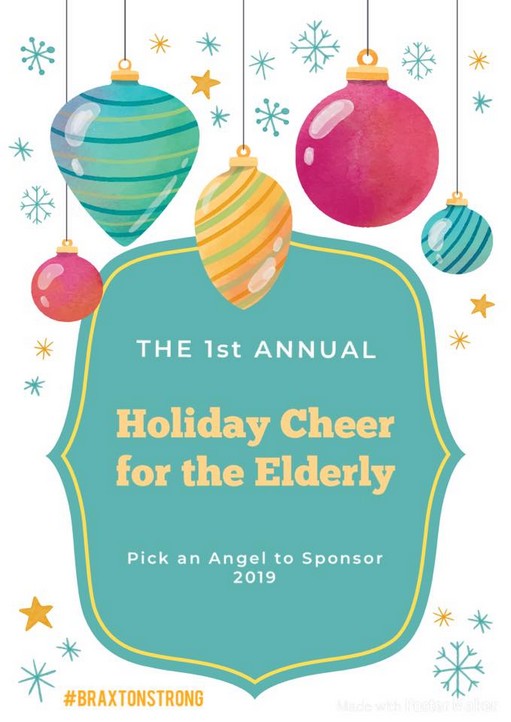 SAVE THE DATE…
December 1 Thru Dec. 31st – "Lights On Logan" In Greenbrier
2019 Lights On Logan light Show (Greenbrier) Over 35,295 lights synchronized to 368 channels of computer-controlled animation. The show will be running from December 1st til December 31st from 5 p.m. until 10 p.m. Address: 2760 Logan Road Greenbrier, TN. MAP The light show runs every 24 minutes from 5:00 p.m. until 10:00 p.m. (11 p.m. on Fridays and Saturdays) Tune your car stereo to 103.9 FM when you arrive to hear the show.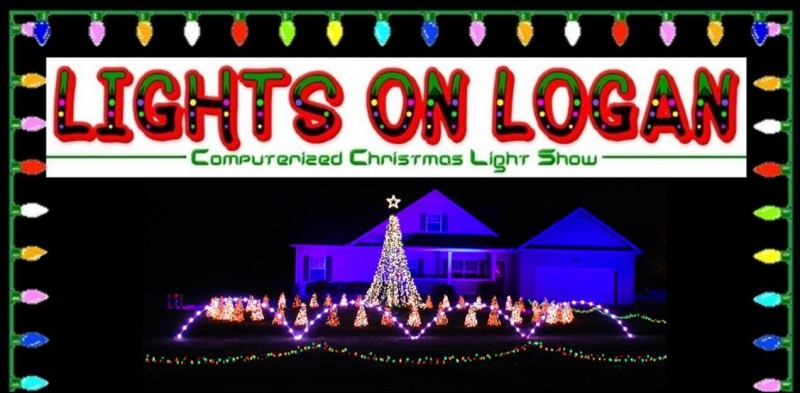 SAVE THE DATE…
December 14th – Greenbrier Christmas Parade, Tree Lighting, Food, Music & Bonfire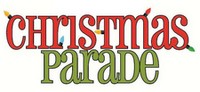 The Greenbrier Christmas Parade will be held on December 14 at 5pm.
Sign up by obtaining a form at City Hall.
The Tree Lighting, Food, Music and bonfire to follow the parade.

In Ridgetop, TN News
December 6th – Ridgetop Christmas Parade "Christmas under the Lights"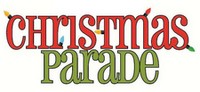 Ridgetop Natural Gas will be hosting the Annual "Christmas under the Lights" Christmas Parade on Friday, December 6, 2019 @ 7:00 p.m.
Come out for cookies and hot chocolate to follow at Ridgetop Station Park. Contact Ridgetop City Hall for float entry information at 615-859-0596

In Cross Plains, TN News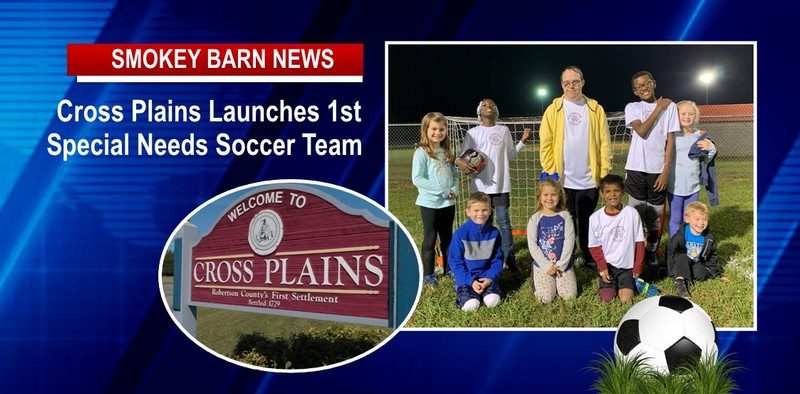 Cross Plains: Special Needs Soccer Team Sparked By Life Long Friendship
CROSS PLAINS TENNESSEE: (Smokey Barn News) – A lifetime of friendship became the catalyst for a new soccer team that started in Cross Plains this month.
Born just a month apart, Marlene Graves and Bobby Iwanowski, pictured right, literally grew up together, both graduating from East Robertson High School. Over the years a bond between them developed. Marlene watched as Bobby had to sit on the sidelines while other kids played sports, it was more than she could bear and it became her mission to do something about it.
"This guy right here has been a lifelong inspiration, Marlene Graves tells Smokey Barn News. "We were born a month apart and attended the same church and school growing up. READ MORE…

SAVE THE DATE…
Beginning November 28 thru December 28 Dancing Light Show To Music – Brownstone neighborhood in Cross Plains
Friends and family of Robertson County, we are filling up our yard and getting in the spirit with thousands of little lights again this year in the Brownstone neighborhood in Cross Plains. Roughly 100,000 bulbs and 144 channels will be dancing to the music from 5:30pm-9pm Monday through Thursday and 5:30pm-10 on Friday and Saturday. The show will begin on November 28th and end on December 28th Please tune to 107.3fm from the warmth of your vehicle to enjoy the show. Address: 8208 Brownstone Exd Cross Plains 37049 MAP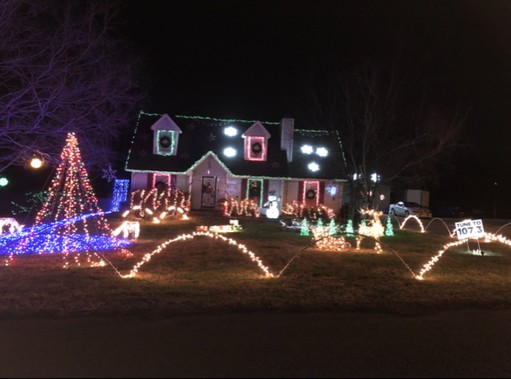 December 7th – Cross Plains Christmas Parade – "Gingerbread Christmas"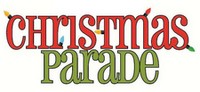 The Cross Plains Parade is scheduled for December 7th at 10am. The theme this year is "Gingerbread Christmas" Line up starts at 8am at East Robertson High School.
There will be a float contest for best of show with $100 for first place, $50 for second and $25 for third place.
Want to be in the parade? Pre-registering can be done at City hall or you can register the day of the parade.

In Millersville, TN News
Millersville Fire Department & TN Dept of Commerce & Insurance With A Christmas Tree Saftey Message
Putting up your Christmas tree this weekend? (The holidays seem to get here earlier and earlier, don't they?) A dry Christmas tree can become a fire hazard and can quickly ignite causing a home fire. Remember: Always add water to your tree stand daily. Never use lit candles to decorate a tree. Always turn off decorative lights before leaving home or going to bed. Keep all heat sources at least three feet away from a tree.

Millersville Public Library of Sumner County – Drop off any donations at the library all November!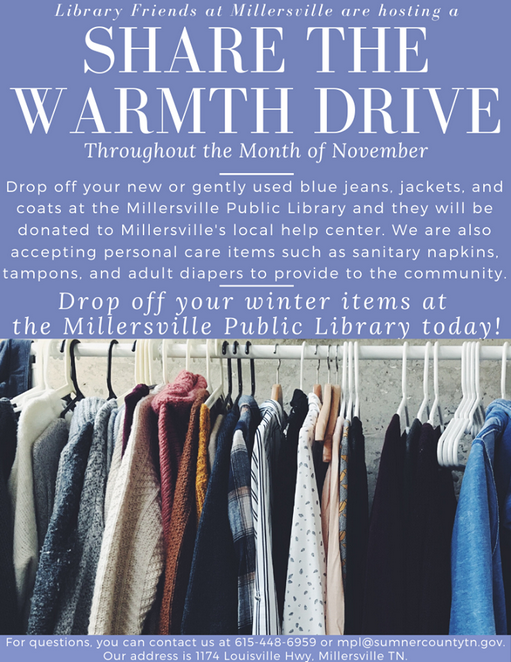 Millersville Public Library of Sumner County
· 19 hrs ·
Join us Monday, November 18 at 4:30 pm in the Millersville Community Center's Room 106 for our free yoga classes!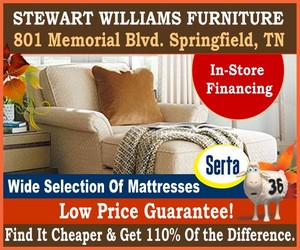 SAVE THE DATE…
December 14th – Millersville Christmas Parade & CHILI COOK-OFF! Pictures with The Grinch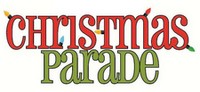 The City of Millersville has partnered with the Millersville Public Library of Sumner County for City Events as well as the management of the Community Center.
The holiday events will be on Saturday, 12/14/19.
The library is having an awards ceremony for our short story writing contest at 11:00, which is open to the public.
The Christmas parade will start at 12:00. There will be a Chili cook-off and pictures with the Grinch at the Community Center directly following the parade, approximately 1:00.

In White House, TN News
SAVE THE DATE…
White House Area Chamber of Commerce – Running Of The Elves Fun Run & 5K  – Hosted by White House Area Chamber of Commerce
Saturday, December 7, 2019 at 10:30 AM – 1:30 PM
105 College St, White House, TN 37188-9086, United States
Grab your elves and get ready to spread holiday cheer because the White House Area Chamber of Commerce is excited to announce that the Running of the Elves Fun Run and 5k presented by Tate Ornamental | Tate Granite is back and better than ever!
On Saturday, December 7th the third annual Running of the Elves One Mile Fun Run and 5k presented by Tate Ornamental | Tate Granite will take over the streets of White House and the Greenway. Individuals and teams can register in either race. The cost to participate in the Fun Run/Walk is $25.00 per individual and $20.00 per person if registered as a team. The cost to participate in the 5k is $30.00 per individual and $25.00 per person if registered as a team. Every participant registered by November 25th is guaranteed a long sleeve official race shirt.
Be the lead in the Christmas parade as the crowd cheers you along the route. $500.00 cash prize for top male and female in the 5K and $100.00 cash prize for top male and female in the 1 mile fun run! A traveling trophy will also be awarded to the "Best Team Costume." There will also be prizes given to "Most Spirited" and "Best Dressed." Pets are welcomed too!
You can register online at RaceEntry.com and entering "37188" in the search box or by calling the Chamber at 615-672-3937. #DiscoverWhiteHouse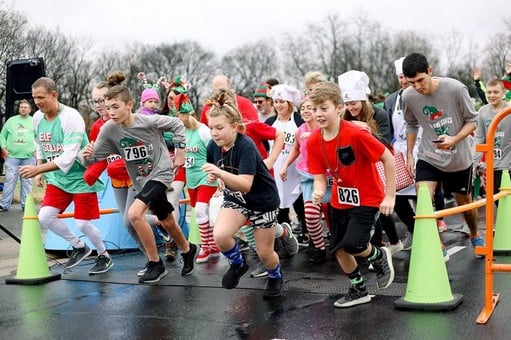 ATTENTION! ATTENTION! Check out our cash prizes!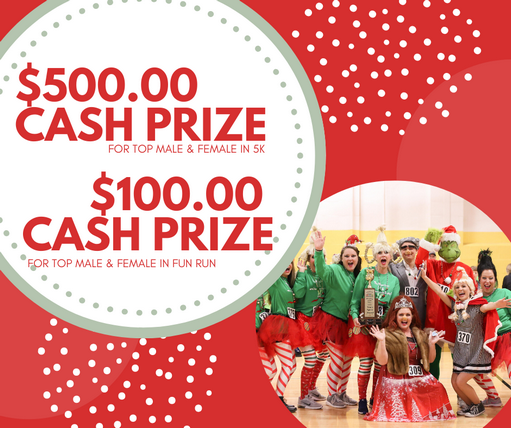 City of White House, TN- Police Department Congratulations to Ofc. Trombley on taking the Oath of Office with Chief Brady and the White House Police Department.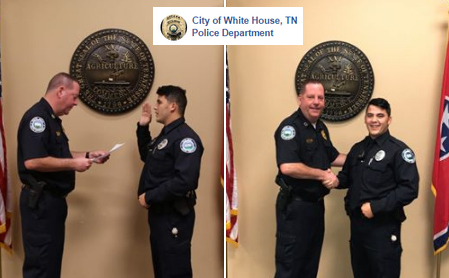 (White House, Tn) H.B. Williams Elementary – Congratulations to 4th grader Jace French.
He was nominated by three teachers and was awarded the Wheels in Motion award! Jace has the biggest heart and the sweetest smile!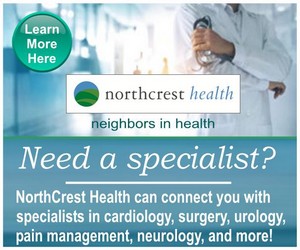 (White House, TN) Robert F. Woodall Elementary Students Support World Diabetes Day on November 14 and anyone who is affected by it.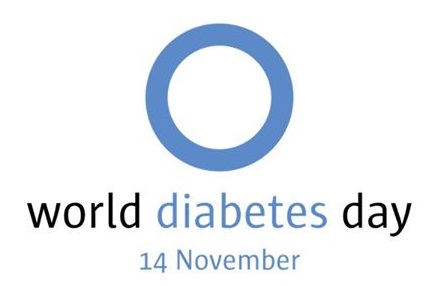 Pictured below is former student Gordon Christie, and little brother Jasper Irvin, along with many other Woodall students. #WeAreRCSTN, #WDD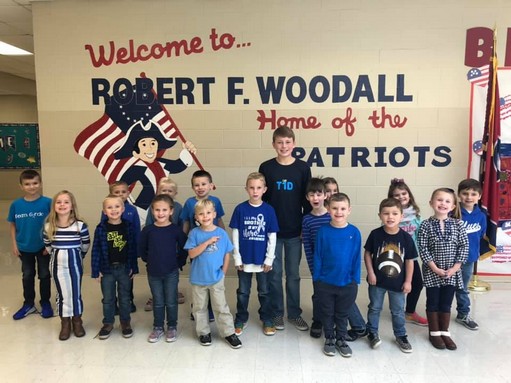 Robert F. Woodall Elementary – Happy Veterans Day! #WeAreRCSTN

White House Community Volunteer Fire Dept. – Our newest graduate Skylar Payne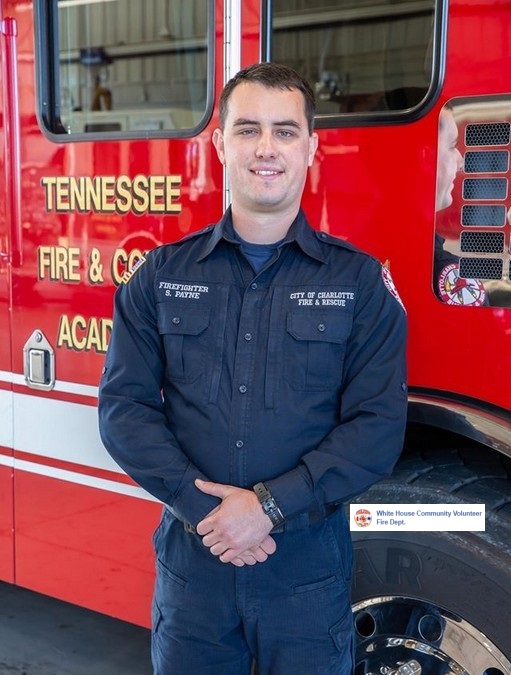 The city of White House, TN – Administrator's Office And White House Chamber at Georgia World Congress Center Authority – Recruiting retail and restaurants to White House
Another great show at ICSC International Council of Shopping Centers recruiting retail and restaurants to White House with the White House Area Chamber of Commerce. #DiscoverWhiteHouse #MyWhiteHouseTN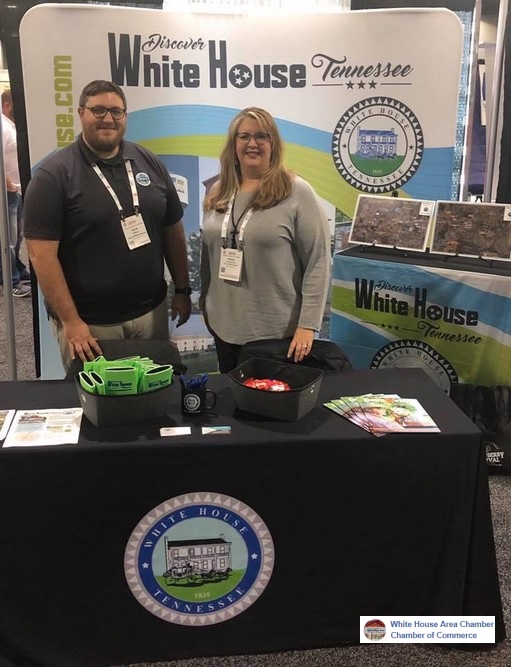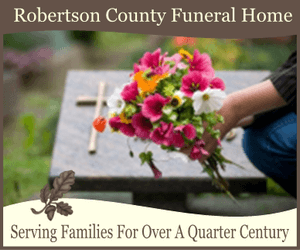 SAVE THE DATE…
December 7th – City of White House Christmas Parade – "A White House Historical Christmas"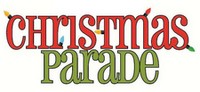 The White House Christmas parade will be Saturday December 7th @ 1:00PM.
It will begin at White House Municipal Park. The theme is "A White House Historical Christmas " with Mrs. Evelyn Guill being the Grand Marshal. Anyone wishing to participate in the parade must register through the Parks & Recreation Department by December 5th @ 5:15PM. Call 625-672-4350 ext. 2114 for more information.

In Coopertown, TN News
Coopertown Elementary PTO – Can Food Drive A Big Hit
That's the number of items donated! We are all truly blown away and thankful for everyone's donations and support for the schools can food drive. Thank you to all the students, parents, grandparents, guardians, friends, teachers, etc for everything you do to support the PTO and school. None of this is possible without all of you. It is an honor to be able to bless families in our community with this food. All items have now been sorted and boxed. CEMC and Robertson Co Food Bank will be picking up all the items. Also a special thank you to our amazing counselor Mrs. Dycus for putting this together!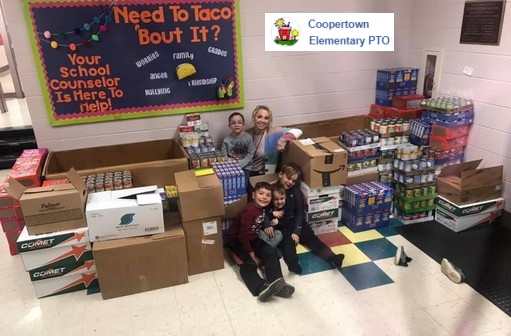 City of Coopertown, TN Proclaims November 9th as  Harold Reeves Day 
November 9th proclaimed Harold Reeves day by the city of Coopertown to honor our longtime member, 99 year old, WWII vet. Mr Harold Reeves.
The Coopertown Men's Club, took a short break during their annual Turkey Shoot fundraiser to honor American Veterans. One veteran was singled out for special honors. His name is Harold Reeves who is a 99 year old WWII Army veteran that fought in the Battle Of The Bulge "In The Big Red One."
Mr. Reeves was presented a Tennessee State Flag that flew over our state capitol in his honor on November 7th 2019 and adjoining certificate sign by Governor Bill Lee.
The Town of Coopertown honored him as well by declaring 11/9/19 as Harold Reeves day and presenting Mr. Reeves with a plaque declaring Harold Reeves day in the Town of Coopertown.
Harold has been a member of the Coopertown Men's Club since 1999.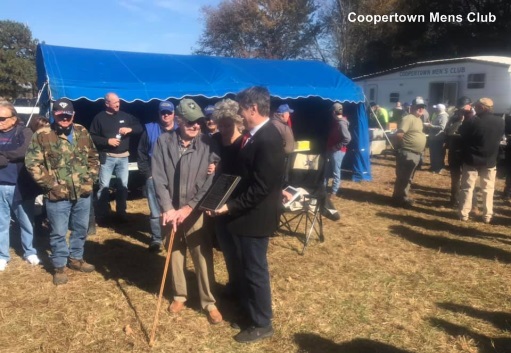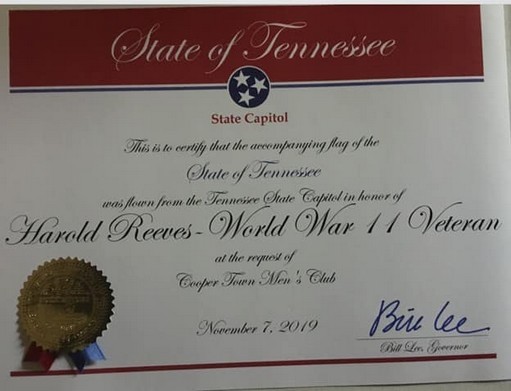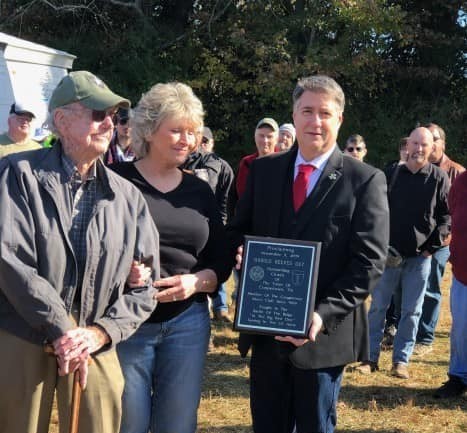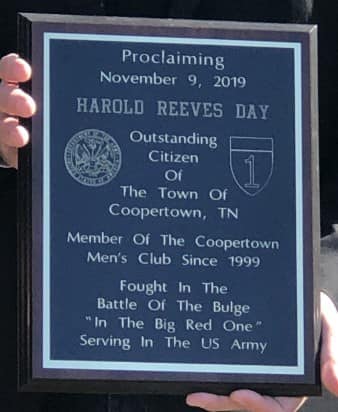 SAVE THE DATE…
December 7: Meet Santa at Coopertown City hall from 9am to 11am
Come out and enjoy Hot chocolate, fruit juice, donuts, cookies, and other refreshments and snacks. Digital photos will be emailed to the parents for an excellent addition to their Christmas cards. Event sponsored by the Town of Coopertown Development members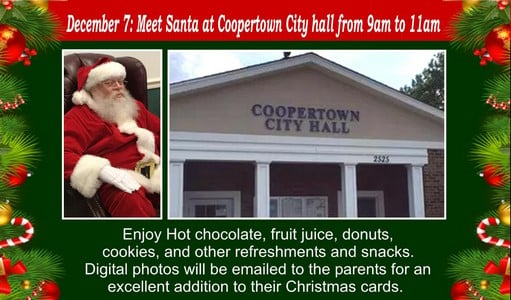 Emma Lund of Coopertown To Compete in the All American Miss Pageant in Anaheim, California on November 23
Back in July Emma Lund competed in the National All American Miss for the title of Miss Preteen Tennessee.
Emma was the 4th runner up and is now headed to Anaheim, California November 23 to compete in the All American Miss Pageant. She will also compete for a Music Artist of the Year.
Emma is in the 7th grade at Coopertown Middle School and her parents are Brad and Kimberly Lund.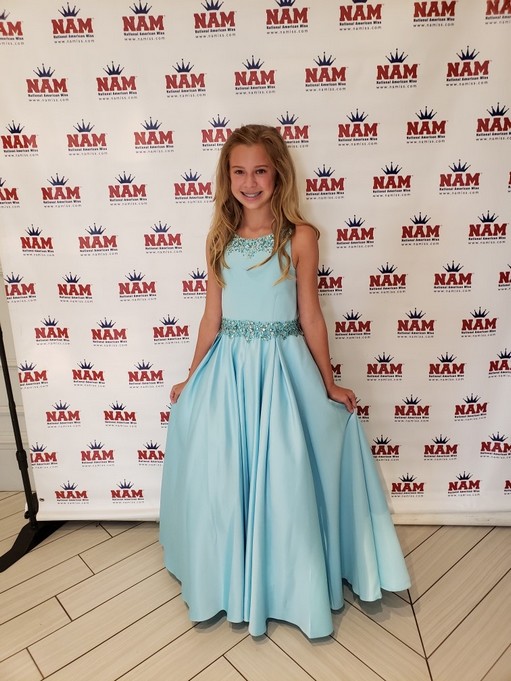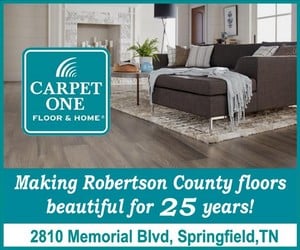 In Adams, TN News
SAVE THE DATE…
November 30 Adams Christmas Parade, Hot Chocolate, Cookies & Pictures with Santa
UPDATE!! Due to weather, the Adam's Christmas Parade has been rescheduled for Sunday December 1st at 3 o'clock.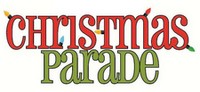 Adams Christmas Parade will be held on November 30th at 4:00 pm. 7617 Highway 41 North, Suite 101, Adams, TN.
Hot Chocolate, Cookies & Pictures with Santa following the parade located at the Omer Gene Booksher Pavilion on the grounds behind Bell School.
The parade begins on Main Street, traveling up Commerce and Cedar Hill Road, then passing through WhiteHaven, coming down Church Street, and onto Hwy 41 and ending at Bell School.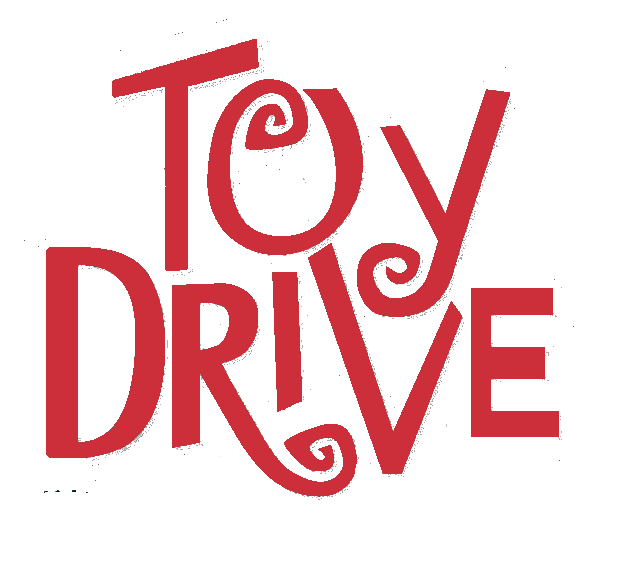 Parade entry participants should arrive 30 minutes early to fill out the entry form. Anyone interesting in being in the parade please go to South Commerce street by Adams Gas to line up around 3:00 to 3:30
First, second, and third-place prizes will be awarded for best float. Awards Ceremony will be held upon the conclusion of the parade in the Omer Gene Brooksher Pavilion behind Bell School.
Although there is no entry fee required to participate in the parade in the city of Adams volunteer fire department humbly ask you to donate one new, unwrapped, toy for "Toys For Tots"

In Cedar Hill, TN News
(Cedar Hill, TN) Jo Byrns Senior Signs With Middle Tennessee State University
Jo Byrns High School senior Jaya Herring signed a scholarship offer on Wednesday, November, 13, to play softball for Middle Tennessee State University beginning with the 2020-2021 school year.
Herring, who has played softball since she was four is ranked 58th nationwide as an outfielder and has achieved, All County, and All Tournament, recognition during her career . She said her scholarship offer was memorable for her because it was offered after playing a game at their stadium. She added that her chance to now play softball at the next level is a dream come true.
"I am so, so, excited," she said. "This has been a dream of mine since I was little, and to be able to play division one softball is just amazing. It seems so unreal."
While playing ball for MTSU, Herring said she plans to major in Biology, with a desire to become a physician's assistant upon graduation.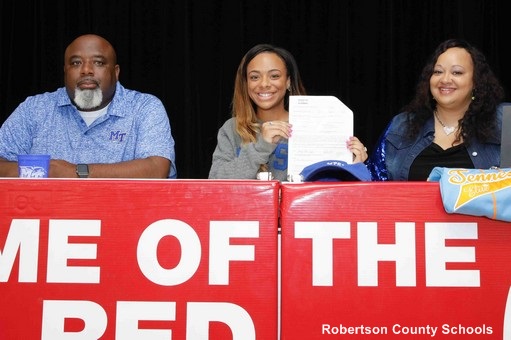 In Orlinda, TN News
Orlinda, TN Christmas Parade…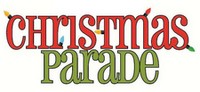 "City Council voted Thursday November 14 not to have an Orlinda Christmas Parade this year. The following reasons were cited by officials for their decision:
• The low number or actual parade floats created and entered in past parades.
• The sparse attendance at recent Orlinda parades.
• The fact that not a single person has contacted a City Council member or City Hall in the past 11 months to express an interest in having a parade or in helping to organize it.
• The fact that there are so many parades within a 15 mile radius of Orlinda makes it very easy for any family wishing to attend a Christmas Parade to do so.
• The demands that a parade puts on unpaid Orlinda Fire Department Volunteers, Sheriff Department employees, and all the elected officials who feel obligated to participate in an Orlinda Parade in spite of its low attendance and participation.
All of these reasons were cited in the discussion leading up to the final decision to not have a Christmas Parade. There is always the possibility of bringing it back, but it will not be this year.

In Portland, TN News
Portland TN Fire Department A-Shift joined Highland Volunteer Fire Department – TN for training. We would like to thank HVFD for the invite. Great job by all involved.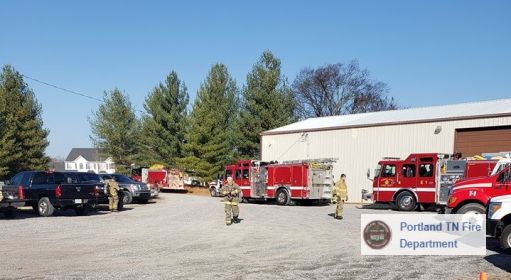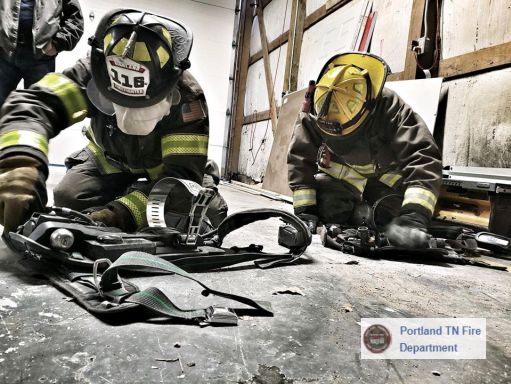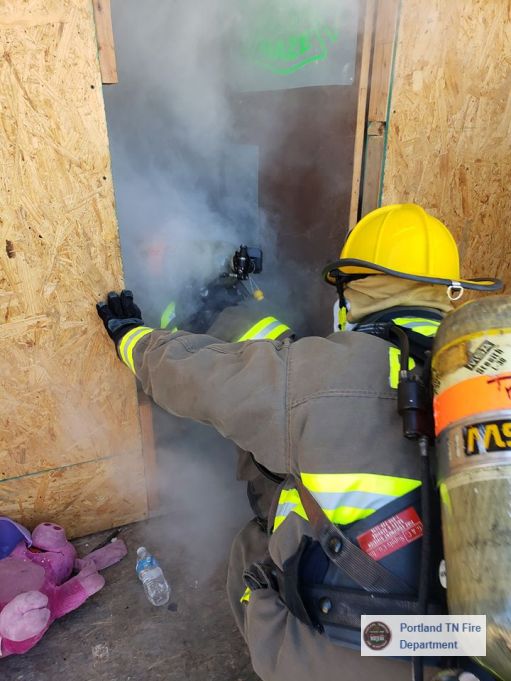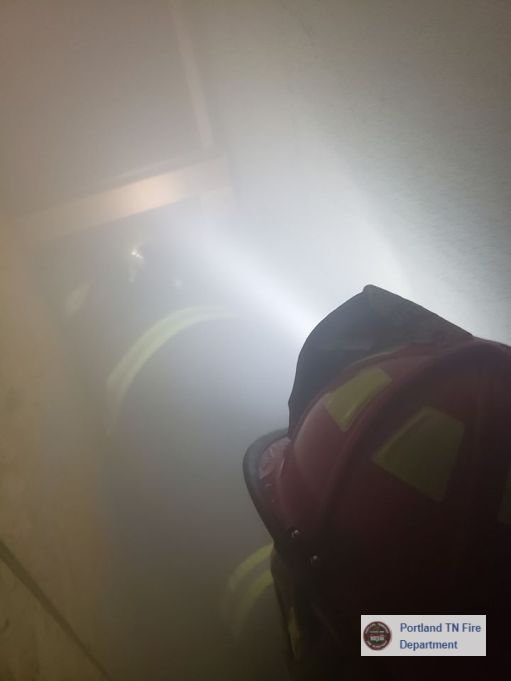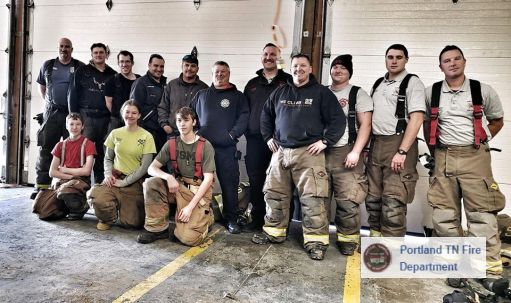 November 19: (Portland, TN) Veterans' Appreciation Breakfast
You and your spouse/guest are cordially invited to the annual Veterans' Appreciation Breakfast  being held at the Portland First Baptist Church Family Life Center on Saturday, November 19, 2019 at 8:00am.
In appreciation for your service to our country, we wish to honor all veterans
from Portland and the surrounding area, regardless of whether your service was combat related.
Widows/widowers of those who have served are also invited.
We look forward to seeing you!
Sincerely,
Kristen Daughtry
Kristen Daughtry,
Portland Chamber of Commerce

Letter To The Editor…THANKSGIVING

Many know very little about our European ancestors, the Pilgrims, to whom the first Thanksgiving is attributed. These were the first Christian families to settle on the East coast of America.
Contrary to modern-day teaching, the main purpose the Pilgrims came to America was not religious freedom. They had already gained religious freedom twelve years earlier, in 1608, when they fled England for Holland to escape the extreme persecution from a tyrannical King James I.
They wrote their reason for settling in America in the Mayflower Compact: "…for the glory of God and advancement of the Christian faith…" The Compact was the basis of representative government in America and is called the foundation stone of American liberty.
The Pilgrims came to America to set up an entire nation for the purpose of glorifying God and advancing the Christian faith. This statement united government with a responsibility to God and left a plan for future generations to follow that has brought about more liberty, prosperity, and joy to our nation than any other political philosophy in any other country in the history of the world! That is something to be thankful for.
The first national Thanksgiving occurred in 1789 when immediately after approving the Bill of Rights, a resolution by Congress was delivered to President George Washington who heartily concurred by declaring:
"Whereas it is the duty of all nations to acknowledge the providence of Almighty God, to obey His will, to be grateful for His benefits, and humbly to implore His protection and favor. … Now, therefore, I do appoint Thursday, the 26th day of November 1789 … that we may all unite to render unto Him our sincere and humble thanks for His kind care and protection."
For years, America has delivered from countless perils, received many victories and blessings, prospered beyond any country, and soon everyone envied the "American Dream" that God had given to persevering Americans.
Like our founding fathers, and early colonists, let us give thanks to God for America's incredible founding and pray that our government would never relinquish its God-given duty to preserve our rights.
Thanksgiving always was and shall forever be about thanking God for our blessings.

SAVE THE DATE…
December 7th – Portland Christmas Parade "Santa's Toy Shop" & Festival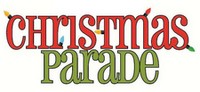 Portland Christmas Festival & Parade!
The Theme: "Santa's Toy Shop" set for Saturday, December 7th. Main Street Activities: 3-5pm with live music, visit with Santa, train ride, live nativity, cookie decorating, visit with princesses, games and more!
Parade: 5:30pm. City tree lighting to immediately follow the parade. For info or questions call 615-325-9032 or email [email protected]

In Robertson County News
Robertson County Schools District Support Personnel Visit Tennessee Senators in Washington
Four Robertson County Schools personnel represented the district in early November at the National Association for the Education of Homeless Children and Youth Conference in Washington, DC.
They were:
• Danielle Frazier: Family Resource Center Coordinator & Diversity Coordinator
• Lasonya Mullins: Robertson County School Social Worker
• Jenni Dusky: Robertson County School Social Worker
• Lisa Cobb: Family/School Liaison & Foster Care Liaison
While in the nation's capital, the group was able to visit with Tennessee Senators Lamar Alexander, and Marsha Blackburn on "Tennessee Tuesday," which is a weekly opportunity for constituents to meet with their representatives on Capitol Hill. While there, they were able to speak briefly and discuss issues relevant to Tennessee education and Robertson County in particular. Two specific subjects were those of homeless youth, and the current opioid epidemic.
Alexander and Blackburn were receptive to the visit and the resulting discussion. Danielle Frazier said the opportunity to meet and talk with them was a welcome addition to the conference.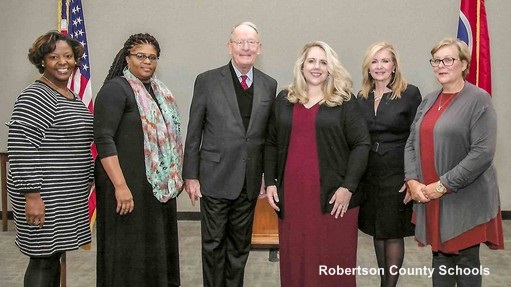 SAVE THE DATE…
November 18: RC Chapter of the Tennessee Firearms Association's monthly meeting. 
The Robertson County Chapter of the Tennessee Firearms Association's monthly meeting will be Monday, November 18th at the Catfish House in Springfield.
Our featured speaker is National Security Consultant Chris Gaubatz. The focus of Chris' talk will be on the core drivers behind the American left in preparation for the 2020 election. His presentation will reinforce the need for each of us to be involved in the defense of the values we hold dear. Among the many things he has done, Chris has testified before the US Senate and appeared on Sean Hannity.
As always this will be a meeting of interest to all. We will open for dining at 5:30 PM and the program will begin at 7:00. Come join us and bring a friend

Governor Bill Lee Visits A Friend In Springfield 
On Tuesday Governor Bill Lee came into Springfield to offer his support to Senator Kerry Roberts at a fundraiser for the Senator.
"This is a really good man representing you for so many good reasons," said Governor Bill Lee at the event.
"Governor Lee was gracious to take time out of his schedule to come to Springfield to speak at my fundraiser. As much as that meant to me, his kind words about our friendship meant even more. His friendship is a blessing and it's an honor to serve the people of Tennessee with him" said Senator Roberts. For Governor Bill Lee's FULL SPEECH Click Here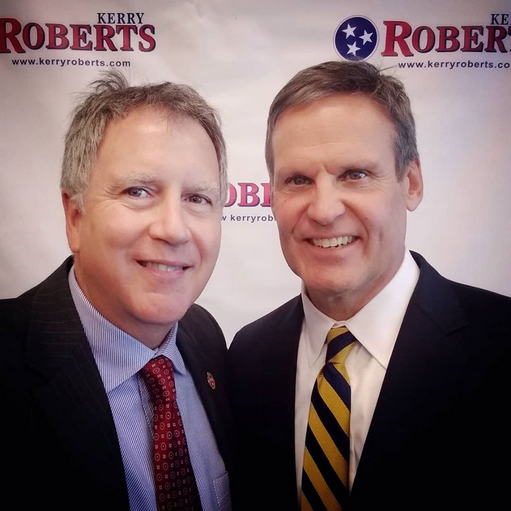 Representative Sabi Doc Kumar with Governor Bill Lee in Robertson County This Week
"Always a pleasure, on behalf of the fine citizens of Robertson County and as TN State Rep for District 66, to welcome Governor Bill Lee to our beloved neck of the woods! Blessings! — at Robertson County, Tennessee."
Governor Bill Lee made a special trip into Springfield to attend a fundraiser for Senator Kerry Roberts.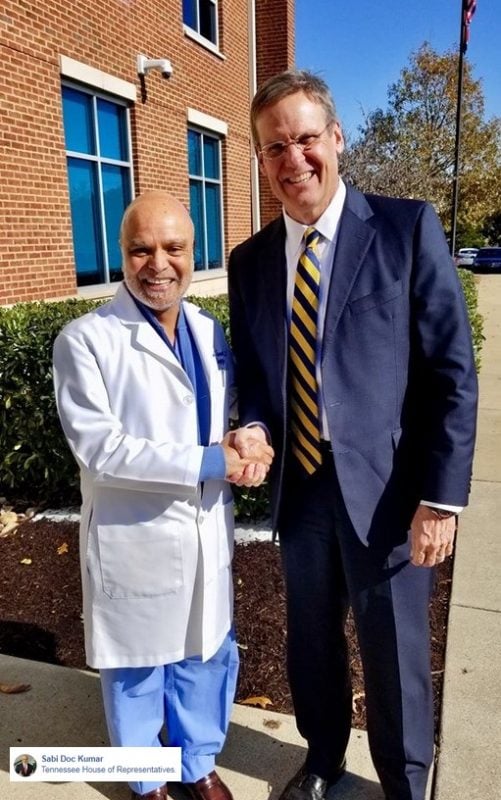 Smokey Barn News (Sponsor/Advertisement)

SAVE THE DATE…
The Robertson County Senior Center – Gospel Singing Fundraiser
Friday, November 22, 2019, Gospel Singing Fundraiser at your Robertson County Senior Center. Suggested $10.00 Donation for Soup /Sandwich, Drink and Dessert beginning at 5:00 pm. Singing begins at 6:00 pm with Bruce Askew, 6:45 pm with Jon Briggs and The Highland Trio. Plan for a Blessed Evening of Fun, Fellowship and Message in Song. We Look Forward to seeing you there.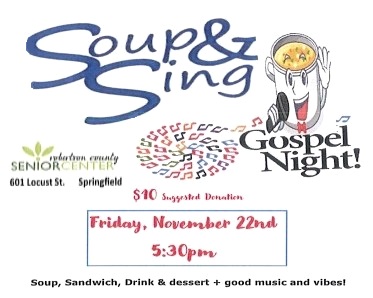 SAVE THE DATE…
SATURDAY, November 23: DEMOLITION DERBY & (Kids Power Wheels Derby)
The Robertson County Fair Presents a Demolition Derby and "Kids Power Wheels Derby" Saturday, November 23. A fun-filled night for the whole family. Concessions on site!
Rain or Shine at the fairgrounds: 4635 Highway 41 N Springfield, TN 37172
Gates Open: 5:00pm
Derby is at 7PM
General Admission $10
5 and Under: Free
Fairgrounds Parking: Free with paid admission.
The Ticket gates, Pit and Spectator entrance will be off Blackwood behind the warehouse.
Kids Power Wheels Derby Age 9 and Under:
Free for Kids 9 and under must have a bike helmet (or helmet) to participate. All participants receive a trophy. Must have own power wheel to participate. Will start the show with the power wheels derby at 7. Parent or guardian must sign waiver to let child participate.
Full concession stands opening at 5:30 with a wide variety of food and drinks.
ADA compliant bleachers with concrete walkways, and handicap parking available.

RC Senior Center Honors Our Veterans 
Thank You Mike Lilly for sharing with us in song at Robertson County Senior Center, The Old Green Blanket, a Man's Story of Vietnam and I am Proud To Be An American.
Thank You Terry Wilson for Conducting a Meeting and Sharing with us at the Robertson County Senior Center in Honor of Veterans who Served and Some Gave All to keep our Country Free. Freedom Is Not Free.
A Great Day today to Honor our Veterans at Robertson County Senior Center .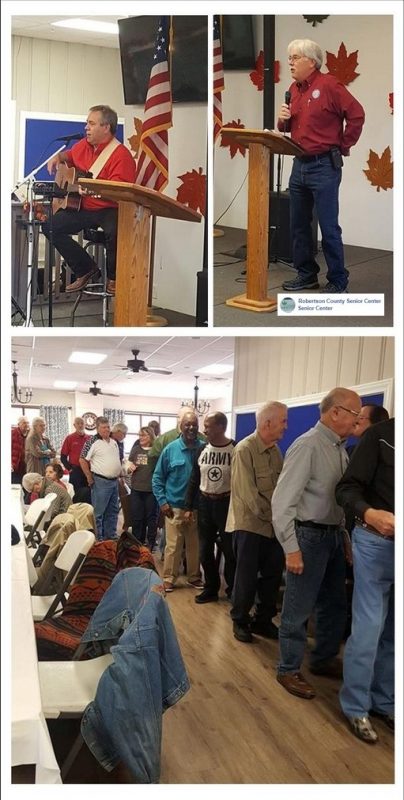 SAVE THE DATE…
November 19: FREE Robertson County Flu Clinic
The Robertson County Health Department is offering flu vaccines at no charge to the community during a special "FightFluTN" vaccination event November 19 from 2-6PM at The Center located at 401 N. Main Street, Springfield. This free community event is open at any Robertson County resident with or without insurance. United Way will also be onsite providing light refreshments and community resources.
"Getting a flu vaccine is the best way to protect yourself, your family and others from the flu and help keep our community healthy," said Interim Robertson County Health Department Director Sanjana Stamm. "The flu can make you very sick, keep you away from work, school and other activities, put you in the hospital or even take your life. We urge everyone in Robertson County who has not received a flu shot yet to get one now, and this event is a great time to do it."
The Robertson County Health Department will provide flu shots November 19 at no cost to anyone who wishes to receive one at The Center, located at 401 N. Main Street, Springfield from 2pm to 6pm.
Seasonal influenza activity is spreading in Robertson County and across Tennessee and is expected to continue for months, so it's important for anyone over six months of age who hasn't had a flu shot this flu season to get one now. The flu vaccine is especially important for infants, young children, pregnant women, adults over age 50 and those with chronic medical conditions. The flu shot remains the best protection against influenza.
For more information about the flu and getting a flu vaccine, contact your health care provider, call the Robertson County Health Department at 615-384-4504 or click here.

Robertson County – Tennessee 4-H Foundation, Inc. – Help us in honoring this year's Entomology Project winner, Analynn Jones of Robertson County!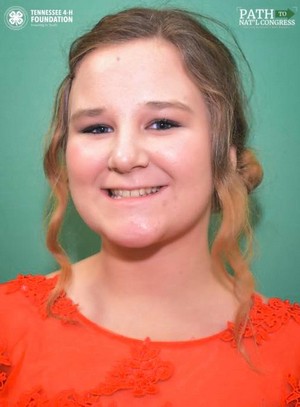 Through her Entomology Project work, she started a butterfly garden in her community and began a cricket business.
In addition to her project work, Jones has held several offices in the Robertson County Honor Club, served on Central Region 4-H All Star Council and was one of her county's Healthy Living Ambassadors and a June Dairy Month Chairman.
Outside of 4-H, Jones has participated in numerous service projects in her community, including a reading hour at the local library, cleaning up the community and participating in a local canned food drive.
She also assists her community with a fundraiser for Vanderbilt Children's Hospital. When she graduates, Jones plans to pursue a degree in archeology/paleontology to become a paleontologist.
Congratulations Analynn! To support great 4-H'ers like her head over to our website!

Smokey Barn News (Advertisement)

Robertson County- UT Extension – A diabetes support group is forming at the UT Extension Office in Springfield.
The first meeting is November 20th and our topic will be Holiday Eating.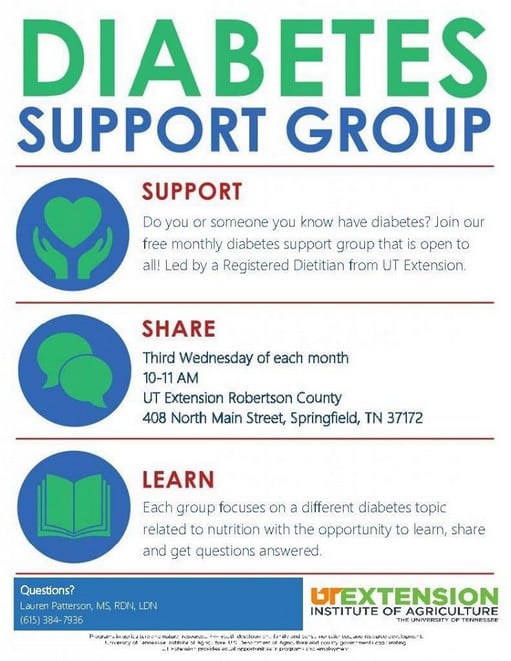 CASA of Robertson County, TN celebrated the most important piece to the CASA puzzle…our Advocates!
The annual gratitude gathering is a special time for our board and staff to show our thanks to the volunteers who serve the abused and neglected children in Robertson County.
Magistrate Stark said it best tonight "All children and families are one caring person away from being successful." We truly believe that and will continue to fight for those children and families!
About CASA:
CASA volunteers advocate for the best interests of abused and neglected children brought before the juvenile court system.
Our goal is to give a voice to all abused and neglected children in our county by loving them, speaking up for their best interests and giving them hope for the future.
*This project is partially funded under an agreement with the State of Tennessee through the Tennessee Commission on Children & Youth
Our office is located in downtown Springfield on the 2nd floor at 109 5th Avenue West.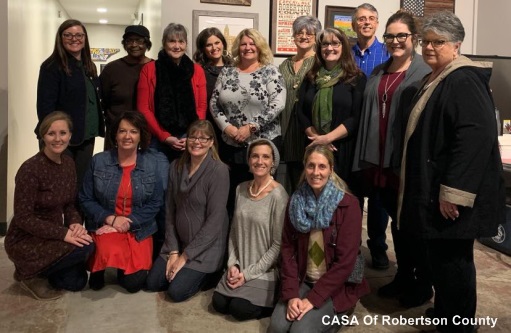 SAVE THE DATE…
November 26: "Give Thanks" Luncheon at The Robertson County Senior Center
Tuesday, Nov. 26 at 11AM, The Sr Center will provide Turkey, dressing and drinks. Attendees are asked to bring a dish and/or dessert to share.
PLEASE LET US KNOW YOU WILL BE ATTENDING BY NOV. 22nd
"Let's give thanks together with good food and fellowship"

SAVE THE DATE…
December 1st – "Holiday Memories Memorial Service" Robertson County Funeral Home
Robertson County Funeral Home will hold their Annual "Holiday Memories Memorial Service" on Sunday December 1, 2019 at 1:30 p.m. in the chapel of the funeral home.
Everyone is invited to attend as we "Remember Together"


United Way of Robertson County needs your help For The Thanksgiving Season
The holidays are an expensive time for many in our community. Thanksgiving, a holiday centered around food and celebrating, can be especially difficult for families who have a limited food budget to begin with.
For the 2019 Give Thanks Day of Action, we're tackling food insecurity by providing food to individuals and families who need it most.
Here's how you can help: collect and assemble Give Thanks boxes throughout October and early November, volunteer your time to deliver boxes or make an online donation. For more information, click here.

Community Thanksgiving Meal For those in need…
If you know someone in need of a meal on Thanksgiving Day, The Master's Table is offering free meals on Nov. 28 from 10 a.m. to 2 p.m. at the Greater Faith Community Action Corporation Community Center.
They also need volunteers to help on this day as well. If you are interested in volunteering or would like more information, please call (615) 585-5739.
The Master's Table along with other area churches will be feeding the hungry on Thanksgiving Day!
Since Thanksgiving Day 2008, The Master's Table has served over 150,000 meals! Thousands of individuals in this community and beyond have been blessed by this ministry.
Serving hours are from 10:00 a.m.–2:00 p.m. Free meals will be served at the GFCAC Community Center. Helping to distribute meals to the entire Springfield Community.
If you know anybody needing a meal, please send them (or bring them) on Thanksgiving Day! Volunteers needed!. To volunteer or for more information or call (615)585-5739.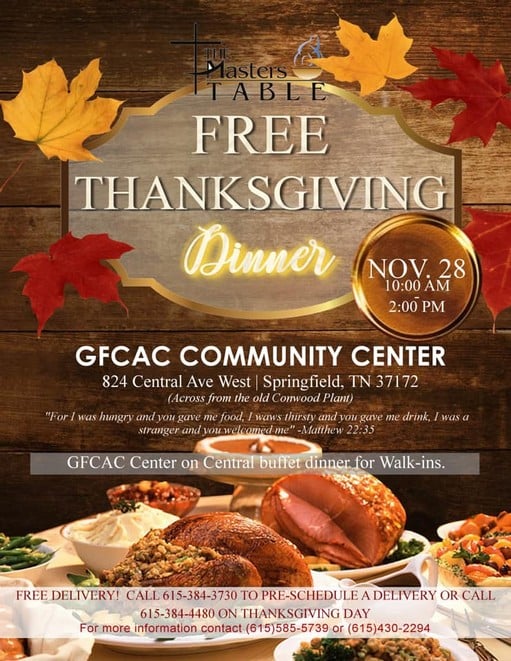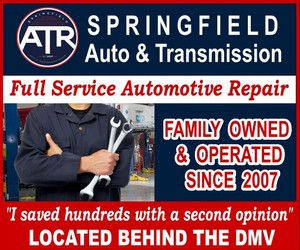 SAVE THE DATE…
December 7th  – Christmas Toy Run by Robertson County CMT/ABATE
The "Toy Run" is conducted each year and the toys are distributed to needy children in Robertson County. All are welcome to join us!
Kickstands up at 1PM at the Douglas Shell Hwy 431 / 2622 Tom Austin Hwy in Springfield. It is requested that you bring a "New Unwrapped Toy". Donations will also be accepted towards the purchase of a toy. There is no fee to ride just a toy or donation.
The toys go into a program called "Operation Elf" managed by the Greenridge Civitan Club. Our delivery point is the Ebenezer Baptist Church in Greenbrier. See Full Flyer
For more info: 615-533-6368 or Robertson Charter CMT/ABATE on FaceBook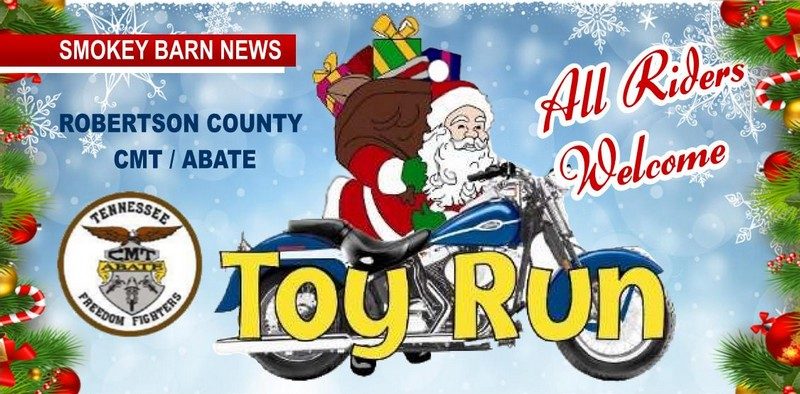 Operation Elf applications are accepted thru Dec. 13th. This program is for children in need in Greenbrier/Ridgetop area.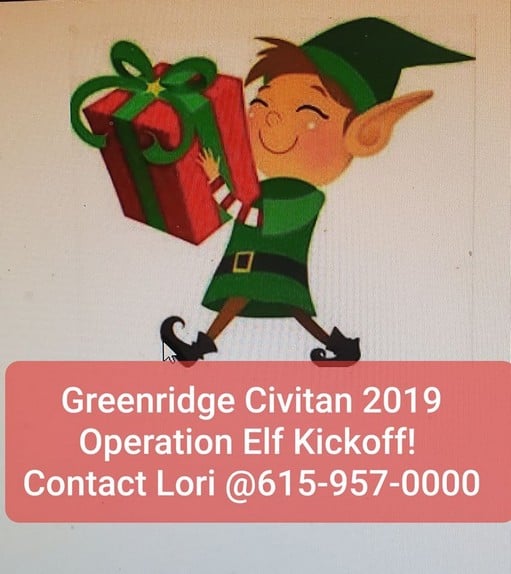 SAVE THE DATE…
December 10th – Community Band presents a Christmas Concert at the Robertson County Senior Center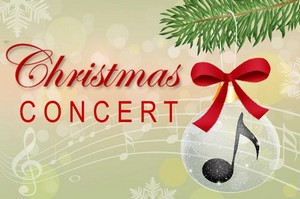 The Robertson County Community Band will present a Christmas Concert on Tuesday, December 10th at the Springfield Senior Center, located at 601 S. Locust Street in Springfield. The concert will begin at 7:00 pm and is free.
Refreshments will be served during intermission.
The Community Band will perform many well-known favorites. We invite everyone to come enjoy this Christmas Concert with us!
For more information about the concert, joining the band, or sponsorship, please call Janet McClain at (615) 384-2015. McClain can also be contacted at [email protected]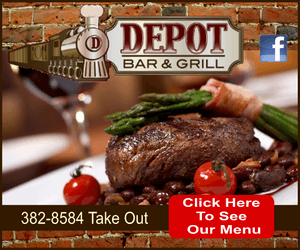 In Neighboring Pleasant View, TN News
SAVE THE DATE…
December 8 Pleasant View Annual Tree Lighting – Hosted by Parks and Recreation – Pleasant View, TN
Sunday, December 8, 2019 at 4:30 PM – 7:30 PM Pleasant View Community Park
2501 Pleasant View Rd, Pleasant View, TN
Join us as we sing carols and light our Christmas tree! Our local churches will help lead us in song and will provide treats to eat! We proudly gather together to ring in the Christmas Season!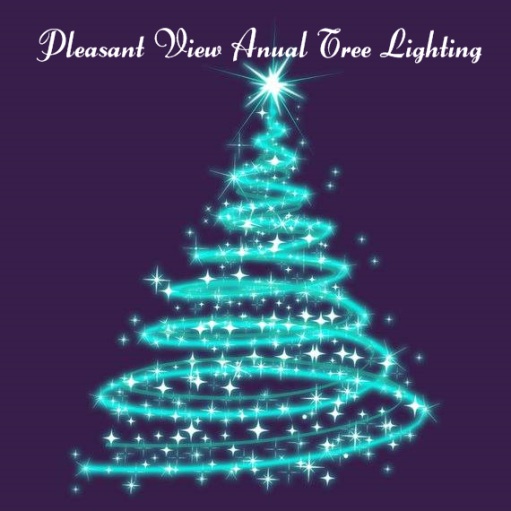 In Neighboring Goodlettsville, TN News
SAVE THE DATES…
December 6th-7th – Goodlettsville: Santa's Holiday Party,  Tree Lighting & Christmas Parade
Santa's Holiday Party & Goodlettsville Tree Lighting: 
Everyone is invited to join in the fun at Santa's Holiday Party following the Tree Lighting Ceremony on Friday, December 6th at the Goodlettsville City Hall/Community Center. Starting at 6:30pm participants will have the opportunity to visit with Santa, listen to live music and entertainment, create a special craft to take home, and enjoy cookies and hot chocolate.
The Entertainment Schedule
6:30pm – Arrival of Santa and Mrs. Claus
6:30pm – Trinity Clay
6:40pm – Doug Thornton and Leah Walker
7:00pm – Bakers Chapel CME Church
7:30pm – Madison Creek Elementary Xylophones and Drums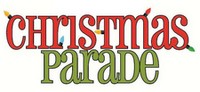 The Annual Goodlettsville Christmas Parade will take place on Saturday, December 7, 2019 at 4:00pm.
This year's theme is "Home for the Holidays"
Parade Route – The parade begins at the Delmas Long Community Center (200 Memorial Drive) and continues up Memorial Drive, taking a right onto Main Street and ending at the Goodlettsville Plaza (Rivergate Parkway).
Parade Timeline:
1:30pm – Parade entries may begin lining up
3:00pm – All entries must be checked in and lined up
3:00pm – Judging begins
4:00pm – Parade begins on Memorial Drive
Award Categories
Categories for the 2019 parade will be Organization Representation and Performance. Judges will award cash prizes to the top 3 places in each category:
1st Place- $150
2nd Place- $75
3rd Place- $50
Best in Show will receive $200 with a perpetual trophy (Best in Show will not be eligible to win a prize in either category)
Parking Information
Parking is available at Goodlettsville City Hall, Goodlettsville Cumberland Presbyterian Church, Goodlettsville Middle School, Goodlettsville Church of Christ, and First Baptist Church Goodlettsville.
Interested in Volunteering? Let us know! We have a need for many volunteers on the day of the parade. Contact Event Coordinator Robbie Brigham at 615.851.2231 or email [email protected]

SAVE THE DATES…
Goodlettsville Rivergate Mall – Pet Photo Nights with Santa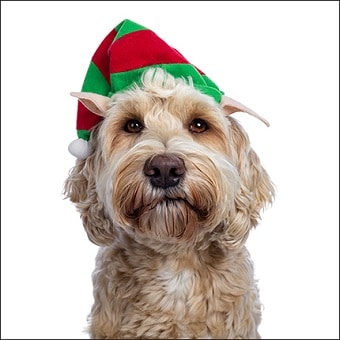 Tuesday Night: November 12, November 19 & November 26 | 5:00 p.m. – 8:00 p.m.
Tuesday Night: December 3 | 6:00 p.m. – 8:00 p.m.
Tuesday Night: December 10 & December 17 | 6:00 p.m. – 9:00 p.m.
Located in Center Court in front of JCPenney's
Bring your furry friends to RiverGate Mall for a special night just for pets.
Whether you want a family portrait or just a picture of your precious pooch, Cherry Hill Photography will capture the memory. To Reserve your photo time with Santa and skip the lines click here!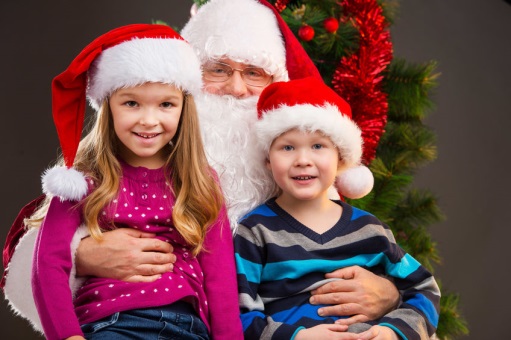 Santa's Photo Hours 2019
WHEN
November 9, 2019 – December 24, 2019 – 10:00 am – 9:00 pm
SKIP THE LINE AND MAKE YOUR RESERVATION ONLINE!
RESERVE HERE

In Neighboring Hendersonville, TN News
Quilts of Valor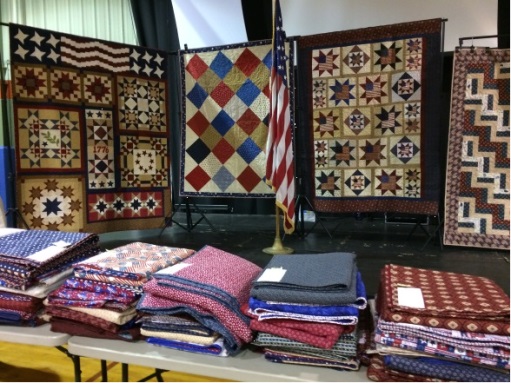 Have you ever heard of Quilts of Valor? I hadn't heard of it until this year. Quilts of Valor are quilts that are made specifically to be given to veterans to comfort them and to help them heal.
The Quilts of Valor foundation was started in 2003 by Catherine Roberts who at that time had a son serving in Iraq. Catherine had a dream and in this dream a soldier was sitting on the edge of a bed overwhelmed with feelings of hopelessness and then in the next part of her dream she saw him sitting there with a quilt over his shoulders and he was filled with hope. So the message to her was the quilts offered hope. "The mission of the Quilts of Valor Foundation is to cover service members and veterans touched by war with comforting and healing Quilts of Valor." The first Quilt of Valor was given in November of 2003 at Walter Reed Medical Center to a young soldier from Minnesota who had lost his leg in Iraq. Since that first QOV was awarded there have been 234,519 awarded. The quilts have certain requirements as far as size, material, must be machine quilted or hand quilted, and usually have a patriotic theme.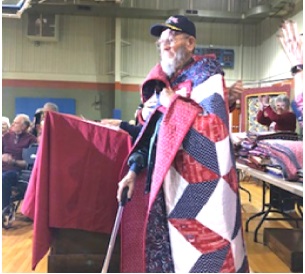 This year the Lakeshore Quilt Guild of Hendersonville which has over 125 members awarded 36 Quilts of Valor to veterans in the area. This is the most QOV that has been given by their organization. One of these was issued to a Van Conder who is a 94 year old World War II veteran that served at D-day, , and Norman L. Kime was another veteran that was awarded who served in the Navy during WWII as a Sea Bee in the Philippines. Renee Reimer was the lone female veteran along with 33 male veterans that were awarded QOV. We are especially honored this year to have Ginger Fondren, the Assistant Executive Director of the National Quilts of Valor program here to present the quilts and to give each veteran a hug while wrapped in their quilt. The Committee this year for the Quilts of Valor consisted of: Karen Gibson, Mary Lamberth, Jean Shaw, Teresa Johnston, Karen Krautsach, Francie Hubbard and Lavana Eidson.
The Quilts of Valor were awarded to: Bradley Adler, Johnnie Anglin, Cornel H. Bond, Fred Britton, Mike Bumbalough, Donald Carnahan, Duane Clark, Van Conder, John Denny, Paul Dotson, John Ezel, David Fall, John Griffith, Evan Hammond, John L. Huffine s, Robert Humphrey, Jarold A. Kieffer, Norman L. Kime, Joseph Knight, Larry McElyea, Donald Merritt , Eddie Nikazy, David Parrish Larry Perry, Renee Reimer, Barry Rice, Jim Richards, Donnie Roach, Thomas Rodgers, Fred See, Ray Spain, Jerry Spence, Brad Stewart, Robert G. Taylor, Scott Trelstad, Willie Vargas, and John Zagra.
The Lakeshore Quilters Association members each make at least one quilt a year and they give these quilts to deserving charities. This past August they gave 51 quilts to Alive Hospice organization in Sumner County.
Kristina Carroll did a beautiful job leading us in the "Star-Spangled Banner". We were so fortunate to have David Ask as our entertainment who sang "God Bless America" and the "Lord's Prayer". He has the most wonderful voice! Refreshments were served to the veterans and their families at the end of the program. It was Veterans Day and the Quilts of Valor were given to show respect and appreciation for those who have served our country. Thank you to all of our Veterans! If you see a Veteran, tell them how much you appreciate their service. Remember Freedom is not Free!


In Neighboring Adairville, KY News
SAVE THE DATE…
December 1st
Schochoh Community Center's Christmas Parade
Come join us for the 30th annual Schochoh Community Center's Christmas Parade on Sunday, December 1st at 2:00pm! "30 Years of Memories"
Join us as we celebrate what Mr. James Smith started with Snowball and Santa 30 years ago!!
There will be FREE BBQ served AFTER the parade ends— around 3:00pm.
If you need more information or have a question.. please just ask!!
Schochoh Community Development Center: 343 Sulphur Springs Rd Adairville, Ky 42202. Please share and hope to see y'all there!!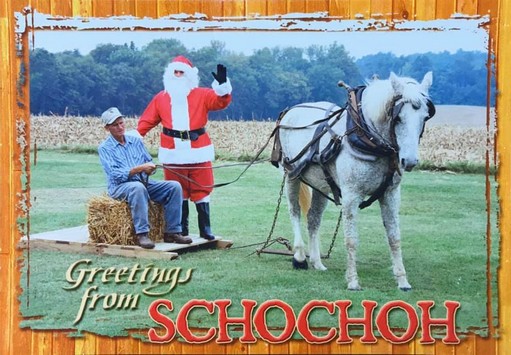 Here's a link to our last issue…
Smokey's People & Community News Across The County

Smokey Barn News (Advertisement)

We bring you ALL the News in and surrounding Robertson County, Tennessee.