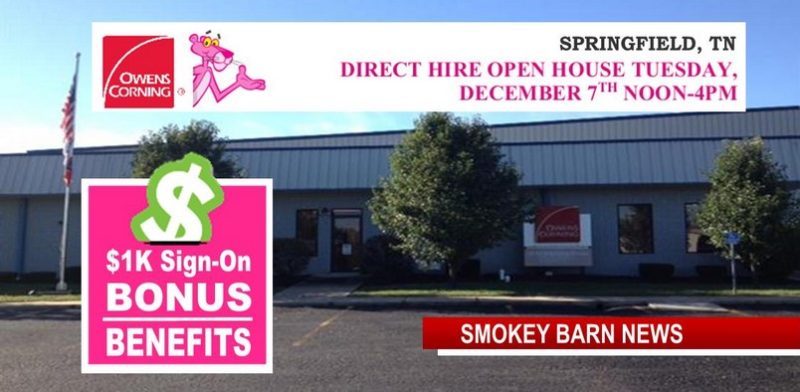 Owens Corning Direct Hire Open House – 1K Sign-On Bonus & Benefits
SPRINGFIELD TENNESSEE: (Smokey Barn News) – Owens Corning, an industry leader in the insulation, roofing, and fiberglass composites industry is opening up multiple positions as they transition into adding a shift to the Springfield facility.
Owens Corning in Springfield, TN will be holding a Direct Hire Open House Tuesday, December 7th from Noon to 4pm.
203 Charles Ralph Dr. Springfield, TN 37172
Sign-on Bonus $1,000.00
Why Start Your Career at Owens Corning?
1. Commitment to Safety
2. Career Advancement
3. Inclusive Workplace
OPENINGS
• Production Team Leaders – 2nd Shift
• Maintenance Technicians: 1st & 2nd Shift
• Forklift Openings: 1st and 2nd shift
• Production Associates: 1st Shift
• Maintenance Team Leader: 2nd Shift
OWENS CORNING BENEFITS
• Competitive wages
• PTO including Vacation, Parental Leave, Bereavement
• Medical, Dental, Vision
• Health Savings Account (HSA)
• Short Term and Long Term Disability Benefits
• EAP/Beacon Work/Life Services
• Healthy Living Program (up to $700)
• Retirement Plan – 401k
• Employee Stock Purchase Plan
• Employee Scholarship Program
Minimum Requirements
• High School Diploma or GED Equivalent
• Ability to meet physical demands of position
• Ability to pass hair follicle drug test in pre-employment
• Shift Schedule
• Day Shift-4 10 hour days 6:00am-4:30pm
• 2nd Shift- 4 10 hour days 4:30pm-3:00am
Sign-on Bonus $1,000.00
Any Questions or Concerns, please reach out to
Laura @ 419-561-1632
APPLY ONLINE AT WWW.OWENSCORNINGCAREERS.COM
THE PINK PANTHER™ & © 1964-2021 Metro-Goldwyn-Mayer Studios Inc. All Rights Reserved. The Color PINK is a registered trademark of Owens Corning. © 2020 Owens Corning. All Rights Reserved.
Mobile: To See The Latest Stories or to share this article, scroll below