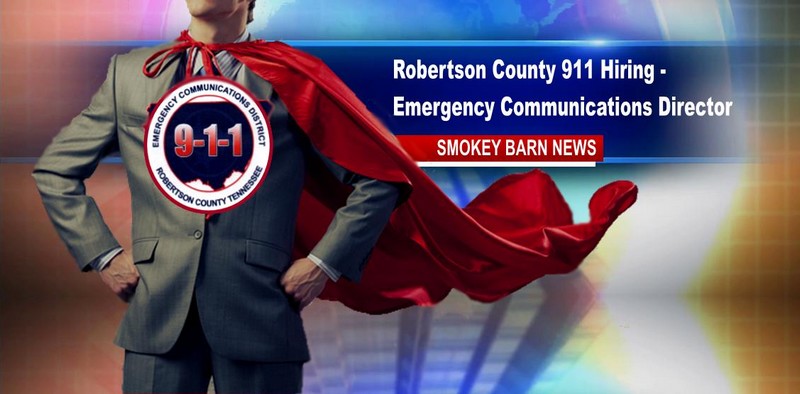 RC Taking Applications For 911 Communications Director
ROBERTSON COUNTY TENNESSEE: (Smokey Barn News) – The top spot at the Robertson County 911 Emergency Communications facility is open and the County 911 Board is accepting applicants.
Former Springfield Police Chief Mike Wilhoit has been sitting in as the interim Emergency Communications Director since Hope Petersen resigned in January. FULL STORY
Wilhoit told Smokey Barn News he was happy to temporarily step out of retirement to help out but he will also be very happy to hand over the keys to the next leader.
Emergency Communications Director
The salary range for the Emergency Communications Director will be $64,000.00 to $74,506.00. This is an executive position responsible for the administration and management of an Emergency Communication District. General duties include the planning, organizing, directing, and overall supervision of the dispatch center, addressing office, and information technology. This position is answerable to the Robertson County 911 Board.
Qualified applicants will have a Bachelor's degree, preferably in Management, Business Administration, Public Administration or a closely related field. Experience as a Director or Assistant Director with an Emergency Communications District may be substituted. Five years' experience in public safety and/or emergency services, with at least two years in a supervisory capacity is required. Experience in an emergency communications setting is preferred.
A thorough background investigation will be conducted to validate the candidate's qualifications and suitability for this position.
For a complete listing of qualifications and requirements, please visit our website. Application and resume can be submitted electronically to [email protected] or by mail to:
Robertson County ECD
c/o Mike Wilhoit
115 Pinnacle Dr.
Springfield, TN. 37172
Closing date is March 31st, 2020
The Robertson County 911 Board is an Equal Opportunity Employer, and TN Drug Free Workplace.
RELATED STORIES
R.C. 911 Dispatch Center Dir Resigns, Interim Director Name