Springfield Shooting Suspect Captured Using Twin's Identity 
SPRINGFIELD TENNESSEE: (Smokey Barn News) –  A Springfield man, the second suspect in what police say was a violent shooting back in July, was taken into custody early Sunday.
According to Det. Charles Consiglio with the Springfield Police Department, Mantorvis Young, 23, of Springfield, was taken into custody by Metro Nashville Police around 3am Sunday morning.
Consiglio told Smokey Barn News that Young was picked up in a traffic stop and surrendered to police without incident.  According to Consiglio, Young was in possession of a firearm and attempted to use his twin brothers identity. Consiglio said the only distinguishing difference between Young and his twin brother is a tattoo on his brother's throat.
Consiglio has been working with Nashville Gang and Flex unit to locate Young since July. According to Consiglio, tips would come in indicating that Young was moving  between Nashville and Springfield but until now Young has eluded capture.
Young is facing charges of Aggravated Assault, Felon in possession of a firearm, Violation of parole and theft over $500. Young is being held on a $100,000 bond and awaiting extradition to Robertson County.
The second suspect, Shaquille Dunn, 26, also of Springfield wanted for attempted 1st Degree Murder, turned himself into the Robertson County Detention facility back in August.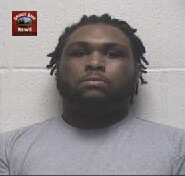 Dunn and Young are both facing charges for their alleged involvement with the July 2 double shooting on 15th Ave West at Bessie Street.
Police allege that Dunn and  Young shot at two men in a vehicle from two different positions. Both victims were hit by gunfire, Police said.
The incident started back on July 2 when two men showed up at NorthCrest Medical Center in Springfield seeking medical treatment for gunshot wounds. One of the men had been shot in the neck and the other in the leg, according to Springfield Police.

Around that same time, Springfield Officers were dispatched to the 300 block of 15th Ave in reference to a shooting. On arrival Officers found a vehicle abandoned in a driveway near John L Patterson and Bransford St across from the Bransford Community Center. The vehicle had a large amount of blood in it and several bullet holes in the trunk area.
Springfield police told Smokey Barn News that they believe the shooting took place at the intersection of Bessie St and 15th Ave. MAP
Police say that a home adjacent to where the shooting took place was hit by several rounds of gunfire. An elderly woman that resides at the home was inside at the time of the shooting but she was not hit by gunfire.
According to Springfield Police, the two victims, both males from Springfield, were inside a vehicle at the time of the shooting. The victim that was shot in the neck was transported via ground to Vanderbilt Medical Center in Nashville for further treatment. The other victim, shot in the left thigh, was transported to NorthCrest Medical Center where he was treated and released.
According to Consiglio, Dunn has been released twice since he turned himself in back in August. Dunn originally had a $500,000 bond but when the victims and witnesses in the case decided not to show up to court, he was released.  Judge Perry, who's presiding over the case,  gave the police a week to serve all of the victims and witnesses with subpoenas to court. Consiglio said everyone showed up. "When none of the witnesses showed up to court the first time the judge could have dropped the charges," Consiglio said.
"We have documented testimony from everybody that was involved, one guy was shot in the thigh, one guy was shot in the throat, one guy was shot at but he was never hit. This was a lot of bullets being fired," Consiglio said.
According to Consiglio , Judge Perry decided that the state had probable cause to send this case to the Robertson County Grand Jury and Dunn's Bond was reset to $50,000.
Dunn is currently out on bond while Young sits in a Nashville jail waiting to be extradited to Robertson County. Consiglio said that Dunn is currently staying in Springfield "He's kind of bouncing back and forth between his mother's place and his girlfriends place." Both live between Main St and 5th Ave..
"It's my job as a representative of Springfield to know where these guys are at and what they're doing, it's part of my job," Consiglio said.
Consiglio said he has a very strong case against both Dunn and Young. "They're both multiple convicted felons, they're both very violent guys, they're both either affiliated with or are actual gang members," Consiglio said.
If you have any information about this crime please contact Crimestoppers @ 615-382- 3799 or Det. Charles Consiglio with the Springfield Police Department @ 615-384- 842.
Earlier Reports:
Springfield Police: Have You Seen These Men?
Two Arrested In Springfield After Search Warrant Turns Up Guns And Drugs (VIDEO)
Suspects Indicted In Shawnise Leavell Murder Case
Smokey Barn News (Sponsor/Advertisement)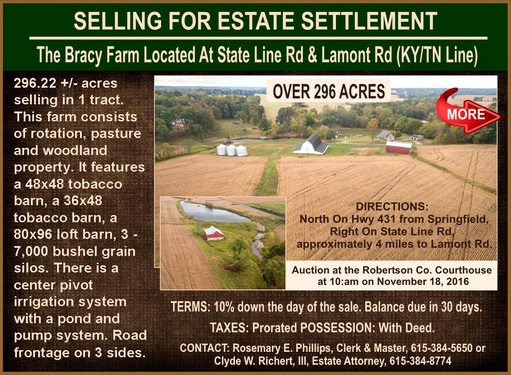 We bring you ALL the News in and surrounding Robertson County, Tennessee.