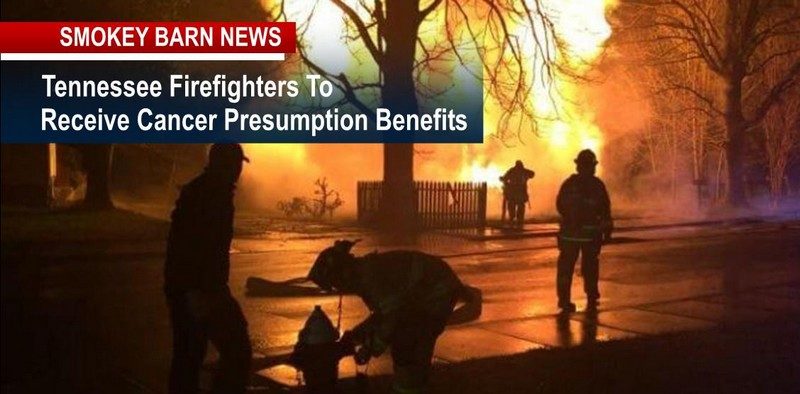 Tennessee Firefighters To Receive Cancer Presumption Benefits
The Barry Brady Act unanimously approved by the Tennessee General Assembly
ROBERTSON COUNTY TENNESSEE: (Smokey Barn News) – The Tennessee Fire Service Coalition is pleased to announce that Tennessee has become the most recent state to approve cancer presumption benefits for full-time firefighters.
The Barry Brady Act, named for the 25-year veteran with the Sparta Fire Department who lost his battle with colon cancer earlier this year, grants firefighters with the presumption that any condition or impairment of health caused by all forms of Non-Hodgkin's Lymphoma cancer, colon cancer, skin cancer, and multiple myeloma cancer that results in hospitalization, medical treatment, or any disability has arisen out of employment.
In order to be eligible for presumption benefits, firefighters must have served five or more consecutive years with an eligible fire department and may only utilize the presumption for up to five years after their most recent date of exposure. Eligible firefighters must pass a pre-employment physical medical exam with a cancer screening and complete an annual physical medical examination that includes a cancer screening for the types of cancer covered under this law. Presumption benefits can be refuted by competent medical evidence that shows employment was not the cause of a cancer diagnosis and secondary employment or lifestyle habits may be considered when determining whether the presumption applies.
"For full-time firefighters in Tennessee to receive cancer presumption disability and death benefits if they are diagnosed with one of the cancers listed in this legislation due to line of duty risks is a necessary benefit to their service. These men and women not only face risks from fighting fires, but from exposure to chemicals and carcinogens associated with fires," said Tennessee Fire Service Coalition Board Chairman Fire Chief Melvin Martin. "We appreciate the sponsors of this legislation, Representative Gary Hicks and Senator Paul Bailey, for all their hard work and diligence in making these benefits a reality."
Smokey Barn News (Advertisement) 
Smokey Barn News (Advertisement)
We bring you ALL the News in and surrounding Robertson County, Tennessee.