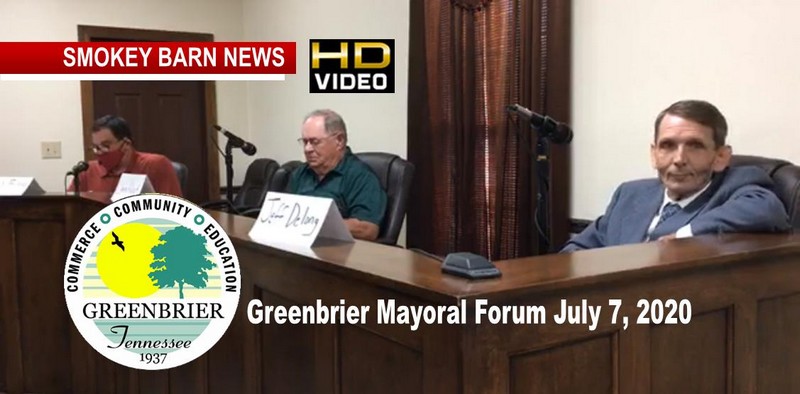 VIDEO: Greenbrier Mayoral Candidate Forum 2020
GREENBRIER TENNESSEE: (Smokey Barn News) –  The GreenRidge Chamber of Commerce hosted a Greenbrier Mayoral candidate forum Tuesday night July 7, 2020.
The forum was held at Greenbrier City Hall, but due to COVID-19, it was not open to the public.
Thus, the event was broadcast live on the Smokey Barn News FaceBook page. Click the image above to see the full coverage of the Mayoral candidate forum.
Candidates for Mayor:
• Burtis Ridge
• Jeff Delong
• Lanny Adcock
Moderator: U-Turn LaVern
We have provided public announcements from each candidate below for your review.
City of Greenbrier Mayor
Lanny Adcock – 
I want to introduce myself to the citizens of Greenbrier, that may not know me.
My name is Lanny Adcock and I am a lifetime resident of Robertson County. I served as a county commissioner for 22 years. During those 22 years, I served 12 years as chairman of buildings and grounds, eight years on the Robertson county sheriff Law enforcement community, four years on the Robertson County fire department committee and three years as chairman of the Robertson county budget committee. During the three years as chairman of the budget committee, two of the three years were with a balanced budget of 160 million.
*Conservative*
*Believe in operating with a balanced budget*
*100% support local law enforcement*
I also want to answer a few questions about where I stand on a few subjects.
• I am a conservative
• I am not in favor of raising property taxes
• My focus will be to do what is best for the city of Greenbrier and its citizens
• I believe functioning with a balanced budget is a necessity
• I feel workers should be placed based on their qualifications to do a specific job
• I believe in being fair but firm
• I am for giving back and helping others in our community

Jeff De Long –
Delong is a long time resident of Greenbrier and has served as Alderman for 14 years.
"A family man with a wife and 3 children, 11 grandchildren and 3 greatgrandchildren. I am a member of Ebenezer Baptist Church where I serve as Deacon and Sunday school director, " Delong told Smokey Barn News.
"I recently retired from the Tennessee Army National Guard where I served 34 years including 2 deployments Operation Southern Watch and Operation Iraqi Freedom. I am in my second year serving as County Commissioner. I own and operate a service business in Greenbrier. My life has been dedicated to serving.
"I know the struggles of working every day trying hard to raise a family. I know what it is like when one flat tire or a dead battery can set you back and cause something else not to be paid, I have been there.
"I also know what it is like for a small business owner to try to survive with all the regulations and rules. I believe that a person that works hard should be rewarded not regulated. My family has had 3 generations graduate from Greenbrier schools and a 4th started this year.
"I care about this city and will always do my best to put the will of the citizens 1st and would appreciate your support.

Burtis Ridge – 
"A Fresh Start" My name is Burtis Ridge and I am a citizen of Greenbrier and have lived in Robertson Co for most of my life. I love this town and as Mayor my plan is to make this city safer and cleaner for the residents who enjoy living here.
•We need to add sidewalks near our schools so, our kids do not have to walk on the edge of the highway.
•We need to slow folks down as they use our highways and roads.
•We must add signaled crosswalks in the town square.
•We need to get a severe weather warning system in place that works.
•We need to add an auxiliary fire station on the opposite side of the railroad tracks equipped for emergencies.
•We need to enforce codes so that our city remains beautiful and inviting to visitors and citizens of Greenbrier.
•We need to add American flags in prominent places throughout the city.
•We need to maintain a balanced budget while providing the services that Greenbrier needs and requires while keeping taxes low.
I would appreciate your vote and will work hard for you if you give me a chance.
Sincerely,
Burtis Ridge
Candidate for Mayor
City of Greenbrier, Tn
ATTENTION ALL OTHER CANDIDATES OR POTENTIAL CANDIDATES ON THE AUGUST, NOVEMBER BALLOT
A sign on a street corner can't say it all……If you want Robertson County voters to know about your candidacy….your name, your face and where you stand on the issues, click here to submit your announcement/photo to be published in the "Meet the Candidates" column of Robertson County's largest news distributor and the areas #1 News leader Smokey Barn News.