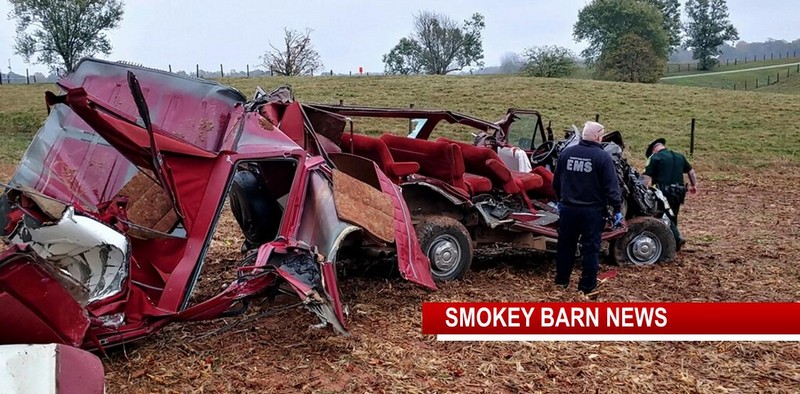 Weekend Crash Report, 3 Wrecks, 2 Rollovers
ROBERTSON COUNTY TENNESSEE: (Smokey Barn News) – We have had several crashes so far this weekend, including two rollovers, and a semi clipped a building in Springfield.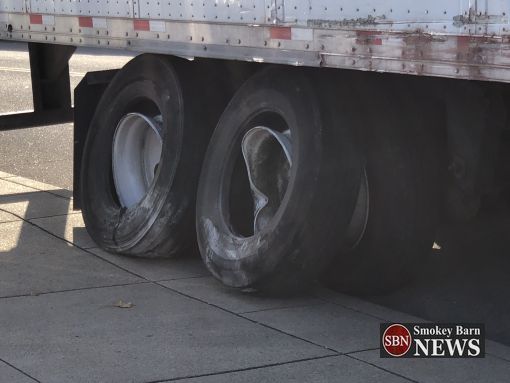 On Friday morning in the historic district of downtown Springfield, a semi making a right turn onto 7th Ave off Main Street clipped a corner building causing damage to the corner brick and a side awning. MAP
The impact popped the two rear tires on the semi. See more photos below. No injuries were reported. The corner has been taped off by officials.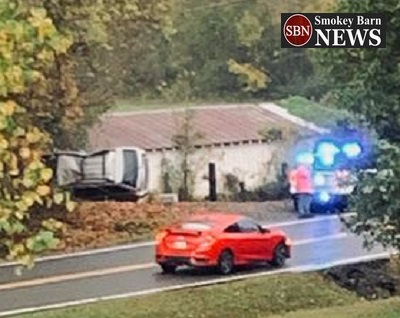 On Friday evening, Hwy 76 was slow following a rollover crash that occurred around 5 pm at the midpoint between White House and Springfield. MAP Officials say it was a non-injury crash but traffic was slow in the area until the vehicle could be removed.
A rollover crash on Saturday Morning (pictured at the top of this report) brought Hwy 49 to a stop after a vehicle left the roadway, rolled over, and struck a light pole. The crash occurred near the Hwy 49/Hwy 25 split. MAP The impact was so severe that the top of the vehicle was torn off. The crash occurred just before 7 am.
When first responders arrived, the driver was gone. After a search that lasted about two hours, the 29-year-old driver was located over a mile away, officials said. Bloodhounds were called in to find the injured driver but he was located before the dogs arrived.
According to Deputy Director Amanda Porter with the Robertson County Emergency Management Agency, when the search dogs (Scout & Maddie) arrived, Scout was turned loose to see if other injured occupants could be located.
According to Cross Plains Fire Chief Tommy Jackson, the driver was seriously injured and likely a little delirious after the crash. First responders were following two separate blood trails but it was never completely clear if the driver was alone in the vehicle at the time of the crash. According to Chief Jackson, the driver texted his boss and said he was in a ditch before he was finally located.
Chief Jackson told Smokey Barn News that the driver worked for Bernard Farms out of Orlinda and the vehicle belonged to the farm. The driver was first transported via ground to NorthCrest Medical Center in Springfield but was later transferred to Vanderbilt Medical Center in Nashville.
Robertson County EMS, Cross Plains Fire, Orlinda Fire, the Tennessee Highway Patrol, the Robertson County Sheriff's Office, CEMC, and the Robertson County Emergency Management Agency all responded to the scene.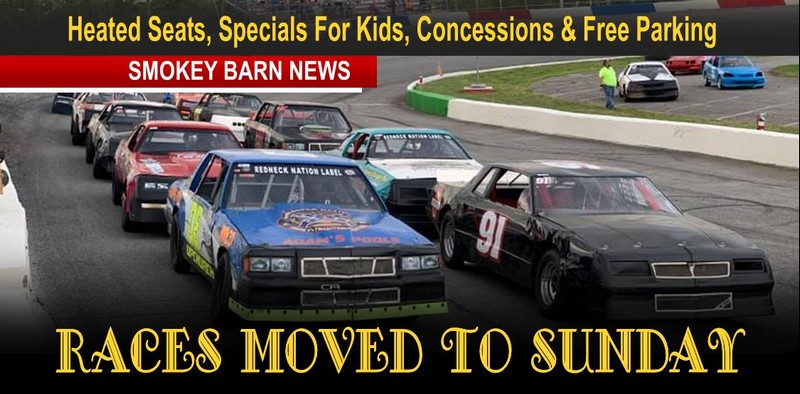 Pit Gates open at 10am Grandstands open at noon. Racing begins at 2pm. 
Racing Action & Family Fun!
PLUS heated seating in the main straightaway bleachers and children entering this week get a FREE NASCAR bracelet! (while supplies last)
Stuffed animals and toys will be given to the children throughout the races!