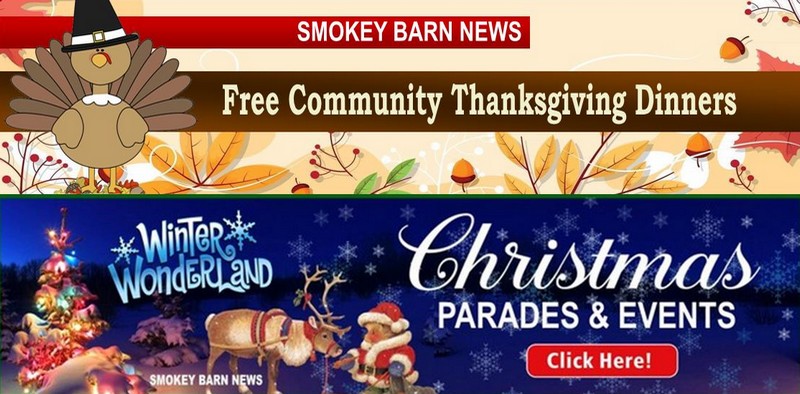 2023 Thanksgiving Community Meals, Christmas Parades, Motorcycle Toy Drive & More Holiday Festivities
ROBERTSON COUNTY TENNESSEE: (Smokey Barn News) – With Thanksgiving around the corner, some families may have trouble putting a meal on the table for that very special day. As we move into the Thanksgiving season, Robertson Countians are invited to enjoy a free meal and a place to get out of the cold by area churches. In some cases, meals may even be delivered to the homes of shut-ins and individuals who can't go out.
You will also find info on an annual local turkey shoot in Greenbrier!
Note: Restaurants that will be open for Thanksgiving 2023: click –> Here
We have also provided a list of all the local Christmas parades scheduled, Springfield's Winter Wonderland and more holiday events you won't want to miss.
Mark your calendars and save the dates and reload this page often for newly added events throughout the season.

Announce Your Event On
Robertson County's #1 News Source

Refresh the page for newly added events….
November 19th: Community Thanksgiving Meals by Temple Baptist Church in White House

EMAIL TO RESERVE A MEAL
Temple Baptist Church will be delivering meals in the White House area on Sunday, Nov. 19 at 3pm. Email [email protected] to reserve meals (need address and number of meals).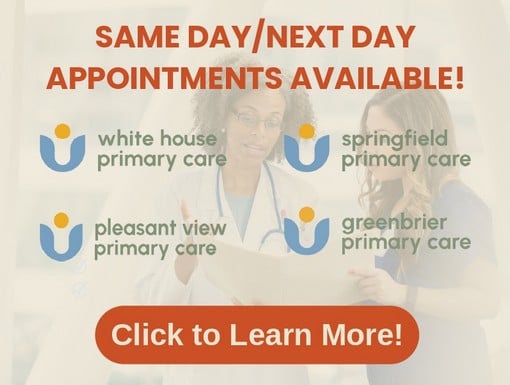 November 19th: Cherry Mound Baptist Church will be serving drive-thru to-go style meals
Sunday, November 19th at 12:30 pm. We are asking that no one line up before 12:30 pm.
4168 Hwy 31W Cottontown, TN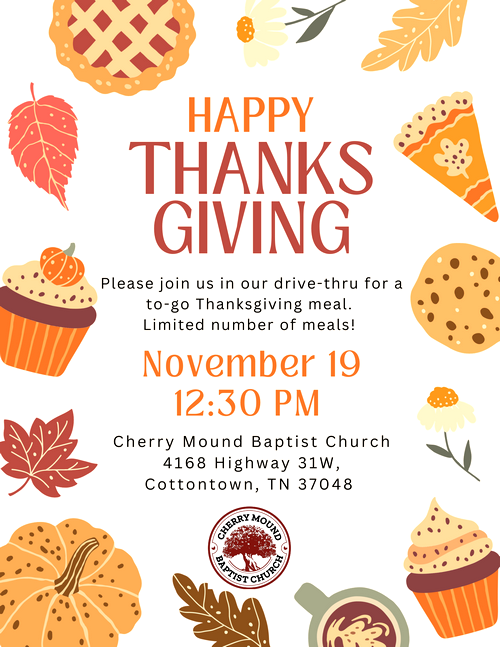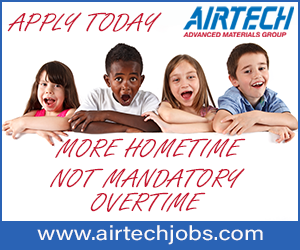 Now Through Nov. 25th: Annual Traditional Turkey Shoot – American Legion Post 45 @ 2730 Hwy 41 S, Greenbrier, TN
Saturdays thru NOV. 25 8am – 12pm
Stock guns only, no custom or barrels over 36 inches prizes include but not limited to: Turkey, Bacon & Ham
Proceeds will be assisting Local Veterans and American Legion Post 45 US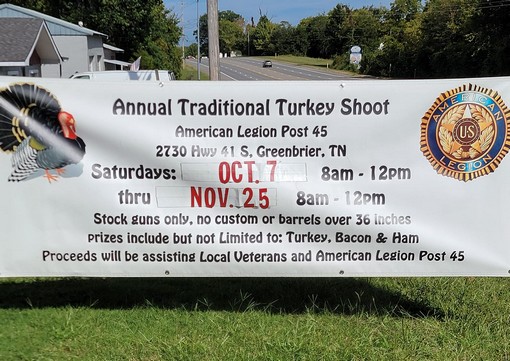 Refresh the page for newly added events….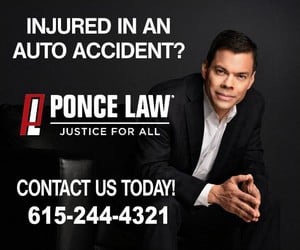 November 22: The Master's Table Annual Community Thanksgiving Meals
IT TAKES EVERYONE TO MAKE THIS HAPPEN. OUR GOAL IS TO SERVE 1,000 MEALS THANKSGIVING DAY.
WE NEED THE FOLLOWING DONATIONS:
14-16 LBS TURKEYS
LARGE DEEP DISH ALUMINUM PANS
DRESSING
GREEN BEANS
SWEET POTATOES
All food should be cooked (turkeys deboned) and brought to:
THE MASTER'S TABLE
619-B CENTRAL AVENUE WEST SPRINGFIELD, TN 37172
BRING FOOD BETWEEN 10AM-3PM ON WEDNESDAY, NOVEMBER 22
• VOLUNTEERS NEEDED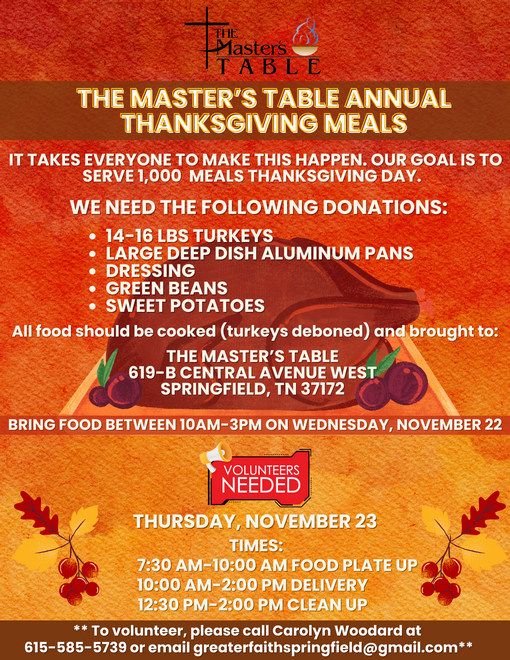 THURSDAY, NOVEMBER 23
TIMES:
7:30 AM-10:00 AM FOOD PLATE UP
10:00 AM-2:00 PM DELIVERY
12:30 PM-2:00 PM CLEAN UP
To volunteer, please call Carolyn Woodard at 615-585-5739 or email [email protected]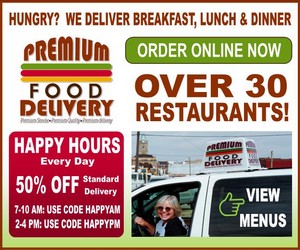 November 23: FREE Thanksgiving Meal For Those In Need By Springfield Baptist Church – On campus meal – call to reserve or Call for delivery for shut-ins 
A meal of turkey, dressing, sweet potatoes, green beans, cranberry sauce, roll and dessert will be prepared at Springfield Baptist Church on Thanksgiving morning. Delivery, pickup or dine-in available between 11am – 1pm. There is no cost for the meal.
Sign-up for delivery by Tuesday, November 21st at 615-384-3581 or 615-618-0397. Leave the name, address, number of meals needed and a phone number in case we need additional information. No cost for delivery.
SPRINGFIELD BAPTIST CHURCH
400 N. Main St.
Springfield, TN 37172
615-384-3581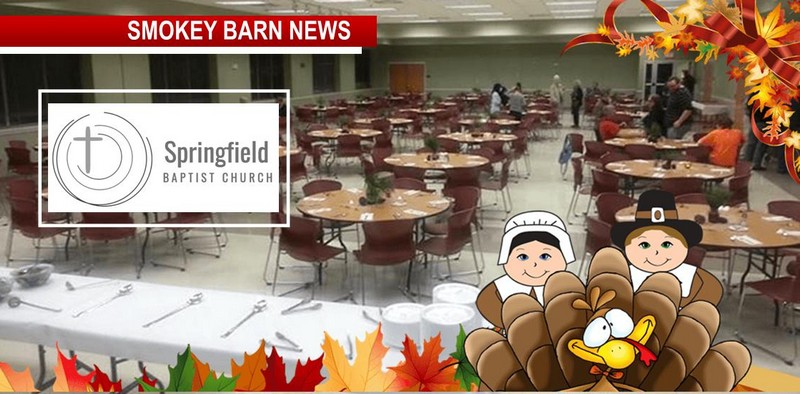 Refresh the page for newly added events….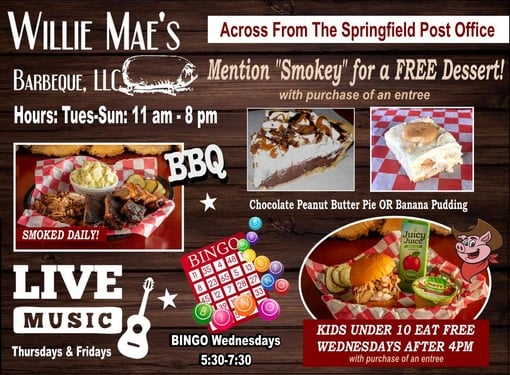 November 23: Thanksgiving Community Meal By  Cafe 393 on Main in Hendersonville
393 E Main St in Hendersonville
"The season of Thanksgiving! It's a season of giving and being grateful. For many it can be a time of great stress and loneliness. I have been trying to find the right words for this post. I am grateful for all the love and support that this community has shown me and my staff and this is the only way we know how to give back through food and love.
For the 6th year in a row we will be holding our annual Thanksgiving Day Celebration. On this day nobody will be alone, feel lonely, or wonder where their meal will come from because our doors will be open to everyone from all communities.
This is for everyone! Singles, Seniors, Widowed, Homeless, Jobless, Families, Empty Nesters, Those not traveling, no one is excluded no matter what your situation is! We invite you to come sit at our table and be loved!
This is a day that my staff and myself, mom (and pops did too 😢) truly looks forward to. If we can make a difference even for one day for one person then we succeed. Last year we fed roughly 250 people and will have enough to do so this year too! We will serve until we run out! Please be our guest on Thanksgiving day from 12pm-2:30pm. We can't wait to serve you ❤️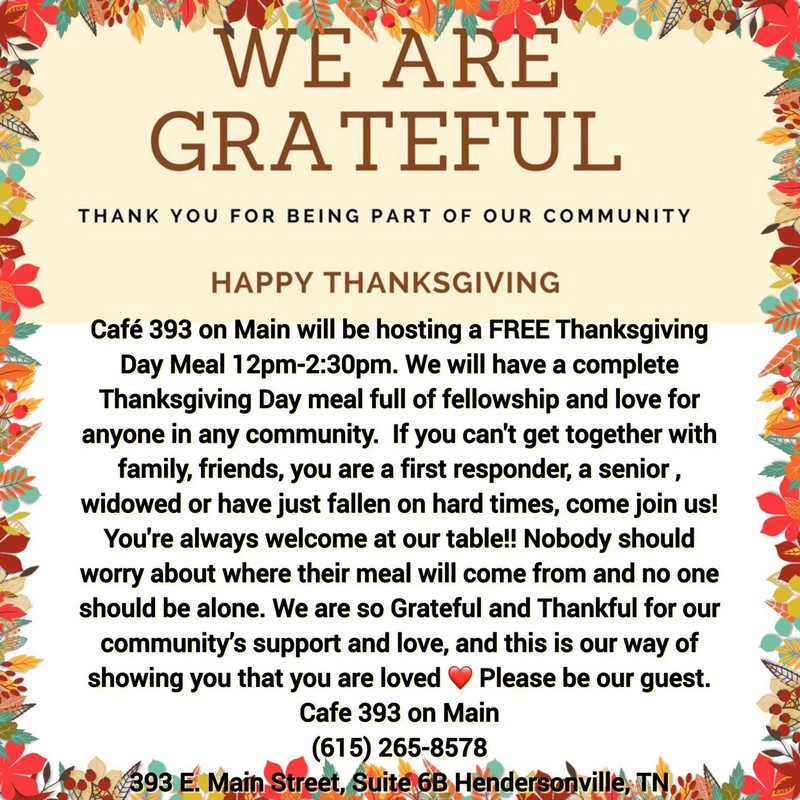 Refresh the page for newly added events….

Announcement: (JOB OPENING) Meals-on-Wheels is looking for a part-time meal site manager for Springfield and is also looking for volunteers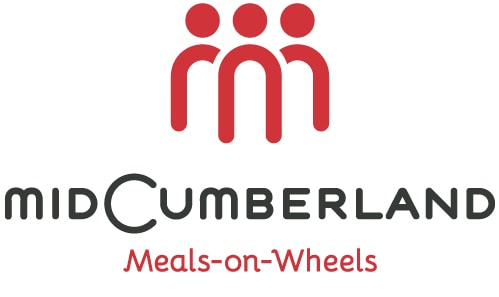 Part-time meal site manager for Springfield
Come join Mid-Cumberland Meals-on-Wheels and make a difference for your vulnerable senior neighbors and experience so much joy knowing you are helping others. Meals-on-Wheels is looking for a part-time meal site manager for the Springfield meal site.
Meal site is open on MWF for a lunch-time meal and total hours per week will be18-20.
Volunteers Needed
Meals-on-Wheels is also looking for volunteers for the Springfield meal site. Ongoing volunteers are needed who are able to volunteer weekly or every other week delivering meals to home bound seniors. Some seniors will say, "my volunteer is my best friend." Come be a best friend for a senior in your community. You will have a great time!
Email: [email protected] for more information on the meal site manager position or becoming a volunteer.

Do you want to make a difference for your senior neighbors residing in long-term care facilities in Robertson County?
Mid-Cumberland Long-term Care Ombudsman Program advocates for the rights of residents in nursing homes, assisted-living facilities, and homes for the aged in Robertson County. Trained, certified Ombudsman volunteers pay regular visits to the facilities in Robertson County where they spend time with residents, monitor conditions, investigate complaints, educate regarding abuse and neglect and protect residents' rights.
Volunteer applicants must pass a background check and attend a 2 day classroom training. The next training session will be Nov 2nd and 3rd 2023. Those interested in assisting have until Oct. 15th to contact the program by sending an email to [email protected]. We look so forward to you becoming part of the Ombudsman family!

Refresh the page for newly added events….

November 23: Orlinda (FREE) Community Outreach Thanksgiving Meal
Please join us for a FREE  Thanksgiving Community Outreach Meal on November 23, 2023 from 11am to 1 pm at the Byrum Porter Senior Center located at 9123 Hwt 49 East in Orlinda, Tn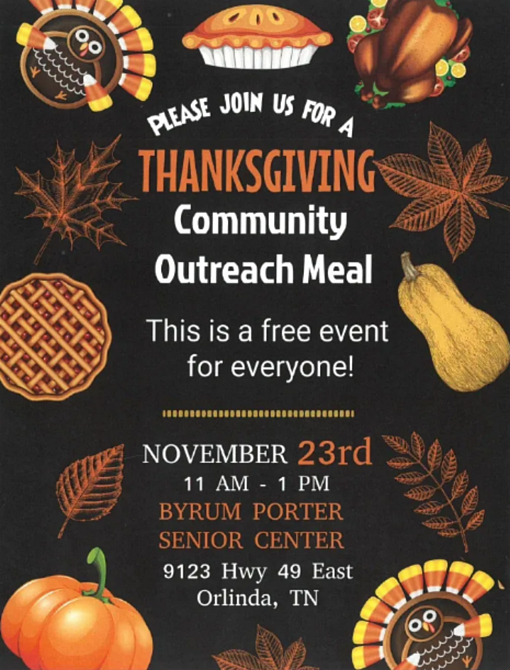 Refresh the page for newly added events….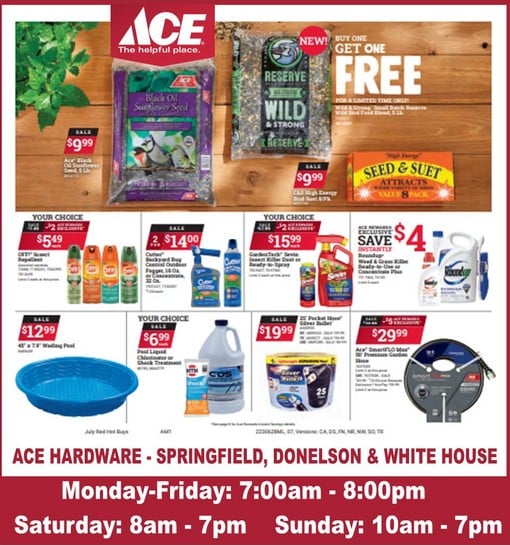 KIWANIS FOR KIDS TOY DRIVE – KIWANIS CLUB OF SPRINGFIELD, TN
Help a child in Robertson County have a Merry Christmas this year by purchasing a toy from a local store and dropping it in the box. Please have all toys ready by Sunday, December 10th. Toys will be distributed to families in need on Saturday, December 16th.
We need toys for ages birth to high school senior:
• TOP REQUESTED TOYS: Basketball, Soccer ball, Football, Art supplies, Paw Patrol, CocoMelon, Spider-Man, Nert guns, Legos, Girls dress up items, Remote control car, Books, Slime, Baby dolls, Barbie dolls, Makeup
Have questions? Feel free to call or email us: [email protected] | 615-426-6931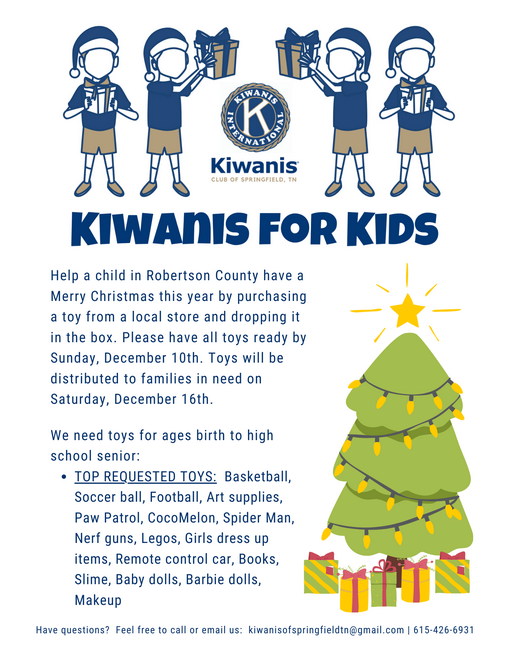 GREENRIDGE ELF PROGRAM TOY DRIVE
The Greenridge Civitan Operation elf program helps local families with Christmas.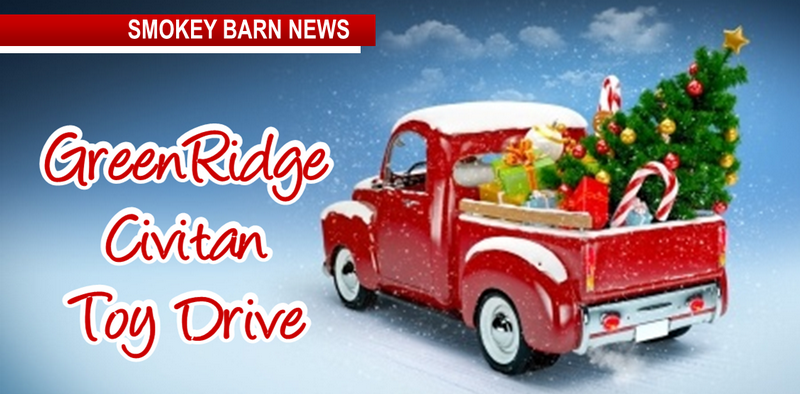 "We have applications available till December 14th at Cash Express and Dollar General in Greenbrier.
Donations needed!
"We welcome your support through toy or financial donations. Items for teens are especially needed this year. Donations can be dropped off at Cash Express and Dollar General in Greenbrier.
We are grateful to the Robertson Charter CMT/Abate, Inc. Motorcyclists for dropping off toys to our club Saturday December 2, 2023 for Operation Elf and always supporting us!"
"If anyone would like to adopt a child, contact the GreenRidge Civitan Club at (615) 992-4519 or send a message via Facebook.
November 25th: Christmas In The Brier by the City of Greenbrier and Brier Park partners
Nov 25th Park Festivities from 9 am – 3 pm with Vendors, Food Trucks, an Interactive Snow Globe, Train Rides – Bouncy Houses
Come have your picture made with Santa.
Parade at 6 pm – line up at 5 Greenbrier Elementary.
Parade theme is Christmas Movies. Theme the floats to be any Christmas Movie. (Floats must have lights.)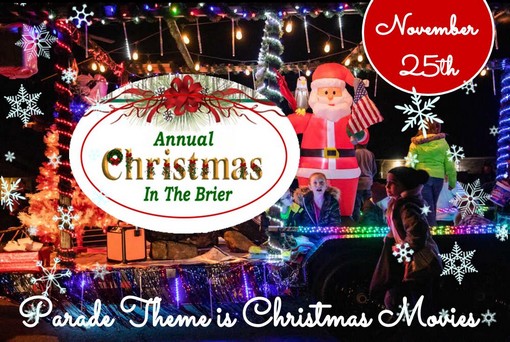 Dec. 1st: City of Ridgetop Lighted Christmas Parade from 7pm- 8pm
Parade will run from Watauga Elementary to Ridgetop Station Park. If you would like to participate by entering a float, please email us at [email protected] or stop by Ridgetop City Hall for an application. Floats MUST have lights and they cannot have a Santa on them. Any further questions please message us here or email us and we will be happy to help.
There will be pictures with Santa in the house at Ridgetop Station Park following the conclusion of the parade. Light refreshments will be served then too.
We hope to see you there!! (Registration form is below)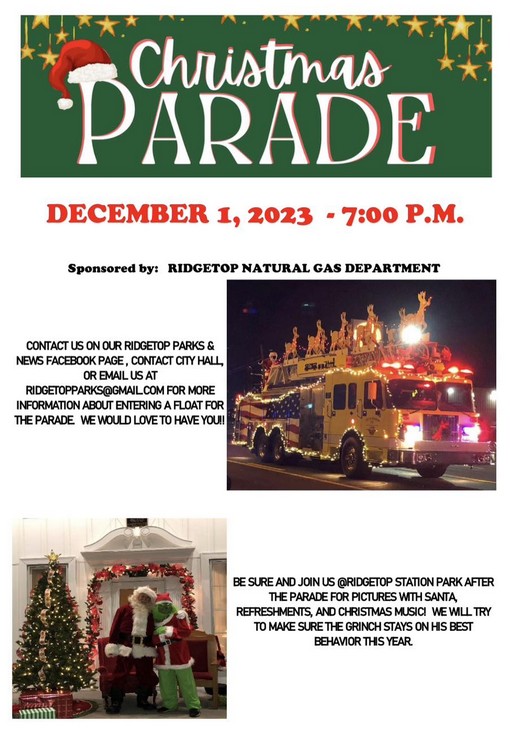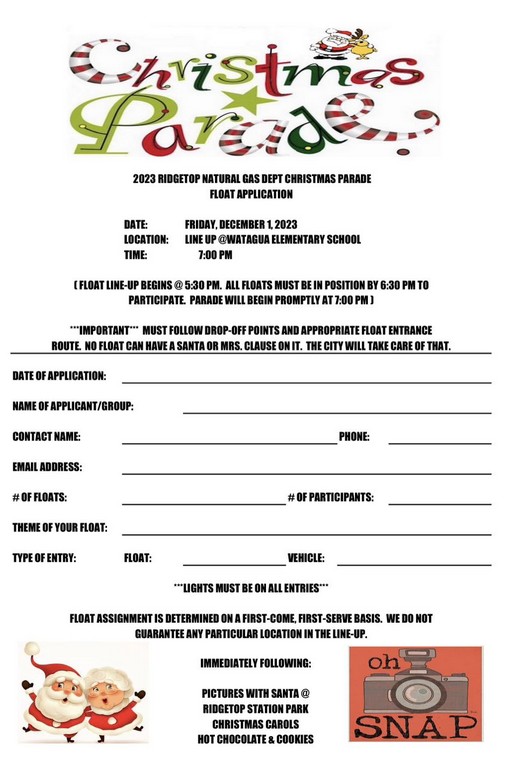 Refresh the page for newly added events….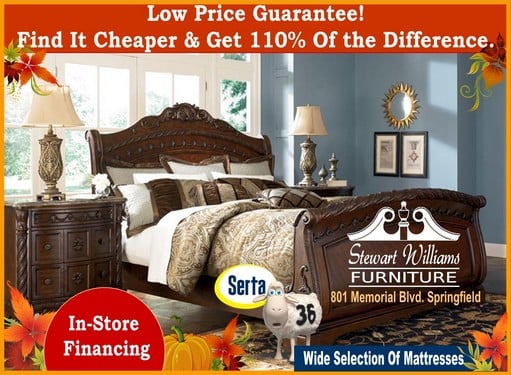 Dec. 2nd: A Christmas Breakfast at Mt. Denson Church
Take a journey through Bethlehem
Time & Location: Dec 02, 8:00 AM
Springfield, 4558 TN-161, Springfield, TN 37172, USA
Formerly "Breakfast with Santa". For the 2023 year there is a new theme! Be brought back to when Caesar Augustus called the census that had Mary and Joseph traveling to Bethlehem over 2000 years ago. Take a trip through different experiences as you make the journey through Bethlehem where you will arrive at "A Christmas Breakfast!" As always for this event, donations to Kiwanis of Springfield will be accepted but not required.
Tickets are FREE! RESERVE A TICKET – CLICK HERE
When you arrive, your family will be greeted with the story of the first Christmas. As the journey through Bethlehem progresses, you will be guided by our shepherds to several different experiences. Including creating ornaments, decorating Christmas cookies, and so much more! As you continue through the experience, you'll have the opportunity to take photos with Santa in Santa's Wonderland. To complete the experience, free breakfast will be provided in the marketplace!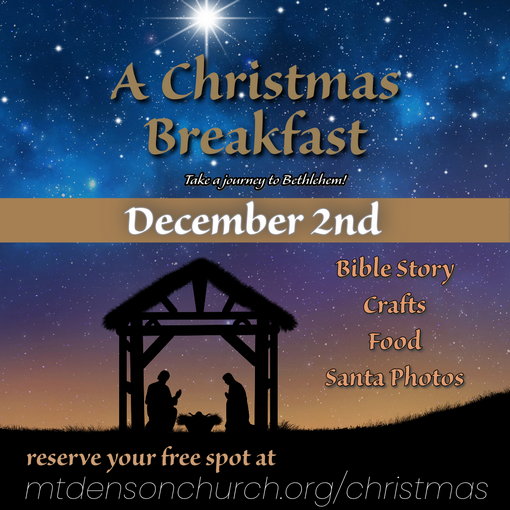 Dec. 2nd: City of Adams Tinsel & Tobacco Christmas Festivities & Parade – 9AM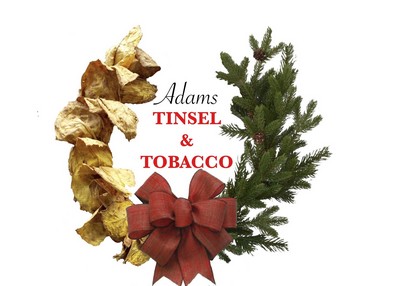 The Adams annual Tinsel and Tobacco Christmas Festivities will be held Saturday, December 2nd. Join us for Christmas fun including a parade, hot chocolate and a visit from Santa!

Refresh the page for newly added events….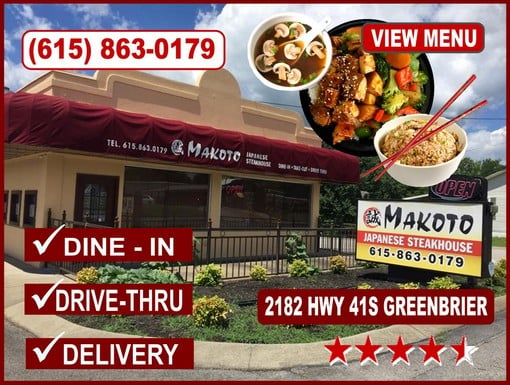 Dec. 2nd: Cross Plains Christmas Parade
Join us Saturday, December 2 at 10:00 a.m. for the Cross Plains Christmas Parade! The theme this year is "Fairytale Christmas"
The morning of the parade starts off with a pancake breakfast at city hall hosted by the East Robertson Striker Club. Come hunger 7:00 – 10:00 am!
Want to participate and win cash prizes? Click HERE

Refresh the page for newly added events….

Dec. 2nd: (Motorcycle Toy Run) Robertson County Charter CMT/ABATE, Inc. 2023 Toy Run at 12 Noon
Please join the Robertson Local Charter for our annual Toy Run on Saturday 02, December 2023. As in years past we will muster at Douglas and Company and ride to Ebenezer Baptist Church in Greenbrier. Arrive early and hungry and enjoy a good meal before we depart.
The toys donated are for Operation Elf managed by the Greenbrier Civitans' Club.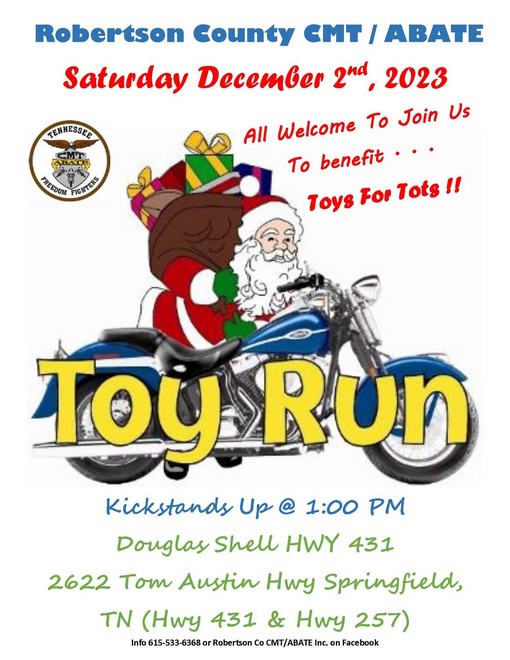 Refresh the page for newly added events….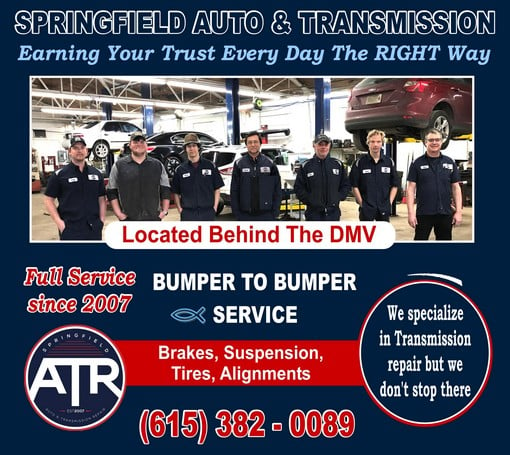 Dec. 2nd: Town of Pleasant View Christmas Parade (Theme: Christmas Traditions)
We look forward to seeing everyone at the Annual Christmas Parade!
To register, contact City Hall or complete the registration form!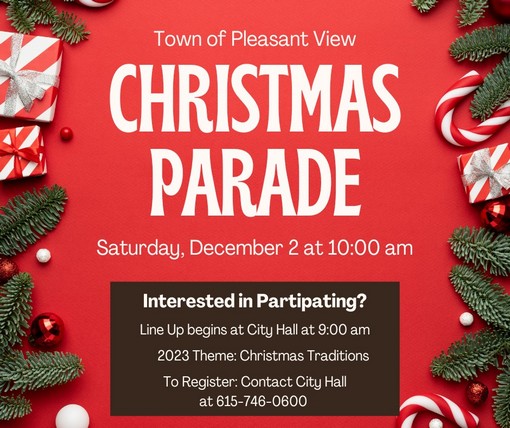 Dec. 2nd: City of White House Christmas Parade & Christmas On Main Street (3pm – 6pm)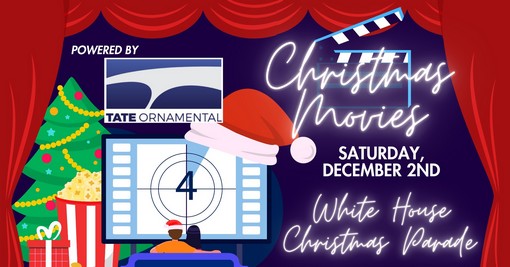 Register to be part of the parade here and make sure to give plenty of details on your float so the Parade Emcees can tell the crowd all about you when you reach the Grand Stand! Will you be Singing Loud for All to Hear – as the classic Elf? Or maybe you'll have a classic leg lamp on your float with a Red Ryder Rifle? Remember, there's only one Santa but otherwise have fun and decorate like Clark Griswold!
Registration is open! Click HERE
Stay tuned for Updates on the Parade Route and Parking.
The parade will feature floats and entries from individuals, local businesses, schools and churches.There will be awards for the top three entries as determined by a panel of judges selected by the White House Parks & Recreation Department.
Immediately following the parade – Activities will include:
– Free Refreshments
– Cookies & Milk Compliments of
– Free Hot Cocoa
– Free Popcorn
– Free Santa's Workshop Stations
– Live Music from local school choirs
– Free photos with Santa in the Library
– Letters to Santa Station compliments
– Mayor of the Day
– Tree Lighting Ceremony

Refresh the page for newly added events….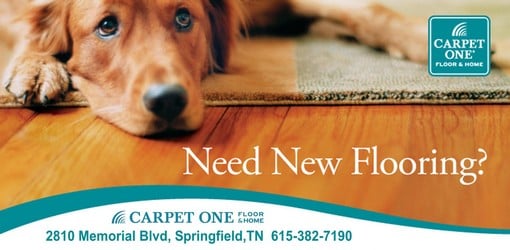 December 2nd: Springfield's Lighted Christmas Parade at 6PM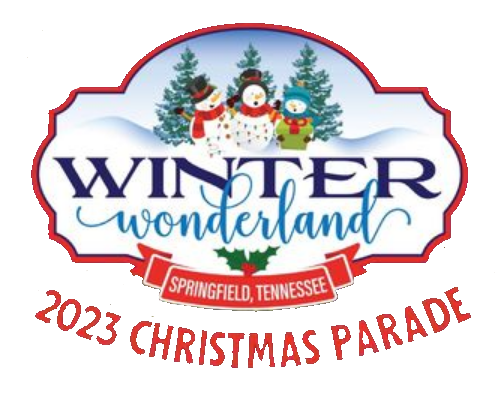 The City of Springfield is excited to host the annual lighted Christmas Parade at 6 p.m. on Saturday, Dec. 2 in downtown Springfield.
Participants are encouraged to embrace this year's "Winter Wonderland" theme through music, dress, and decorations.
Registration is available online through November 26. Pre-registration is required for all participants. The entry to participate is at least one new, unwrapped toy per ten (10) parade participants. The toys will benefit Kiwanis for Kids.
Following the parade, the public is invited to join with friends and neighbors to celebrate the opening of Winter Wonderland's 23rd year at J. Travis Price Park, 4155 Wilks Roads.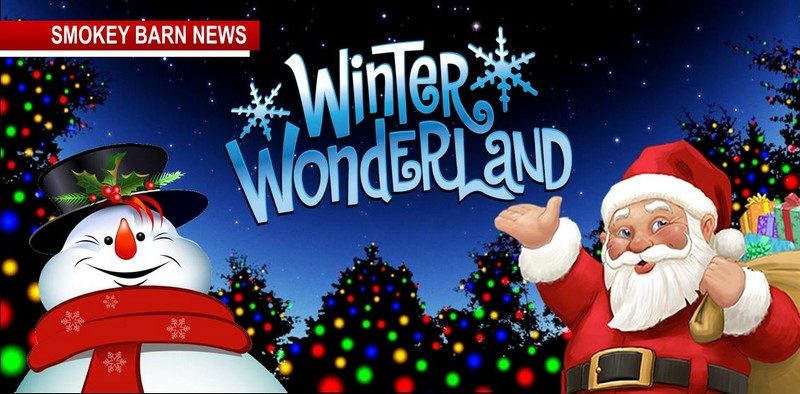 Following the parade…….Winter Wonderland!
The public is invited to join with friends and neighbors to celebrate the opening of Winter Wonderland's 23rd year at J. Travis Price Park by Springfield's Parks & Recreation Department. Location: 4155 Wilks Roads Springfield, TN. This Springfield tradition boasts a captivating display of thousands of lights and more than a dozen holiday scenes. Winter Wonderland continues nightly from 5:30 p.m. to 9:00 p.m., December 2 through December 23, 2023. Admission is free.
"The Parks Department is very excited about opening night of Winter Wonderland coinciding with the City of Springfield Christmas Parade, said Springfield Parks and Recreation, Director Terry Martin
We are adding more lights (of course) and this year we are changing the walk thru schedule.
Walk-through nights will be the first four Saturdays in December, December 2nd, 9th, 16th, 23rd.
Each Saturday will have a Wonderful Winter Wonderland event going on:
December 2nd will be a Tree lighting and Vendors,
December 9th Pony rides and craft projects for the kids.
December 16th Movie night (weather permitting)
December 23rd Little Critters Petting Zoo and Movie night (weather permitting)
*All other nights will be drive-thru only
"We are very excited and can't wait to see you there!" Springfield Parks and Recreation, Director Terry Martin

Refresh the page for newly added events….

Dec. 9th: Millersville Christmas Parade & Palooza and Chili Cookoff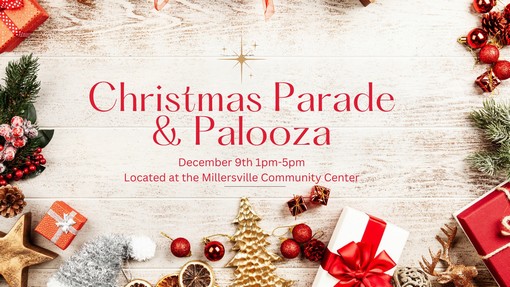 Event by Millersville Parks and Recreation – Millersville Community Center – 1181 Louisville Hwy, Goodlettsville, TN 37072
Come Join us for our 2023 Christmas Parade and Palooza as we celebrate the Holiday's with a parade, pictures with Santa, a chili cookoff and the first tree lighting ceremony! A free family fun filled day to start the Christmas celebrations off right.
Think you got the best chili? or want to be a vendor in our parade? Email us at [email protected]

Refresh the page for newly added events….

December 10th: Orlinda Christmas Festivities presented by the City of Orlinda & the Byrum Porter Senior Center
Parade at 4:30pm (free entry), 1st tree Lighting Ceremony, Visit with Santa, Coffee, Cocoa, cookies and LIVE Christmas Carols at City Hall from 5-7pm
Also……..1st Orlinda Christmas Vacation Lights Competition. The winner to be announced! To register scan QR code in the flyer.
CITY OF ORLINDA TN
7501 Tennessee Highway 52, Orlinda, Tennessee 37141, United States
615.654.3366
[email protected]
10 de diciembre: Festividades navideñas de Orlinda presentadas por la ciudad de Orlinda y el Centro para personas mayores Byrum Porter
Desfile a las 4:30 p.m. (entrada gratuita), Ceremonia de encendido del 1er árbol, visita con Papá Noel, café, cacao, galletas y villancicos EN VIVO en el Ayuntamiento de 5 a 7 p.m.
Además… 1er Concurso de Luces Navideñas de Orlinda. ¡El ganador será anunciado! Para registrarse escanee el código QR en el folleto.
CITY OF ORLINDA TN
7501 Tennessee Highway 52, Orlinda, Tennessee 37141, United States
615.654.3366
[email protected]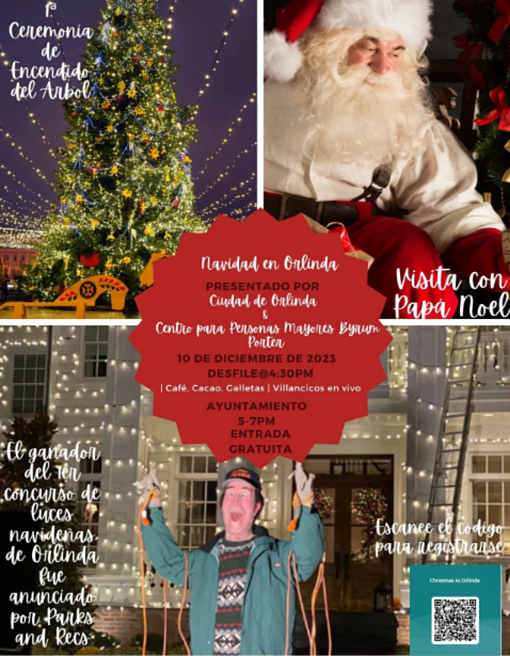 Refresh the page for newly added events….

December 17th: Live Nativity by Heads Free Will Baptist Church in Cedar Hill, TN
You're invited to Heads Free Will, Baptist Church Live Nativity December 17, 2023 from 5 PM to 8 PM Location: 2792 Heads Church Rd., Cedar Hill, TN 37032. Take a drive through Bethlehem and experience what it might have been like the night Jesus was born.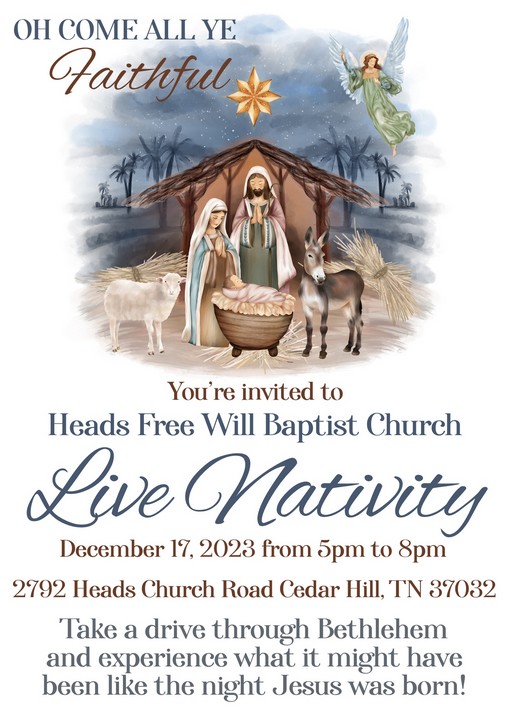 Dec. 18th:  A White House Christmas Concert at 7PM
Presented by the White House Community Band at White House Heritage School.
Featuring Holiday favorites. FREE ADMISSION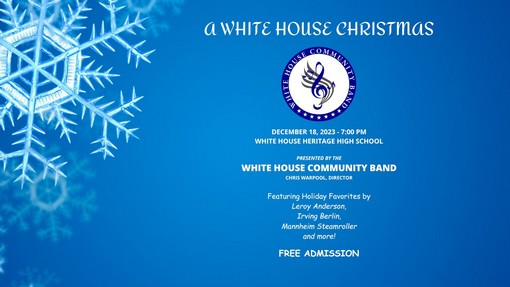 ONGOING EVENTS
RC Senior Center Announcements

Inclement Weather Policy: We follow the Robertson County School System Policy. If schools are closed for weather related reasons, activities and outings are canceled unless otherwise notified.
Needs List: 8 oz. bottles of water; coffee & coffee cups, paper towels, toilet tissue, and legal size printer paper
Hours through March 2023 the Senior Center will open at 9:00 and close at 2:30.
TN HOPE LINE – Connect with compassionate, trained, and loving listeners for help, hope, & encouragement.
ARE YOU LONELY? AGE 60+?
M-F 10-4 EST 844-600-8262
A partnership of The Governor's Office of Faith-Based and Community Initiatives, Tennessee Baptist Mission Board, and Tennessee Commission on Aging and Disability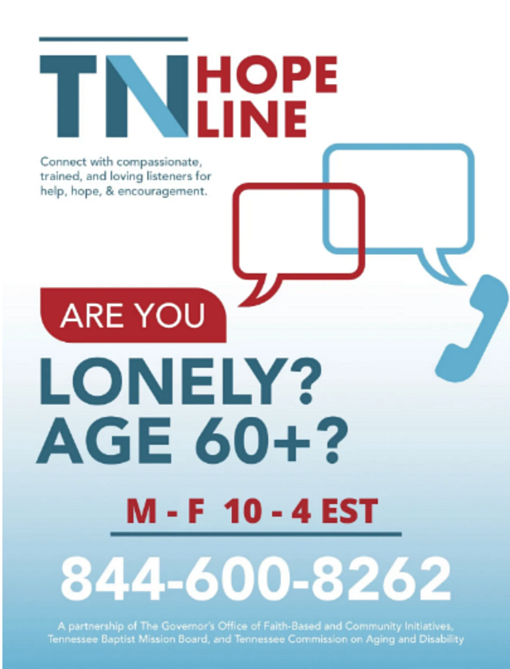 Mondays, Wednesdays & Fridays – Lunch at the RC Senior Center by Meals on Wheels

Meals on Wheels is a service through Mid Cumberland that provides hot healthy meals to Senior Adults  (age 60 and above) who cannot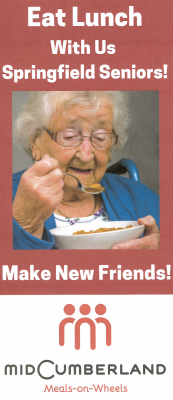 get one otherwise. There is not an income requirement and meals are free. Donations are accepted at any time.
If you would like to join us at the Senior Center for a congregate meal at lunch time, we would love to have you join us. You might even decide to stay and play a round of dominos, cards, or bingo.
Note: There is a form to fill out for all participants that can be picked at the center.
This is a good way to gather, make new friends, and enjoy some laughter. We look forward to seeing you!!
Cindy Farmer
Director
Robertson County Senior Citizens Center
Robertson County Senior Center In Springfield, TN
Lots of fun events every month, sign up for the newsletter. 
Check us out online!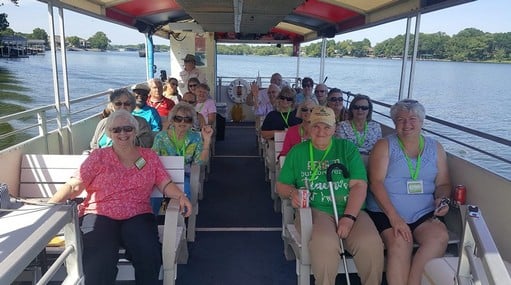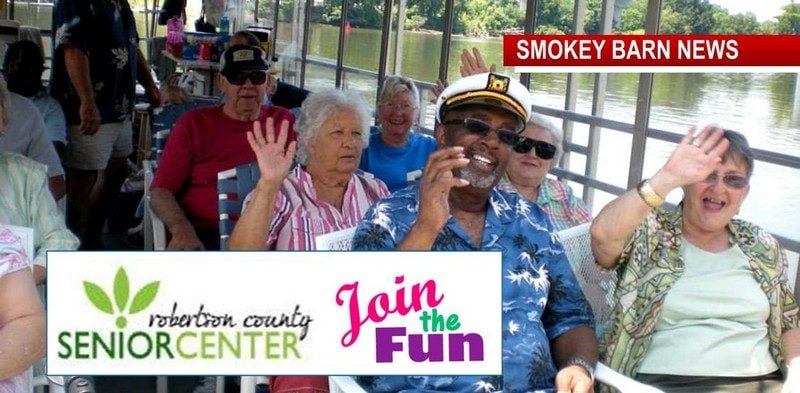 NOTICE: Food Assistance Available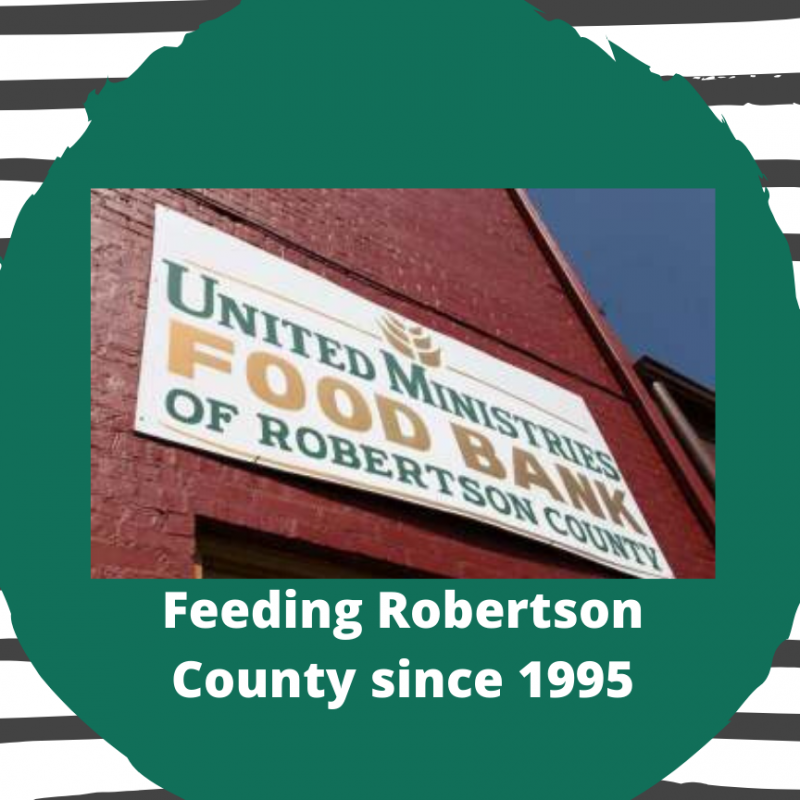 The United Ministries Food Bank would like to inform the residents of Robertson County that they are still helping with food needs.
If you are struggling to put food on your table they can help.
They are located at 808 S Main St. (beside Cope). Familes need to have ID's and Birthdays dates for all living at their residents.
Residents are welcome to come in monthly for assistance. If you have questions please call 615-384-8306.
Hours: Open Monday thru Thursday 10:30AM to 1:30 PM.

Notice: Food Pantry – Bethlehem Baptist Church Drive By Pantry 
Please drive up to Building A from the Hwy 76 entrance. Residents are asked to show proof of residence and an SSN# for each resident.
The drive-by pantry will be open on Wednesdays from 11am to 1pm.
Bethlehem Baptist Church – 5081 Bethlehem Road – Springfield, TN. 615-643-0333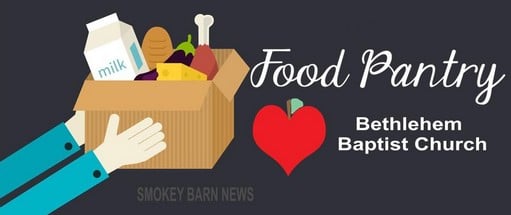 Reload this page often to see new events added…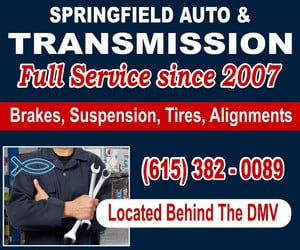 Millersville, TN Library
Click the Banner below for the full calendar of events including Art ventures, storytimes and more!

White House, TN Library
Click the Banner below for the full calendar of events including sewing, storytimes, anime' drawing, chess club and more!


Springfield's Stokes Brown Library
Click the banner for all the summer activities planned!


(Robertson County, TN)
The Robertson County Animal Control is overwhelmed by the current overpopulation of pets in our county
We have been working diligently to improve the situation in our area and lower our euthanasia rates. This has only been possible with support from our commissioners and mayor, and leadership of our Director Kevin Clinard. We promote spay and neuter. Please contact our office for information on low cost spay and neuter or to schedule to have your pet fixed.
Robertson County Animal Control
2900 W. County Farm Rd.
Springfield, TN 37172
Email: [email protected]
Phone: 615-384-5611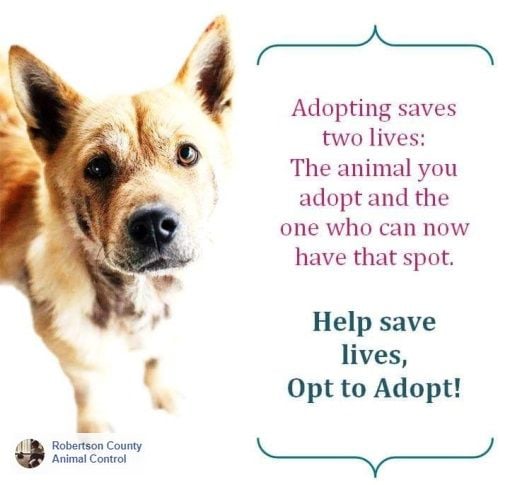 Orlinda, TN Byrum Porter Senior Center
ORLINDA TENNESSEE: (Smokey Barn News) – The Byrum Porter Senior Center in Orlinda, TN offers…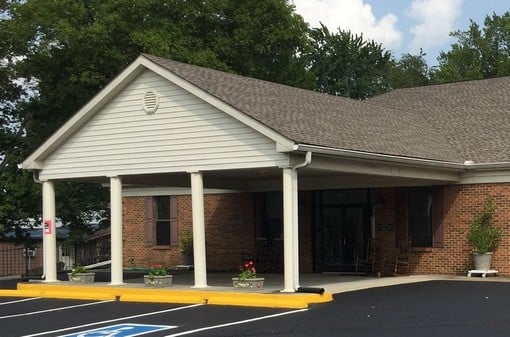 Byrum-Porter Senior Center in Orlinda, TN is open Monday – Friday from 8 am to 4 pm
We have everything from exercise classes, day trips, mystery lunches, extended trips, card games, dances and much, much more.
Checkout our newsletter to find out more about our dance themes, class times and trips on our website byrumporter.com or follow us on Facebook at Byrum-Porter Senior Center for all our fun activities.
Fitness after 50, Yoga & Tai Chi Exercise Classes, Dominoes, Canasta, Karaoke, Bridge, Shanghai Rummy, Footcare & Nail Appointments, massage appointments, paint classes and more. Request our monthly newsletter with all the details, just send an email to: [email protected]
Visit our exercise room
We have treadmills, stationary bikes, step climbers and a vibration training platform. If you can't get to our exercise classes or aren't comfortable in a group why not try this instead.
Thursday Night Dances: 
Come dance to the great tunes by The Good Time Charlie Band every Thursday night. Good Time Charlie Band rents the center on Thursday nights starting at 7 pm. Doors open at 6 pm. Limited menu available starting at 6 pm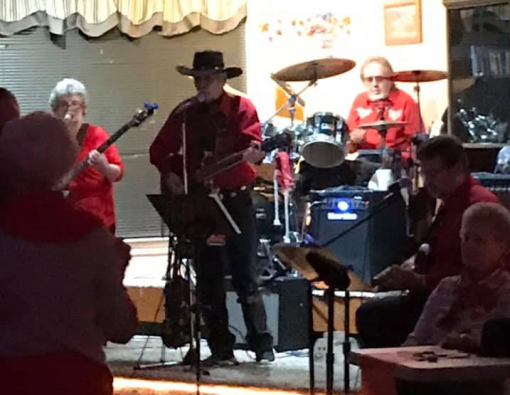 We love to Travel – Check out our upcoming trips
To view these trips, click here.
*All trips are subject to change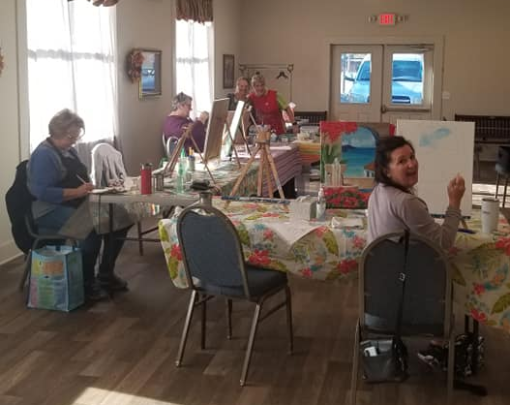 All events are subject to change. Changes will be posted on our Facebook page and our website.
Home Health supplies
We have walkers, canes, crutches, toilet risers, toilet bars, bed assist bars and a shower seat to loan if needed. We also have personal disposable hygiene items.
For updates call 615-654-3161
Location: 9123 Highway 49 E Orlinda, TN 37141
*The Center exists to make life more enjoyable for older adults, who reside in Orlinda and surrounding areas. Activities, Dances, Trips and much more.
*Coffee is always ready and waiting for you.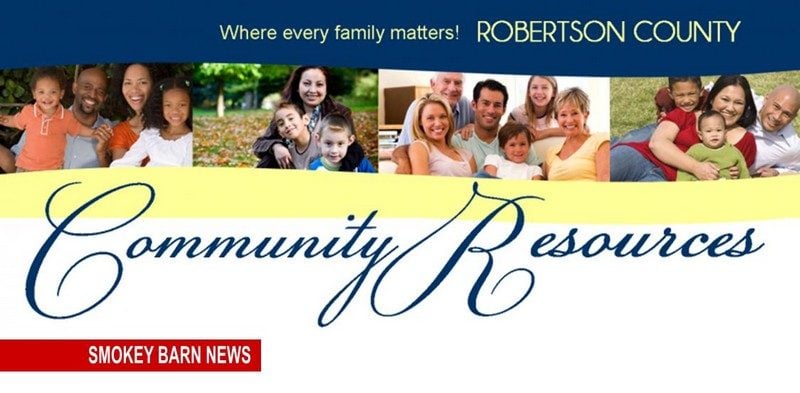 For A Full List of Family & Community Services, Resources & Meetings
Announce Your Event On
Robertson County's #1 News Source

Mobile: To See The Latest Stories or to share this article, scroll below