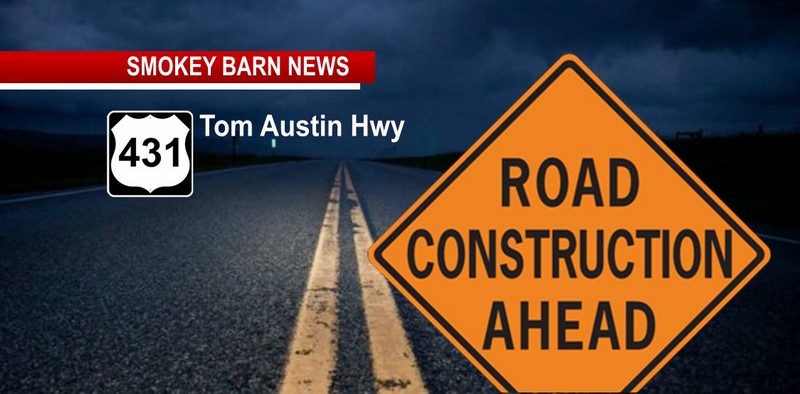 431 Expansion Triggers Night-Time Safety Concern, TDOT Responds
ROBERTSON COUNTY TENNESSEE: (Smokey Barn News) – With driver safety concerns in mind during the 431/Tom Austin Hwy expansion project, in a letter, a Smokey reader asked if anything could be done to make the road safer at night during the project. We sent the letter to TDOT, here's their response.
Reader Letter…..
"I would like to tell somebody about the dangerous condition of Tom Austin Highway in Springfield, TN. I travel this highway every day going to and from work in Nashville. Now that it is dark, you cannot see the lines on the highway on top of the construction happening. This morning it was raining, and with the headlights from oncoming cars, IT WAS EXTREMELY DANGEROUS.
"There have been several wrecks on this highway and just before Thanksgiving this year a 17-year-old kid from my community was killed. The driver of the other vehicle that hit him head-on had crossed over the centerline. The driver of the vehicle was injured and he had two minor children with him that were also injured in the crash. OH, DID I MENTION IT HAD RAINED and it was 8pm at night? I know there is nothing we can do with the construction BUT can we at least put something on the centerline to keep people safe?"
TDOT Response…
"The temporary roadway striping in this location does meet TDOT specifications, but TDOT is reviewing the area with the contractor to see if additional improvements can be made, including potentially installing temporary delineators."
If you see something that just doesn't seem right, submit it to [email protected]