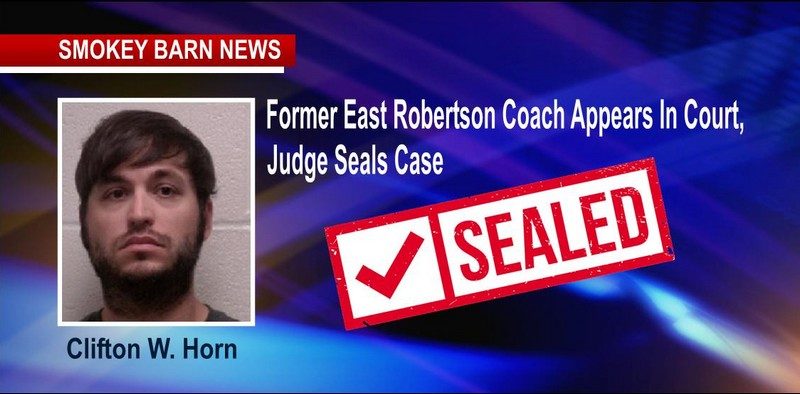 Former Teacher Charged In Hidden Camera Case Appears In Court, Judge Seals Case
CROSS PLAINS TENNESSEE: (Smokey Barn News) – This will be the third update to a story we initially brought you back in September of 2018 regarding a now former Spanish teacher and girls volleyball coach at East Robertson High School who is facing allegations that he used video equipment in the girl's locker room to capture female students.
Following an investigation last year, the teacher, identified as 32-year-old Clifton Weathers Horn of White House, is facing numerous charges for allegedly hiding the video recording equipment in the girls' locker room to capture the students changing clothes or using the restroom, according to court documents.
Horn was back in court again this week appearing on Monday in front of Judge William R. Goodman III in Robertson County Circuit Court but according to the Robertson County Sheriff's office, the Judge has issued a gag order and has sealed the case.
The decision by Judge Goodman effectively stops the flow of information about the case outside the court and prevents all parties involved in the case from talking about it publically in any way. Smokey Barn News confirmed that fact when we reached out to the Robertson County Sheriff's Office and the DA's office, amongst others, and the answer was the same each time, "Sorry, can't talk about the case."
The gag order means there is no way of knowing if there are new charges, modified charges or if Horn's appearance in court Monday was in any way connected to the charges he's already facing. All we know is, he was in court Monday on a superseding indictment.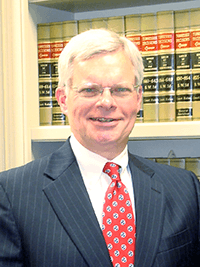 So why did Judge Goodmen seal the case? The official reason was due to the sensitive nature of the case. Simply put, the Judge is trying to protect the victims and perhaps evidence. He may also be trying to protect the local jury pool.  Some would argue that the parents have a right to have access to all the facts of the case, which does make sense but the experts we spoke to offered the following. The reason a parent would want access to all the facts would be to determine if their child was a victim, that's just common sense. It is a certainty, however, that the families of every victim in this case (however minute) will be notified. This type of case means every minute of video and every photo will be scrutinized for victims and prosecution. That's the only way you can prosecute this kind of case.
It's a moment in which a parent may want to consider trusting the judicial process and the judge in their consideration for what is in the best interest for the victims and the prosecution of suspects.
At some point information about the case will likely be released but it will happen at a point and in a way that will not impede the judicial process or further traumatize victims.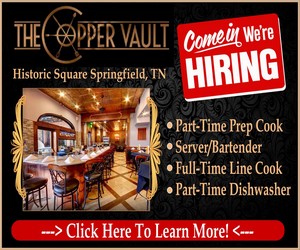 Previous charges…
Last year the Robertson County Sheriff's Office told Smokey Barn News that Horn was facing charges that included, one count of especially aggravated sexual exploitation of a minor, one count of unlawful photography in violation of privacy, one count of tampering with evidence, one count of sexual exploitation of a minor, six counts of attempted especially aggravated sexual exploitation of a minor, and six counts of attempted unlawful photography in violation of privacy.
The charges last year followed an investigation while Horn was a girls Volleyball coach and Spanish teacher at East Robertson High School. According to Robertson County School's Officials, Horn was suspended from East Robertson back in September of 2018 once the investigation began. Horn resigned a short time later, according to school officials last year.
After booking last year, Horn spent a little less than an hour in the Robertson County Detention facility, out on a $25,000 bond at 1:16 am. Due to the gag order, Horn's arrest photo, any new charges or his bond or modifications to his existing bond will not be released, according to Robertson County Jail officials.
Smokey Barn News will continue to follow this story as it progresses through the courts. As information becomes available we will bring it to you.
RELATED STORIES
Reported September 28, 2018: Allegations Trigger Investigation/Suspension Of East Robertson High Teacher
Reported October 23, 2018: East Robertson Girls Volleyball Coach Indicted On Sex Crimes
Sponsored (Public Notice)
Smokey Barn News (Advertisement)
We bring you ALL the News in and surrounding Robertson County, Tennessee.