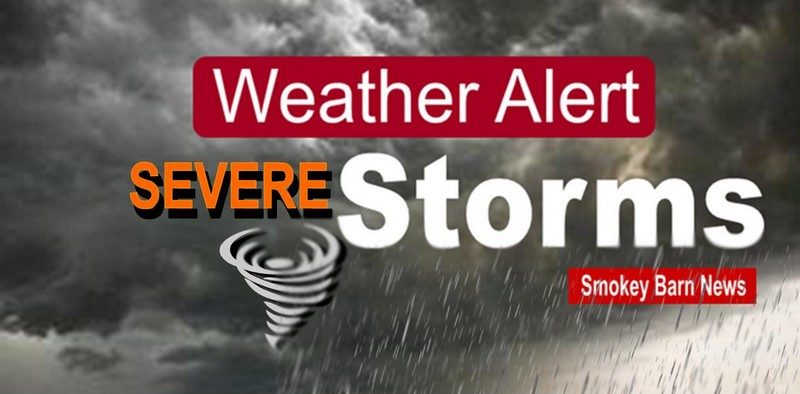 Overnight Storms To Bring 60+ Winds, Possible Hail, Tornadoes, Localized Heavy Rainfall
Severe storms are expected to strengthen through the evening into the overnight hours, mainly west of I-65 and south of I-40, according to the US National Weather Service Nashville Tennessee.
"Some uncertainties exist around how much energy we'll have in place to fuel severe storms. The activity ongoing to our southwest could actually limit our severe threat by robbing us of the energy we'd need for severe storms to develop. Despite the questionable energy there is still the threat of straight-line winds with storms that develop ahead of a cold front this evening. There's also a low threat of an isolated tornado, mainly for those along the Tennessee/Alabama state line.
AFTERNOON TIMING:
As for timing, we could see a stray severe storm in our southwest this afternoon, but the main timing for any severe activity will be late this evening as the frontal boundary approaches. As storms move east of I-65, they're expected to quickly weaken.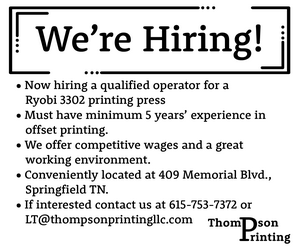 Smokey Barn's Weather predictor Will Jones…
EVENING/OVERNIGHT TIMING:
The timing for severe storm potential in middle TN will be from 8 pm to 3 am. The main threat continues to be strong straight-line winds of 60+ mph, with the potential for large hail and a couple of tornadoes. In addition, localized heavy rainfall is possible with stronger storms. Outside of the thunderstorms, it will be breezy with wind gusts of 35 mph.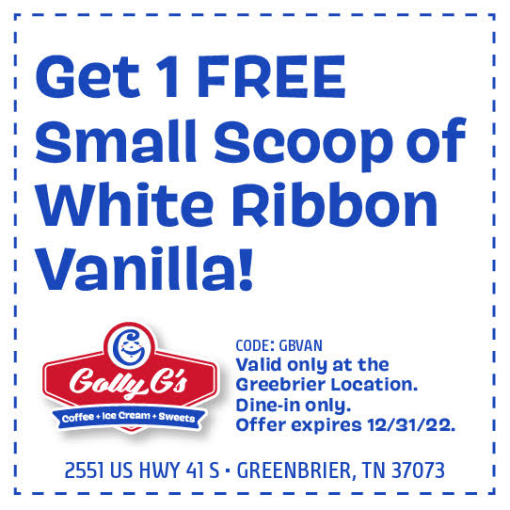 WHAT:
Straight-line damaging winds 60+ mph, large hail, tornadoes, and localized heavy rainfall.
WHEN:
This evening and overnight 8 pm – 3 am.
WHERE:
All of Middle Tennessee, but the greatest threat is west of I-65. The tornado threat increases the further west of I-65 and south of I-40 you go.
STAY IN THE KNOW:
Be on the lookout for additional information during the day.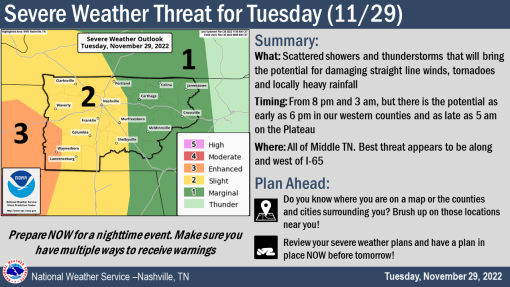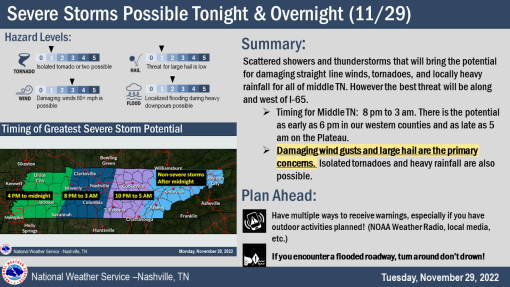 Take the time to make sure the batteries are fresh in your NOAA Weather Radio and tomorrow evening, make sure your cell phone is charged. Remember, we want you to have multiple ways to get warnings.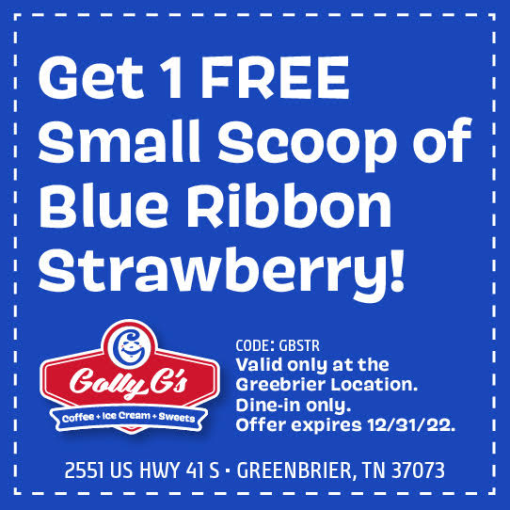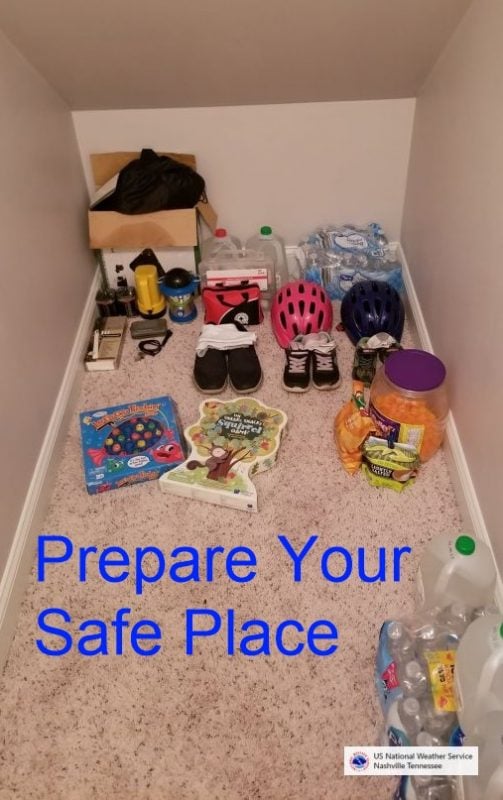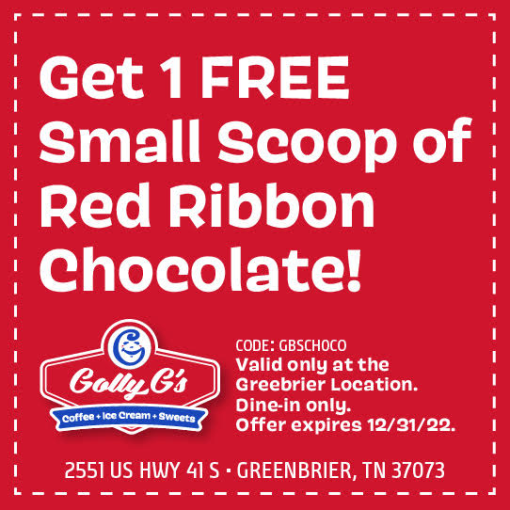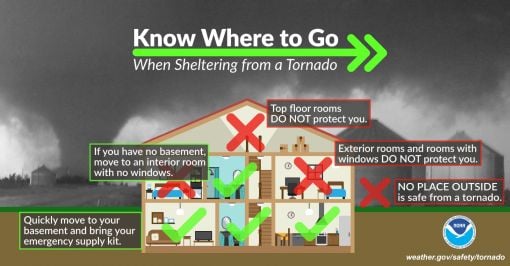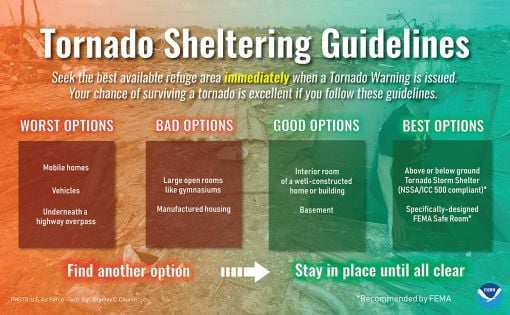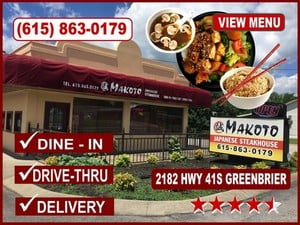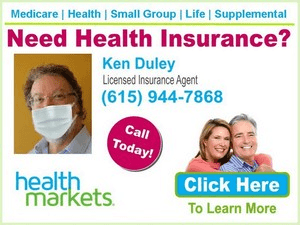 BE PREPARED: Before the Storm Strikes. (A message from Weather.gov)
At home and at work, your primary concerns are the potential loss of heat/AC, power, telephone service, and a shortage of supplies if storm conditions continue for more than a day. Test units regularly to ensure they are working properly. Have available:
• Flashlight and extra batteries.
• Battery-powered NOAA Weather Radio and portable radio to receive emergency information. These may be your only links to the outside.
• Extra food and water. High-energy food, such as dried fruit or candy, and food requiring no cooking or refrigeration is best.
• Extra medicine and baby items.
• First-aid supplies.
• Have proper ventilation.
• Fire extinguisher and smoke detector.
In cars and trucks, Plan your travel and check the latest weather reports to avoid the storm!
Mobile: To See The Latest Stories or to share this article, scroll below