R.C. Mayor Howard Bradley Says He Will Not Run For Reelection
ROBERTSON COUNTY TENNESSEE: (Smokey Barn News) – At a live press conference Monday afternoon Robertson County Mayor Howard Bradley announced that he will not seek another term as Robertson County Mayor.
After 16 years in office, Bradley said he's proud of the County's accomplishments during his tenure. Under his platform of Education, public safety, transportation, and economic development, Bradley mentioned the restoration of the Robertson County Courthouse and the new school construction and renovation and the new college. He mentioned the new water advisory board and the expansion of the library in Springfield. He talked about the new land management plan and Robertson County's inevitable growth.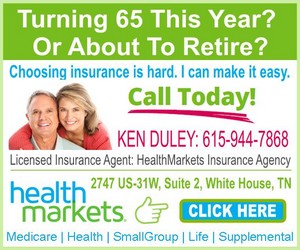 Bradley then moved on to thanking his supporters and his staff over the years. He said he loved the job and if he could he would have done it for free. He said he has been honored to be the face and voice of Robertson County.
As he moved on to his decision not to seek reelection Bradley said, "This job is, in many cases, six and seven days a week and some cases twelve and fourteen hours a day and I have loved almost every moment of it. But I also know when I take a look at myself, when  I came into this office sixteen years ago I was 48 years old and I'm not 48 years old anymore, nor do I have the energy and the stamina that I had in 2002. So I think it's time to look toward a new day."
His final message to the County; "The decisions we are making are not decisions we are making for ourselves. These are decisions we are making for our grandchildren." – "The decisions we are making right now will cast a long shadow on the lives that our grandchildren will live in our County 25 years from now and that should be our focus."
Bradley's decision not to run for reelection leaves two candidates in the running. Margot Fosnes and Joshua Evans.
"Mayor Bradley has always had an open door policy and a willingness to share his experience and historical perspective with me on many issues. He has dedicated his life to serving Robertson County and I am grateful for his service and the impact his work has had on our community." Joshua Evans
Smokey Barn News covered Bradley's press conference live. A recording of the broadcast is at the top of this report.
RC Elections 2018: Thinking About Running For Office? 
If you are thinking about running for office in Robertson County this year,click this link to find a list of the drop-dead dates and open seats.


Smokey Barn News (Sponsor/Advertisement)



 We bring you ALL the News in and surrounding Robertson County, Tennessee.