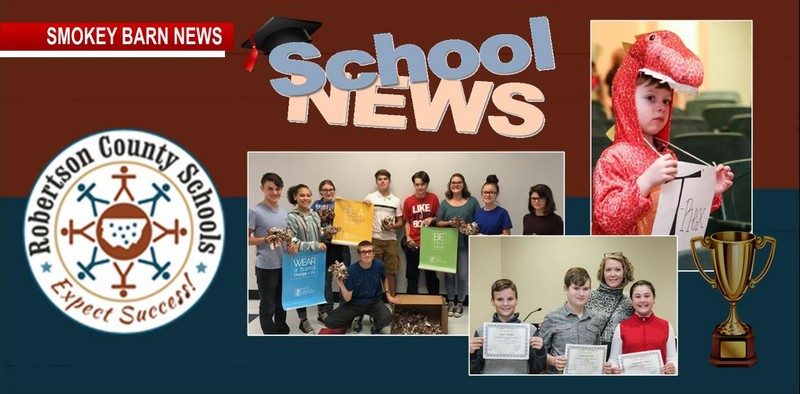 Robertson County School's In The News
Teachers, Students & Parents – Achievements, Awards, Scholarships, New Programs & Community Participation
ROBERTSON COUNTY TENNESSEE: (Smokey Barn News) – Welcome to Smokey's Robertson County School's News. Feel free to submit your articles for future school news reports (public, private or homeschool) to [email protected]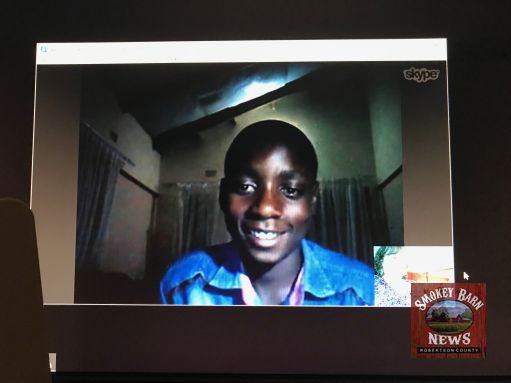 White House Heritage High School and Middle School FBLA teamed together to sell Yuda Band Bracelets to raise money for their student, Prince, in Zimbabwe. Heritage students were able to choose from about 50 students to sponsor/adopt and they chose Prince.  For every 175 Yuda Bands sold, that pays for one year of his education fees.
Students were able to Skype with Prince in Zimbabwe, Africa and learned that he has 50+ students in his class.  He sang his national anthem and Heritage students in turn sang to him.  Throughout the conversation, Prince thanked the group multiple times for helping fund his education.
With parent and community help, the FBLA students sold 502 Yuda Bands to help fund 2.87 years of education for Prince.
————————
Picture one is a photo of him while we were Skyping him.
Picture two is my student's photo wearing the Yuda Bands with a pile of them in the center
Picture three is students holding the Yuda Band Posters and Bands.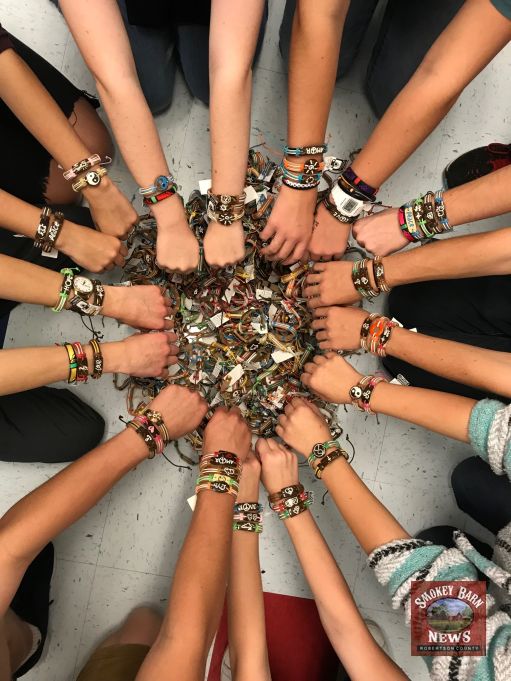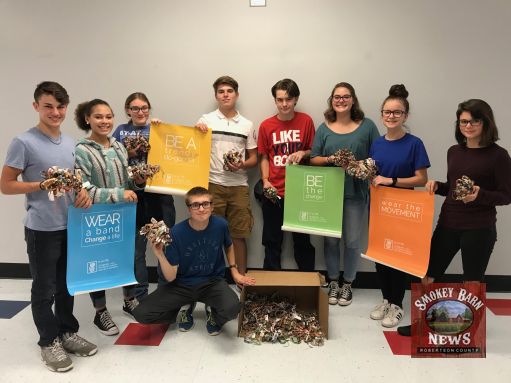 Smokey Barn News (Sponsor/Advertisement) 


Greenbrier Elementary School holds Vocabulary Parade
Greenbrier Elementary School held their first-ever Vocabulary Parade on Thursday Nov. 30, and Friday, Dec. 1. Younger students had help with picking their word to represent, while older students chose three and then narrowed their choice to one with the help of their teacher.
Students enthusiastically participated and demonstrated creativity in their costume design to illustrate their chosen word.
The parade was one of several school events intended to place an emphasis on student reading and comprehension. (See 8 photos below)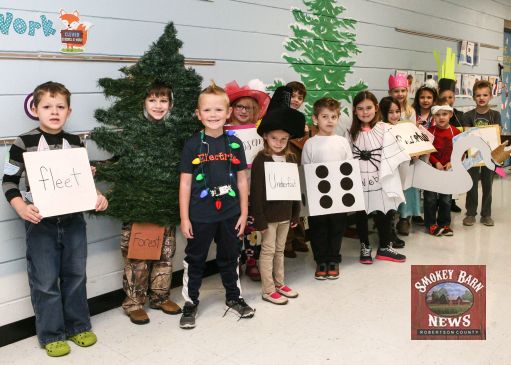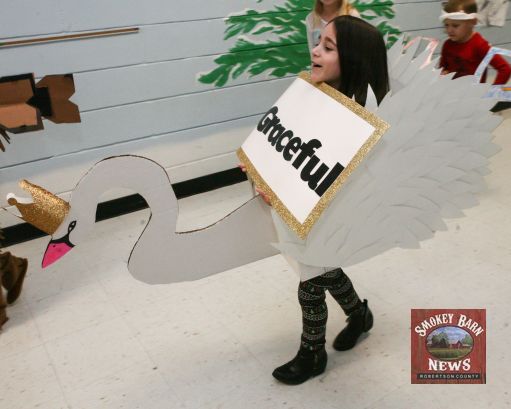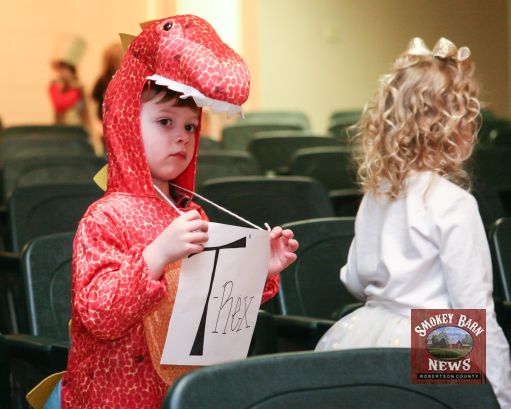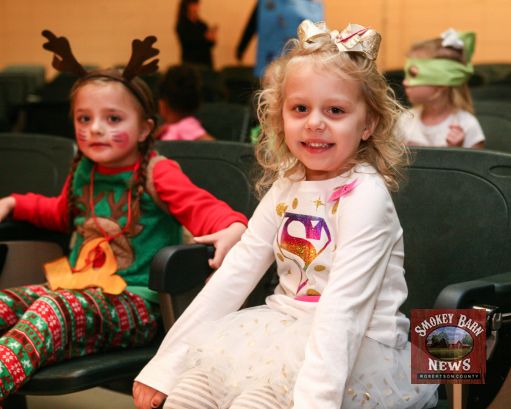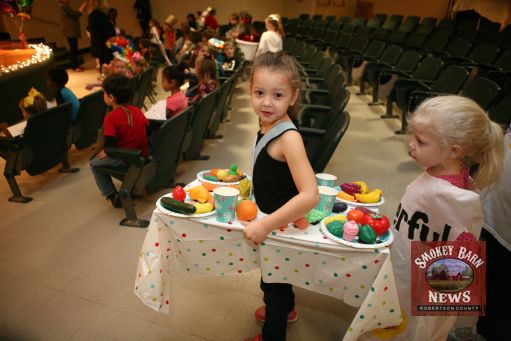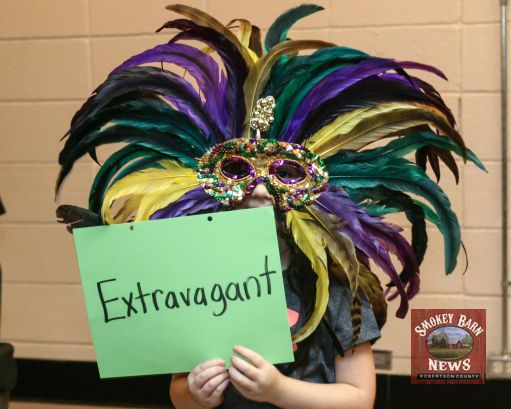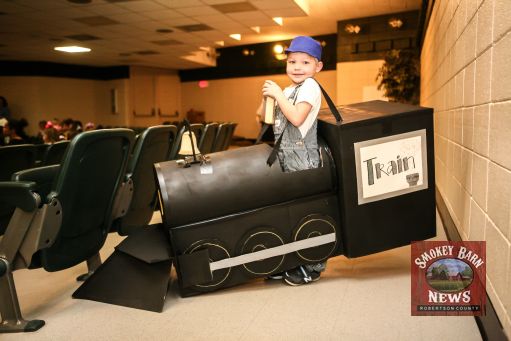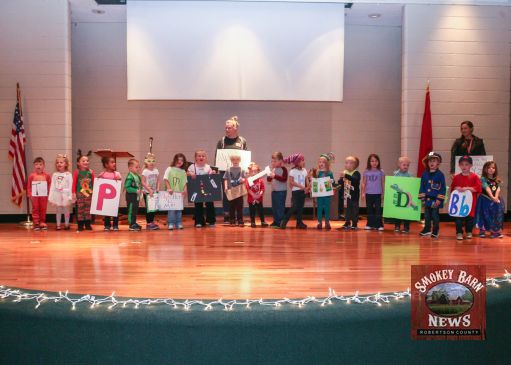 Smokey Barn News (Sponsor/Advertisement) 


Senior Beta Convention is held at Opryland Hotel every year. This Year: November 16th through the 18th
53 White House Heritage Students attended convention along with 5 chaperones
Our club received a G.O.L.D. Key Award for at least 10% Growth in Convention Attendance this year
G.O.L.D. = Growing Opportunities by Leadership Development
Our students competed in over 35 competitions:
Academic (Math, Science, Language Arts, Spanish, Social Studies, Agriculture, Poetry, Quiz bowl) Students had the opportunity to test his/her academic skills and to reinforce educational standards.
Heritage placed in the top three in 7 competitions:
Zach Logsdon- 2nd Place- Agriculture
Hillary Burnett- 1st Place- On-site Art
Hillary Burnett- 2nd Place- Watercolor
Anne Knight- 2nd Place- Poetry
T.J. Butler- 1st Place- Speech
Kayla Powers, Molly Claire Abell, and Faith Redding-3rd Place-Fresh Look at Beta
Breanna Bishop, Phoebe Dawson, and Amanda Hagewood-2nd Place-Spotlight on Service
By placing in the competitions above, students earn an invitation to compete at the National Beta Convention that will be held this summer (June 17th-20th) in Savannah, GA.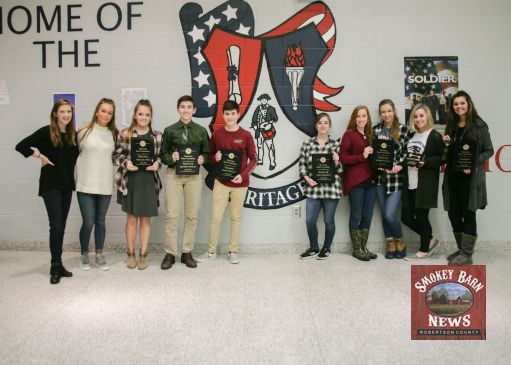 Springfield Rotary Awards Bike to Greenbrier Elementary School Student
The Springfield Rotary Club sponsored a bike giveaway at Greenbrier Elementary School on Thursday, Dec. 7.
Jayden Casey, a GES second grade student was selected by the school's Leadership Team as the recipient, and was awarded his bicycle at an early-morning school assembly in the gym.
Along with his bicycle, Jayden received a safety helmet from the Robertson County Sheriff's Office.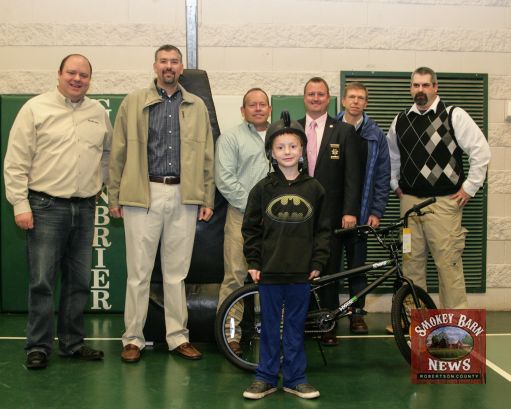 Krisle Elementary Selected For Department of Education Pilot Program
Krisle first grade teachers Elyse Cummings, Jessica Bertram and Shelby Rushing are piloting a new state curriculum program as part of the statewide vision for Teaching Literacy in Tennessee and its Read to be Ready campaign.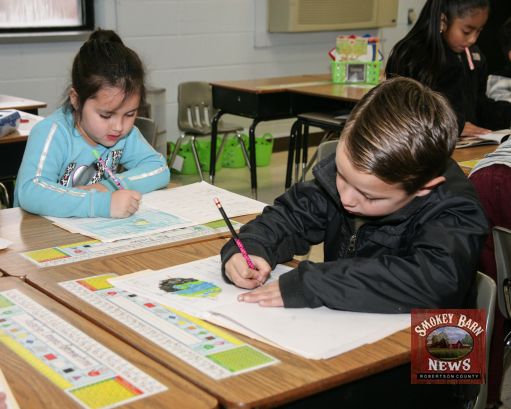 According to the state Department of Education, reading proficiency, especially when developed early, prepares students for success throughout life. In order to provide a stronger curriculum, selected district and school teams throughout the state are testing new instructional units to further strengthen elements of unit lesson design.
The trio was selected as one of only four first grade teams in the state to participate in initiating a Unit Starter Pilot program that will achieve specific goals. As such, they are utilizing new teaching methods intended to build the conceptual knowledge of their students in specific subject content.
Rushing said the team is already adjusting the basic curriculum to make it even stronger.
"The state created it, and we took it and tweaked it and changed it around for our students," she said. "The first unit that we're doing right now is the science unit, and in the spring we'll do the same thing with the social studies unit. This includes the science and social studies standards with the reading that we're encouraging.
"Overall the program has been really great and the kids have really loved it and been engaged," she added. "It's pretty amazing what they can tell you with the vocabulary that they're using. I think my favorite part is that we're writing every day. I've been amazed with what they've been able to do."
The unit starters being implemented are rooted in concepts from the content area standards and incorporate the instructional practices from the Read to be Ready coaching network, according to the Department of Education. They will provide a tested basis for the new program that is scheduled to roll out statewide next school year. Robertson County Schools is proud to be part of this development process as it can only strengthen our students and the professionals that teach them.

Smokey Barn News (Sponsor/Advertisement) 


White House Heritage Elementary Takes Best in State Jr. Beta Competition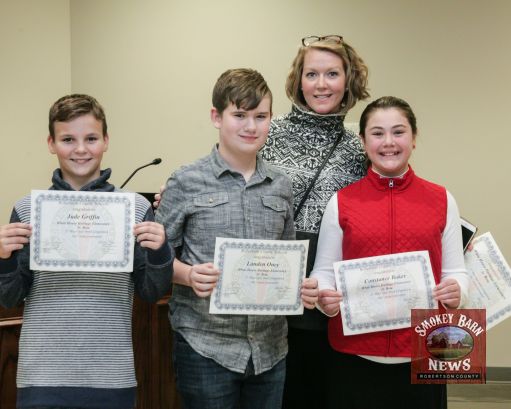 Three White House Heritage Elementary Jr. Beta students won first place in the Quiz Bowl competition at the State Convention in November.
Sixth grade students, Landen Oney, Constance Baker and Jude Griffen teamed up to defeat teams from 110 other school districts, several of which were comprised completely of eighth grade students. Questions in the quiz bowl were from random topics intended to test the students' overall knowledge of facts.
The trio will now compete at the Jr. Beta National Convention in Savannah, Ga., sometime in June.

Angie Inman has been named as an Interim Assistant Principal at Springfield High School, filling in for Patrick Carneal, who will be away for an extended leave of absence.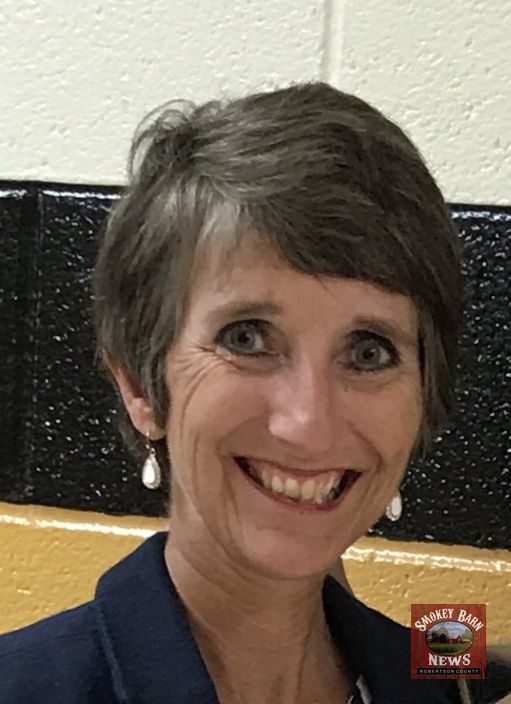 Inman, a Hendersonville native, graduated from Tennessee Technological University in 1984, and earned her Masters Degree in Curriculum and Instruction from Tennessee State University in 2007.
Married to husband, Todd, himself an SHS graduate, she now resides in Robertson County. Their daughter, Nancy June, an SHS graduate as well, now teaches math there.
"We are heavily invested in Springfield High School!" said Inman.
Immediately on graduation from TTU, Inman began teaching business courses at SHS, where she has served continuously from that time. She was named to her new position in early December, and expressed her eagerness to serve in this new capacity.
"I am honored and humbled by the confidence that the Robertson County Board of Education and Springfield High School have provided as I begin my new position as Interim Assistant Principal at SHS," she said.
"I am just super excited and nervous at the same time," she added, "but so blessed to be able to share my exuberance for education with SHS colleagues and students.
Leaving the classroom was a difficult decision, but the administration, staff, and students have enthusiastically embraced this transition, and I'm looking forward to serving the school and community as we prepare our students for post-secondary opportunities."

Congratulations to our November Parent of the Month. Nicole Howard has been very active in the PTO, Trunk or Treat, and homecoming activities. She is a great asset to our school!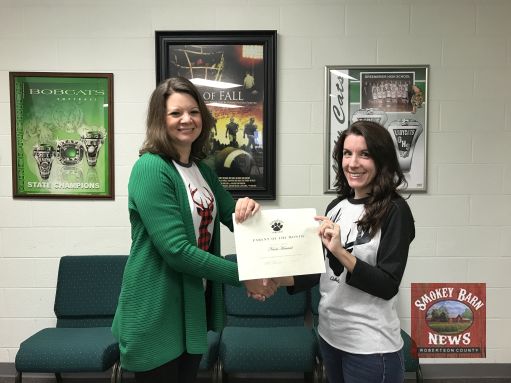 Smokey Barn News (Sponsor/Advertisement)


Greenbrier High School Renaissance members attended the Jostens Renaissance Fall Conference, "Find Your Grind Tour," on November 16 in Bowling Green, Kentucky.
At the conference, Kaylee Dorris was awarded a $2,500 "Find Your Grind," student scholarship. FYG also awarded GHS Renaissance sponsor Samantha Grimes with a $2,500 check for nominating Kaylee. (3 photos below)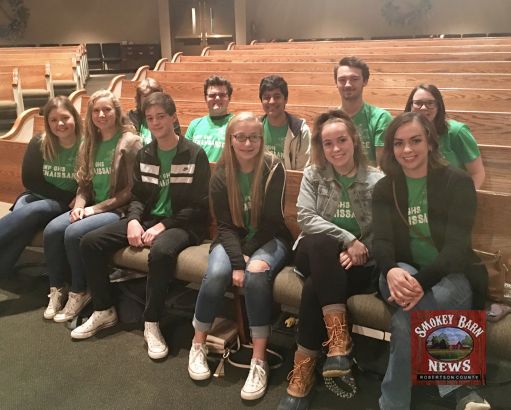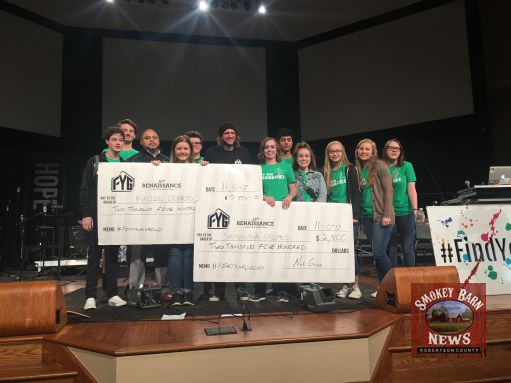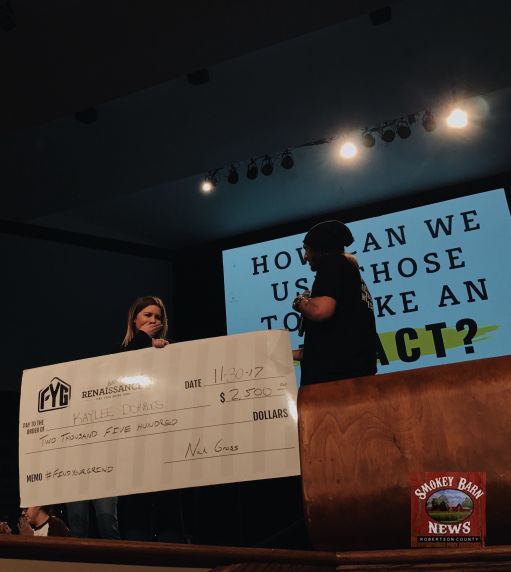 Heritage Beta Clubs Sponsor Gift Drive
Heritage Junior and Senior Beta Clubs sponsored a teen gift drive for the Robertson County Family Resource Center.  Pictured are the officers with all of the donations from students and staff in our building.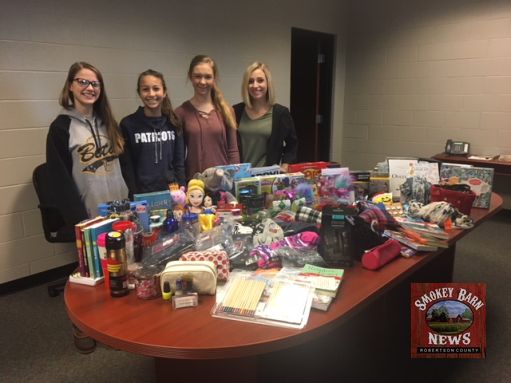 Smokey Barn News (Sponsor/Advertisement)


JBES November students and staff of the month
Staff of month-Kim Shelton, PK-Adam Wix Sierman, K-Gavin Moseley, 1st-Eli Arnold, 2nd-Jermaine Cobbins, 3rd-Brooklyn Ratliff, 4th-Ayva Groth, 5th-Chloe Osbourne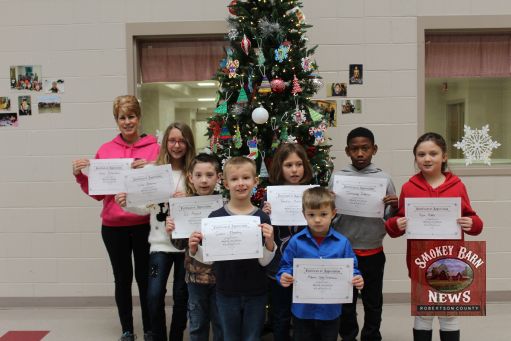 Every holiday season, ERHS Junior Beta members demonstrate their Holiday spirit by remembering Veterans.
This year, it was determined that the Nashville Veterans Hospital would be recognized and would receive donated supplies from the Junior Beta, as well Christmas cards containing personal messages from middle school students "Thanking Veterans for their service" and wishing each of them "Happy Holidays."
Donated supplies and Christmas cards were delivered to the Nashville VA hospital with the assistance of Cmd. Scott Lybarger and Ken Gamble from the Veterans of Foreign War Post 2120 of Robertson County, TN.
Remembering the military and veterans during the holidays has been an ongoing Junior Beta project for many, many years now, under the supervision of Mr. Andy Dorris and Nurse Sherry Johnson RN.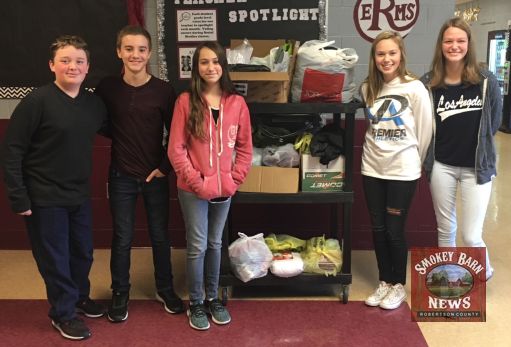 Smokey Barn News (Sponsor/Advertisement)


Central Office Member Certified For School Superintendent Service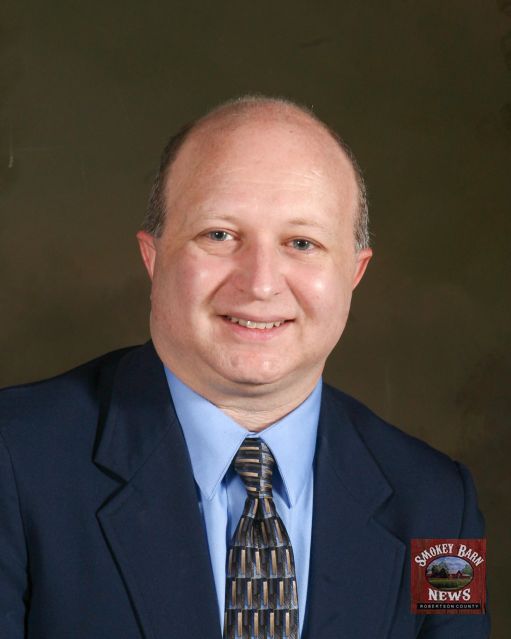 Robertson County Schools Supervisor of System Data Lewis Walling is one of 14 newly qualified individuals ready to assume the demanding position of a Tennessee school superintendent as of Dec. 5.
Walling and 13 other individuals successfully completed the Prospective Superintendents Academy hosted by the Tennessee School Board Association and the Tennessee Organization of School Superintendents. The 16 days of training is designed to help those with current experience acquire the unique knowledge and skills necessary to manage a school system.
According to TSBA, which conducts numerous superintendent searches in Tennessee, the state faces a shortage of candidates who are prepared to lead school districts, and has a critical need for a preparatory program for prospective superintendents.
Created in 2007 to address this need, the Academy includes courses taught by top educational leaders from across Tennessee. Sessions covered subjects including school finance, school law, board relations, technology, personnel, and facilities management.
"We are very pleased with the quality of the candidates who completed the course this year," said TSBA Executive Director Tammy Grissom. "A dynamic, innovative and highly-skilled superintendent is crucial to the success of any school system, and based on what we have seen over the past year, we believe these 14 individuals have the tools to meet that challenge."
Robertson County Schools Director Chris Causey noted Walling's achievement saying, "The district is proud of Mr. Waling's efforts and accomplishments in this program. The knowledge and skills he has gained will help him in his current district leadership role and well-equip him in any future career endeavors."

RC Cattlemen's Association is offering a college scholarship of $500
Scholarship Form (pdf) – 2018

The Robertson County Cattlemen's Association is offering a college scholarship of $500 for high school seniors who will attend a two or four-year school.
Credit is given for participation in 4-H Club and FFA activities, but it is not required to major in agriculture in college.
Applications are due March 1, 2018. Click HERE for requirements.

We bring you ALL the News in and surrounding Robertson County, Tennessee.
Smokey Barn News (Sponsor/Advertisement)