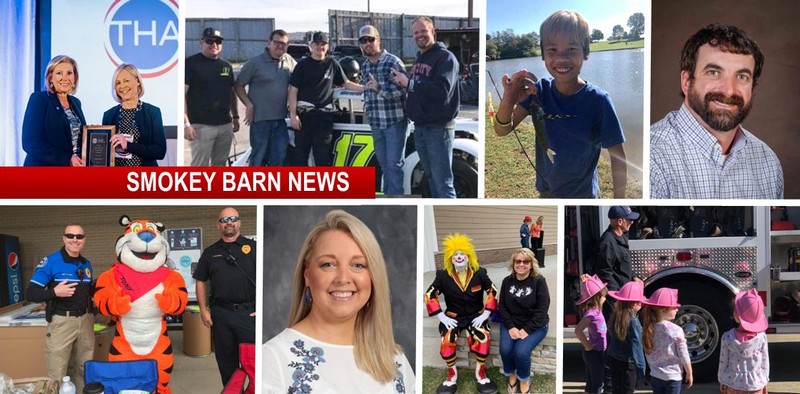 Smokey's Community Column, Stories Across Robertson County (10/25/2021)
ROBERTSON COUNTY TENNESSEE: (Smokey Barn News) – Welcome to Smokey's Community news column. It's a look back at this week's top community news in and around Robertson County.
Smokey's People & Community News column highlights local stories of people, schools, community events, and charities that continue to make Robertson County great!
BECOME A SPONSOR TODAY!! [email protected]
Got a story? Email your story ideas to our 24/7 news desk; [email protected]

(Springfield, TN)
Springfield's O'Charley's Supports the Local Community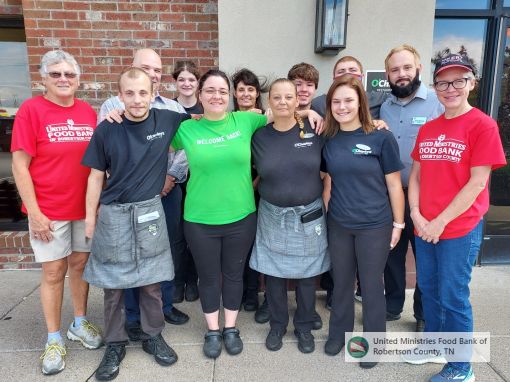 Back Row L-R; Shane Stumphf (General Manager), Janice Beaty, Kim Moore, Alex Wilson, Gary Mullen, James Blaylock (Shift Manager)
Front Row L-R; Mark Larue, Lisa Mace, Trish McConnell Holman, Victoria Clark
United Ministries; Left – Sherry Martell (Director), Right – Reverend Kim Moore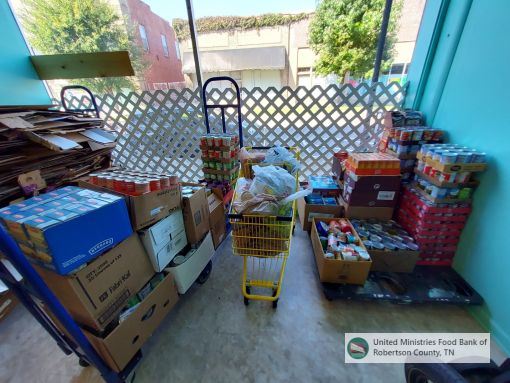 Last month, O'Charley's Restaurant + Bar in Springfield collected over 1500 pounds of food for United Ministries of Robertson County. When guests donated five canned goods, they received a $5 reward card to use on their next visit to O'Charley's. Team members were also divided into teams competing to get the most donations.
This successful drive is just one of many ways O'Charley's gives back to the community. I am attaching our release on the Songwriters Cafe virtual restaurant – we have teamed up with country music artists including Lee Brice, Tenille Arts, Thompson Square and Liz Rose to launch a limited-time, one-of-a-kind virtual restaurant, the Songwriters Café, which donates 100% of proceeds to Folded Flag.
Now through November 21,
…you can order from the Songwriters Café on Door Dash, Postmates, or Uber Eats to help support families who have made the ultimate sacrifice for our country. Guests who prefer to dine in at O'Charley's can also participate in the Give $5 Get $5 campaign, and get $5 off their next bill if they give $5 to Folded Flag.
Dine in at O'Charley's: 3535 Tom Austin Hwy, Springfield, TN 37172 or order through the Songwriters Cafe restaurant!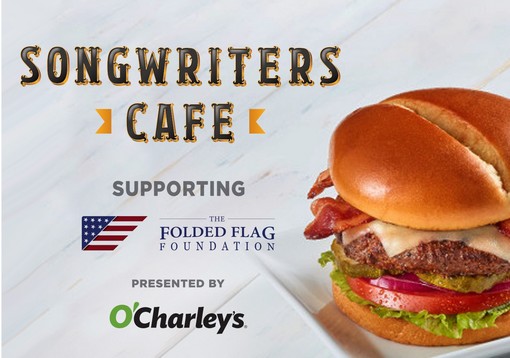 "O'Charley's of Springfield has been an outstanding member of our community for many years. The management and staff are interested in supporting and giving back to the area. Recently, they conducted a food drive gathering approximately one ton of canned and dry goods for United Ministries Food Bank of Robertson County. The goods will be distributed to folks that need a little help feeding their families.
The staff was split into teams generating a competition amongst them. Customers and staff donated the goods over a period of a month and a half. Top donations were Trish McConnell Holman, Antonia (Sug) Burford and Hannah Kurtz.
Our community would like to give a big "Thank You" to O'Charley's management, staff and customers for their effort and kindness." United Ministries

(Millersville, TN)
Millersville Public Library of Sumner County Thanks to Millersville Fire Department for our amazing Firefighter storytime!
They'll be back on Friday to visit again if you missed them today.
Join us at 10:30 am in the library parking lot. 1174 Louisville Hwy Millersville, TN 37072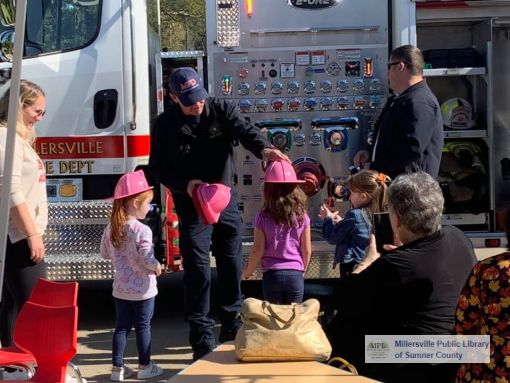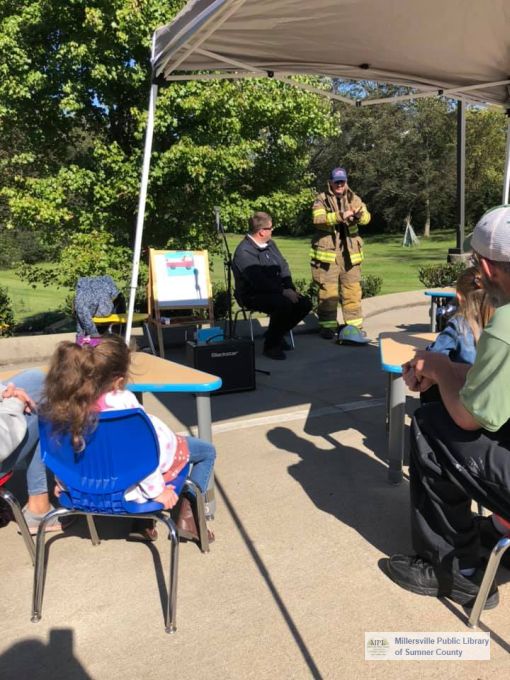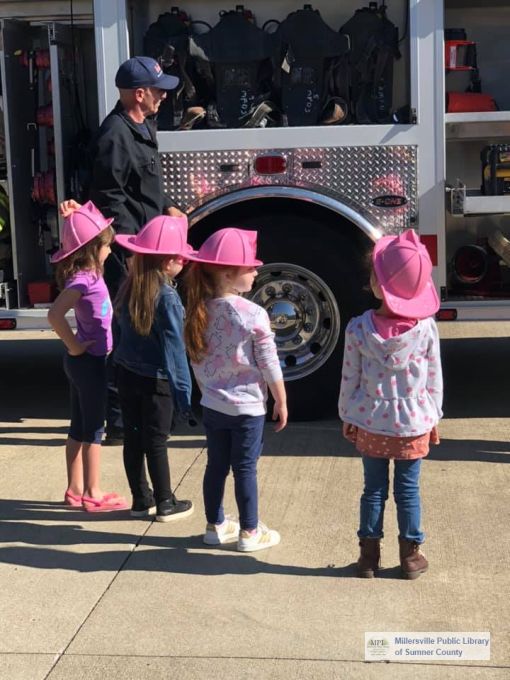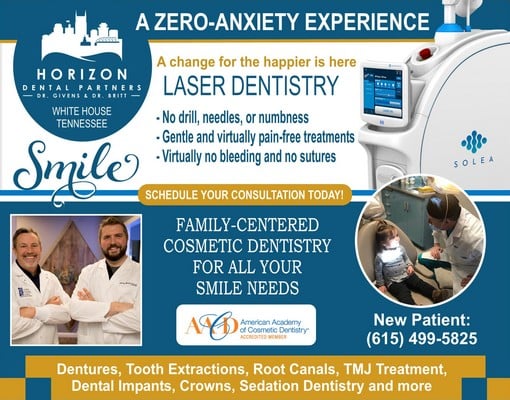 (Greenbrier, TN)
Greenbrier Elementary Teacher To Serve On Statewide Advisory Council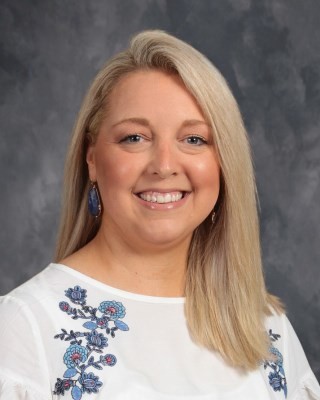 Greenbrier Elementary School teacher Lauren Dean has been selected to serve on an advisory council by the Governor's Early Literacy Foundation. She will serve in this capacity with 20 other educators from across the state.
These 21 educators were selected from 115 applicants to serve on the Educator Advisory Council, and they collectively represent 20 school districts in all three regions of the state. With less than one third of Tennessee third graders able to read proficiently, GELF aims to utilize the Council's combined 290 years of experience to meet students and families where they are with the tools they need to strengthen early literacy and combat learning loss.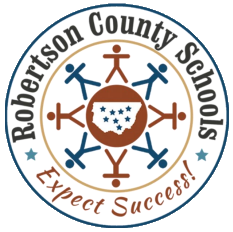 "Educators play the biggest part of our future generation's story," said James Pond, president of GELF. "Governor's Early Literacy Foundation is honored to recognize their role, learn from their experience, and hear from their perspective to gain a better understanding of what our students need to become successful readers and future leaders. Together, we will work together to combat learning loss and strengthen early literacy."
The primary responsibility of the Educator Advisory Council will be to select the books that students and teachers from across the state will be mailed through GELF's K-3 Book Delivery program in Summer 2022. Through its K-3 Book Delivery program, GELF collaborates with Scholastic to mail high-quality, age-appropriate books to kindergarten through third grade students and teachers over the summer to combat learning loss and support learning in the home. In Summer 2021, GELF mailed books to 90,000 students and teachers across Tennessee, at no cost to families or school districts.
Robertson County Schools Director, Dr. Chris Causey was justifiably proud of Dean's appointment and representation of the district.
"We are so proud of Mrs. Dean in this well-deserved selection and look forward to her expertise and passion being shared beyond Robertson County on a state level," he said.
For her part, Dean said she's looking forward to this unique opportunity.
"I am both honored and excited to serve on the Governer's Early Literacy Foundation Educator Advisory Council," she said. "I am passionate about literacy and what it can do for the future of children. The smartest people I know read a lot, and I hope to help select amazing books that every K-3 student in Tennessee will want to read again and again."
Less than one third of Tennessee third graders read proficiently. Research shows that two to three months of reading proficiency is lost for students who do not read over the summer, and Tennessee Comprehensive Assessment Program (TCAP) 2021 scores show that disruptions to education during the COVID-19 pandemic led to a five-percentage point decline in third grade reading proficiency. Research shows that placing books and resources directly into the homes of families helps combat learning loss.
The 2021-2022 Educator Advisory Council represents 15 K-3 teachers, one library media specialist, and five school district leaders.

(White House, TN)
While House Rotary was so happy to present two bikes to two very deserving young men this week.
Please join us in congratulating Kevin & Noe Paz, 1st graders at HB Williams Elementary! Keep doing great things boys!!!
Congratulations!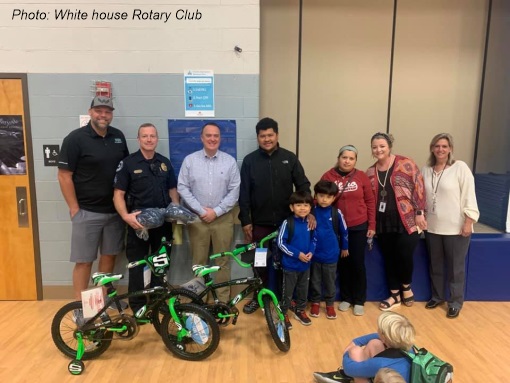 (Springfield & White House, TN)
The Ace Hardware in Springfield & White house has what you need. The helpful Hardware store.
Just click the banner to see all the sales!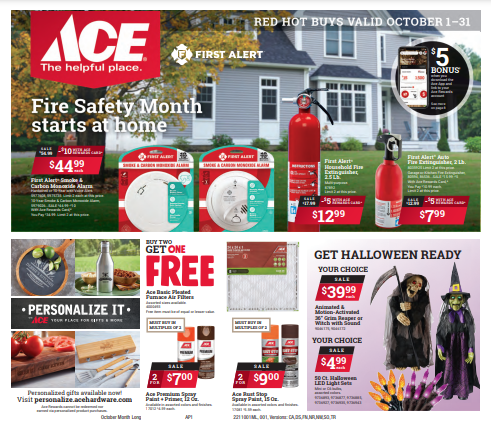 (Portland, TN)
Portland TN Fire Department – We had a great turnout and handed out a lot of fire safety education material at this year's Fall Festival.
Here are some great photos of the event by Dobbs Family Photography & the Portland Chamber. #portlandtnfire #firesafety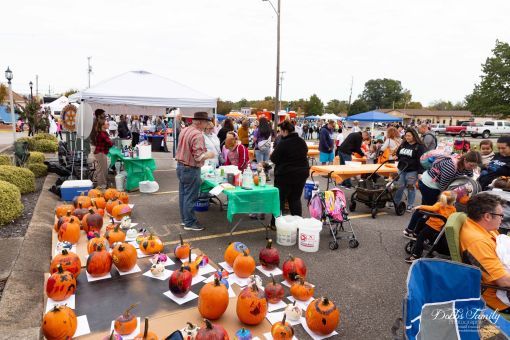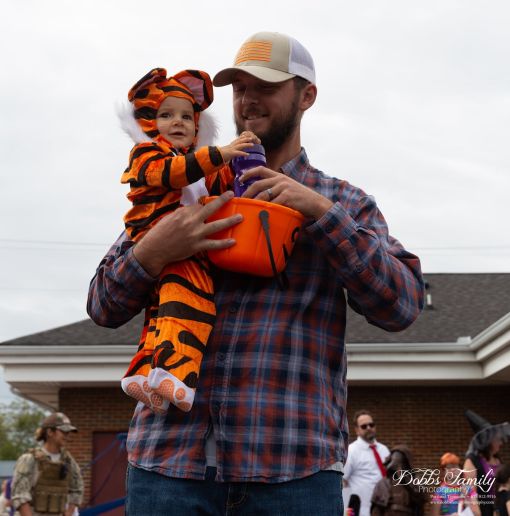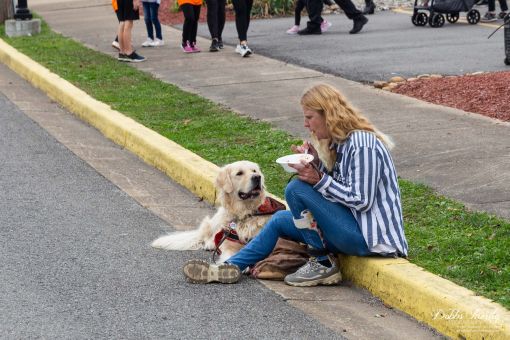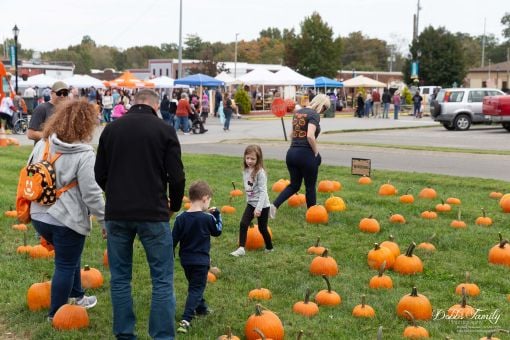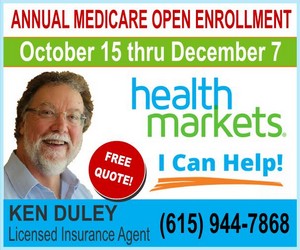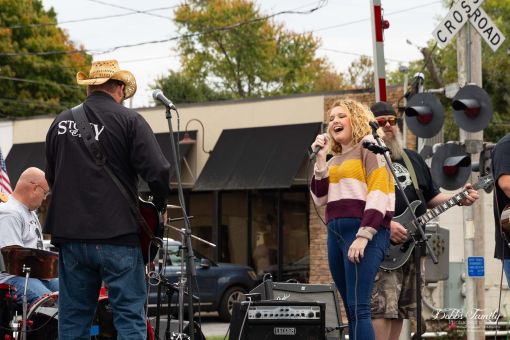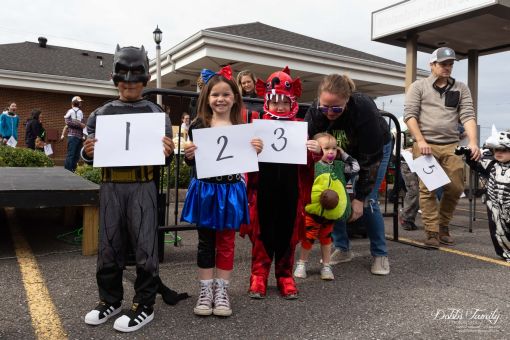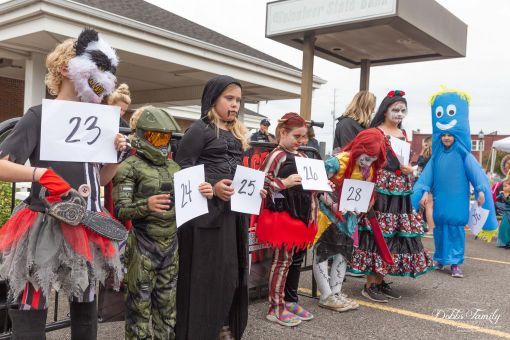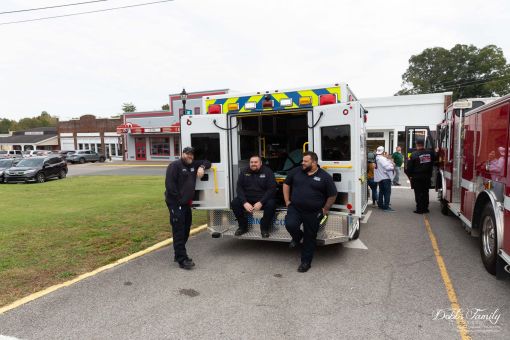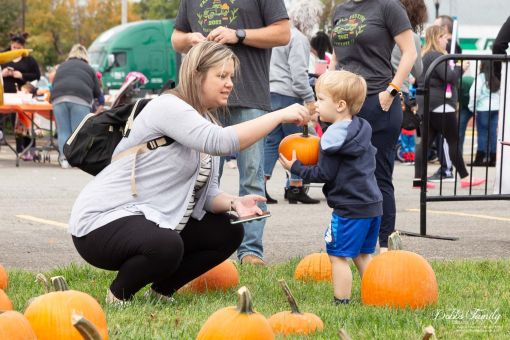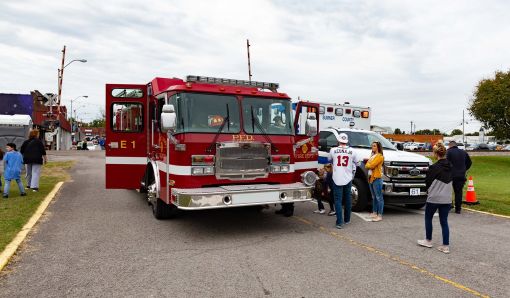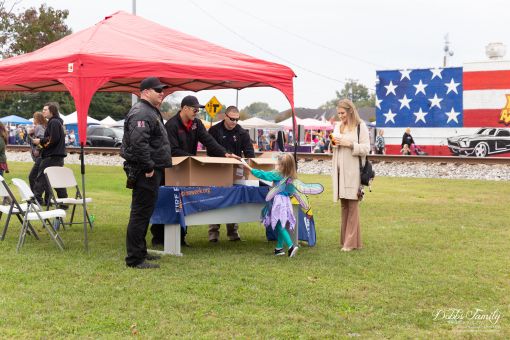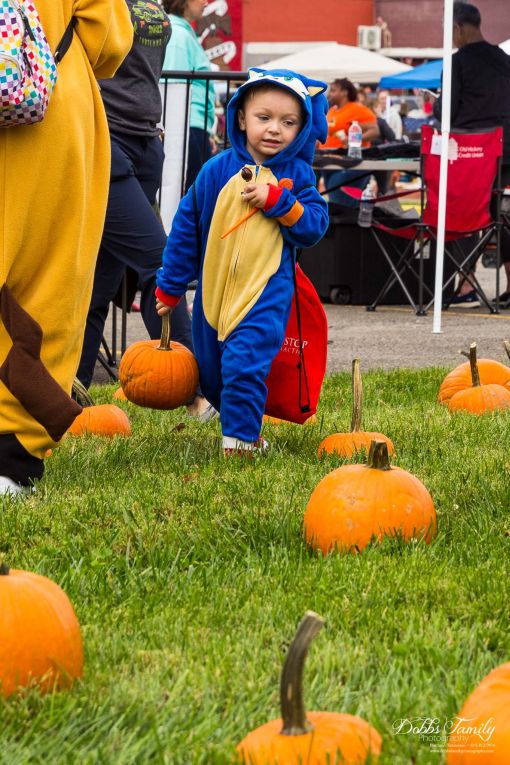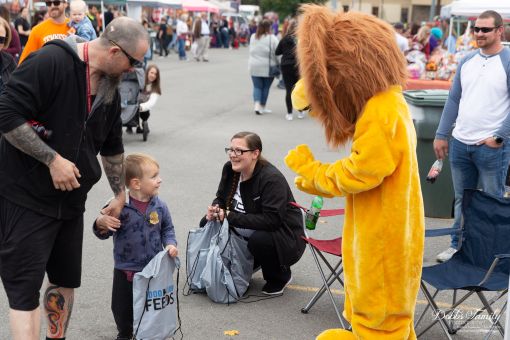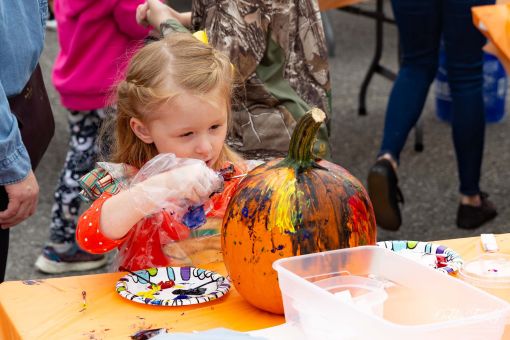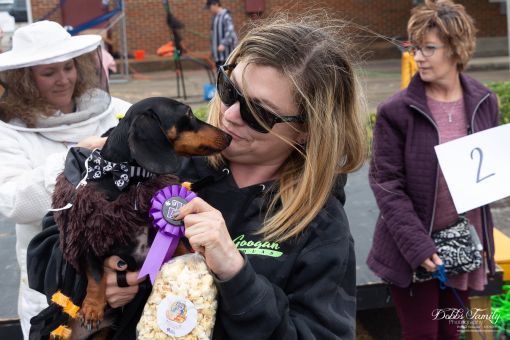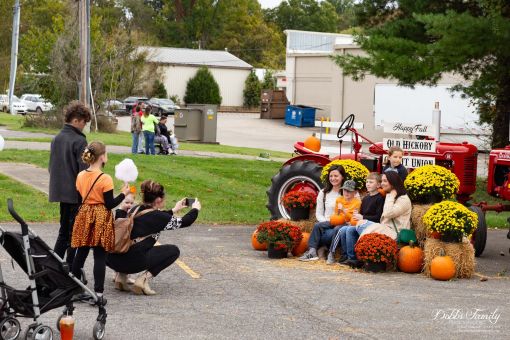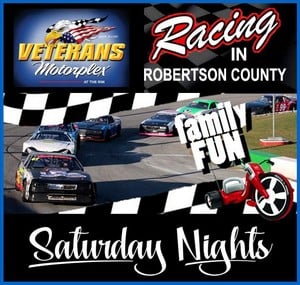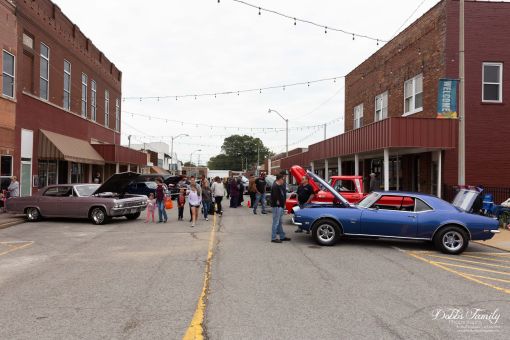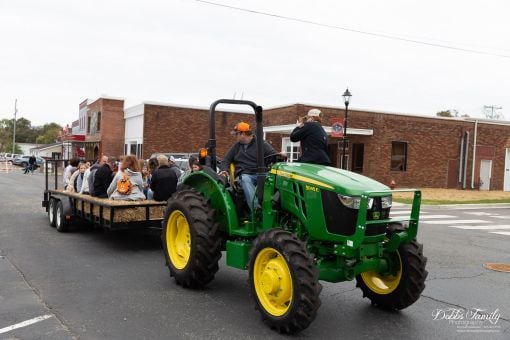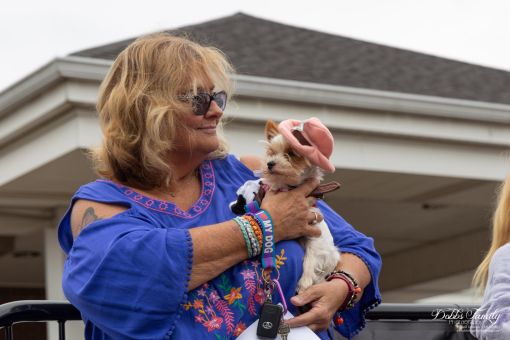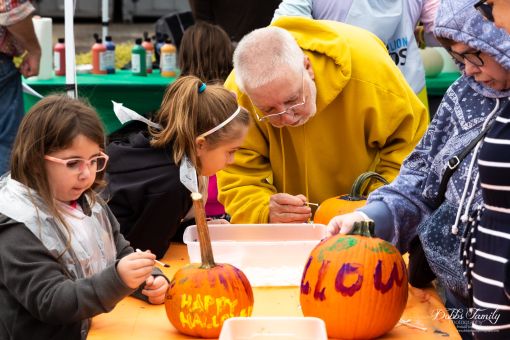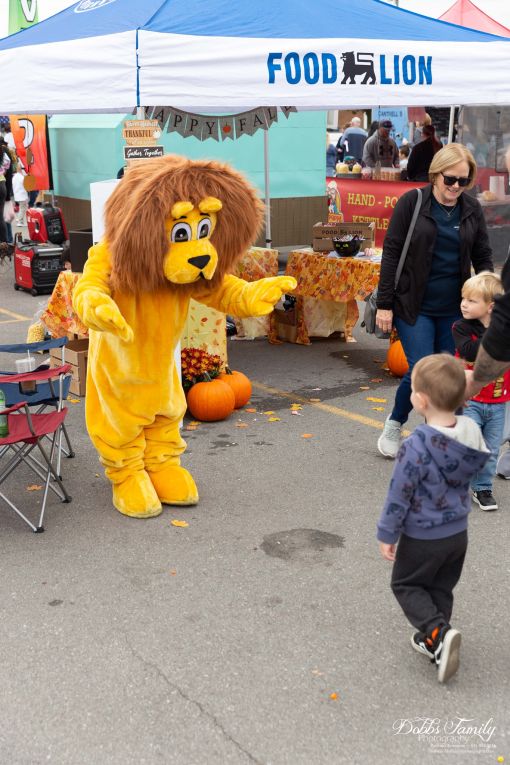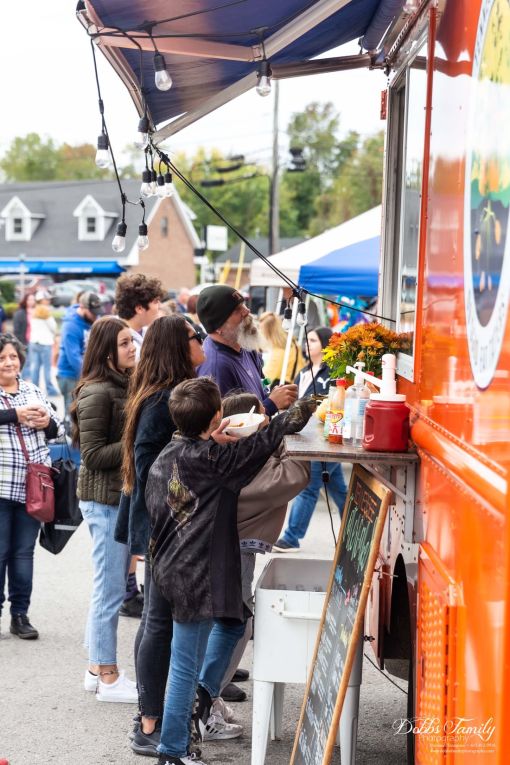 (Robertson County, TN)
Robertson County School District Welcomes New Supervisor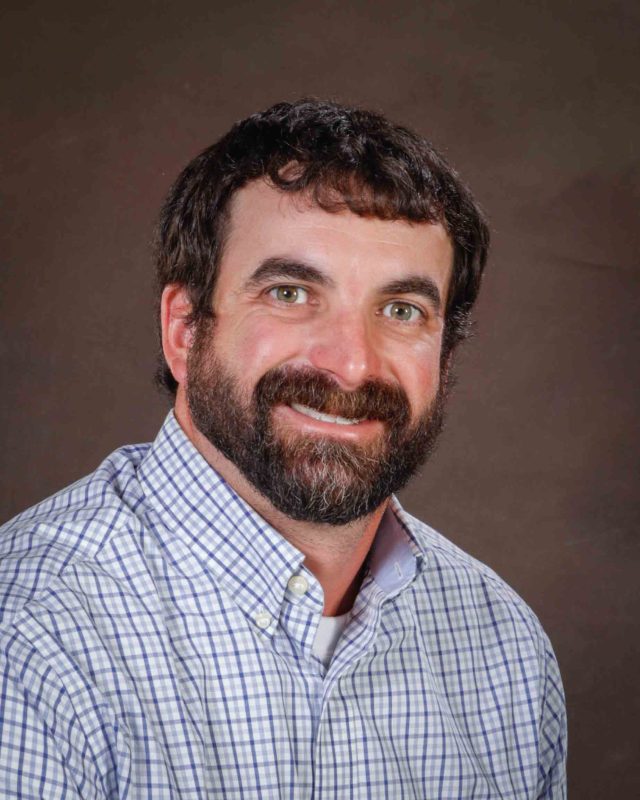 Robertson County Schools will welcome Mr. Clint Corbin on Monday, Nov. 1, when he officially assumes his new responsibilities as the Supervisor of Buildings and Grounds. Corbin will be replacing Mr. Jimmy Finch, who will now be the district's Project Manager.
Growing up in Robertson County, Corbin graduated from Springfield High School in 2002. After that, he went on to complete a degree in concrete industry management from Middle Tennessee State University before moving to Virginia for employment. After working in there for a couple of years, he and wife, Ashley moved back to Tennessee where he continued to work in the construction field. Most recently he's spent the last five years working for a large Springfield contractor.
Clint joins Ashley in working for RCS, as she is already a teacher at Jo Byrns High School. They have two sons, one enrolled in Jo Byrns Elementary and the other at Jo Byrns High.

(Robertson County)
North Robertson Fire and Rescue is at Jo Byrns Elementary School joined with Adams Fire Department this week to talk about the importance of fire safety with the students at Jo Byrns Elementary.
"We talked about several ways to be prepared in case of an emergency and items to discuss with their family to be safe. The students were respectful, attentive and a lot of fun!
We missed our friend, Firefighter Denny Lowe, who led and loved teaching in our schools for many years and hope to honor his commitment by keeping it going."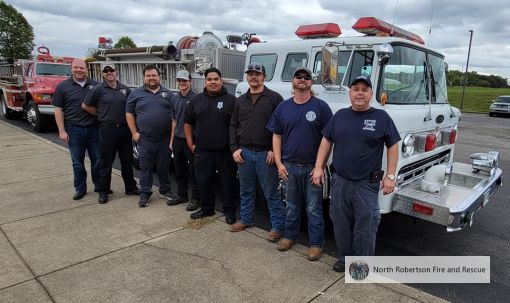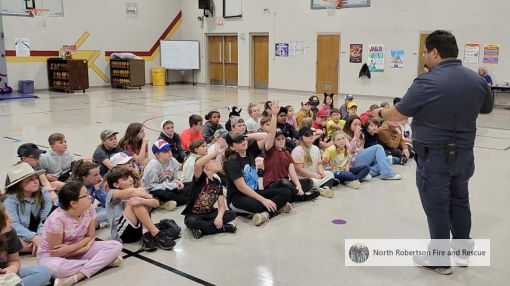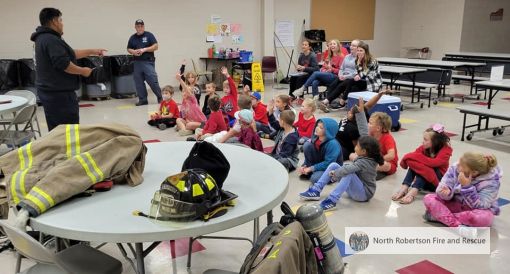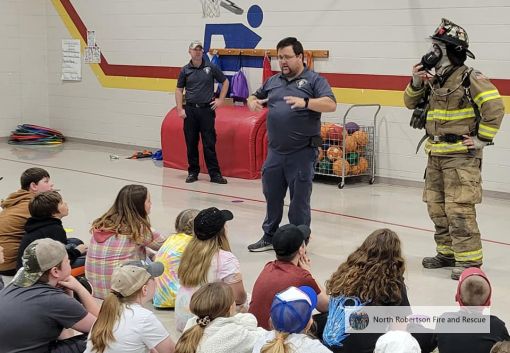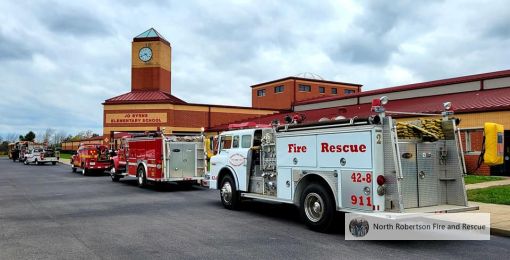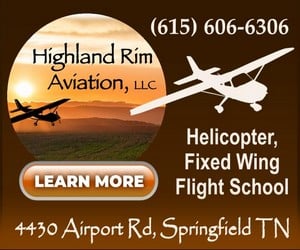 (Robertson County, TN)
Three Recognized For Top Soil Conservation Poster Entries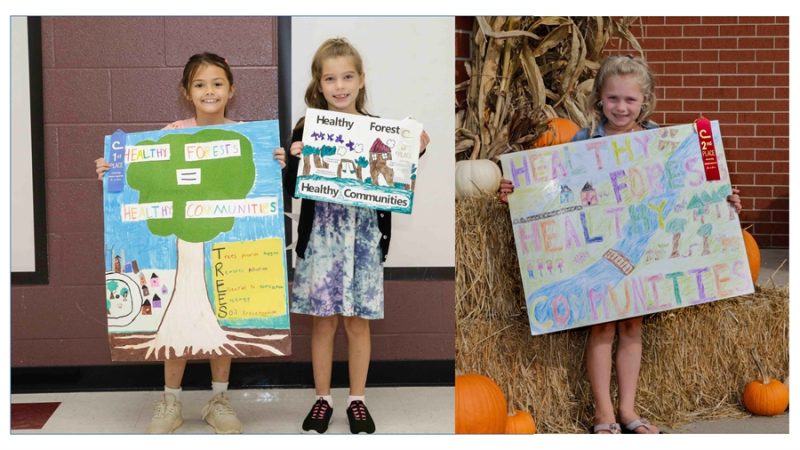 Three Robertson County Schools elementary students have been chosen as the top entries in the Robertson County Soil & Water Conservation District's poster contest for 2021.
The first place winner was Lola Dillard from Mrs. Kim Knight's East Robertson Elementary School class.
Second place honors went to Johnnie Vogle in Mrs. Morgan Fann's class at Jo Byrns Elementary. Madelynn Hyman, in Mrs. Megan Murray's ERES class was chosen as the third-place winner. These three took top honors out of 187 entries in the county-wide contest.
This year's contest was the 14th annual RCSWCD competition with the purpose of raising awareness of our natural resources and the importance of conserving them.

(Springfield, TN)
TriStar NorthCrest Medical Center – Congratulations to our very own Angela Beard, VP and COO/CNO, for her recent Senior Executive of Distinction Award from the Tennessee Hospital Association!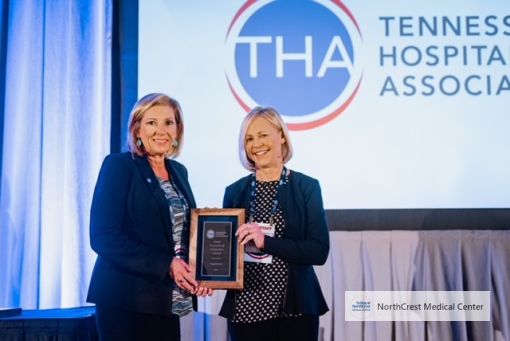 The Senior Executive of Distinction Award recognizes leadership and service by an individual in support of a THA member hospital and health system.
Angela Beard, vice president and COO/CNO at TriStar NorthCrest Medical Center in Springfield, who, in addition to serving integrally during the COVID-19 pandemic as head of NorthCrest's COVID-19 task force, has led her organization to achieve the highest grade possible in a recent evaluation of quality and safety performance for 11 consecutive terms, and to be recognized as a top performer on key quality measures from the Joint Commission for five consecutive years, 2009 – 2014.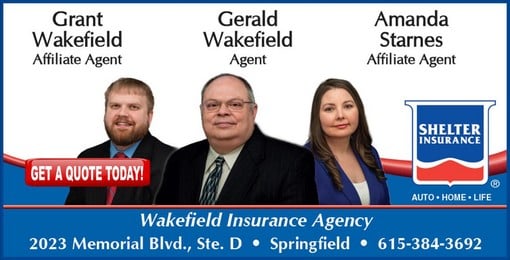 (White House, TN)
Robert F. Woodall Elementary – 1st graders enjoyed a wonderful trip to Chaney's Dairy Barn this week!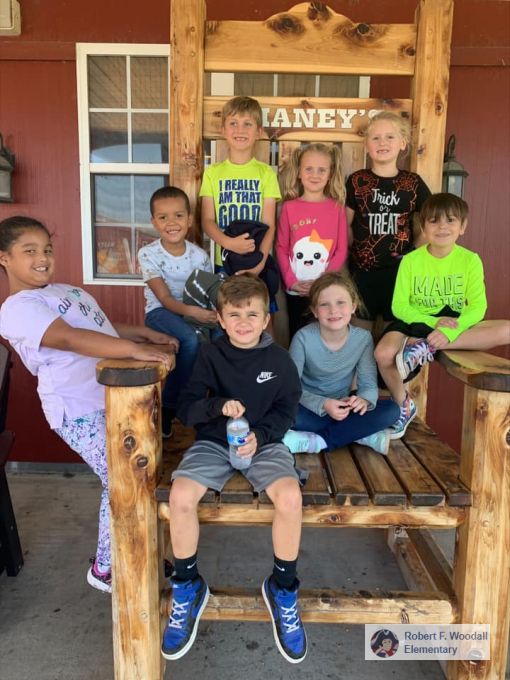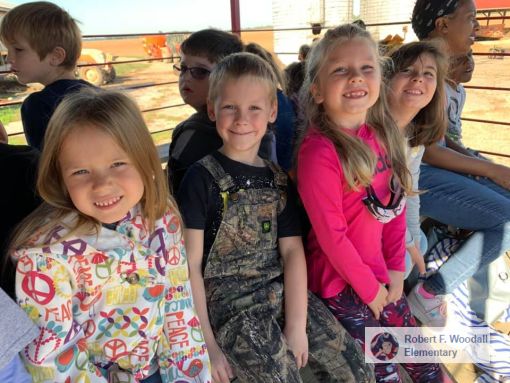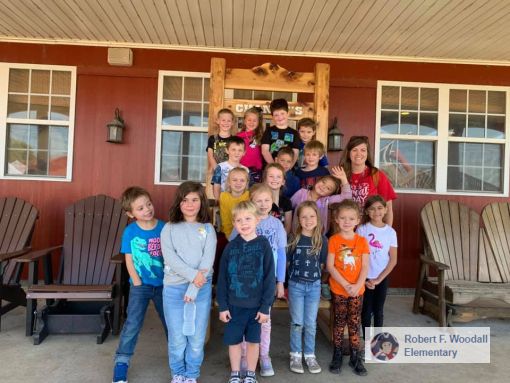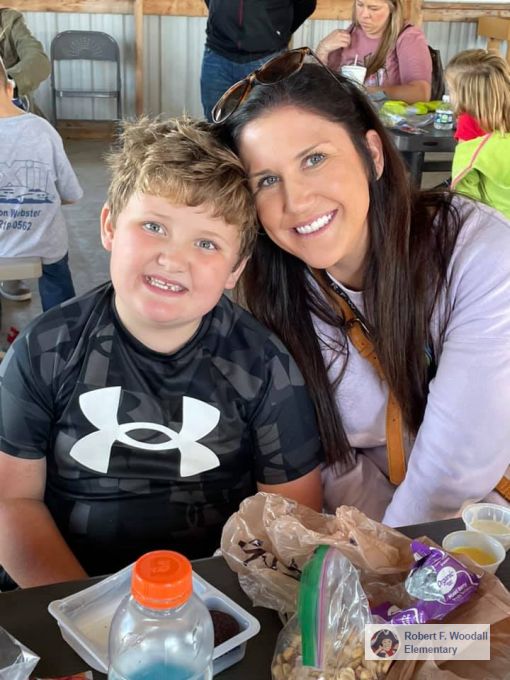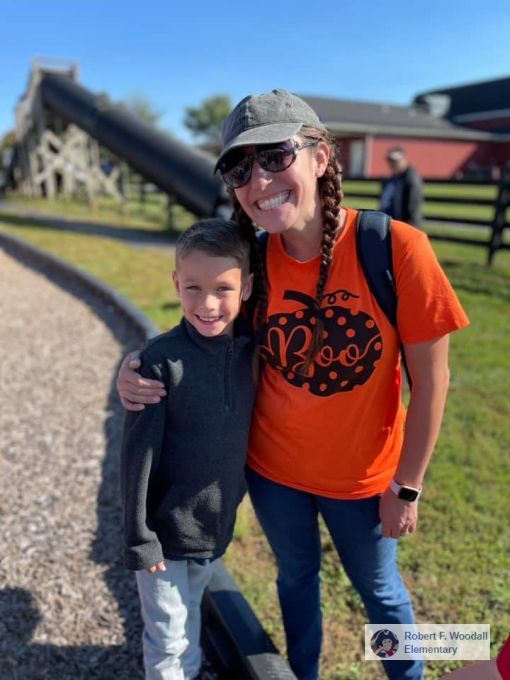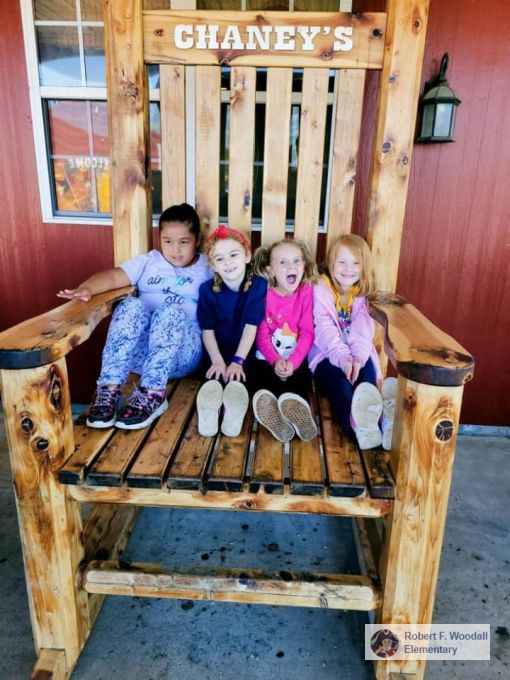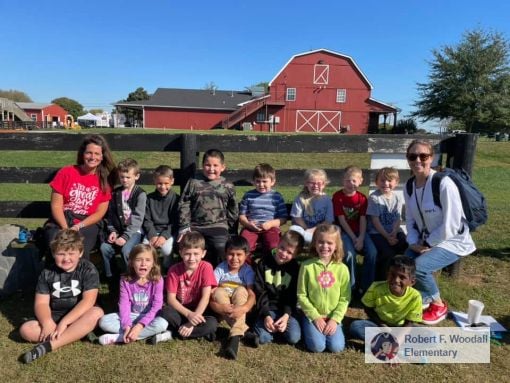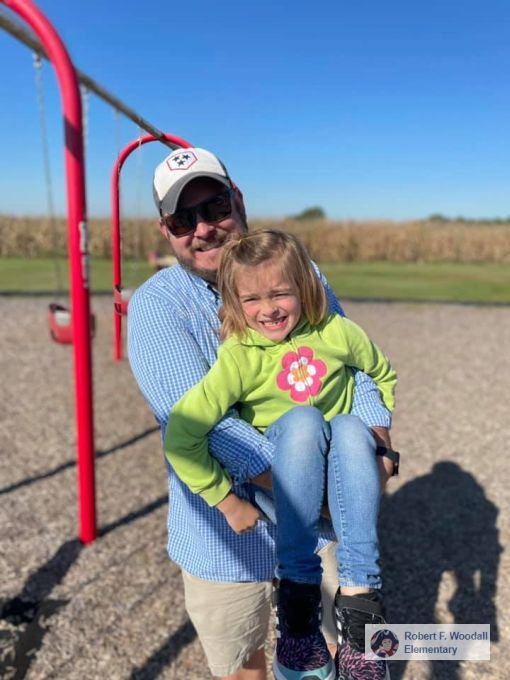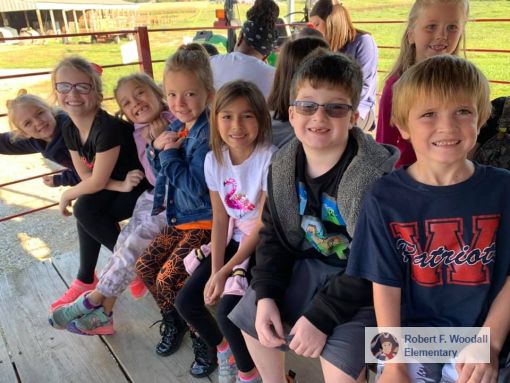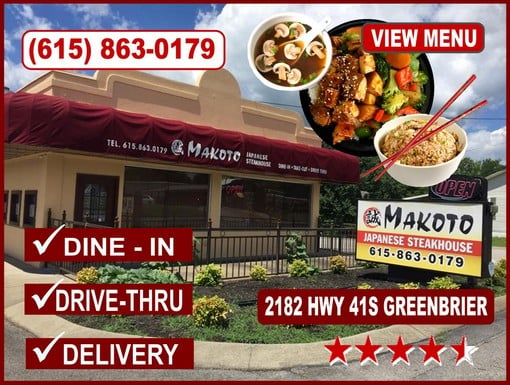 (Millersville, TN)
City of Millersville Police Dept. – Millersville Fall Festival & Trail of Treats At the Millersville community center this weekend featured Live music and lot of goodies.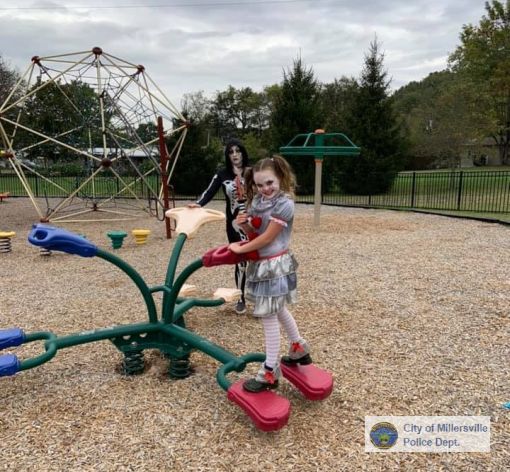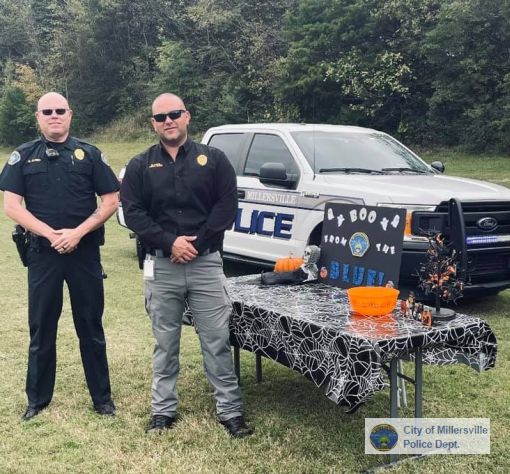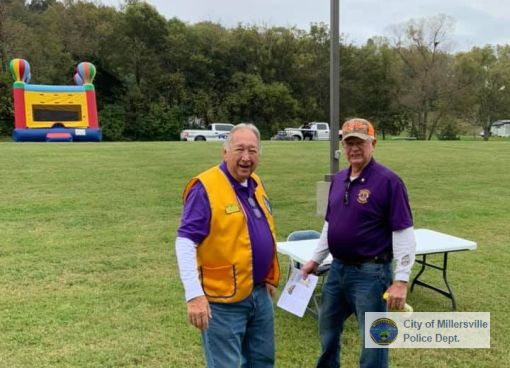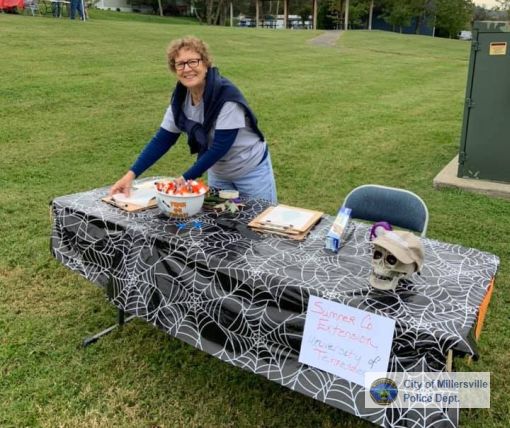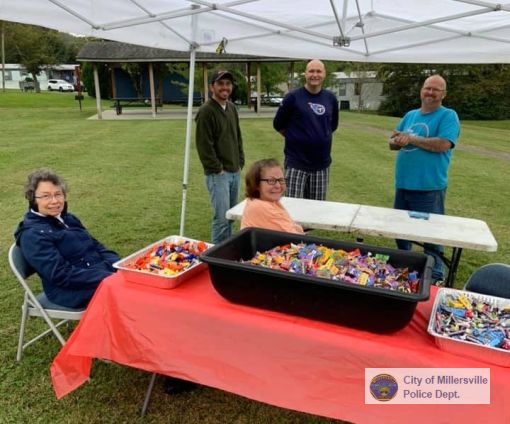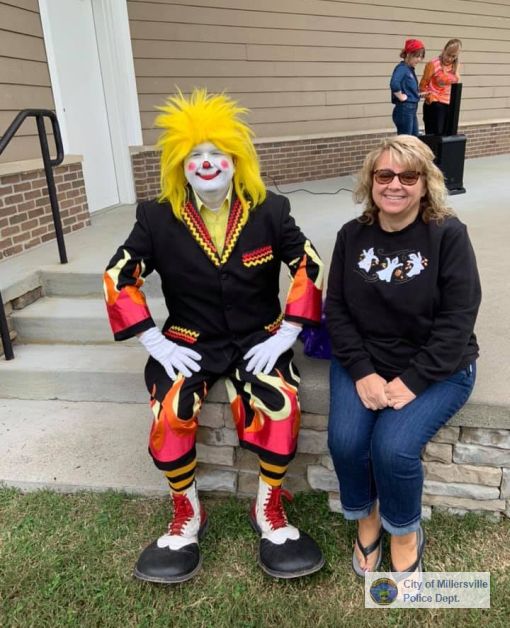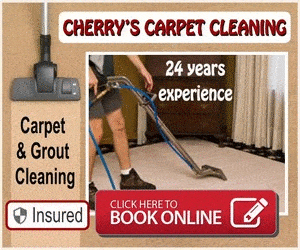 (Springfield, TN)
Springfield High School – The third week of October has been deemed National School Bus Safety Week, and School Bus Driver Appreciation Week.
Without these dedicated individuals, we would not be able to operate. They are there to bring our students to school, on field trips, to sporting events, and to bring them home. We thank them for their early mornings and late evenings to ensure our students safety. Thank you to each of our RobCo bus drivers!!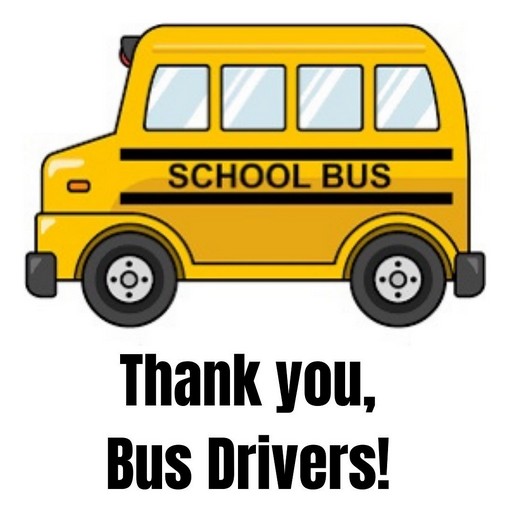 (White House, TN)
White House Community Volunteer Fire Dept. – It is with great Sorrow announce the passing of Pete Russell, Pete was a founding member of our department.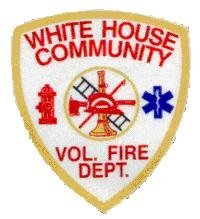 He served our department for 25 years from 1975 to 1990 he served as secretary and treasurer of our department for most of that time.
He also served on the SUMNER COUNTY volunteer ambulance service in White House during that time. And was instrumental in getting our department incorporated in 1981.
After retirement PETE moved to RUTHERFORD to North Carolina and passed away yesterday at his home he was 84.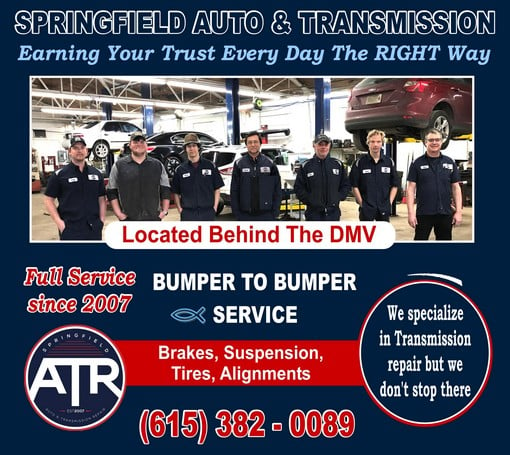 (Springfield, TN)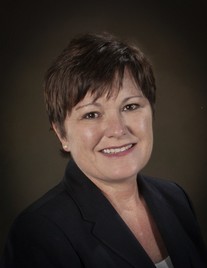 Cheatham Park Elementary School – Pumpkin decorating contest to raise money for the Stephanie D. Mason Aspiring Educator Scholarship.
Each class decorated a pumpkin and students voted on which pumpkin they liked the best.
Thank you to our PTO for providing the pumpkins.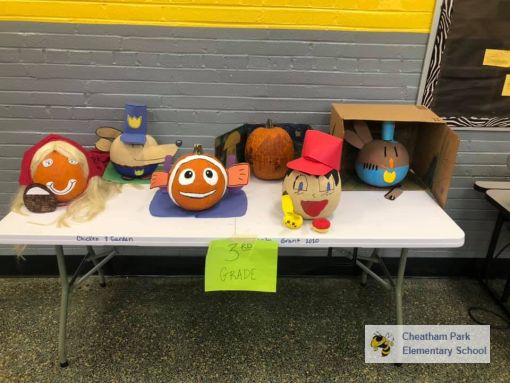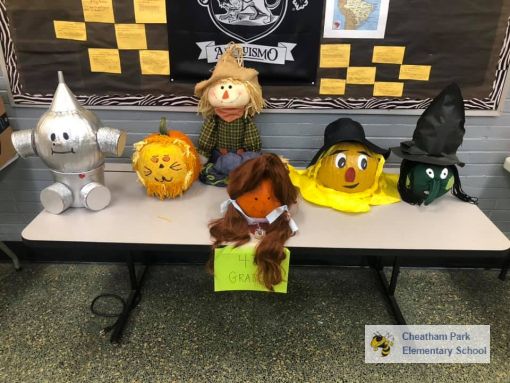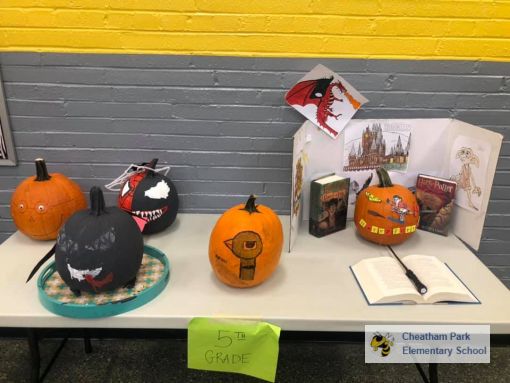 RELATED:
RC Schools' Asst. Dir. (Stephanie Mason) Dies Just Weeks After Retirement
Letter: Mason Family Thanks Community For Outpouring Of Love And Support

(Springfield, TN)
Milling and Paving in Downtown Springfield to Begin Thursday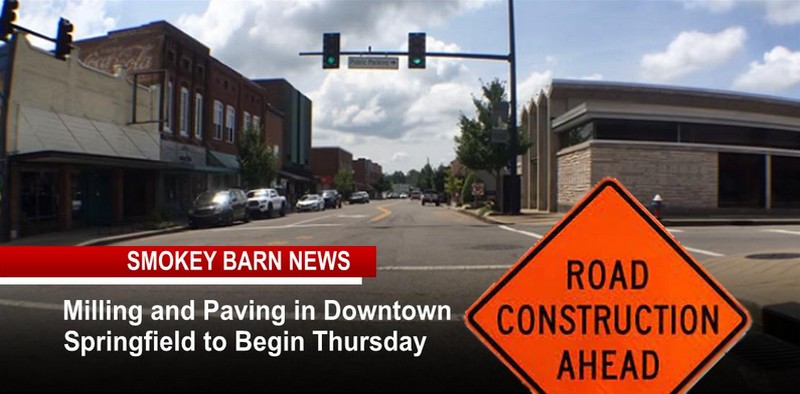 According to Springfield officials, Contractors working for the City of Springfield have begun milling downtown. After milling is complete, crews will adjust manholes, pave streets, and finalize the project with striping. Work is scheduled to be completed on November 1, 2021, weather permitting.
Pavement on the following streets are scheduled to be milled on October 25 and continue for approximately one week:
W. 7th Avenue
N. Main Street
S. Locust Street
W. 6th Avenue
W. Court Square
Residents can expect temporary intermittent lane closures. However, at least one lane will remain open at all times.
Drivers are encouraged to utilize the free public parking lots located downtown.
If residents have any questions, please contact the Public Works Department at 615-384-2746.  visit the City of Springfield online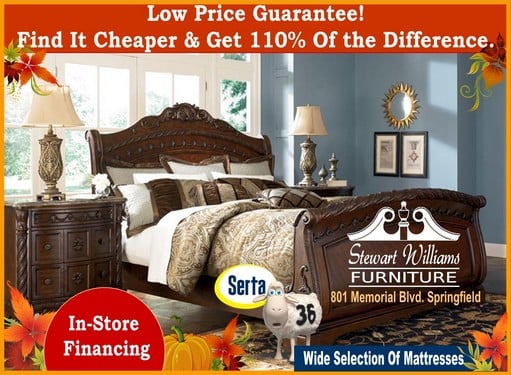 (Springfield, TN)
Historic Springfield Events in partnership with Springfield Parks & Rec hosted a Fall Family Festival with live music and vendors Friday night.
It was a hit for local Springfield vendors and residents.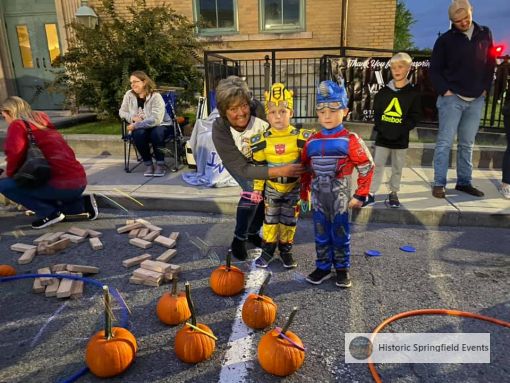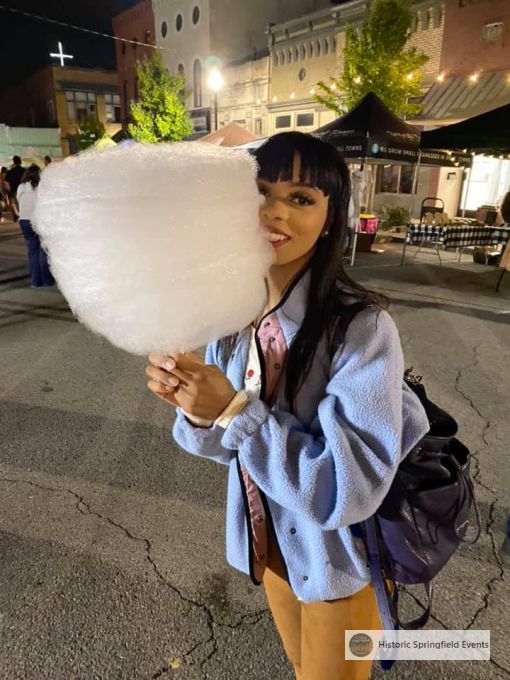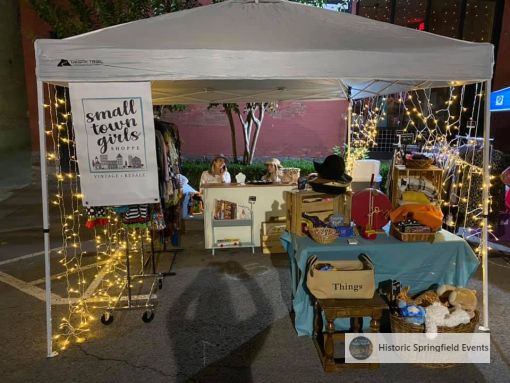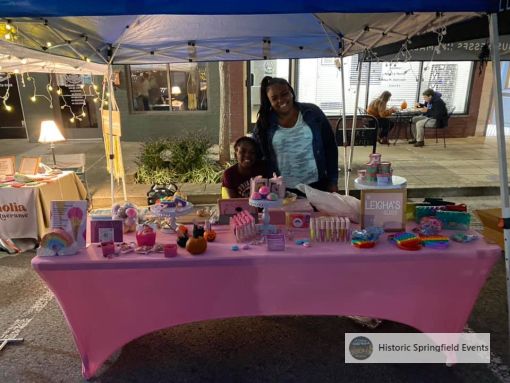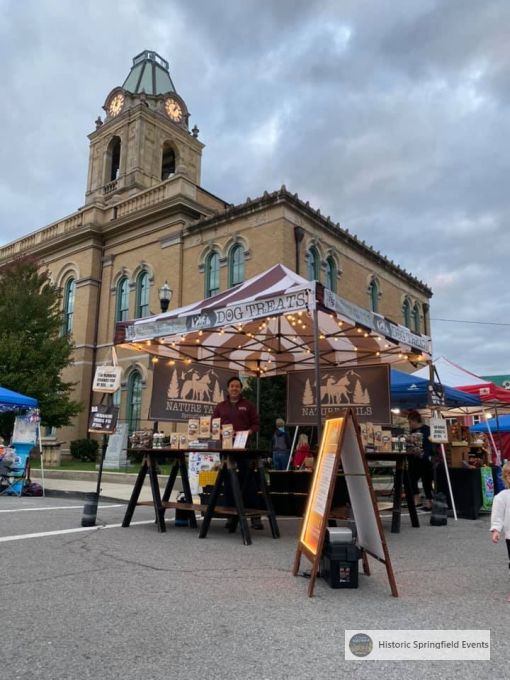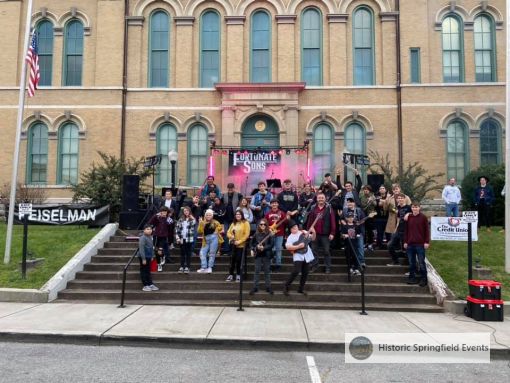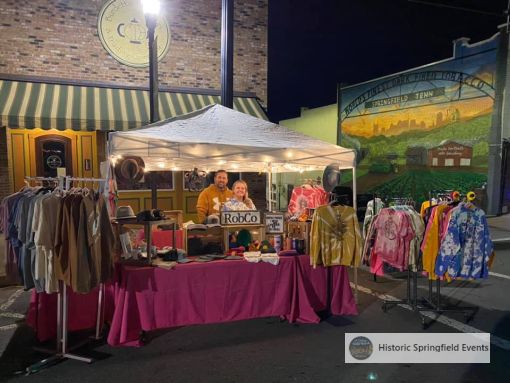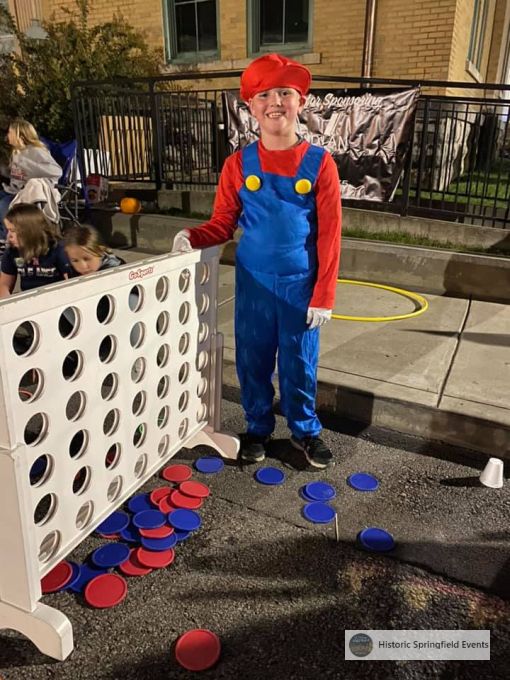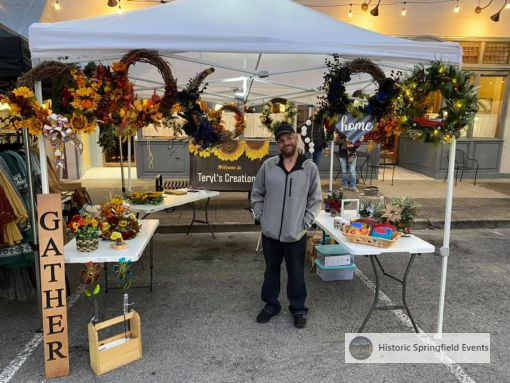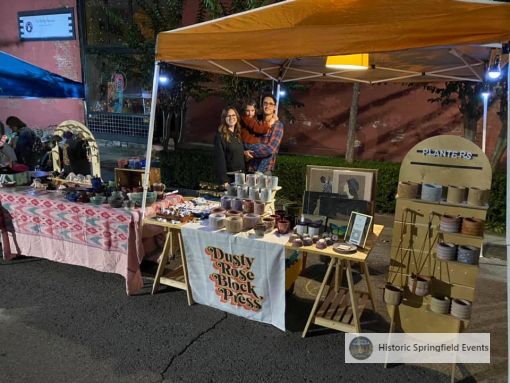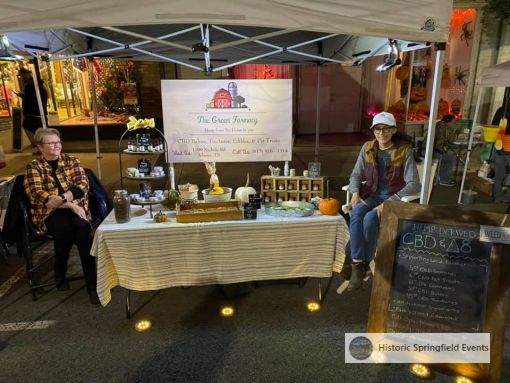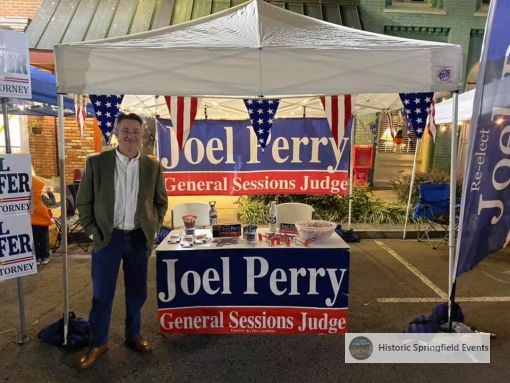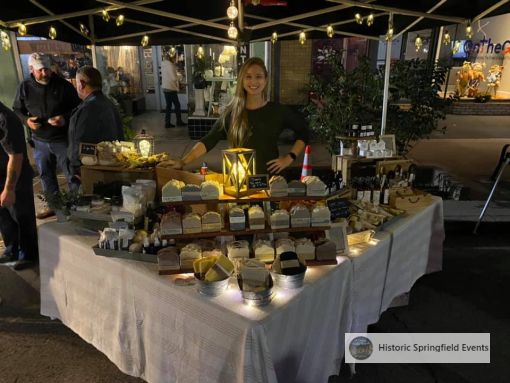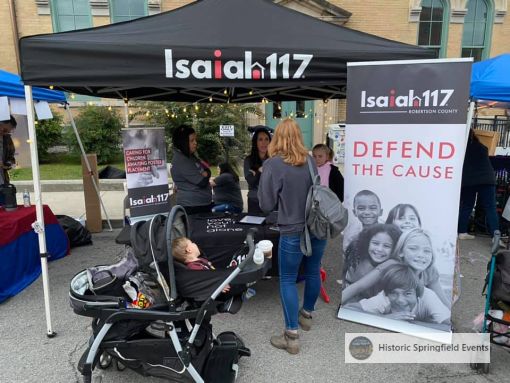 (Greenbrier, TN)
Highland Rim Speedway – Please keep the Cordell family in your prayers.
Kevin Cordell passed away this week. Kevin was not only a racer himself but also father to Oliver Cordell, driver of the 17 Legend car.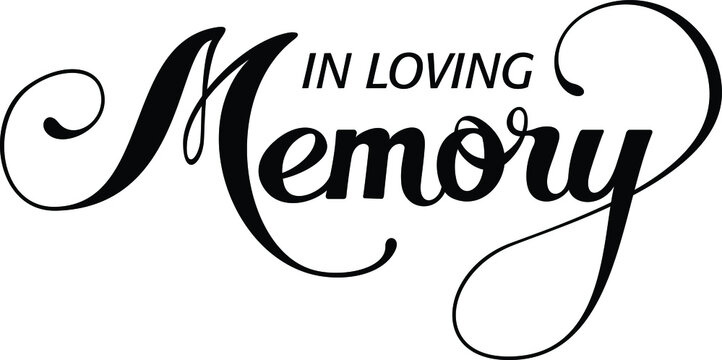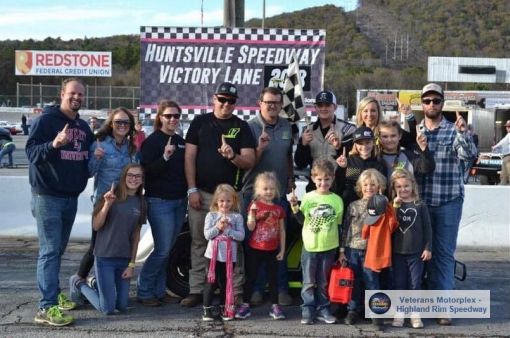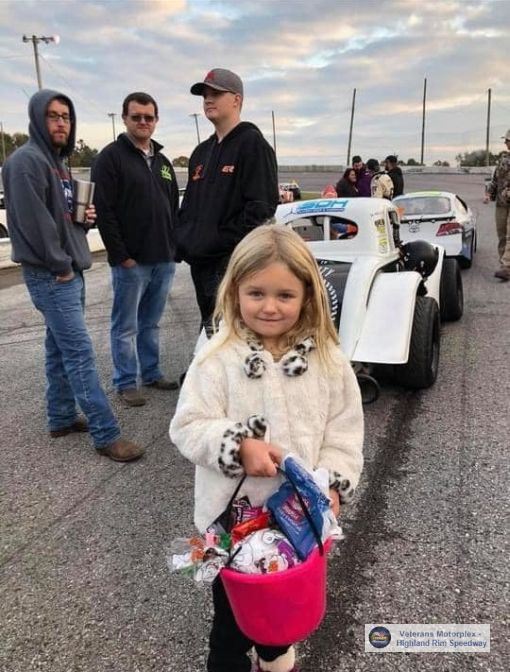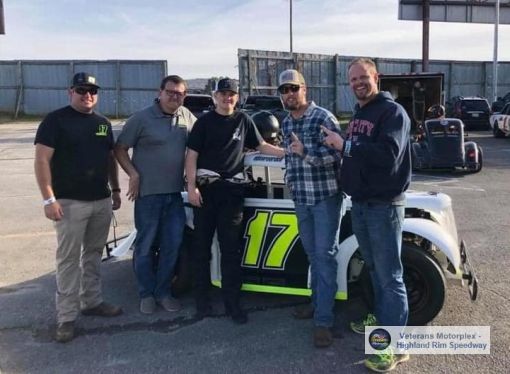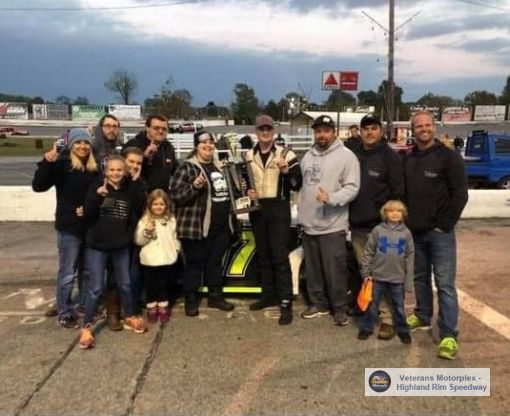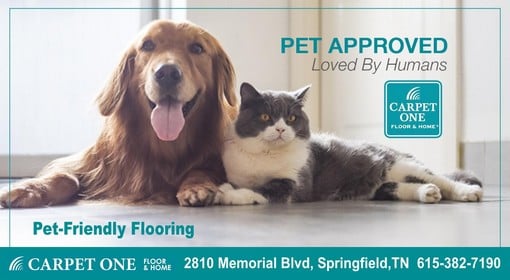 (White House, TN)
City of White House, TN- Police Department collected 117 pounds of unused prescription medication today at the national DEA drug take back event.
"We would like to thank the citizens of White House for responsibly disposing of their unused medication."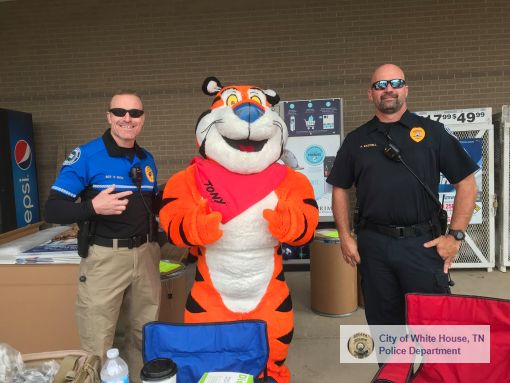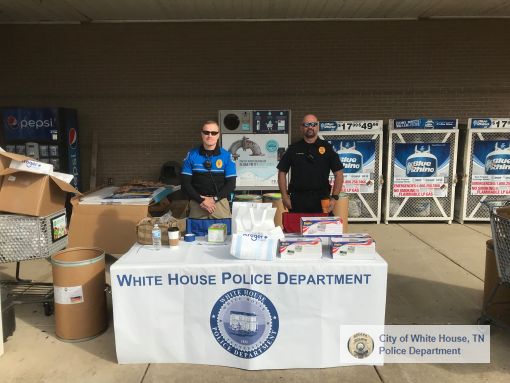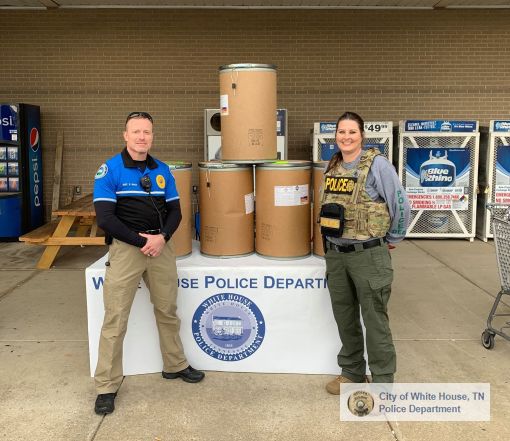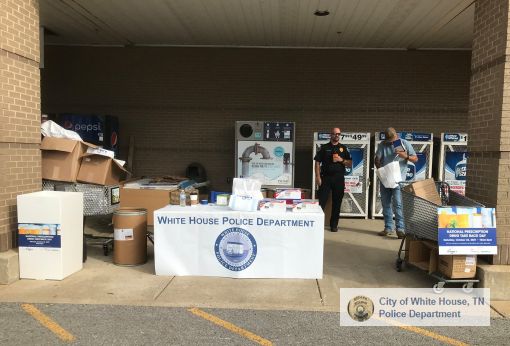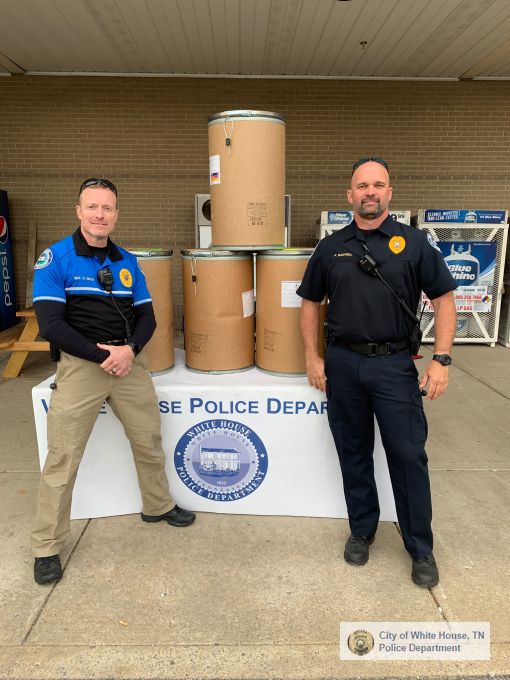 (Pleasant View, TN)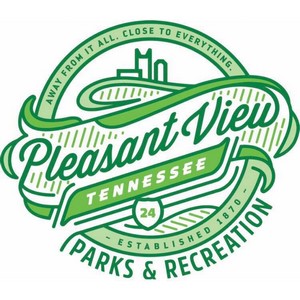 Pleasant View's Parks and Rec Board would like to thank everyone who submitted a suggestion for the PV Christmas Parade theme and everyone who voted.
"Heather Curtis suggested our winner
"Down Home Country Christmas"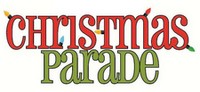 Mark your calendar for December 4, 2021. Lineup is at 9:00 and the parade starts at 10:00.
Bruce and Liz Drake are the Grand Marshals.
Santa is confirmed and we are going to have a lot of fun that day!
Thanks again!"



(Springfield, TN)
Springfield Parks and Recreation's first ever Special Needs Fishing Rodeo was a success!
"Thank you to Springfield Baptist Church for sponsoring and for all that attended. We hope you had as much fun as we did!"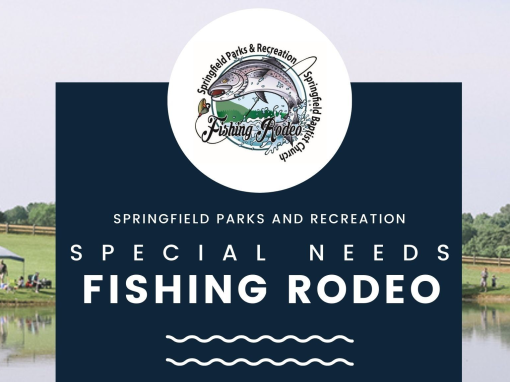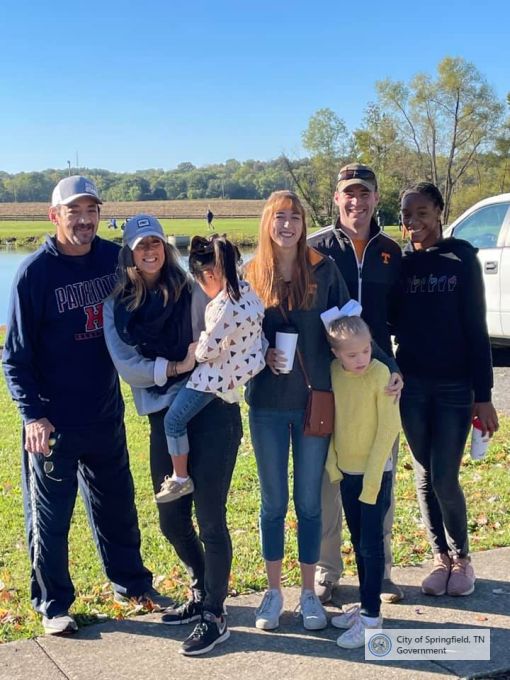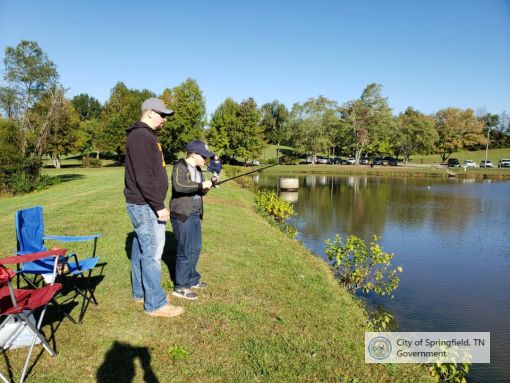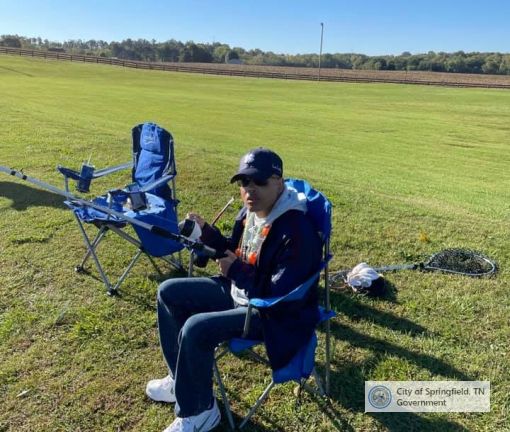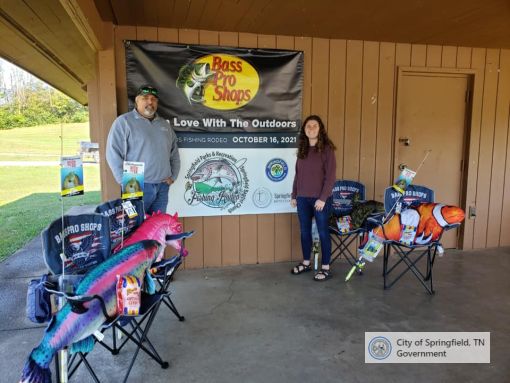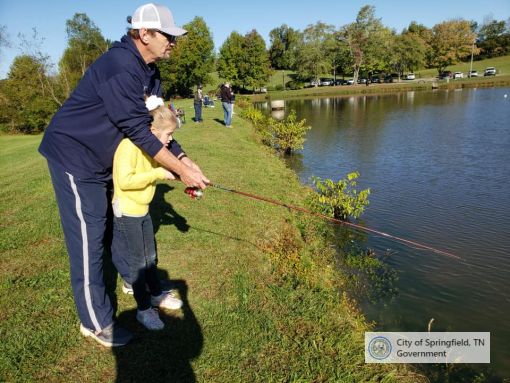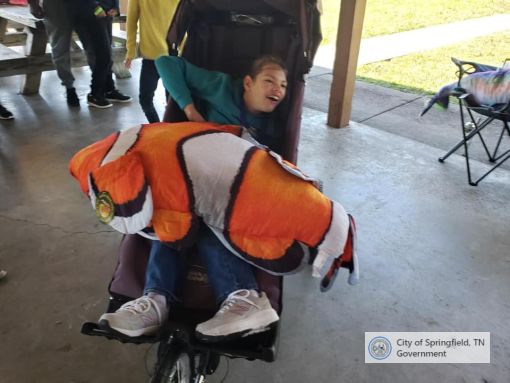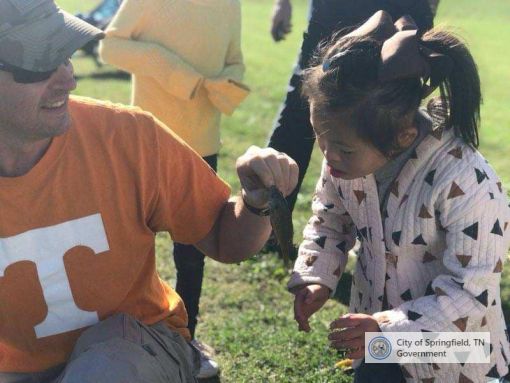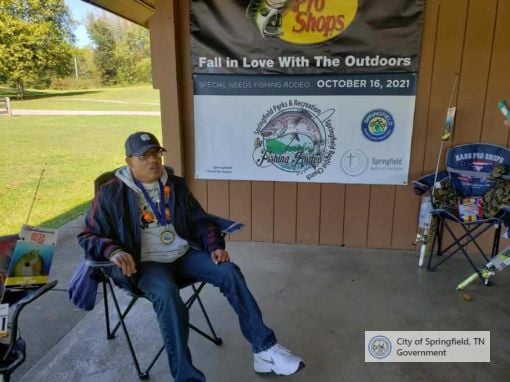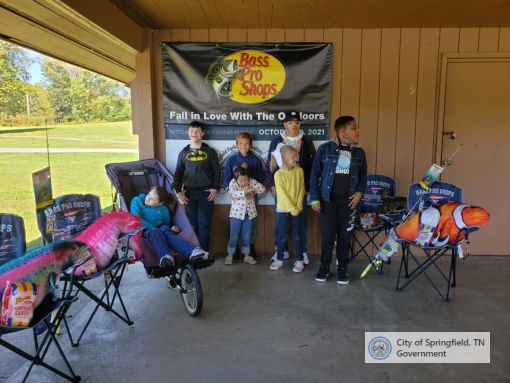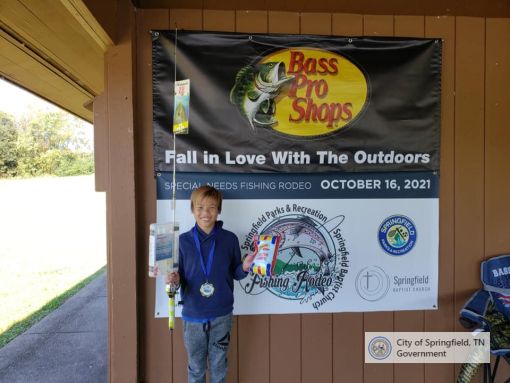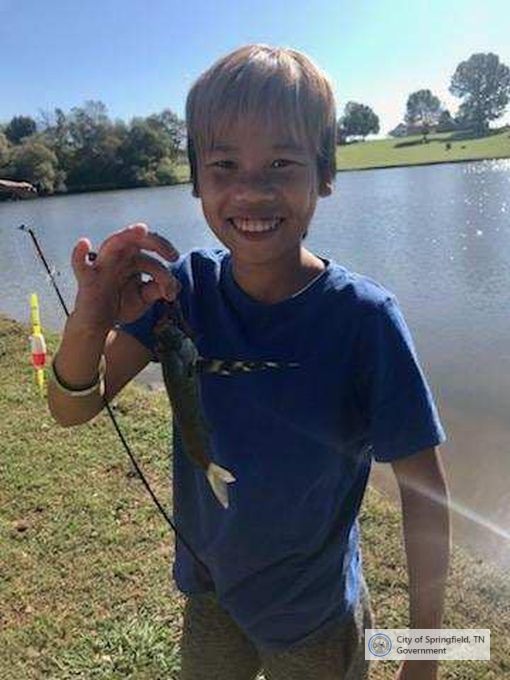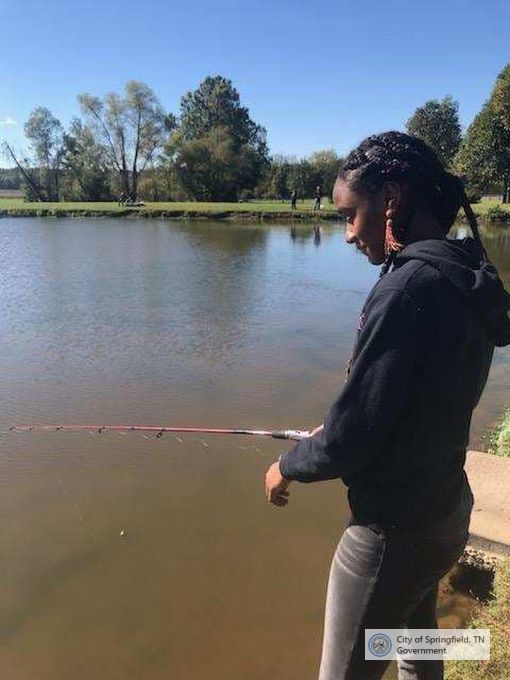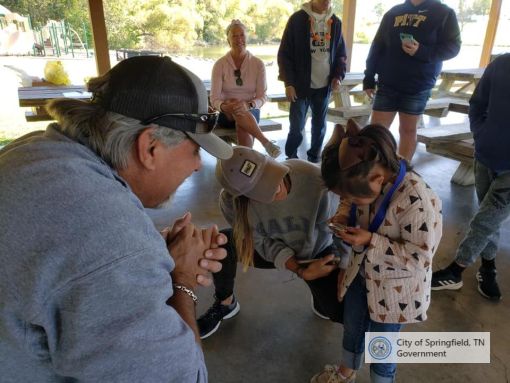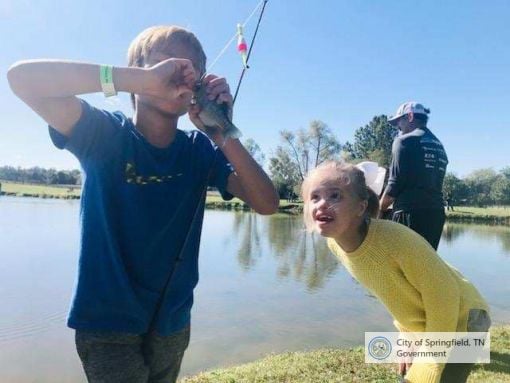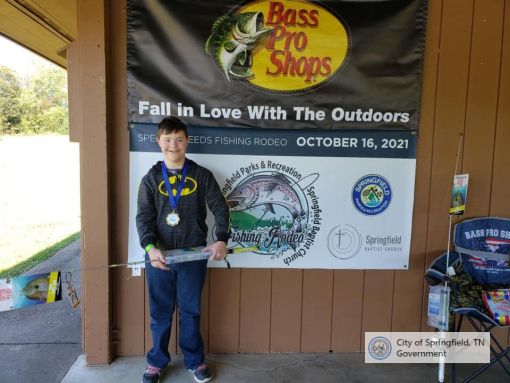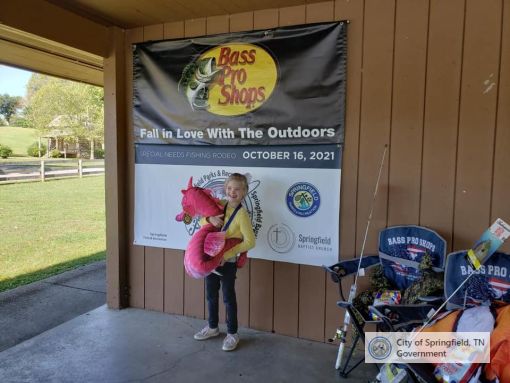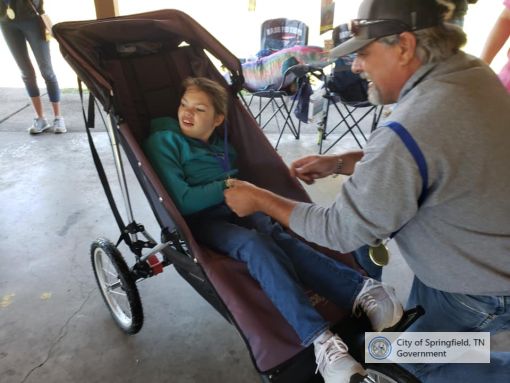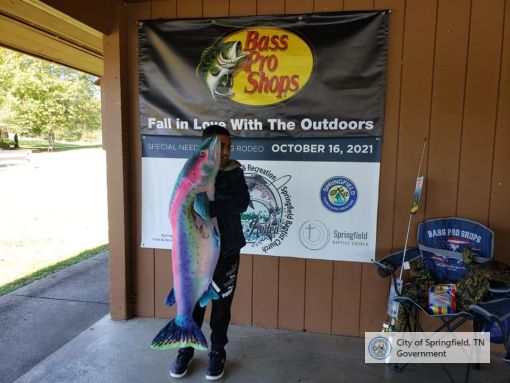 Lots Of Trick Or Treat Events & Fall Fests Across The County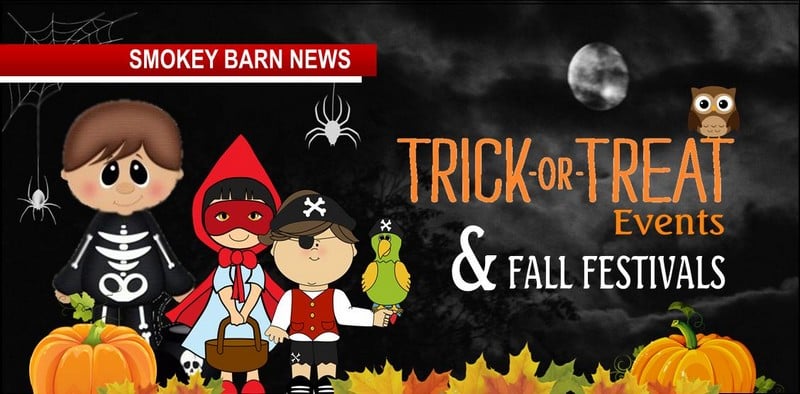 Show me the candy!! Smokey has searched high and low for you with times and locations of Robertson County premier Halloween events! Have fun and remember to be safe!!
For A Fun & Safe Halloween: Click Links for safety tips
A Safe & Spooktacular Halloween

October 26: Springfield High School – Fall is in the air and we are preparing for our Trunk or Treat event!
Tuesday Oct. 26 from 4:30-6:30pm please join us in our CTE parking lot for candy, games, and community with our student clubs and organizations.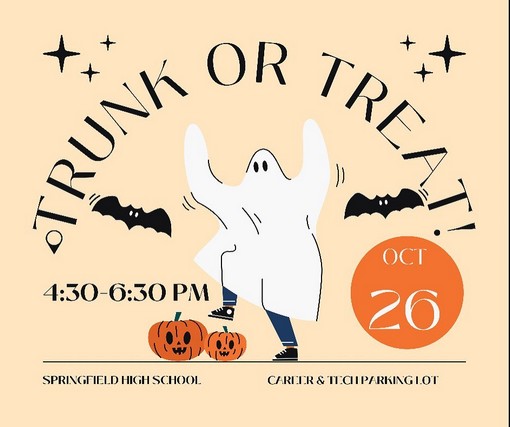 Wed. October 27: In Springfield – Classic Tin Cruise-In Trunk or Treat from 6-8PM
Held at 2008 Memorial Blvd, Springfield, TN, Between the Hardees and Burger King.
Classic car cruise-in for Springfield and the surrounding communities coming together, sharing and talking cars, trucks and bikes. Family Fun!
*Bring lots of candy!
Any questions please call Shelby Horner at 615-336-2257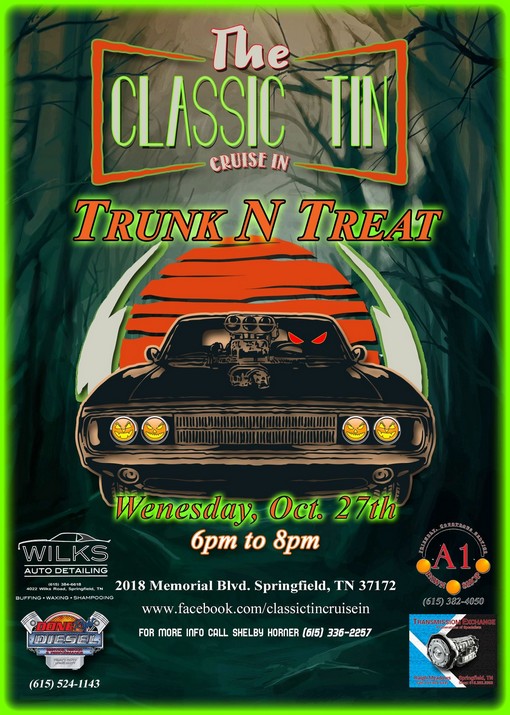 October 28: 16th Annual White House, TN Trail of Treats
6 PM – 8 PM – 508 Tyree Springs Rd, White House, TN 
The Trail of Treats will begin at the Tyree Springs Trailhead, which is located at White House High School, and will continue to North Palmers Chapel Road. The event will consist of booths setting up alongside the Greenway to give candy or treats to kids.
The City of White House extends to you the opportunity to reserve a 10' x 25' booth space. There is a $10.00 registration fee. For event guidelines and booth registration, click here.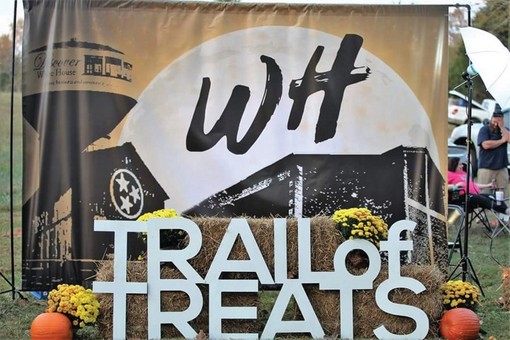 October 29th: RC Senior Center Chili On The Square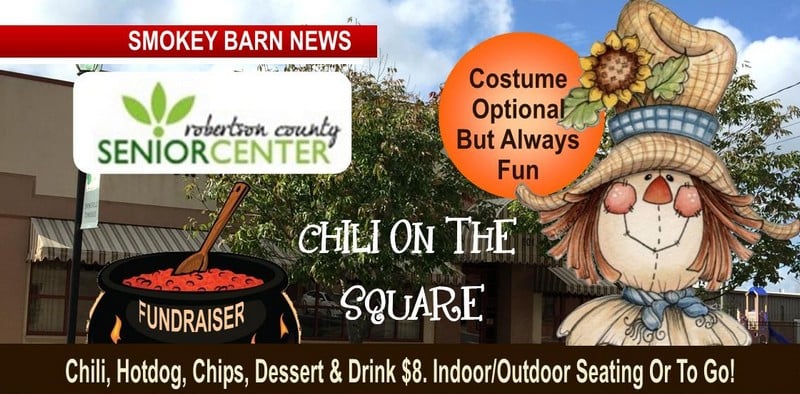 The Robertson County senior center will be holding their annual chili on the Square fundraiser Friday, October 29 from 11 AM to 2 PM.
The senior center is located at 601 Locust St. in Springfield Tennessee
For just $8 you can get a bowl of chili, hotdog, corn chips, dessert and drink! The fundraiser is open to the community and proceeds raised for day to day operations for the center.
Outdoor or indoor seating choices are available.  (Covid friendly) served in to-go boxes.
 *Costume/dress optional but always fun!
Check out all the fun activities planned this month in our October Newsletter

The City Of Adams to Hold First Annual Fall Festival October 29-30 2021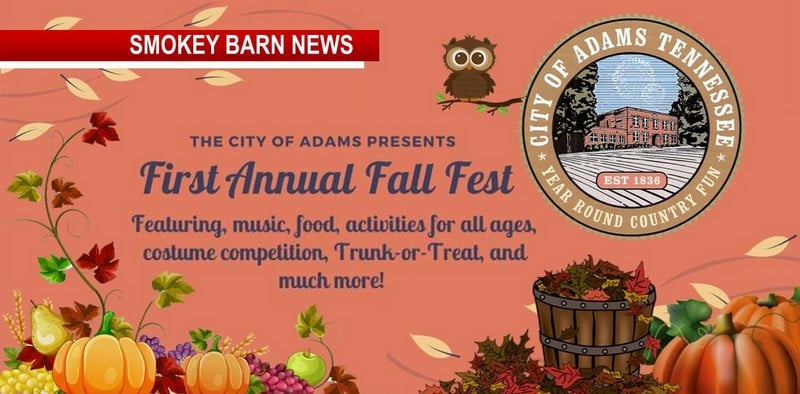 The City of Adams, Tennessee is hosting their First Annual Fall Fest and would love to see everyone there.
UPDATED TIMES!
The fall festival is set for October 29, 2021 from 3pm to 9 PM & October 30, 2021 from 10 AM to 9 PM at the Bell School and Omer gene Brooksher Pavilion and will feature music, food, activities for all ages, costume competition, trunk or treat, and much more! READ MORE…

October 30: White house Wheels of White House car meet AT 6 PM – 9 PM
Trunk Or Treat, Car Decoration Contest, Prizes & More!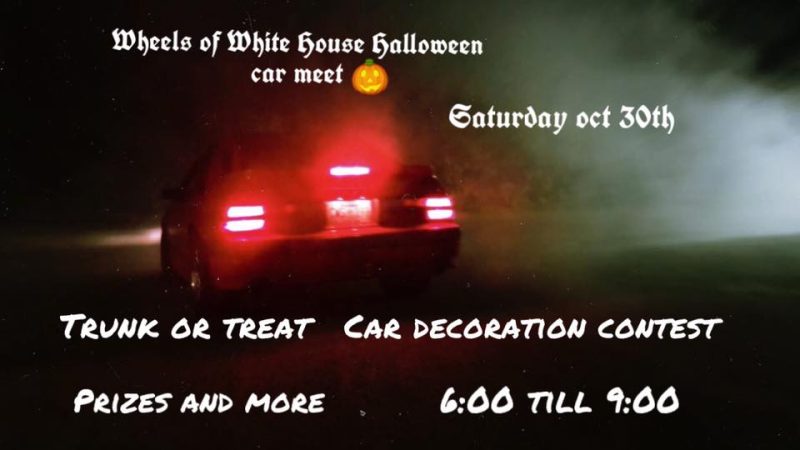 We are having a car meet/ Trunk or treat in the White House park parking lot in the back of the park so we don't bother anyone have the cops called. NO BURN OUTS we are trying to have a family event and have fun keep it peaceful so we can do more events like this. (Event by Hayden Hardy)

Greenbrier Halloween Bash 2021 October 30th Featuring Hayrides, Trunk or Treat, S'mores & Fire Pit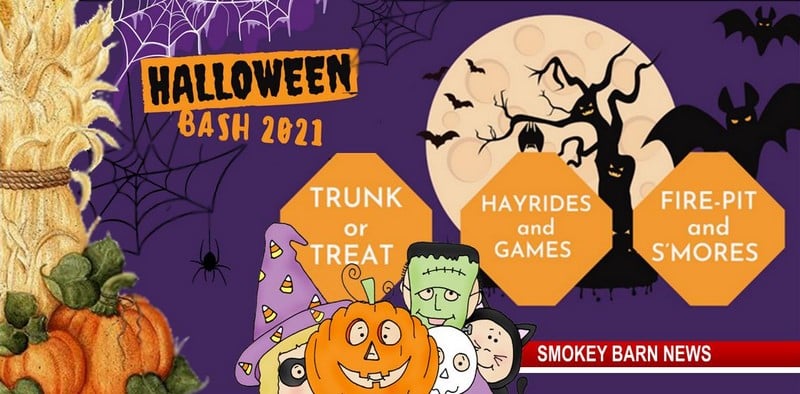 The Greenbrier Halloween Bash 2021 is back this year, just in a different location. This year it will be at Bethel Baptist church off Bethel Rd, according to organizer Tommy Stratton.
"They were so gracious enough to let us have it there. Amazing people. So with all that being. said, would love for it to be Robertson county's largest trunk or treat ever. So we need all the cars we can get. Bring a car and lots of candy for the children. Expecting 2000 or more kids. READ MORE

"We're A Go" Payne Chevrolet's Trucks & Treats Is A Go-Oct 30th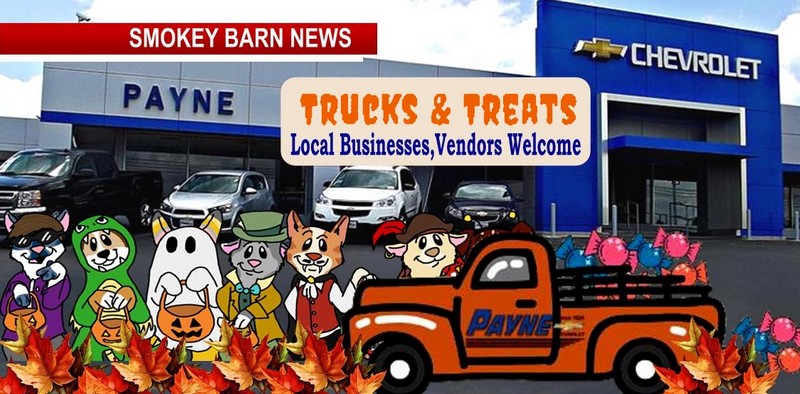 Payne Chevrolet's Trucks & Treats is back! After being unable to have our annual Halloween Trucks & Treats event last year, we're bringing it back again this year at the lot!
WHEN: SATURDAY, OCTOBER 30, 2021 AT 5 PM
Bring your kids out to trick-or-treat in a safe environment surrounded by local community vendors. READ MORE…

October 30: Annual Trunk or Treat at the Veterans Motorplex Race track during Intermission
The track will be lined with 50 plus High Powered Race cars and the children will be able to walk on the racing surface up to their favorite drivers that will be giving out candy to all the Trick or Treaters.
Get to meet and greet with the drivers, car owners and crew!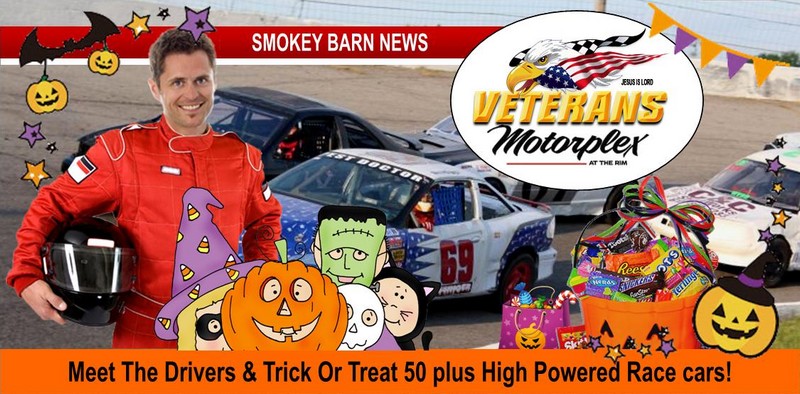 Pits open at Noon
Grandstands Open at 4pm
Racing at 6pm
Pit Pass $35 for all Drivers & Adults. Non Driving Minor child $20
ANYONE UNDER THE AGE OF 18 MUST HAVE A SIGNED AND NOTORIZED MINORS RELEASE TO ENTER PIT AREA… SORRY NO EXCEPTIONS.
WHERE:
6801 Kelly Willis Rd, Greenbrier, TN – Call (615) 643-8725
TICKET INFO:
FAMILY PACK – $30 for 2 Adults and up to 6 minor children! OR $12 for adults; $10 for seniors (62+), military and students 13-17; $5 for youth 6-12; 5 and under are free $35 for the pits.
Great Concessions, Big Wheels Races, Kids Zone and FREE PARKING!
Everyone can get great souvenir items as well as photos and videos of the racing action at the Souvenir Alley Souvenir Stand!
Follow the Track on FaceBook for info on racers, divisions, winners, photos, action-packed videos and announcements of upcoming summer events!
A fun safe time for all!

October 30: Ridgetop – Halloween In The Park
Come out and join us on the 30th!! Prizes will be awarded for best kids costume (newborn – 5th grade) as well as best themed trunk /costume. Participants needed for the trunk or treat portion, so please let us know if you want to be a part. Message us on our Facebook page. David Wiley loved Halloween, so let's help make this an event he would be proud of!
And if you can't set up, but want to donate some candy, please let us know or you can drop it by City Hall during their normal business hours.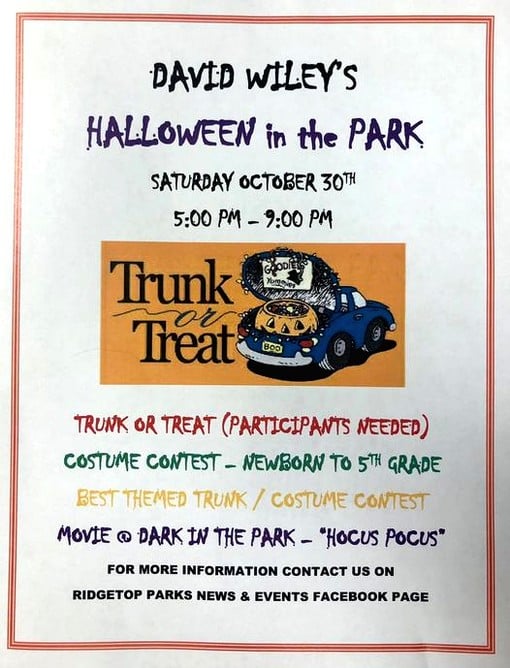 October 30: PORTLAND, TN Trick or Treat Saturday, October 30, 2021 Richland Park – 321 Portland Blvd. – 4:00PM – 6:00PM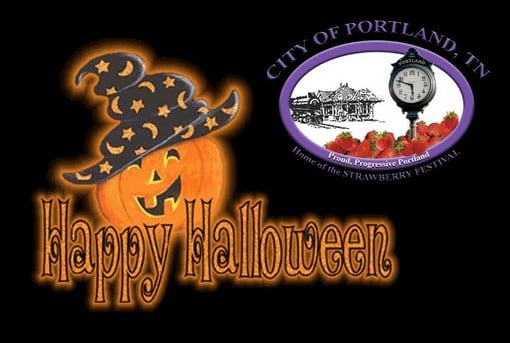 Vendors will be provided an area to hand out treats and may supplement their site with a tent or other decorations. The vendor whose staff displays the best costumes at their site will receive a free shelter rental for the business or organization.
For a vendor registration form, click here

Sunday, October 31:  Calvary Baptist (Indoors) Trunk Or Treat from 6-7:30pm

Bring your Children to safely Trunk or Treat in our Gym.
Free Hot Cocoa! Always an exciting time. Hope to see you there!!
Calvary Baptist Church: 2806 Hwy 41S Greenbrier, TN 37073
(615) 643-7737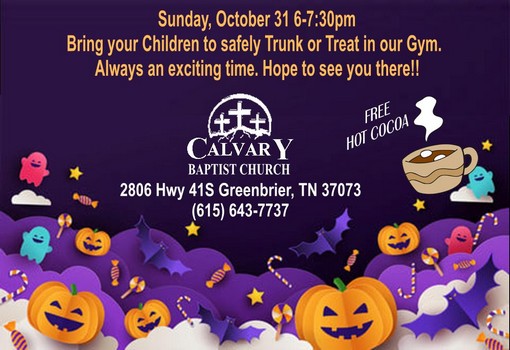 Two Annual Fall Turkey Shoots Starting October In Robertson Co.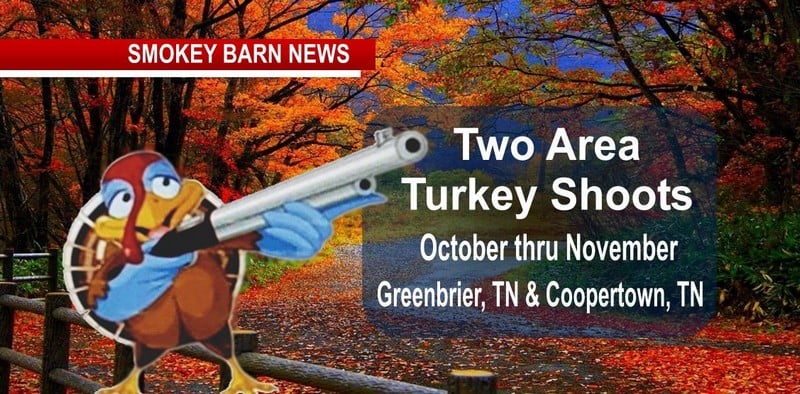 The Greenbrier American Legion Post 45 and the Coopertown Men's Club would like to invite everyone out to their annual Turkey shoots starting in October. There will be prizes, raffles along with food and refreshments. We have provided the full details below.
Greenbrier American Legion Post 45 Annual Turkey Shoot
American Legion Post in Greenbrier, TN (MAP) will be holding their annual traditional turkey shoot on Saturdays starting October 2nd from 8 AM to 12 noon through November 27the from 8 AM to 12 noon.
Stock guns only. No custom guns or barrels over 36″. Prizes include but not limited to: turkey, bacon and ham. Hot and cold refreshments will be available.
*Proceeds assist local veterans and the Greenbrier American Legion Post 45.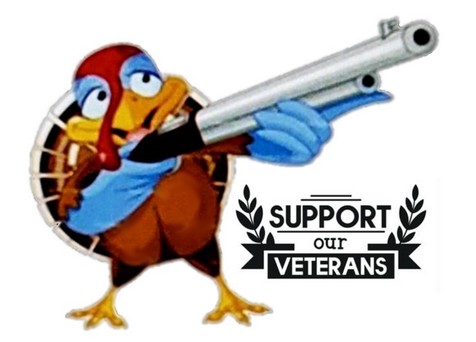 Coopertown Men's Club Annual Turkey Shoot
The Coopertown Mens Club will be holding their annual turkey shoot on Saturdays beginning October 16th from 8am to 2pm through November 20th from 8am to 2pm at the Elelmentary school across from city hall (MAP) Directions: From Highway 49 turn onto Burgess Gower Road at the elementary school 2560 Burgess Gower Rd across from City Hall.
• Turkey shot $4 each for $20 gift card
• Ham shot $6 each
• 12, 16, 20 and 410 shells provided
• No outside ammunition allowed
• We have shotguns available for use if needed
• Academy Sports gift card for Remington 1100 Semi Auto 12 gauge shotgun. Raffle tickets $1
• Breakfast, lunch and soft drinks available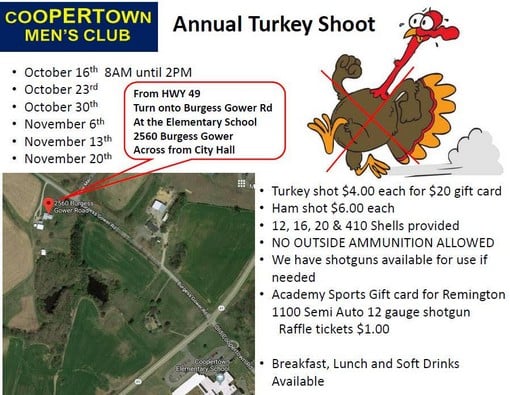 November 6: The Grove Church's Chili Supper and Cornhole Tournament
The Grove Church's Chili Supper and Cornhole Tournament on Saturday November 6th, from 5pm to 7pm. This event will take place at The Grove Church 2122 Tom Austin Hwy Greenbrier, TN 37073.
There will be family activities: hayrides, games, food, and prizes.
We will have an optional Chili Contest for those that enter during registration.
Questions? Call 615-382-1522 during office hours or email [email protected]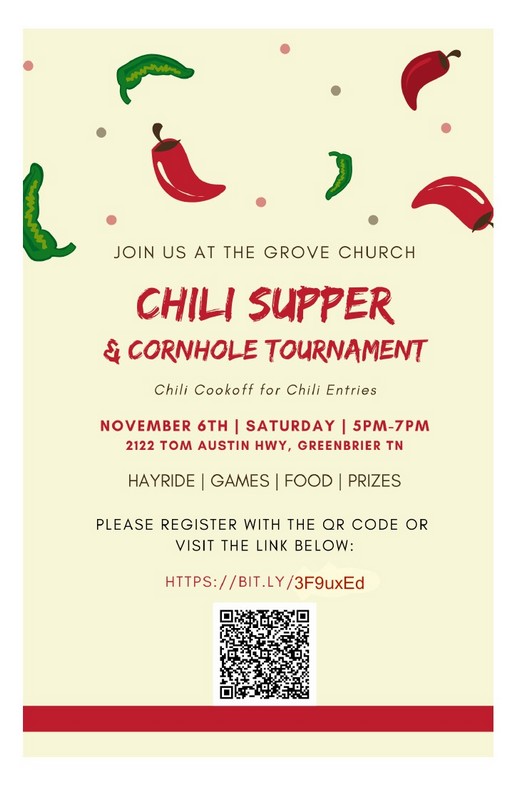 November 6: SHOW & SHINE by Springfield High School Baseball
From  9 AM – 12:30 PM: 5240 Highway 76 E, Springfield, TN
Bring your classic cars to compete for an award. First 20 registered cars also gets a free T-shirt. We will also have door prizes for registered entries. $20 first car, $10 additional cars.
FREE family fun! Come see the beautiful classic cars and enjoy the day with the Springfield High School Baseball Team. Meet your 2022 Yellow Jackets and show them your support for a wonderful season ahead. Enjoy local food vendors.
*Contact Chris Hollingsworth at (615) 992-8020 or [email protected] for questions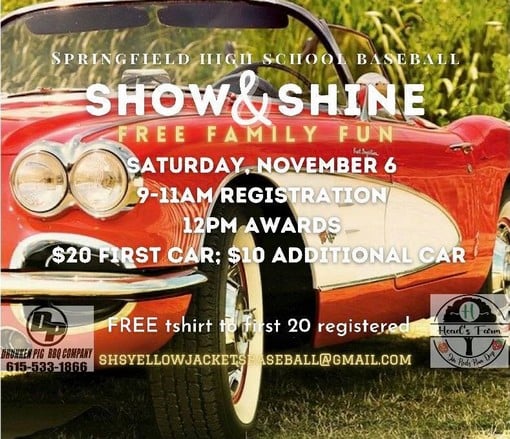 ONGOING EVENTS
Robertson County Senior Center In Springfield, TN
Lots of fun events every month, sign up for the newsletter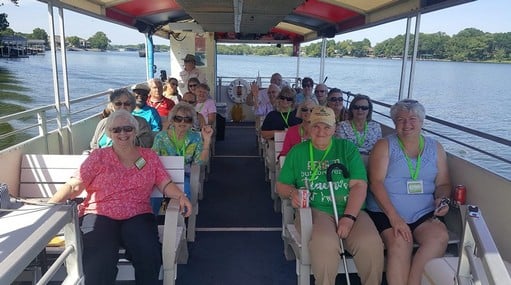 Our Operating hours will remain from 9:30am- 2:30pm. This allows adequate time to sanitize and prepare for activities.
We plan to add many activities in May like, our Harmonica class, another exercise class, etc. We also plan to start our "Out & About trips again!
WOO Hoo! Things are really looking up!
Can't wait to see your smiling face!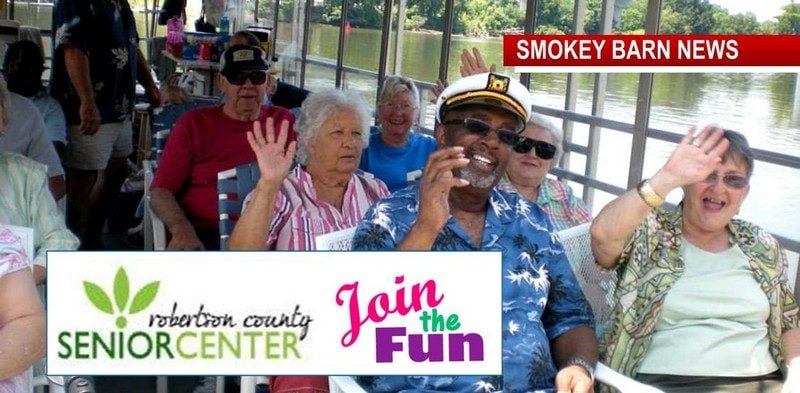 CHECK OUT OUR LATEST NEWSLETTER 
Check out all the fun activities planned this month in our October Newsletter

(Robertson County, TN)
The Robertson County Animal Control is overwhelmed by the current overpopulation of pets in our county
We have been working diligently to improve the situation in our area and lower our euthanasia rates. This has only been possible with support from our commissioners and mayor, and leadership of our Director Kevin Clinard. We promote spay and neuter. Please contact our office for information on low cost spay and neuter or to schedule to have your pet fixed.
Robertson County Animal Control
2900 W. County Farm Rd.
Springfield, TN 37172
Email: [email protected]
Phone: 615-384-5611

(Springfield, TN)
Orlinda, TN Byrum Porter Senior Center
ORLINDA TENNESSEE: (Smokey Barn News) – The Byrum Porter Senior Center in Orlinda, TN offers…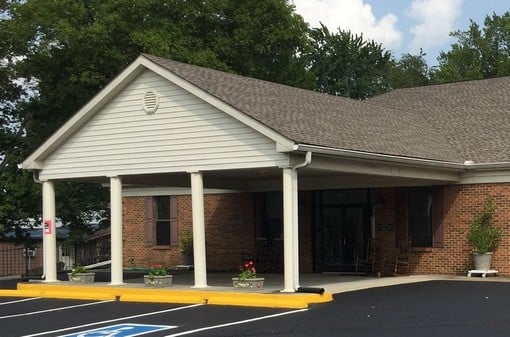 Byrum-Porter Senior Center in Orlinda, TN is open Monday – Friday from 8 am to 4 pm
We have everything from exercise classes, day trips, mystery lunches, extended trips, card games, dances and much, much more.
Checkout our newsletter to find out more about our dance themes, class times and trips on our website byrumporter.com or follow us on Facebook at Byrum-Porter Senior Center for all our fun activities.
Fitness after 50, Yoga & Tai Chi Exercise Classes, Dominoes, Canasta, Karaoke, Bridge, Shanghai Rummy, Footcare & Nail Appointments, massage appointments, paint classes and more. Request our monthly newsletter with all the details, just send an email to: [email protected]
Visit our exercise room
We have treadmills, stationary bikes, step climbers and a vibration training platform. If you can't get to our exercise classes or aren't comfortable in a group why not try this instead.
Thursday Night Dances: 
Come dance to the great tunes by The Good Time Charlie Band every Thursday night. Good Time Charlie Band rents the center on Thursday nights starting at 7 pm. Doors open at 6 pm. Limited menu available starting at 6 pm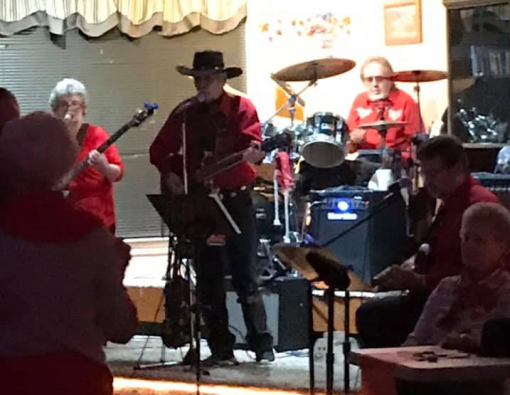 We love to Travel – Our 2021 Trips Collette Trips:
Hawaii November 4th – November 13th, learn more here.
Diamond Tours ***** new information *****
Diamond Tours is requiring all travelers with their groups to have updated Covid 19 vaccine.
To view these trips, click here.
The Ark Encounter & Creation Museum
(new date) – September 13-17
Niagara Falls & Toronto – September 5-11
Beautiful Maine – October 9-17
*All trips are subject to change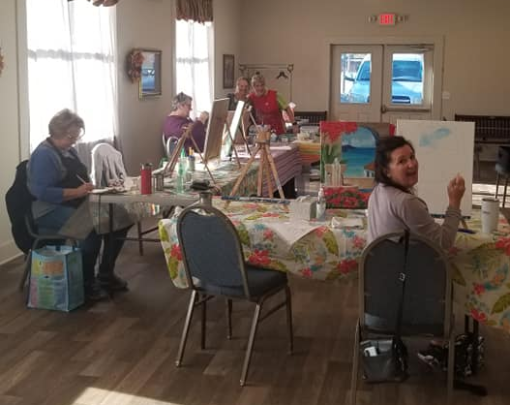 All events are subject to change. Changes will be posted on our Facebook page and our website.
Home Health supplies
We have walkers, canes, crutches, toilet risers, toilet bars, bed assist bars and a shower seat to loan if needed. We also have personal disposable hygiene items.
For updates call 615-654-3161
Location: 9123 Highway 49 E Orlinda, TN 37141
*The Center exists to make life more enjoyable for older adults, who reside in Orlinda and surrounding areas. Activities, Dances, Trips and much more.
*Coffee is always ready and waiting for you.
CHECK OUT OUR NEWSLETTER

NOTICE: Food Assistance Available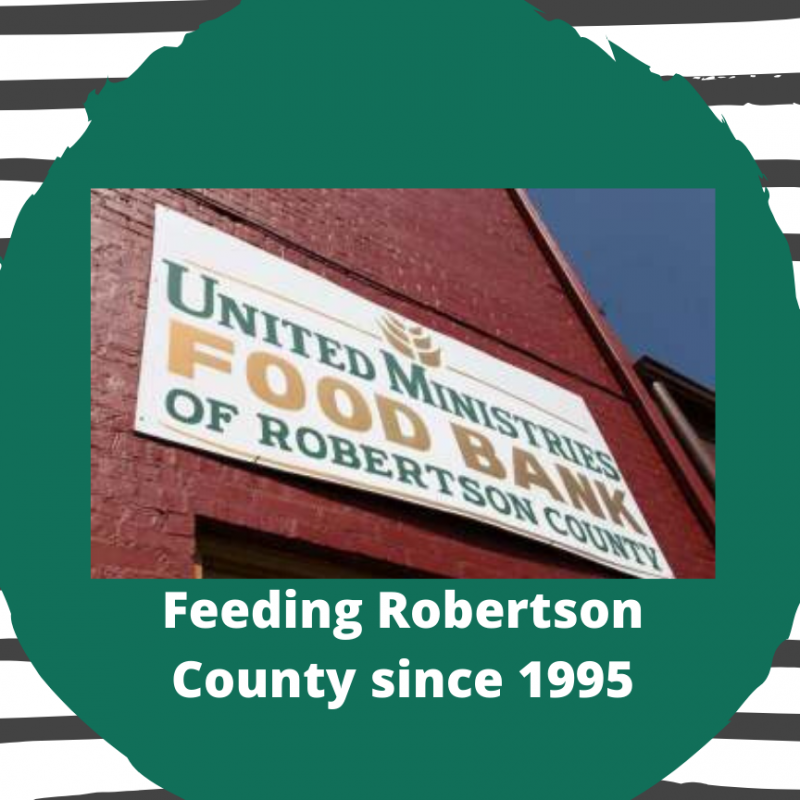 The United Ministries Food Bank would like to inform the residents of Robertson County that they are still helping with food needs.
If you are struggling to put food on your table they can help.
They are located at 808 S Main St. (beside Cope). Familes need to have ID's and Birthdays dates for all living at their residents.
Residents are welcome to come in monthly for assistance. If you have questions please call 615-384-8306.
Hours: Open Monday thru Thursday 10:30AM to 1:30 PM.

Notice: Food Pantry – Bethlehem Baptist Church Drive By Pantry 
Please drive up to Building A from the Hwy 76 entrance. Residents are asked to show proof of residence and an SSN# for each resident.
The drive-by pantry will be open on Wednesdays from 11am to 1pm.
NOTE: Beginning 9/2/2020 the pantry will be open 4:00-6:00 pm on the first and third Wednesday evenings of the month.
Bethlehem Baptist Church – 5081 Bethlehem Road – Springfield, TN. 615-643-0333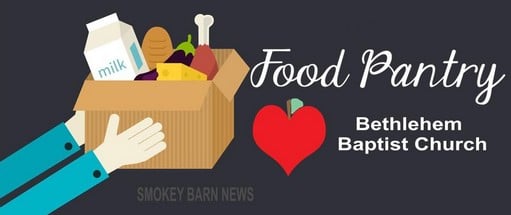 LOCAL LIBRARY EVENTS
Springfield, TN

Millersville, TN Library
Click the Banner below for the full calendar of events including Art ventures, storytimes, sign language and more!

White House, TN Library
Click the Banner below for the full calendar of events including sewing, storytimes, anime' drawing, chess club and more!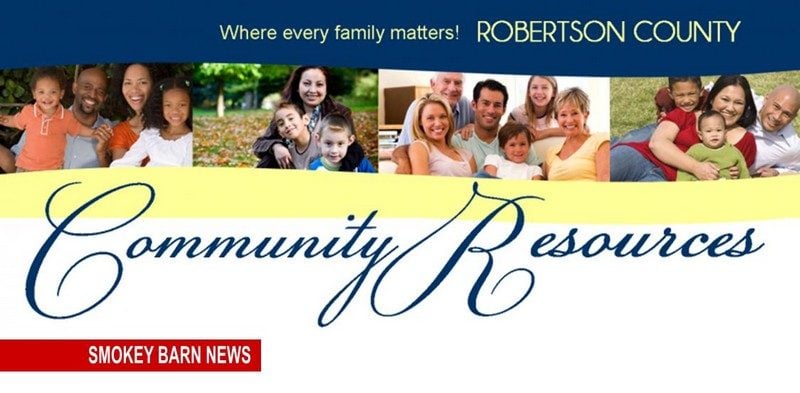 For A Full List of Family & Community Services, Resources & Meetings
Announce Your Event On
Robertson County's #1 News Source