Smokey's People & Community News Across The County March 28, 2021
ROBERTSON COUNTY TENNESSEE: (Smokey Barn News) – Due to overwhelming requests from readers, Smokey's Community news column is back! It's a look back and forward covering the latest news, happenings in and around Robertson County.
Smokey's People & Community News column highlights local stories of people, schools, community events, and charities that continue to make Robertson County great!
Do you have a story you would like to submit? Smokey Barn News welcomes your community news and photos. Email your story ideas to our 24/7 news desk; [email protected]

CITY OF GREENBRIER
Congratulations to Greenbrier Middle School 8th grader Greyson Osborne for auditioning and earning a spot in the 2021 Middle School All-Mid State Band.
This is the highest regional honor that can be given to a middle school band student in Middle Tennessee.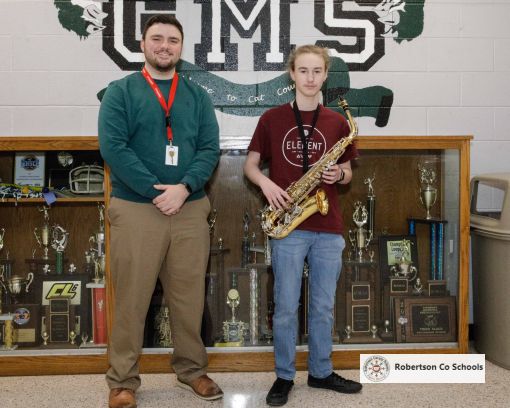 City of Greenbrier, Tennessee NOTICE –  Workshops & Special Called Planning & Zoning Commission Meeting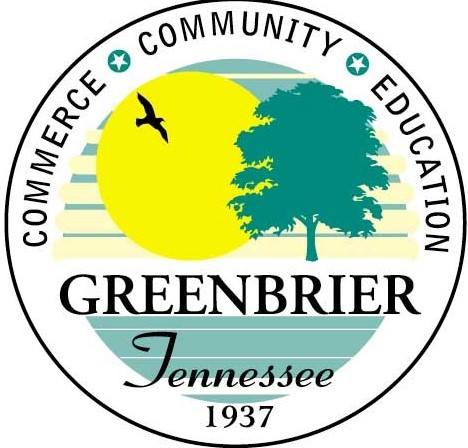 City of Greenbrier
FY 21-22 Budget Workshops
The City of Greenbrier Board of Mayor and Aldermen will meet at City Hall at 6:00 pm on the following dates to discuss the upcoming budget:
Tuesday, March 30, 2021
Thursday, April 13, 2021
The public is invited to attend but will not be allowed to participate in discussions. There will be limited seating due to social distancing. For more information, please call City Hall at 615-643-4531.
City of Greenbrier Planning & Zoning Commission – Special Called Meeting
The City of Greenbrier Planning and Zoning Commission will meet at City Hall on Tuesday, March 30, 2021 at 5:00 pm to discuss amending Ordinance 21-02, Title 14, Chapter 2, Article 8 Planning Development Districts. For more information, please call Alex West at Greenbrier City Hall at 615-643-4531.

City of Greenbrier, Tennessee & Greenbrier Police Congratulate Jessica Speer
"The City of Greenbrier would like to recognize and congratulate our very own Jessica Speer for taking the first step of being coming a Certified Police Officer! She will start at the training academy this month! We are so proud of you Jessica! Good luck!"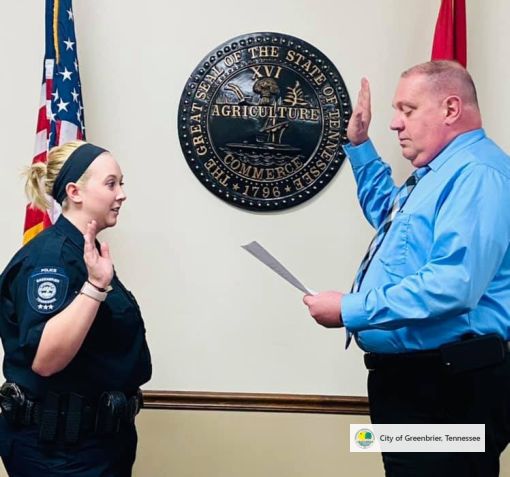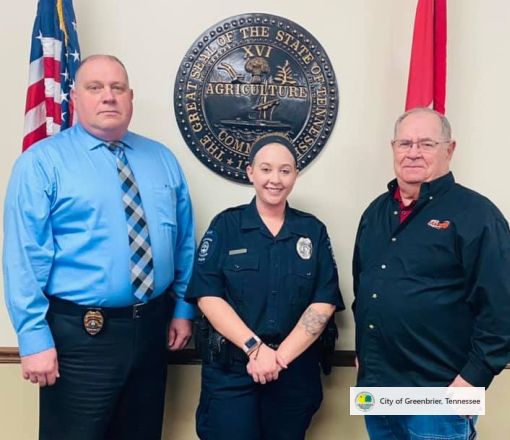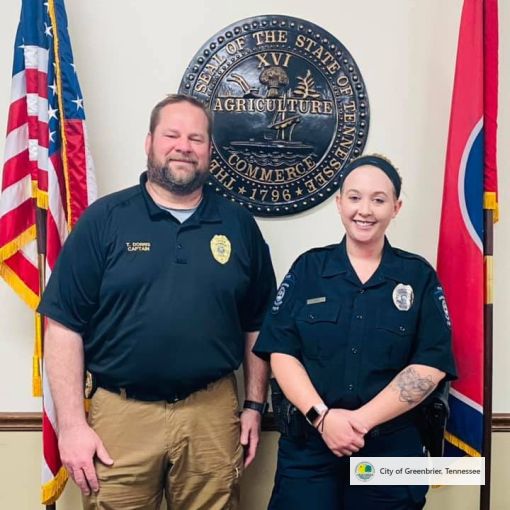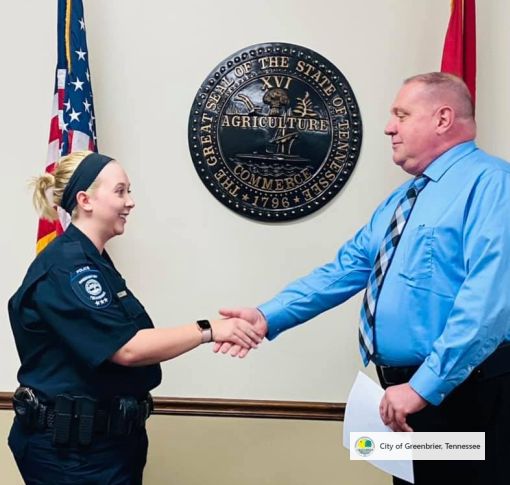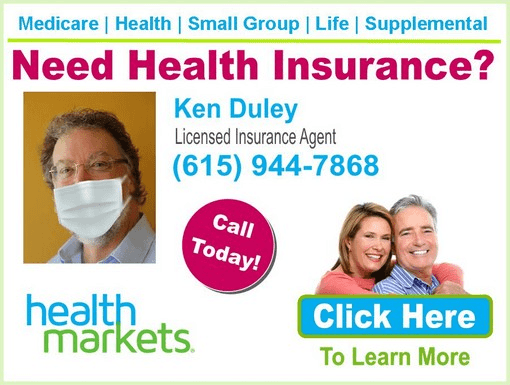 Starting April 1 – 1st Annual Spring Turkey Shoot Coming To American Legion Post 45 In Greenbrier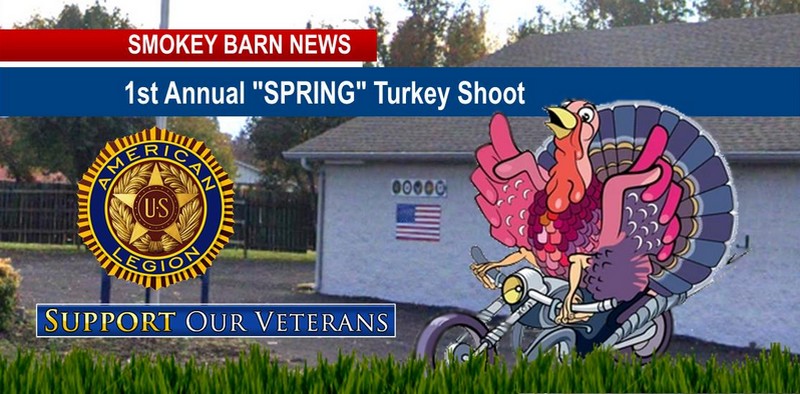 Time is not the only thing that has "sprung" ahead! New for 2021, the American Legion Post 45 in Greenbrier, TN will be hosting its first annual Spring Turkey Shoot for all 4 Saturdays in April!
"Our faithful shooters asked and we heard you! Our great American Legion Riders group has stepped up to organize this event.
We begin at 8 am and run till 12 noon! Family-friendly! Only about 3 weeks to we start so get those shotguns dusted off!" American Legion Post 45.
The Spring Turkey Shoot takes place Saturdays starting April 3 from 8 AM to 12 PM or no more shooters through April 24 8 AM to 12 PM or no more shooters.
Location: American Legion Post 45: 2730 US-41 S, POB 160, Greenbrier, TN 37073
Stock guns only. No custom guns or barrels over 36 inches
Prizes include but not limited to turkey, bacon, and ham. This is a family-friendly event and all ages are welcome.
All proceeds are used to assist our local veterans.
Hot and cold refreshments available
***SUPPORT OUR LOCAL VETERANS***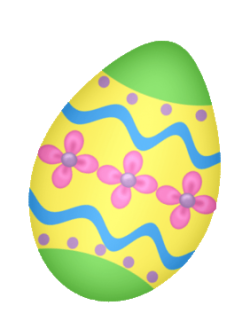 April 3: Greenbrier Community Easter Egg Hunt at Dick Strong Memorial Park – By "TOAST" Tennessee Operation All Stay Together (a non-profit group)
When: April 3: 3 PM to 5 PM
Where: Dick Strong Memorial Park – 125 park Ct, Greenbrier, TN
Egg Hunt & Drawings!
By: "TOAST" Tennessee Operation All Stay Together (a non-profit group)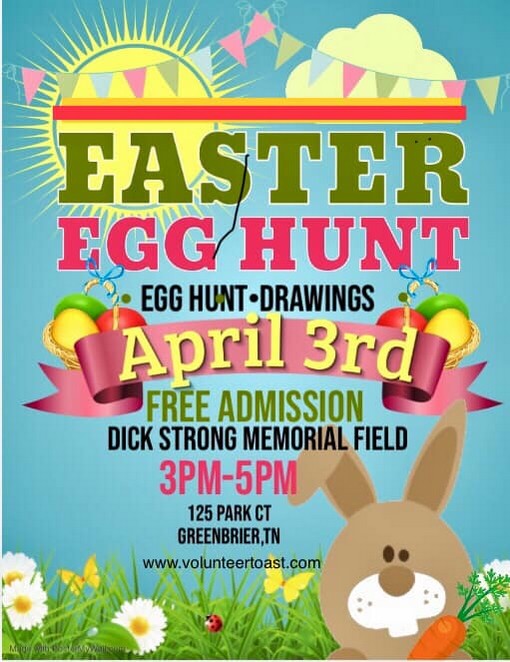 City of Greenbrier, Tennessee – Please do not flush wipes…
The City of Greenbrier is once again asking its residents to stop using flushable wipes. This picture shows you what is causing a $15,000 pump to burn up.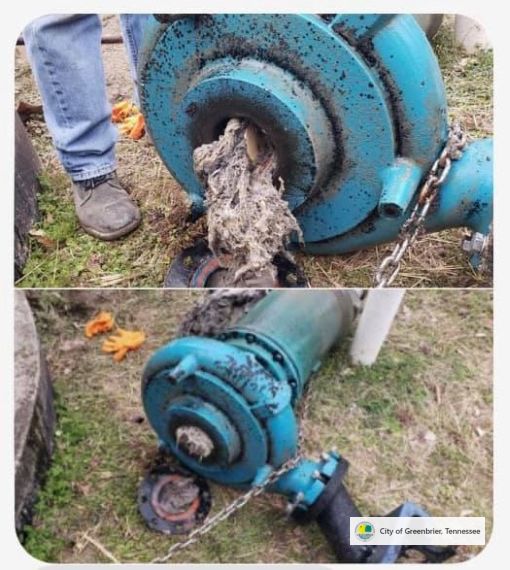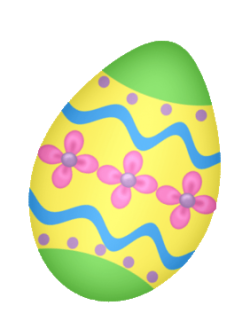 April 4: Easter Sunday Service with Egg Hunt following the service at Calvary Baptist – Greenbrier, TN
When: Sunday, April 4 – Easter Service at 10 AM with egg hun to follow.
Where: Calvary Baptist Church – 2806 Hwy 41S Greenbrier, TN
Over 3,600 easter eggs, prizes, plush animals, Amazon Kindle Fires & Echo dots!
FUN FOR ALL, COME ENJOY THE FUN!
Contact person: Bro. Joey Beaty 615-643-7737

Saturday, April 17, 2021  City of Greenbrier's Cleanup Day!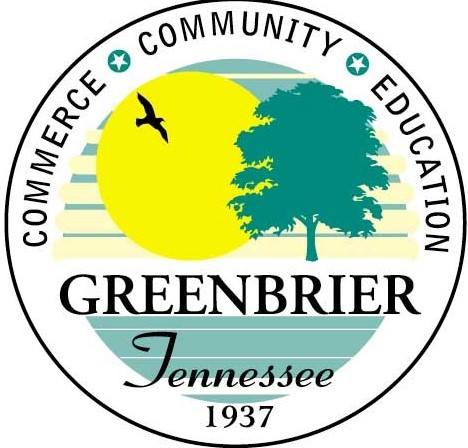 Location: 790 W College St, Greenbrier, TN 37073
Saturday, April 17, 2021 at 7 AM CDT – 3 PM CDT
For Greenbrier residents only!
Bring all unwanted items to city hall. Please separate items to be thrown away such as tires, wood, metal, paint, antifreeze, and oil from general debris.
Not accepted:
No shingles, propane tanks, asbestos, dirt, rocks, or ashes will be accepted. No scavenging of scrap metals will be allowed.
Elderly or disabled residents can make arrangements for pick up at City Hall staff at 615-643-4531

Vendor, Sponsor Applications Now Available For Greenbrier's 2021 Turning Of The Pig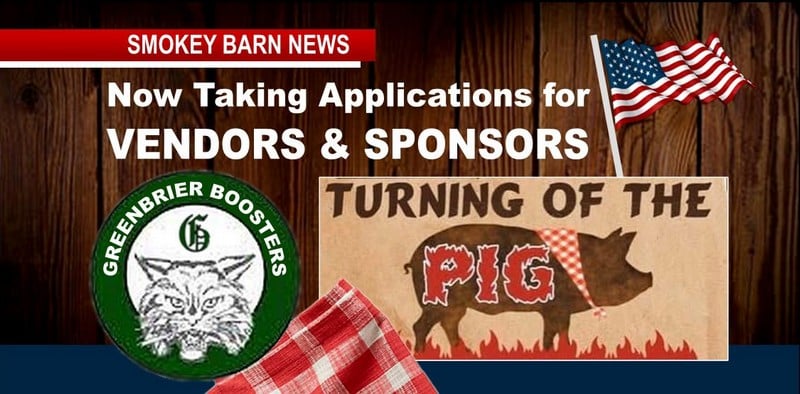 The Greenbrier Boosters will be hosting the historic Annual BBQ Festival known as "Turning of the Pig" again this summer and in an effort to make it bigger and better than ever, they have opened up the application process early for anyone interested in a vendor booth or sponsorship of this nostalgic family fun two-day event.
"Who's excited for Turning of the Pig? We're looking for sponsors and vendors! Applications for sponsors and vendors are now being accepted for 2021 Turning of the Pig on July 3rd behind City Hall!" says Jenn Houchin.
The annual festival is held behind Greenbrier City Hall and offers live country and gospel music, food, a dunking booth, carnival games and an array of local vendors selling everything from crafts to Greenbrier memorabilia. The Historical Society traditionally sells homemade ice cream and fresh squeezed lemonade.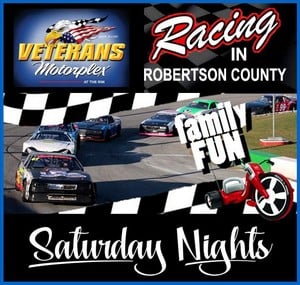 Traditionally Boston butts/pulled pork is slowly cooked on a huge open fire pit throughout the evening on July 3rd. The pork and family picnic packs are ready for sale by 6 AM the morning of the fourth.
Greenbrier's Independence day parade usually begins at 10 a.m. in the Greenbrier Elementary School parking lot and travels south towards the Greenbrier High school.
The event is free to attend, but the funds from the Turning of the Pig pork sale is the biggest fundraiser of the year and helps to meet all the needs of the Greenbrier High School Marching/Concert Band program.
So, if you would like to participate as a vendor or sponsor in this annual fun-filled family event this fourth of July, you are encouraged to email [email protected] to receive an application.
*All vendor applications are subject to approval.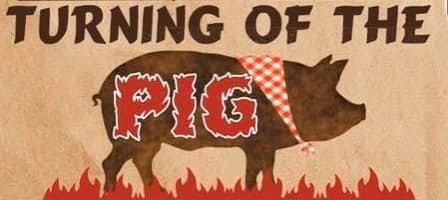 CITY OF CROSS PLAINS
(East Robertson High School)
ERHS Graduate, Caleb Fuqua, Names Street In Honor of Barry Baker, Former Supervisor of Career and Technical Education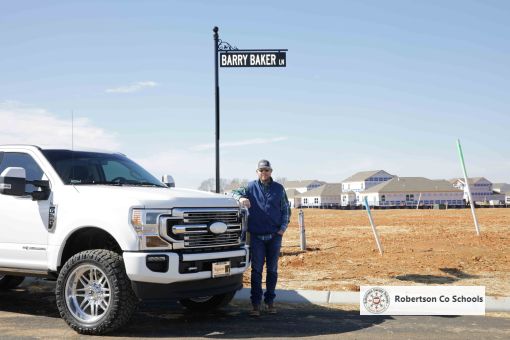 On Friday, November 14, 2008, the Robertson County Schools family of educators lost a dear member when Barry Baker, Supervisor of Career and Technical Education, was tragically killed in a crash on Tom Austin Highway, just outside of Springfield.
Baker, originally from Dickson, TN, came to RCS in 1993 as an East Robertson High School Ag teacher, where he remained until becoming the district Career and Technical Education Supervisor in 2005.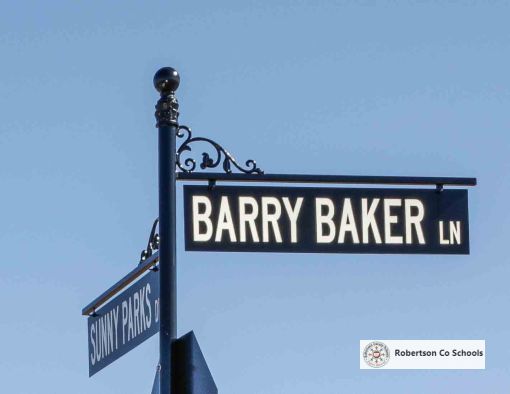 While at ERHS, Baker made permanent impressions on many students, affecting more than one in their ultimate career and life choices. One of those students, real-estate developer, and 2004 ERHS graduate, Caleb Fuqua, recently memorialized Baker in one of Robertson County's newest subdivisions by naming a street in his honor.
When queried as to the motivation for this recognition, Fuqua gave a number of reasons, but returned repeatedly to the simple statement, "He was a special person."
According to Fuqua, Baker was, "…that person who pushed me to do better. He was a man of character." Characteristics like attention to detail, commitment to his students, fairness, and equal treatment of all students, were all attributes that contributed to making this man a larger-than-life influence on his agricultural and trade students.
Fuqua remembers Baker as first to arrive and the last to leave school each day, and said he exerted a major positive influence on those students he taught. Fuqua said Mr. Baker expected a lot of his students, from their work-ethic, to the way they dressed for Future Farmer of America, and other conventions. "We walked a fine line," he said, noting that those expectations seemed driven by a larger purpose.
"I think the biggest thing was that he wanted to make sure that his students were better when they left his classroom than when they first came in," Fuqua stated. "His interest was not just in teaching mechanical skills, but life skills.
"He expected a lot of his students. He taught us that we represented ERHS and that what we did always reflected on our school. He told us he expected nothing but greatness out of us. That's just what he stood for."
Friend, classmate, colleague, retired RCS educator, and past Director of Schools Dan Whitlow recalled Baker in similar fashion, pointing out his personal connection to many of his students.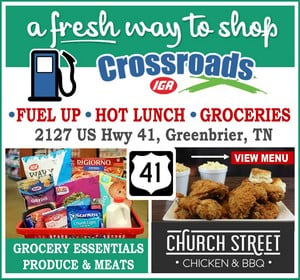 "Mr. Baker just thought the world of his students," recalled Whitlow. "He enjoyed being with them every day. He wanted to be the kind of example that they needed to see. He wanted them to be successful and wanted to do everything he could to make them successful.
"He truly cared about how you were doing, where you were going, and what can I do to help, to the point that he would often go and visit students at home. Sometimes he would go and spend a day doing things like helping them cut tobacco, or haul hay. He would go in order just to work with them and build a relationship with that student and that student's family."
Whitlow recalls initially meeting Baker when they were classmates at the University of Tennessee in Knoxville, where they became close friends.
"He started in Houston County and I started at ERHS. When our program got to where we needed two teachers, he was the first choice."
Current Supervisor of Career and Technical Education, Mark Gregory, recalls working with Baker at ERHS and seeing his ability to connect with students.
"I enjoyed working with him," said Gregory. "We had a lot of success with our FFA program during those years."
Gregory, along with anyone else who knew him, remembers Baker as a man of few words. "He was one of the quietest teachers I've ever known… and you listened the first time. Students knew that and respected him greatly. They knew he was there for their best interests. He never had to work to gain control of a classroom. He knew how to reach out to students and connect with them."
Gregory added, "Kids just loved him. He commanded respect. I think that's why his legacy has lasted so long because he had a huge connection with his students. He taught them skills that many are using to make a living with today."
That record and legacy left by Barry Baker continues to this day. Gregory noted this, saying, "You know a person has done a good job when he's been gone more than 10 years and he's still being thought of this way. That's a compliment to the things that he did. Those that were taught by him have not forgotten him at all."
Fuqua said Baker will be remembered in large part because, "He didn't just put in hours, but invested himself in those he was entrusted with. That ethic is still visible and still paying dividends to his legacy."
As a partial explanation of his rationale for naming a street after his mentor, coach, and teacher, Fuqua said simply, "A part of my success is because of him, but it wasn't just me he helped. I feel like, I'm not doing it just because of me, I'm doing it because I'm in the position to represent those who can't. I did it for everybody who was influenced by him."
Mr. Barry Baker will continue to be missed, and his memory will continue to be treasured, by all he encountered and influenced. Barry Baker Lane in Robertson County is now a permanent and poignant reminder of that legacy.
– Robertson County Schools

East Robertson Youth Soccer
Attention:
Bobby's Buddies (Special Needs Soccer Team) will have a Parents meeting April 5th at 6:30 at Cross Plains City Hall. For more information message here or email [email protected] or text 615-390-6397.
"The City of Cross Plains is proud to play a part in this very special program!" City of Cross Plains TN

The City of Cross Plains is pleased to announce the hiring of Patrol Officer Domingo Davaloz.
Officer Davaloz will help our City to extend Safety and Patrol coverages. Welcome Patrol Officer Davaloz and stay safe!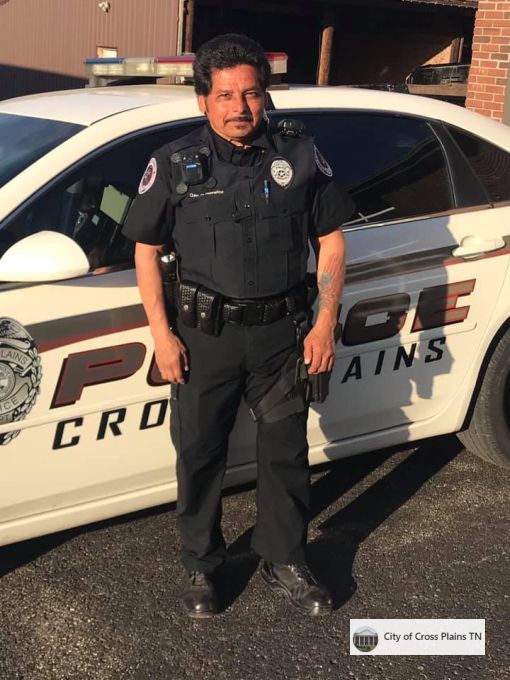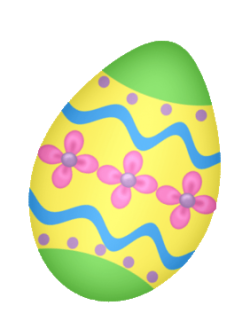 April 3: Community Easter Egg Hunt in Cross Plains park – Mt Carmel Baptist Church
April 3 at 11:00 AM. All elementary and preschool-aged children! Cross Plains Park & Recreation
There will be bounce houses, a DJ, and our favorite balloon artists all for free!
"Easter is the only time of year when it is safe to put all your eggs in one basket. Join us for the Community Easter Egg Hunt in Cross Plains at Kilgore Park – April 3 at 11:00 AM. All elementary and preschool-aged children!" Mt Carmel Baptist Church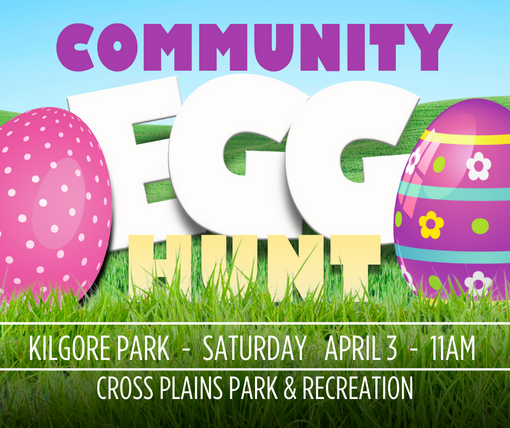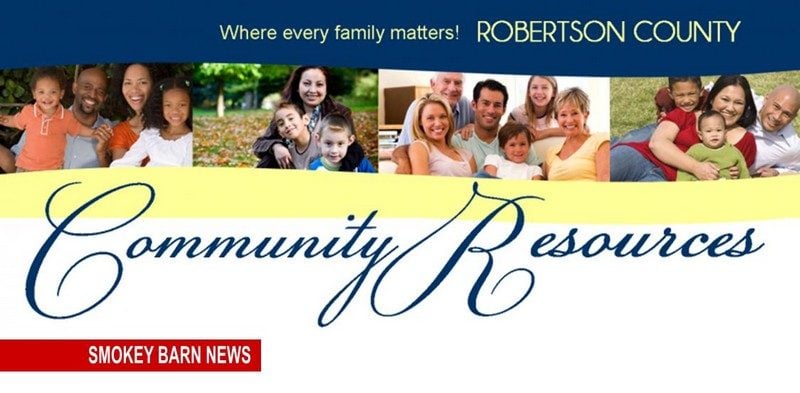 CEDAR HILL, TN
THURSDAY, APRIL 8: First Cedar Hill Farmers Market of 2021!
When: Thursday, April 8, 2021 at 4 PM CDT – 8 PM CDT
Where: Located behind Cedar Hill City Hall: 290 S Main St Cedar Hill, TN 37032
Nearly two dozen local vendors selling produce, clothing, plants, leather products, jewelry, baked goods, knife ware, candles, decor, flowers and more. We're also excited to bring our local FFA chapter from JBHS in to assist support their program and to help shape and mold the future generations of farmers and create a long term sustainability for our Market.
Our Local Vendors:
Bellhollow Farms, Head Farms, Corbin Creek Greenhouse, Jo Byrns FFA, Gingham Roots, For The Love of Fabric, Sweet Loaves & Ivey, Hudson Barn, Roan Clay Designs, Wholesome Homemade Home, Easy Peasy Lemon Squeezy, Perfectly Imperfect Gifts by Michelle, Tennessee Keepsakes, Gracefully Plain Jane, Rampant Lion, Leathersmith, The Tree Maker, Rustique Essentials, Cedar Hill FCE, Sugar Roots Bakery.
Delicious food can be purchased from the Santa Fe Food Truck!! Picnic tables will be placed near the food truck to allow patrons to eat onsite if they'd like.
Big Mikes Little Doughnuts will be there for the perfect snack or dessert. Pick up some homemade ice cream from Heads Farm or some lemonade from Easy Peasy Lemon Squeezy.
Music will be provided by the guys from the Inglewood Old Time String Band.
You spoke and we listened. This year you'll experience expanded food truck options by alternating food trucks during markets. Santa Fe will be with us for a market each month and another always different food truck will be there for the other market during the month. Also, we've added some new local vendors and are switching several vendors out each market to ensure variety and help us keep our market exciting and fresh. We have increased our roster of local farmers and growers, so this year you'll be seeing more produce and organic products; especially as produce and other products come in and reach harvest time.
We work tirelessly to try and bring you local vendors with local products. If you are interested in being a vendor, please message me and let me know. Outside vendors are welcome, but priority will be set on local availability, range of products, etc.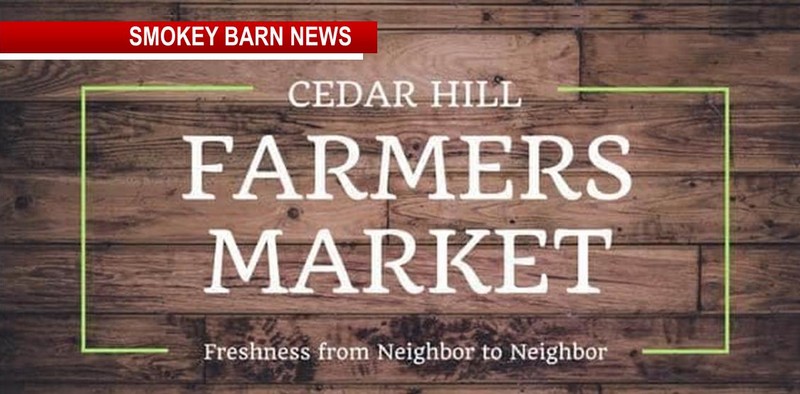 COOPERTOWN, TN
March 29: Coopertown Tree Limb/Brush Pick-up – Keep Coopertown Beautiful!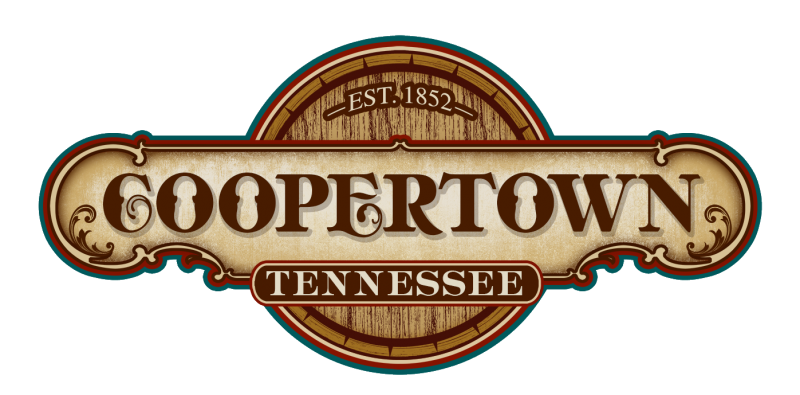 Twice a year our street department picks up downed tree limbs, branches, etc.
***The pick-up for Spring will be the week of March 29th.
If you would like to schedule a pick-up, please contact City Hall. All piles must be out by the edge of the road for easy pick-up.

April 3: Coopertown Easter Celebration & Egg Hunt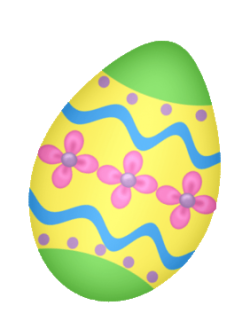 When: Saturday, April 3, 2021 AT 10 AM CDT – 12 PM CDT
Where: Coopertown City Hall – 2525 Burgess Gower Rd, Springfield, TN
Price: Free
Join us for the Coopertown Easter Celebration & Egg Hunt. Pictures with the Easter Bunny, Arts & Crafts, Storytime with the Mayor and an Egg Hunt (children 12 and under)!
Food Truck Vendor, Big Mikes Little Doughnuts
Schedule of Events:
10:00 a.m. – 11:00 a.m.
Pictures with the Easter Bunny, Arts & Crafts, and Storytime with the Mayor
11:00 a.m. – Egg Hunt
Over 5,000 eggs. Age Groups: 4 and under; 5-8 years; and 9-12 years.

RIDGETOP, TN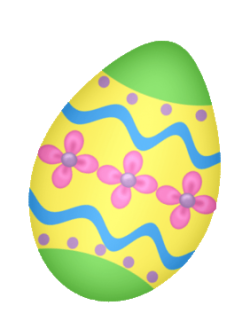 Ridgetop Parks Annual Easter Egg Hunt
RAIN DATE: APRIL 3 from 2 pm to 3 PM
Where: Ridgetop Station Park located at 1954 Woodruff Ave, Greenbrier, TN.
Price: Free
Ages are 12 and under and yes the Easter bunny will be hopping around the park!
Rain Date:
If the weather does not cooperate, a rain-out day is planned for Saturday the April 3rd, same time and place.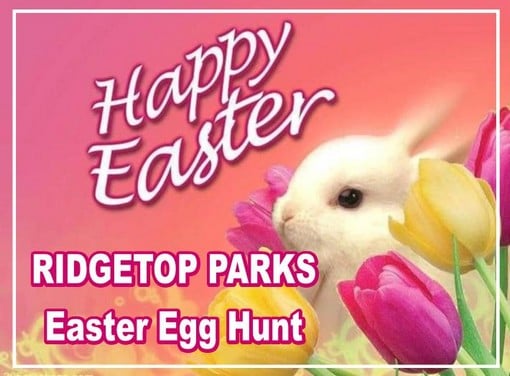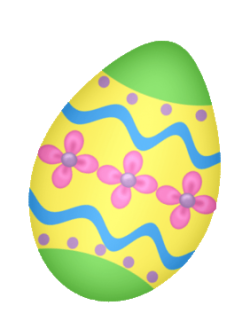 April 4: Easter Service In the Park – First Baptist Church Ridgetop
Join us at 10 a.m. Easter morning in Ridgetop Station Park for a community-wide worship service! We'll have plenty of seats and coffee!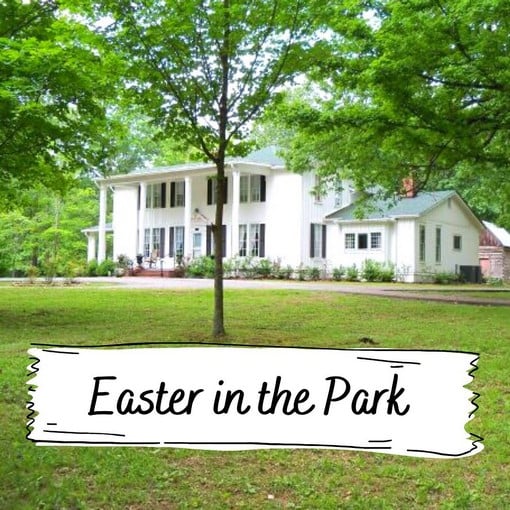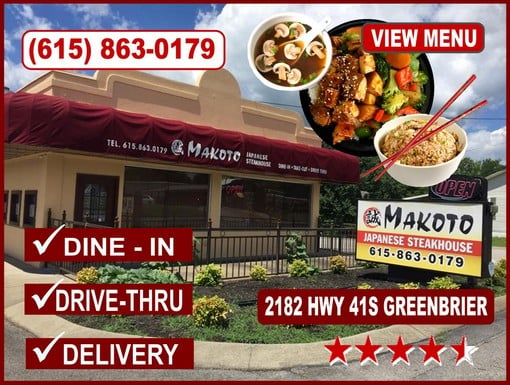 CITY OF WHITE HOUSE
White House Rotary Hosts Annual Firefighter/Police Banquet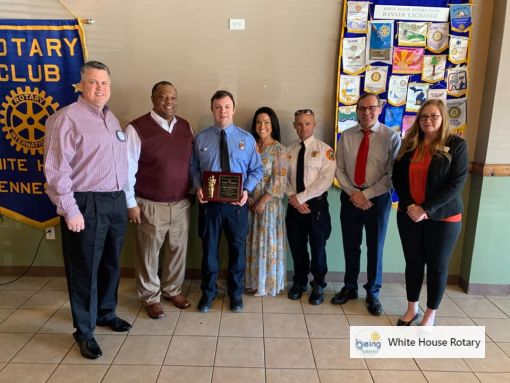 The White House Rotary had the pleasure of hosting the annual Firefighter/Police Banquet this past month.
"Due to Covid, we chose to divide the banquet up into two separate events, and Firefighters were up first!
It's a time of year that we take time to honor the first responders in White House who give their time so generously and sacrifice their safety and well-being to do a job that so many of us take for granted. I may be biased, but I feel the White House has the best of the best when it comes to our First Responders! This banquet is just a small token of our appreciation for what you do day in and day out!
Congratulations to JUSTIN WHITAKER for being voted as the Firefighter of the year!
A huge THANK YOU to all that contributed to making this event what it is. The first responders truly love getting gift cards and that is all possible due to our community's generosity!
A special thank you to Colorado Grill for allowing us to use your banquet room and providing such delicious food. And thank you to L&M Bakery for donating cupcakes!
Thank you to White House Florist for providing the beautiful flower arrangement that we gave to Mrs. Vickie at Fire Department for putting up with all those firefighters."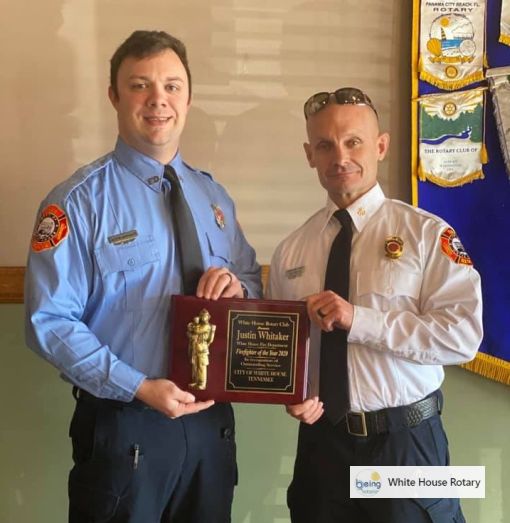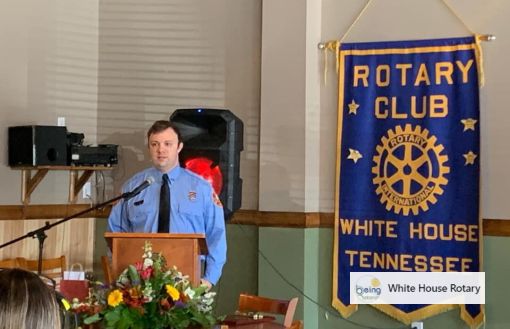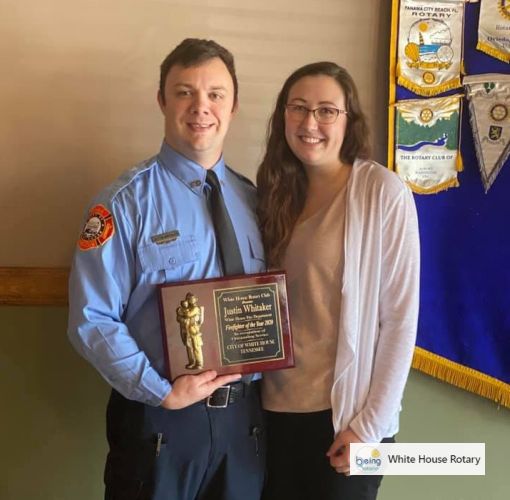 -White House Rotary Club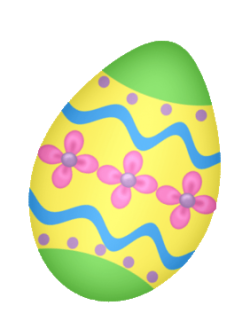 April 3: Easter Car Hop At Temple Baptist Church
When: Saturday, April 3, 2021 AT 9 AM CDT – 11 AM CDT
Where: 117 Marlin Rd White House, TN
Price: Free
Socially Distanced Candy Trunk Trail
Join us for a Socially Distanced Family Fun Easter Event- Games, Candy & Fun! Don't forget your bag for your goodies!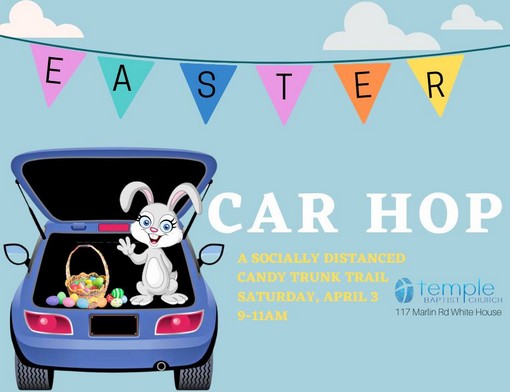 The City of White House is currently accepting applications for Firefighters
Starting Range: $37,299.67 – $44,352.49 annually DOE
Deadline: April 22, 2021
For a full job description and details on how to apply, just click the image below.
EOE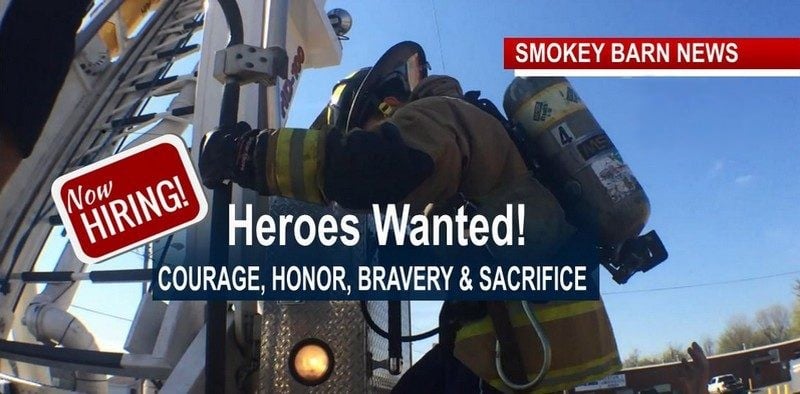 White House Community Volunteer Fire Dept. – Congratulations to Lucas Bunch the newest graduate from the fire Academy.
He has finished his firefighter one live burns and is one test away from obtaining his FF1 certification. This is the basis for all fire trainings in the state.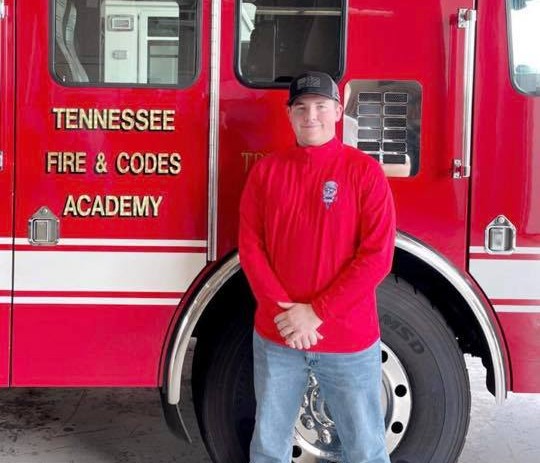 White House Community Volunteer Fire Dept. assisted with the burial of one of their own, Charlie Dickens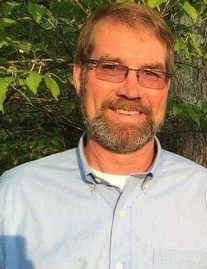 "Today, March 17, we assisted with the burial of one of our own. I have never been prouder of the professionalism, the brotherhood and dedication that each person involved exhibited. They fulfilled the wishes of the Dickens family and exceeded expectations. I served as Chief for twelve years and you are all the pinnacle of who and what a Volunteer Fire Department is. Thank you for your service."
To read more about Charlie – Racecar Driver, Firefighter, Entrepreneur, Charlie Dickens Of Greenbrier Has Died. He Was 61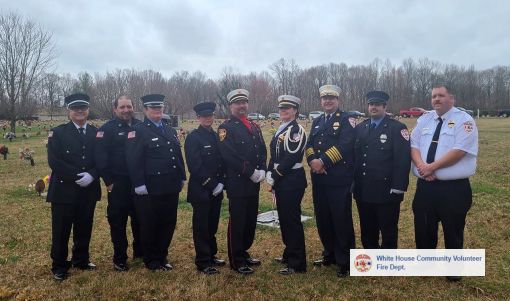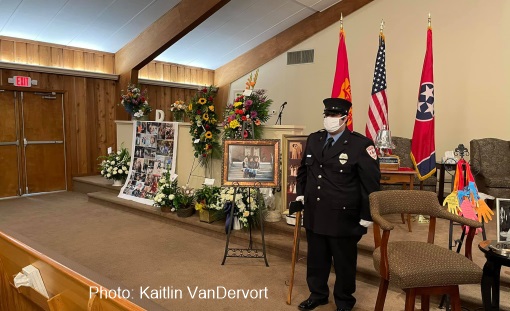 City of White House, TN- Police Department Collects 620 pounds of food in Community Food Drive
"We wanted to thank everyone for the recent donations toward our recent food drive. We were able to collect approximately 620 pounds of food and it was distributed throughout our community. A special thanks to Speedway for organizing this event and allowing us to be part of it.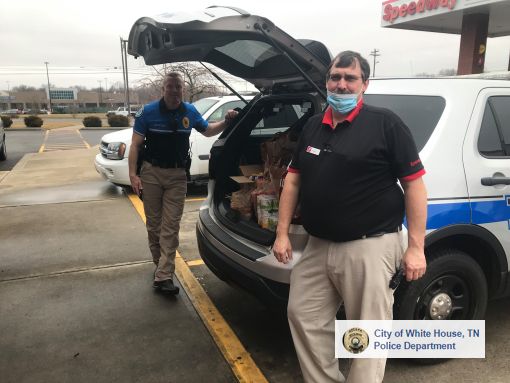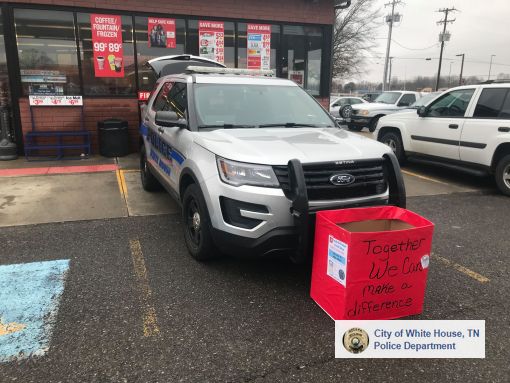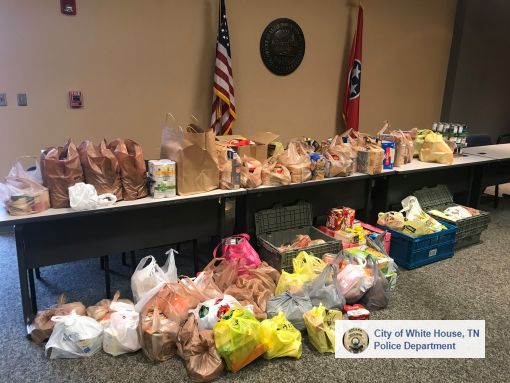 City of White House, Tennessee – SENIOR CENTER CLASSES FOR THE YOUNG AT HEART! 
Introducing Fittercise, our new line up of fitness classes, a variety of fun and energizing workouts, suitable for all levels of fitness. Make friends and improve your physical health and mental well being!
Class Description: (Giggle and Wiggles Work Out)
Tuesday & Thursday @ 9a—A whole body workout that tones arms, abs and legs combines with low impact cardio. Enjoy upbeat music that will have you wiggling, giggling and having a blast.
Wednesday @ 10a-10:45a—Chair Yoga
A gentle way to build strength, increase flexibility and relieve stress. Postures are performed either seated in a chair or standing next to it.
**Classes are taught by certified instructor, Ann Manly. All students are encouraged to go at their own pace and modifications are offered.
More classes to be added in May. Stay tuned!!!!!
WE WILL CONTINUE TO PRACTICE SOCIAL DISTANCING! MASKS & TEMPERATURES REQUIRED!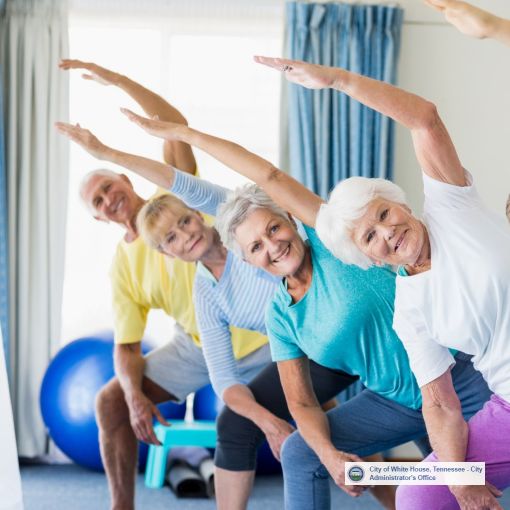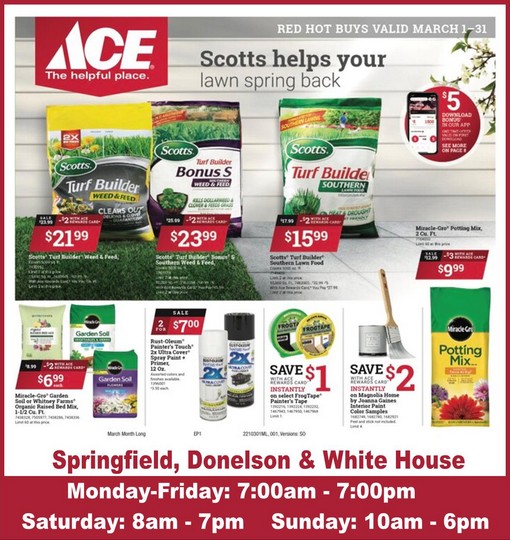 SPRINGFIELD, TN
Wednesday, April 7: Friends of The Library Bi-Monthly Meeting
Friends of Gorham-MacBane Bi-Monthly Meeting – Anyone is welcome to join our Friends group.
The "Friends" is a not-for-profit organization for people who are interested in books and libraries.
The Friends meet the 1st Wednesday of every month at Stokes Brown Public Library at 11am.
For more information, contact Ann Rausch at 615.305.2598 or [email protected] Visit us online or join us on FaceBook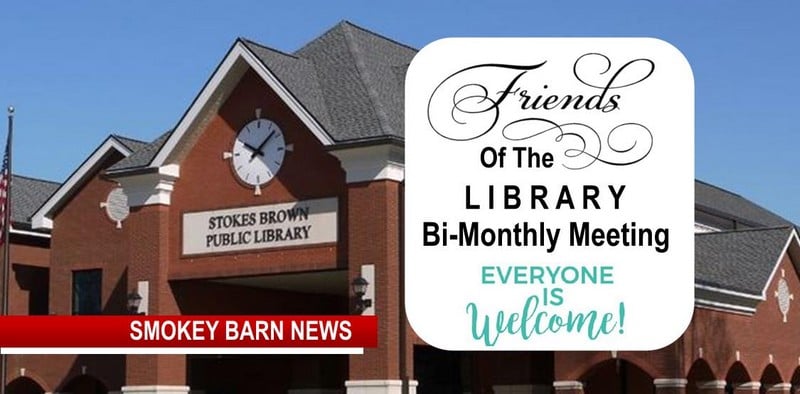 Springfield Heights Senior Living Accepting New Residents and Visitors Following a Year of COVID Restrictions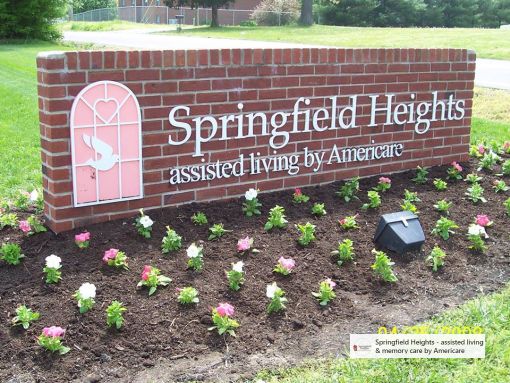 "It has been a year since the COVID-19 pandemic began, and the Springfield Heights community, Senior Living from Americare, is now returning back to normal for residents, families and prospective residents. The third of three vaccination days took place on March 11 and residents are now hosting visitors, going on visits to families and resuming other social activities including group dining with just a few precautions still in place such as mask wearing around guests and wellness checks " said Ralph Berry | evp, public relations.
Springfield Heights actually opened a new memory care community during the height of the pandemic, and began accepting residents there in October. The Arbors at Springfield Heights, as the memory care is called, is now at approximately 25 percent capacity for its 16 residents. The assisted living community is a little less than half full for its 24-resident capacity.
"At Springfield Heights we very much set the standard for care for the Americare communities and led the way with such things as a specialized COVID care unit approach that protected thousands of residents across the company," said Julie Harvey, Eldercare Advisor for Americare. "Our focus is now on the future and helping families who have perhaps held back on getting their elderly family members the care and into the social environment that they need to thrive."
With every resident who can be vaccinated now vaccinated, tours of the community have begun for families considering senior living or memory care, families are visiting and residents are free to come and go.
"Opening our new Arbors memory care was a unique challenge during the pandemic, but it was the right thing to do because the needs of families and the elderly did not change just because there was a pandemic," added Harvey. "We are the only residential memory care community in Robertson County, and one of the most beneficial things for the elderly of any level of health and memory is consistent socialization."
In addition to residency opportunities at the Springfield Heights communities, there are also programs for daytime care of up to 8 hours a day, and a unique Respite Care offering where temporary residency of up to 30 days can be arranged. The Respite Care is often a precursor to full residency once families see how much their loved one thrives in the residential community.
"Our message is simple for families and potential residents," says Harvey. "Springfield Heights is here for you for the day, the month or to become your home among experienced care givers in an environment in which you can thrive at this stage of life."
The team at Springfield Heights remains vigilant in its infection control efforts on behalf of all residents, and they believe that now is the time for many families to embrace the lifestyle choice that they have perhaps been avoiding for a year now.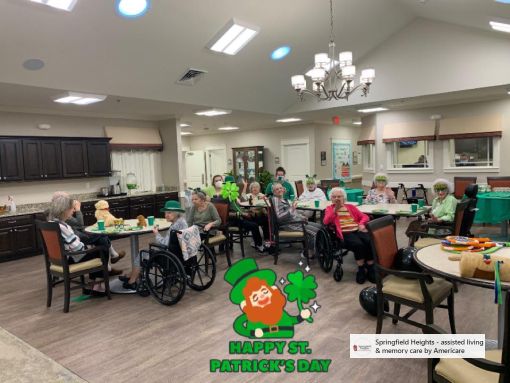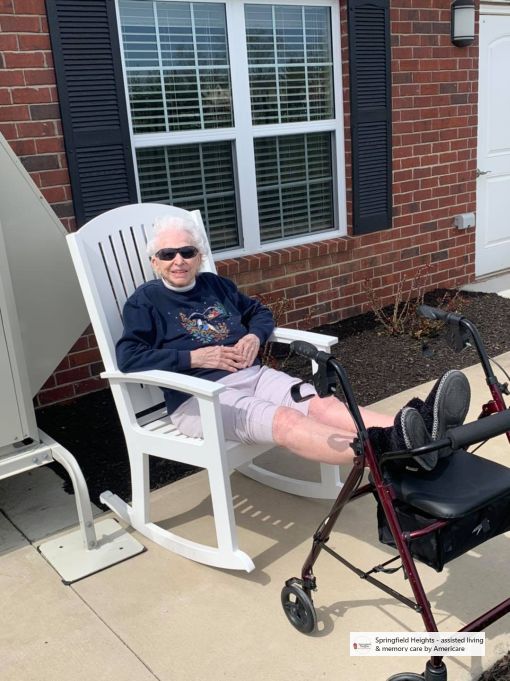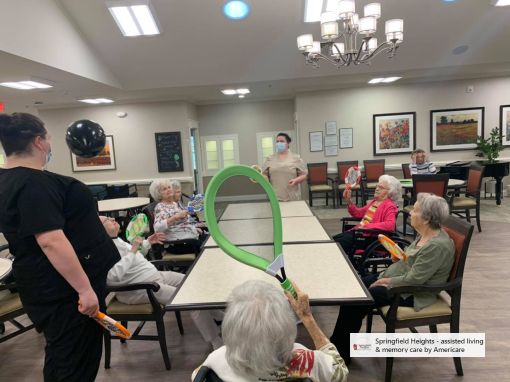 Feeding the ducks at J. Travis Price Park 4155 Wilks Road Springfield, TN 37172
Features
Baseball / Softball
Baseball / Softball Diamond
Basketball
Basketball Court
Bike Trail
Exercise Equipment
Fishing
Grill
Parking
Pavilion
Picnic Areas
Picnic Shelters
Picnic Tables
Playground
Restrooms
Tables
Trails
Athletic Fields
Access Springfield Greenway
Historic Cabin
Picnic Shelters* and Post 48 Community BLDG.*
Shelters rent for $10.00 per hour.
Shelter 1, near the lake and playground with 7 tables and one large grill.
Shelter 2 near the sports complex with 8 tables and 2 large grills.
Post 48 Community Bldg. which accommodates up to 50 guests rents for $50.00 for the first two hours plus $15.00 each additional hour. 8 six foot rectangle tables are available for dining with a serving counter. Cooking appliances are not available. Full payment (cash, check, card) and complete contract are required at time of reservation.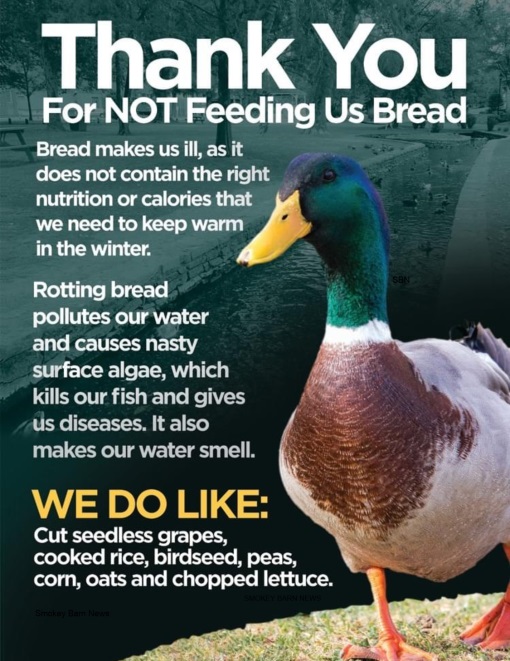 Wednesday, April 14: Blood Drive at NorthCrest Medical from 9-3 PM

To find other blood drives near you, click here. 

Starting April 28 – Classic Tin Cruise-In 
(Wednesdays In Springfield)
"It's almost time for Cruise-In Season! Starting April 28th. Every Wednesday (weather permitting) Springfield!" Shelby Horner
Classic car Cruise-In for Springfield and the surrounding communities coming together, sharing and talking cars, trucks and bikes.
Family Fun!
Held every Wednesday, from spring till Halloween, Classic Tin Cruise-In will be in Springfield, TN. The classic car, truck, and bikes Cruise-In for Springfield and the surrounding communities coming together for some Family Fun!
Being held at 2008 Memorial Blvd, Springfield, TN, Between the Hardees and Burger King.
Any questions please call Shelby Horner at 615-336-2257 See Less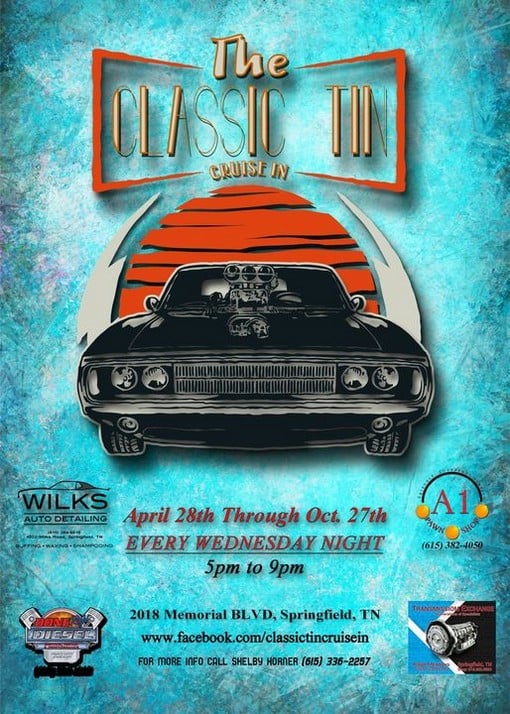 NOTICE: Food Assistance Available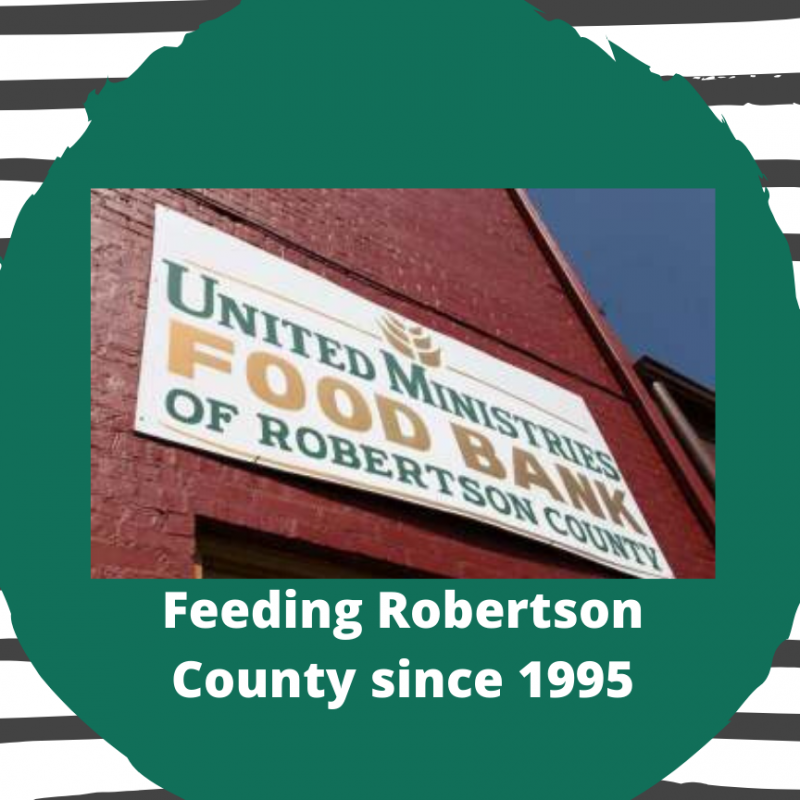 The United Ministries Food Bank would like to inform the residents of Robertson County that they are still helping with food needs.
If you are struggling to put food on your table they can help.
They are located at 808 S Main St. (beside Cope). Familes need to have ID's and Birthdays dates for all living at their residents.
Residents are welcome to come in monthly for assistance. If you have questions please call 615-384-8306.
Hours: Open Monday thru Thursday 10:30AM to 1:30 PM.

CITY OF PORTLAND, TN
Mark your calendars… May 7-8 in Portland, TN!
May 7th – concert & fireworks
May 8th – festival day!
5K, pancake breakfast, 200+ vendors, live music on 2 stages, magic shows, bingo, carnival, robocars, KidTown USA, strawberry farmers, mascot face and parade!
Free admission, free parking at Portland High School and free shuttle to the festival area beginning at 10am May 8th!


Portland TN Fire Department – Both crews from C-Shift got together for training.
They trained on some pump operations and advancing a hoseline evolutions.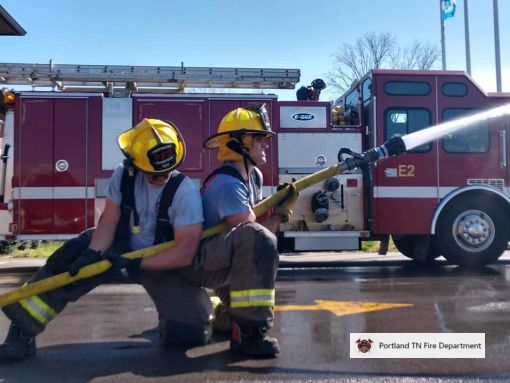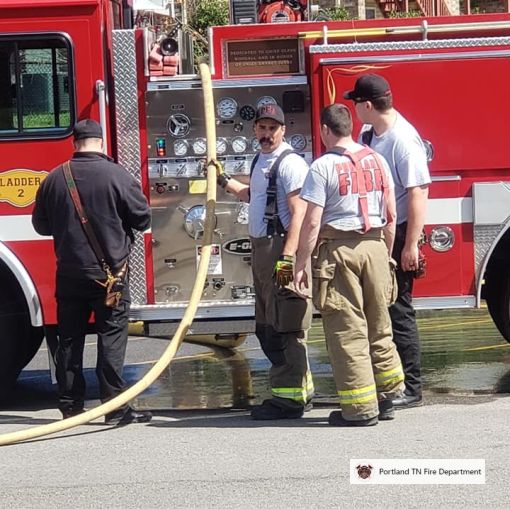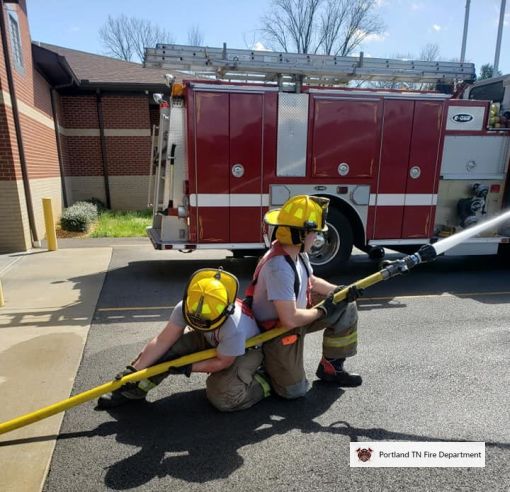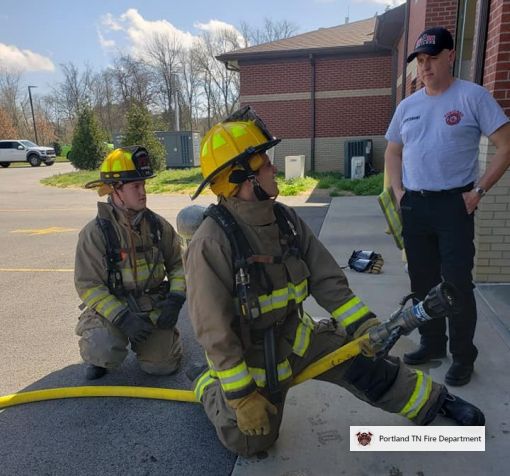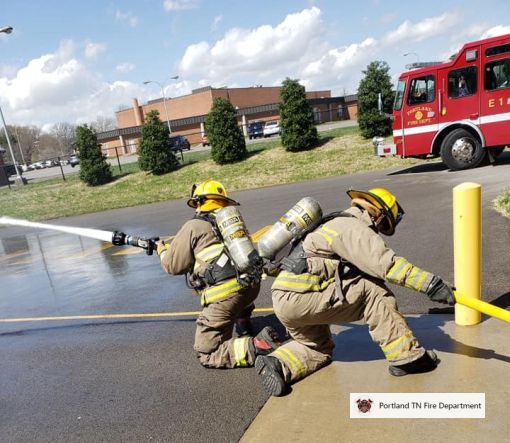 Portland Fire Station 2-B Shift conducted training this morning on rapid victim search techniques.
We are pleased to hear the doll made it out safely. Good job, everyone. #portlandtnfire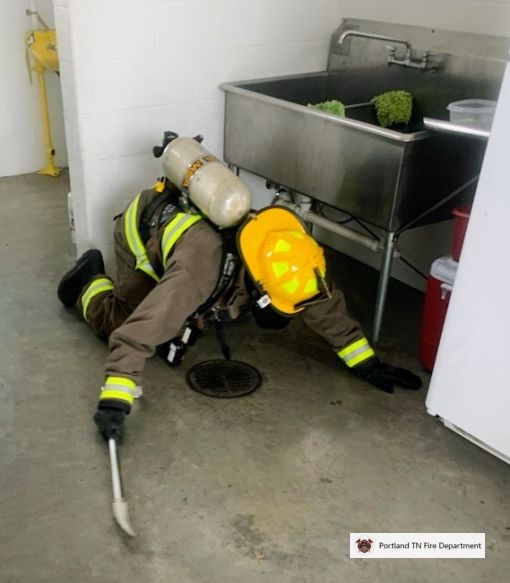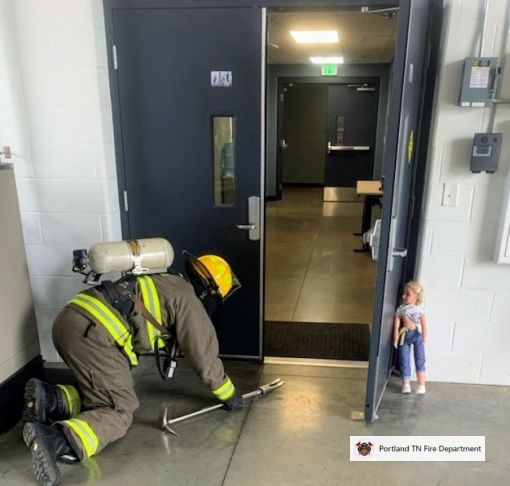 TOWN OF PLEASANT VIEW
Town of Pleasant View Community-Wide Yard Sale – April 10th

The Community-Wide Yard Sale is April 10th….less than a month away!
Call City Hall and get your address added to the map.
The cut-off to be added is Wednesday, March 31st at Noon.

Pleasant View Elementary School Kindergarten Registration Week
Kindergarten Registration Week is April 5 – 9 from 9 am to 2 pm. Ms. Kim will be available for registering at the front office entrance.
A sign-up sheet for building walkthroughs June 1-4 will be available during registration week.
It takes approximate 30 minutes to complete an enrollment packet. The legal guardian must be present to complete the enrollment packet. Your child does not have to be present.
Items you need to bring with you:
• Proof of child's age (examples: birth certificate, passport, tax return, medical record, etc.)
• Up-to-date immunization record (must be on official state of Tennessee form)
• Proof of physical exam (must be up-to-date on official state of Tennessee form)
• Custody/Guardianship papers signed by a judge (only if child is not living with both biological parents)
• Three current proofs of residence (examples: utility bills, driver's license, rent/mortgage agreement, auto registration, voter registration, bank statement).

Pleasant View Community Clean Up – April 6
Tuesday, April 6th employees of the City will be doing some clean up around Town to help make our Community even more beautiful. If you would like to participate you can clean around your business, pick up trash throughout the City, or just help any way you can. Every little bit helps. So please join us for Community Clean-Up Day!

Pleasant View Volunteer Fire Department complete Live Burn Class
Recruit Class 20-2 finally completed their Live Burns. COVID-19 has plagued this class from the beginning, from many cancelled classes to waiting months for their Live Burns. But they have been resilient and have not let that stand in their way of completing what they have started. Thanks to everyone who took part in making this a successful day. Also thank you to ACFD "B" Shift for spending the morning helping make this day a success and for allowing the class to come to the Prescribed burn for their wildland portion of the Live Burn class.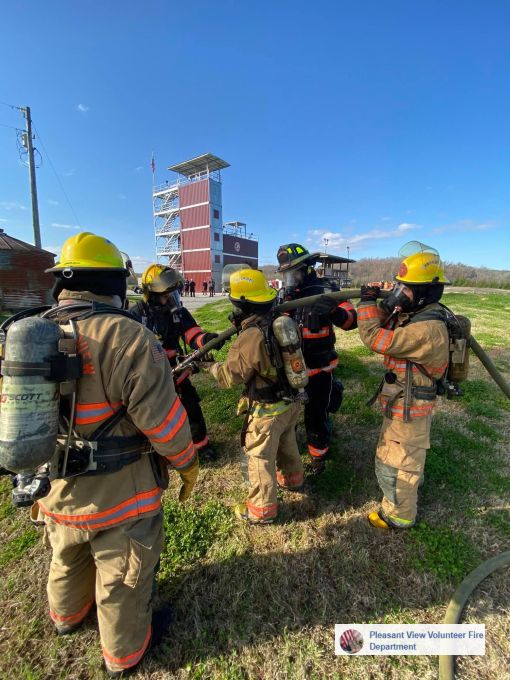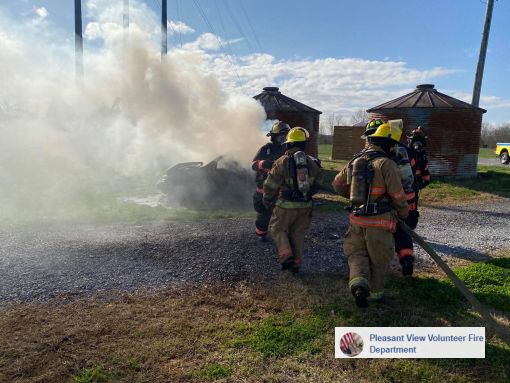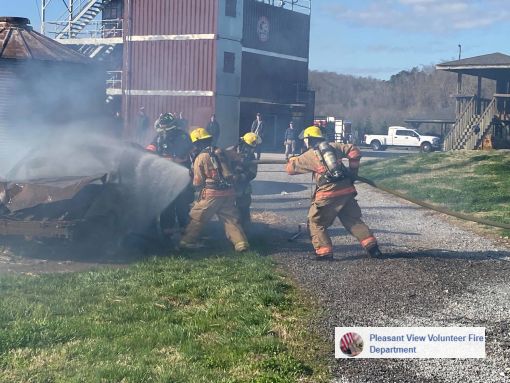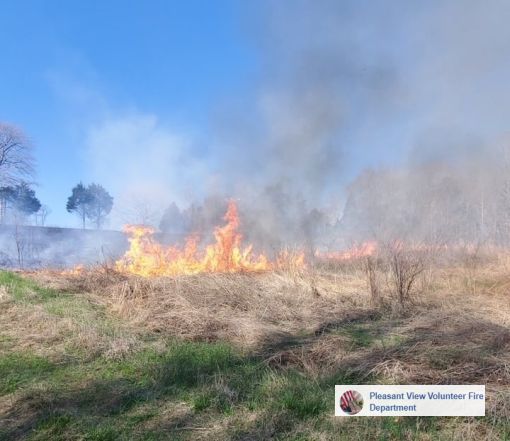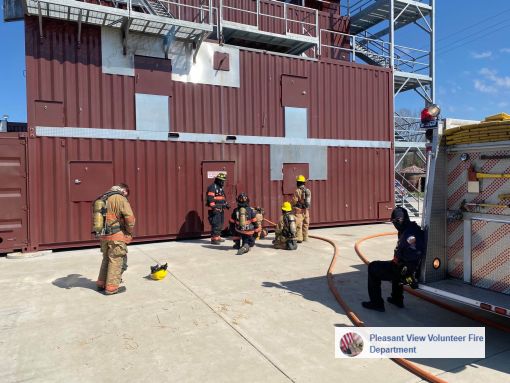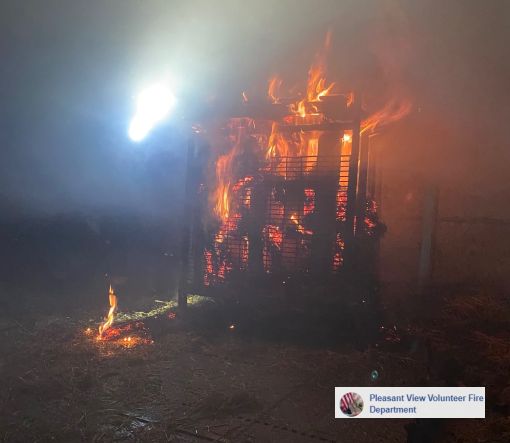 Starting in May – Pleasant View's – Cruise'n N Groove'n 
(3rd Saturday of each month thru October)
"Don't take the dust covers off yet! We are looking forward to seeing everyone in May. Stay safe and stay well."
Location: 214 Village Square Pleasant View, TN 37146
This fun event is held every 3rd Saturday of the month in Pleasant View, TN. Come see vintage cars, great food choices, and enjoy a family fun evening. Time: 5pm – 9pm
Along with Mayor's Choice, this year O'Reilly Auto Parts will sponsor the "Pick of the Month" vehicle.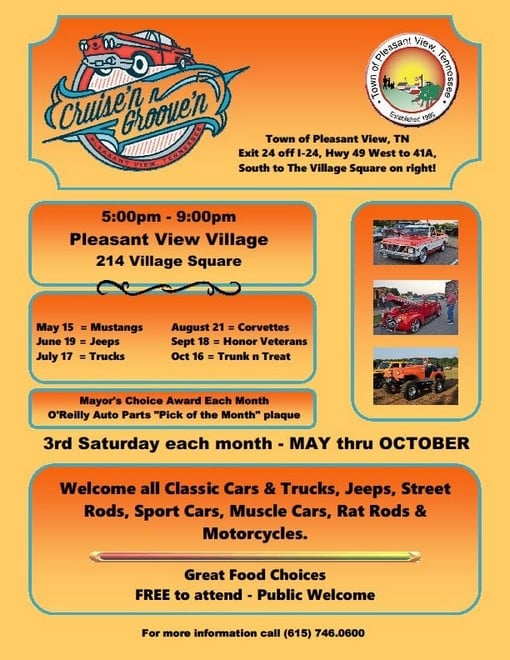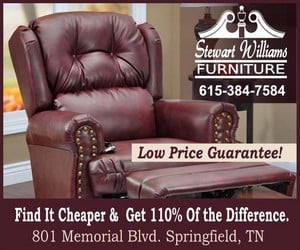 ORLINDA, TN
Orlinda: Bake Sale, Dances, Field Trips & More At Byrum Porter Senior Center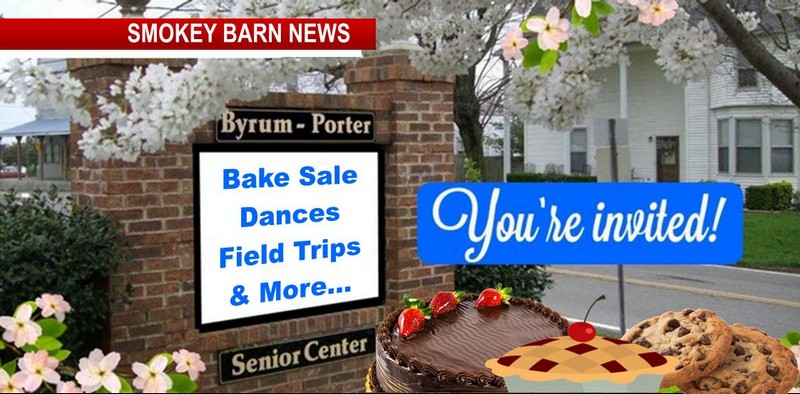 The Byrum Porter Senior Center in Orlinda, TN is ramping up for a very bright spring with a host of fun-filled events, classes and field trips you don't want to miss.
Byrum Porter Senior Center COVID-19 Guidelines
We will take your temperature. We will clean and disinfect high-touch areas often. Hand sanitizer available on each table and at sanitizer stations. We will space tables and limit seating at each table. Please do not come to the center if you are not feeling well or have been exposed to someone that has Covid.
*Coffee is always ready and waiting for you.
Fitness after 50, Yoga & Tai Chi Exercise Classes:
Tuesday and Thursdays
9 am Fitness after 50 – SAIL Class
Staying Active & Independent Living
10 am Yoga
Starting in April — new times
Part I Tai Chi Tuesday 11 am
Part II Tai Chi Monday 3 pm
Please practice social distancing during classes
Classes are taught by Sheri Link, who is a Certified Instructor, and the courses are based on the techniques of an Evidence Based course called SAIL. Modifications can be be made for all fitness levels!
Visit our exercise room
We have treadmills, stationary bikes, step climbers and a vibration training platform. If you can't get to our exercise classes or aren't comfortable in a group why not try this instead.
Thursday Night Dances: 
Come dance to the great tunes by The Good Time Charlie Band every Thursday night. Good Time Charlie Band rents the center on Thursday nights starting at 7 pm. Doors open at 6 pm. Limited menu available starting at 6 pm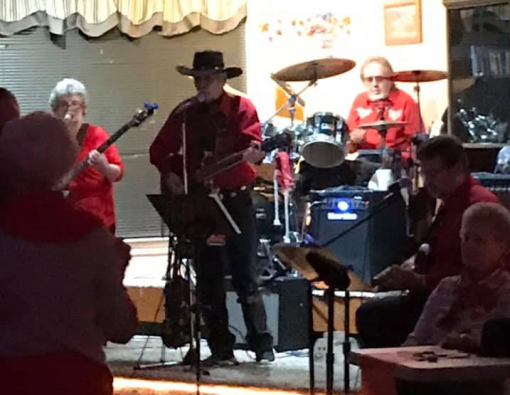 We love to Travel – Our 2021 Trips Collette Trips:
Canyon Country May 7th-14th(new date) learn more here.
Canadian Rockies July 31- August 6th, learn more here.
Hawaii November 4th – November 13th, learn more here.
Diamond Tours ***** new information *****
Diamond Tours is requiring all travelers with their groups to have updated Covid 19 vaccine.
To view these trips, click here.
The Ark Encounter & Creation Museum
(new date) – September 13-17
Niagara Falls & Toronto – September 5-11
Beautiful Maine – October 9-17
*All trips are subject to change
More…
Dominoes, Canasta, Karaoke, Bridge, Shanghai Rummy, Footcare & Nail Appointments, massage appointments, paint classes and more. Request our monthly newsletter with all the details, just send an email to: [email protected]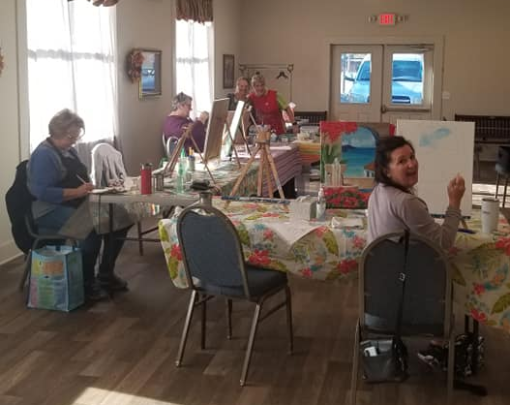 All events are subject to change. Changes will be posted on our Facebook page and our website.
Home Health supplies
We have walkers, canes, crutches, toilet risers, toilet bars, bed assist bars and a shower seat to loan if needed. We also have personal disposable hygiene items.
For updates call 615-654-3161
Location: 9123 Highway 49 E Orlinda, TN 37141
*The Center exists to make life more enjoyable for older adults, who reside in Orlinda and surrounding areas. Activities, Dances, Trips and much more.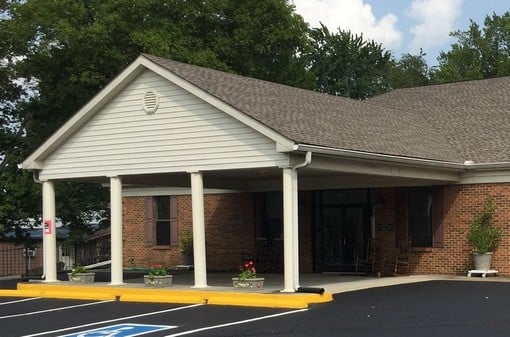 ACROSS ROBERTSON COUNTY
Graduation Dates Announced For Robertson County Schools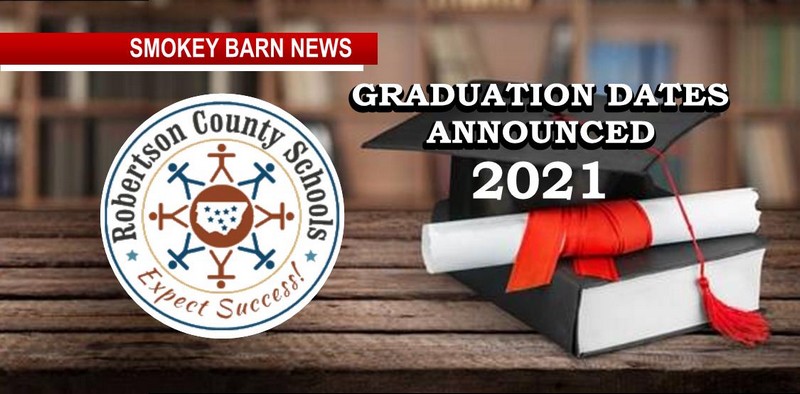 The following graduation dates for the 2020-2021 School Year have been announced for Robertson County Schools.
Springfield High School:
Thursday, May 20, 2021 6 pm

East Robertson High School:
Friday, May 21, 2020 6 pm

Jo Byrns High School:
Saturday, May 22, 2020 10 am

White House Heritage High School:
Sunday, May 23, 2020 2 pm

Greenbrier High School:
Monday, May 24, 2020 6 pm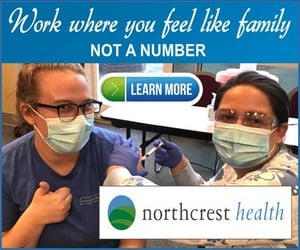 National Football Foundation Honors County Athletes
For the 55th year, the Middle Tennessee Chapter of the National Football Foundation and College Football Hall of Fame has recognized local high school and collegiate scholar-athletes for their accomplishments on the field and in the classroom.
Due to pandemic-related challenges, the annual awards banquet was cancelled, but the recognitions continued as outstanding young men were honored for their accomplishments, not only on the gridiron, but in their classrooms and communities.
The recipients of recognition in Robertson County for the 2020 football season are:
Joel Sandoval – East Robertson High School
Kelby Dakota Steele – Greenbrier High School
Elijah Noel Farmer – Jo Byrns High School
Tristan Johnathan Pettit – Springfield High School
William Wilson – White House Heritage High School
Congratulations to these young men for their achievements and accomplishments.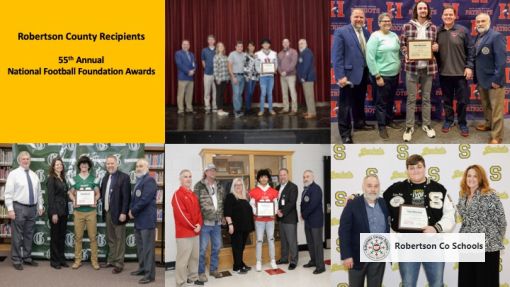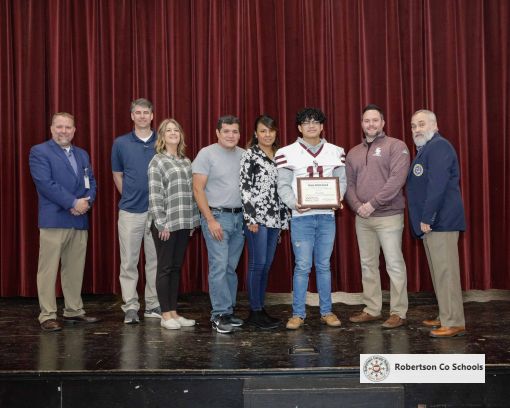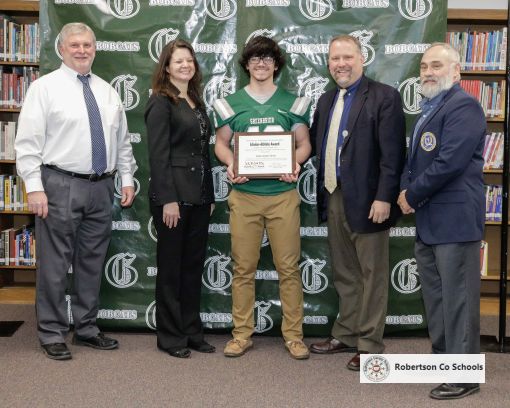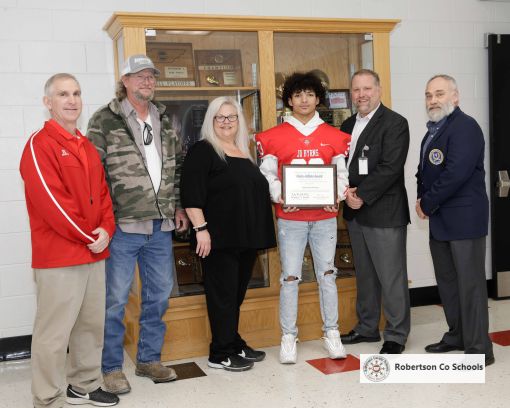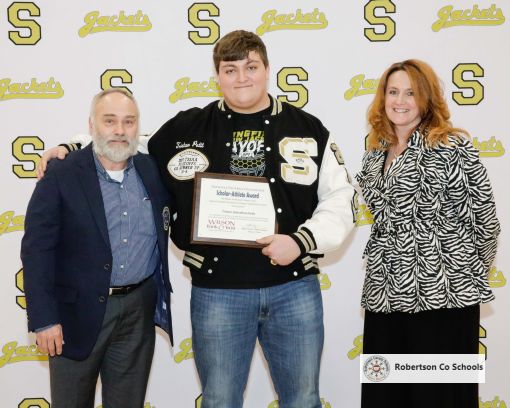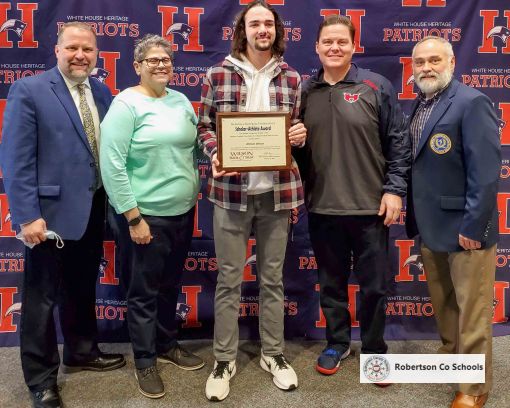 April 3: Republican Party monthly meeting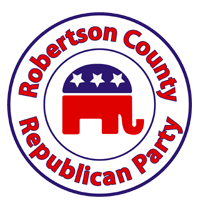 "Join us Saturday, April 3, as we gather at Purpose Life Church.
Click here to RSVP and for directions.
Free breakfast starts at 8:30 A.M. Meeting begins at 9:00 A.M. Bring a friend.
Our guest speaker this month is President/CEO of Pale Horse GRS and Founder of Michael's Sword, Mr. Aaron Spradlin who will be speaking on the epidemic of child and human trafficking in the world and right here at home. This is a link to the video we showed at the March meeting."
Robertson County Republican Party

UT Extension Announcements  

Attention Christmas Tree Growers & Enthusiasts…
The Tennessee Christmas Tree Growers Association will gather on Saturday, April 17 in Franklin, TN at Pinewood Christmas Tree Farm from 9 am – 2 pm.
The Spring Field Day will include a farm tour, the "story" of the farm, a tree shearing demonstration, a wreath making demonstration, container production session and more!
There will also be the Annual Business Meeting at the end of the day. Jamie and Laura Faircloth will be our hosts for the day.
Registration includes lunch, snacks, and printed program.
Adults and children can attend, but must register.
This event will happen rain or shine. Wear appropriate clothing and bring umbrella, etc.
For this event, we will be following CDC and state guidelines for Covid19.
A detailed agenda will be sent out in advance.
REGISTER TODAY!
$10 Per Adult for TCTGA Members
$5 Per Child (16 and under)
$20 Per Person for Non-TCTGA Members
PINEWOOD CHRISTMAS TREE FARM
7561 SOUTH HARPETH ROAD
FRANKLIN, TN 38476
Everyone is welcome (member or non-member). See the attached document for more information. Register –> Here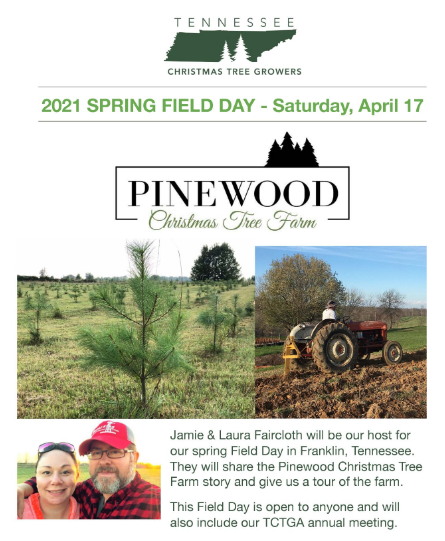 Attention Fruit Growers…
There will be an in-person fruit tree care seminar/field day on this Saturday, March 27th at 10 am – 2 pm at Shade Tree Orchard & Farm, 2087 Kinneys Road, Adams, TN.
Join us for a Q & A session with Farmer Tom who will answer your questions about growing fruit trees on your property. You will learn about planting, pruning, maintenance and Farmer Tom will answer your questions about how to get started and how to be successful in growing your own fruit trees.
Tickets are $10 per person and includes lunch.
Get your tickets –> here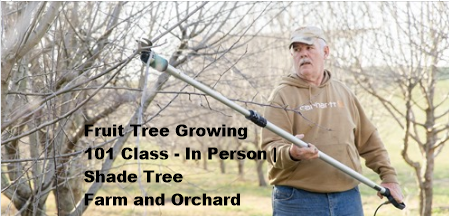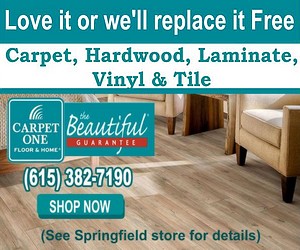 Education Job Fair With Robertson Co. Schools Set For April 15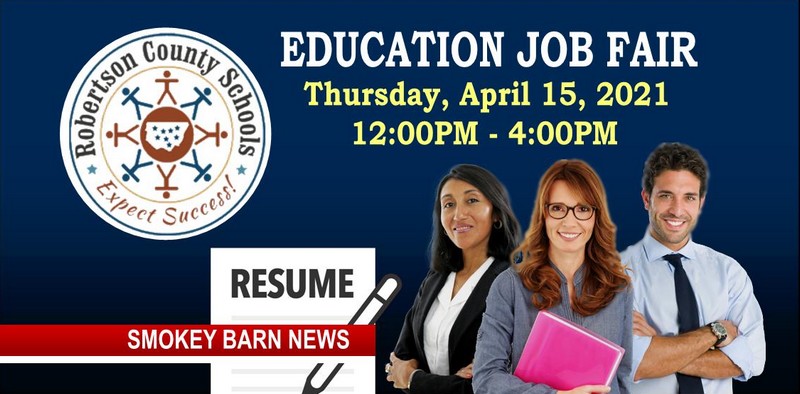 Robertson County Board of Education is holding its Annual District Job Fair on Thursday, April 15, 2021 located at 800 M.S. Couts Blvd. in Springfield, TN. from noon to 4 p.m.
Robertson County Schools' annual job fair is a great opportunity to start that new career you've been looking for.
This event will be held at the Robertson County Board of Education Central Office. The district is needing certified teachers in all areas:
• Elementary Education
• ELL & Speech Language Pathologists
• Foreign Language
• Middle School and High School Mathematics
• School Psychologist
• Middle School and High School Science
• Special Education
Administrators from every school in the district will be on site to conduct interviews and discuss job opportunities.
Classified Departments will also be there to discuss numerous opportunities in areas such as:
• Building & Grounds
• Custodial (ABM)
• Instructional Assistants
• Nursing
• Office Personnel
• School Nutrition
• Substitute Teaching
• Technology
• Transportation
Don't forget to bring your up-to-date resumé. Sign in at the front of the building. Masks are required.
800 M.S. Couts Blvd. Springfield, TN 37172
615-384-5588
Please register in advance for interview times –> Here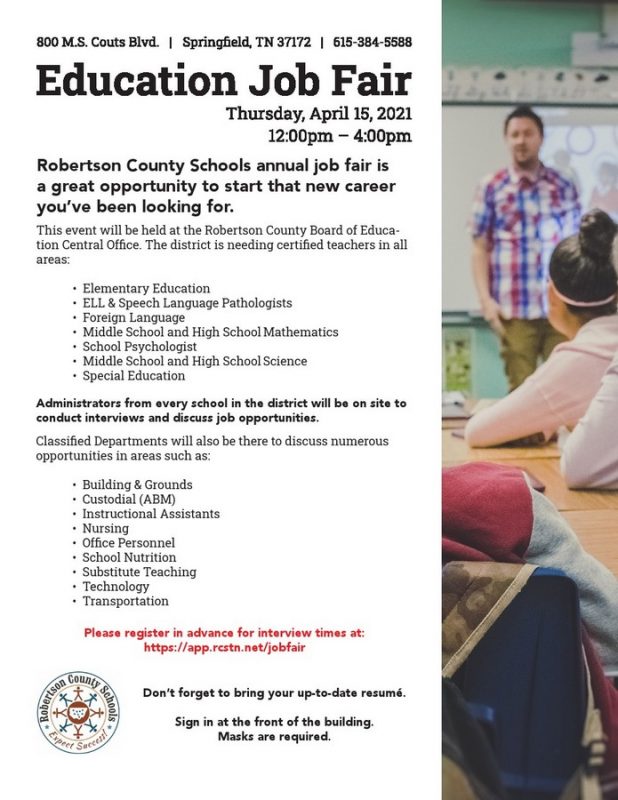 Robertson County Sheriff's Office – Thank you to our NCIC staff!

The Sheriff's Office NCIC Division is not often seen by the public, but this division works 24/7 to uphold their Sheriff's Office mission to improve the quality of life for the citizens of Robertson County by helping to bring to justice wanted persons, to recover missing persons, and to locate stolen property through the utilization of the National Crime Information Center's database. Thank you to our NCIC staff!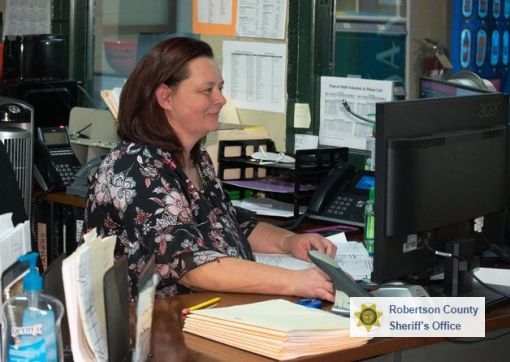 Congratulations to Deputy Miller on 40 years of dedicated service to the Robertson County Sheriff's Office and the citizens of Robertson County!
Throughout his career, Deputy Miller has served in different roles of the patrol division, and is currently a School Resource Officer. Thank you Deputy Miller for your commitment to serving the citizens of Robertson County!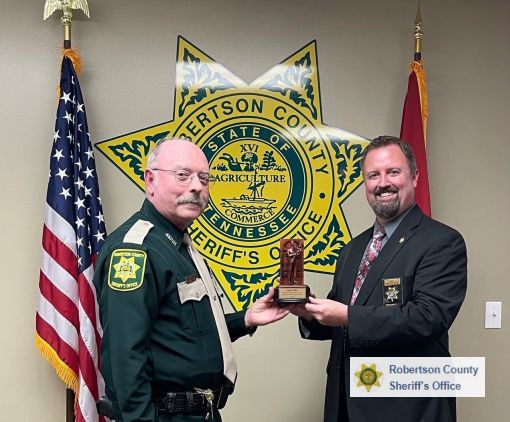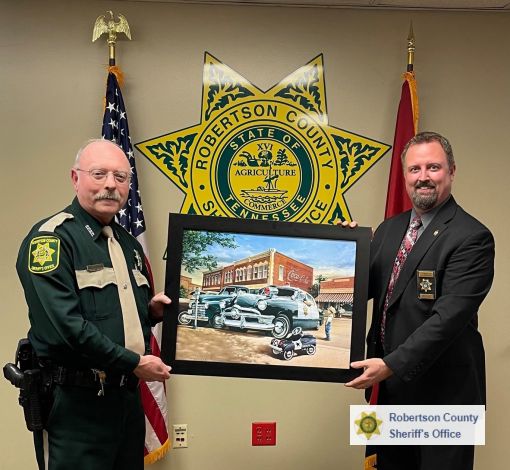 Properly dispose of your prescription medications💊
The Sheriff's Office has 2 prescription drug deposit boxes for your convenience. Dispose of your prescription drugs properly and free of charge.
Sheriff's Office Main Lobby
MON-FRI 8:00am-4:30pm
Robertson County Detention Center Lobby
Open 24/7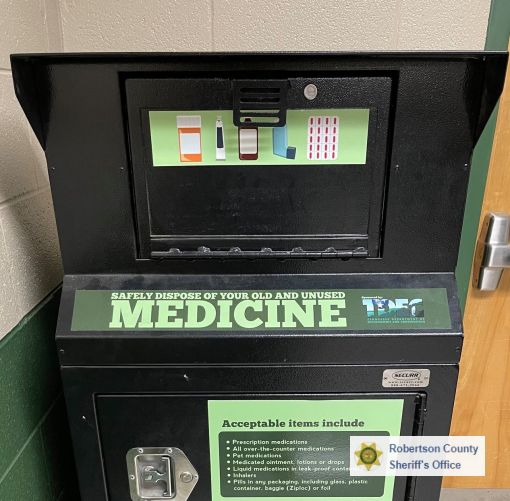 Robertson County Sheriff's Office We would like to congratulate Corrections Officer Lu on his promotion to Facility Training Officer!
As a Facility Training Officer, he takes on the responsibility of training new staff, and continuing training for current staff.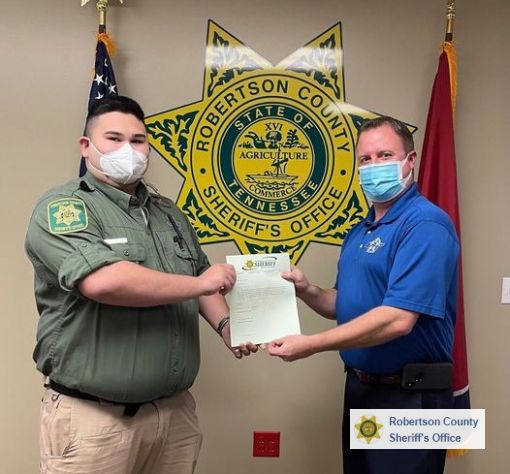 Mobile: To See The Latest Stories or to share this article, scroll below