White House Man Dies In Third Fatal Wreck This Week
UPDATE:   Richard Fagel turned out to be  guitar legend Rick Wright. Wright, an accomplished guitar player, often preformed on the Grand Ole Opry. For the full story click here.
WHITE HOUSE TENNESSEE: (Smokey Barn News) – Around 10:00pm Sunday evening, Robertson and Sumner County emergency crews responded to what is now the third fatal accident in less than a week in Robertson County.
The accident, which occurred on Hwy 31W near Marlin Rd in White House, took the life of 58 year old Richard Fagel of White House who was driving an F-150 Ford Pickup truck, according to Police.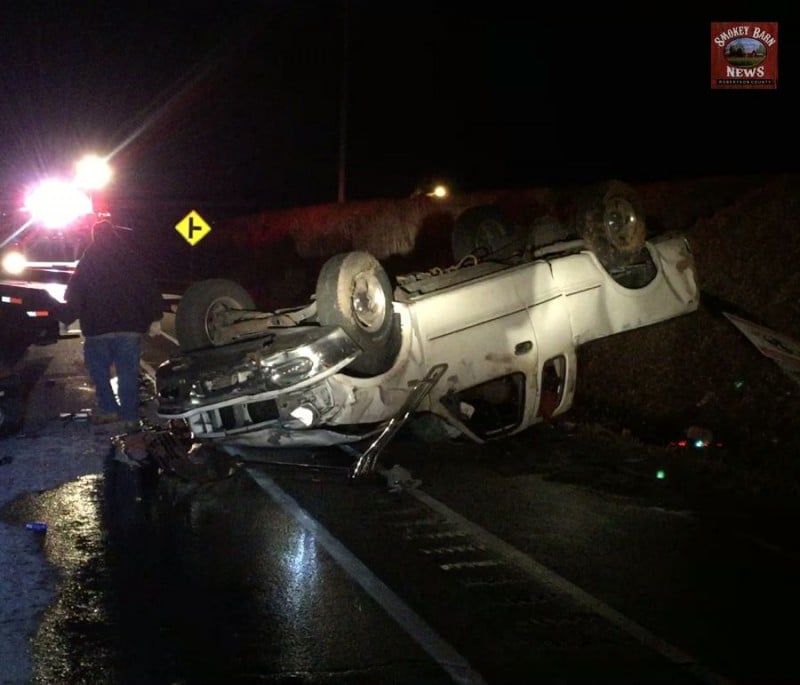 According to White House Police, the accident involved two vehicles in a T-bone type collision. How and why the two vehicles collided is still under investigation. Police are hoping that a security camera at a near by business will shed some light on what happened.
Police told Smokey Barn News that several people witnessed the accident and they are working to put all the pieces together but preliminarily they released the following. A Ford Taurus (occupied by two teens, a 14 year old female and a 17 year old male, both from White House) traveling South on 31W attempted a left turn onto Marlin Rd.
The Ford F-150 pickup was heading North on 31W at the same time and as the Taurus navigated the turn onto Marlin Rd, the two vehicles made contact, the F-150 striking the passenger side door of the Taurus. After impact, the pickup rolled ejecting the driver, who police say was not wearing a seat-belt.  The driver was pronounced dead at the scene.
The two teens received only minor injuries and were released to their parents, police said.
Robertson and Sumner County EMS, Robertson County EMA, the White House Fire Department and White House police all responded to the scene.
Police told Smokey Barn News that at the moment it did not look like anyone would be facing any charges but that could change as the investigation progresses.
Hwy 31-W at marlin Rd was closed for about two hours while police investigated the scene.
This is the third fatal wreck in less than a week inside Robertson County. On Saturday night Michael "Kevin" Wilson, 42, of Mount Juliet lost his life in a head on collision in the Ridgetop area. Full story.  Marjorie Chowning, 70, of White House died following a tragic accident early Wednesday morning on Hwy 76 in Springfield. Full story.
The Staff at Smokey Barn News will be keeping the families of all those affected in our thoughts and prayers.
Refresh this page for updates
Smokey Barn News (Sponsor/Advertisement)
We bring you ALL the News in and surrounding Robertson County, Tennessee.