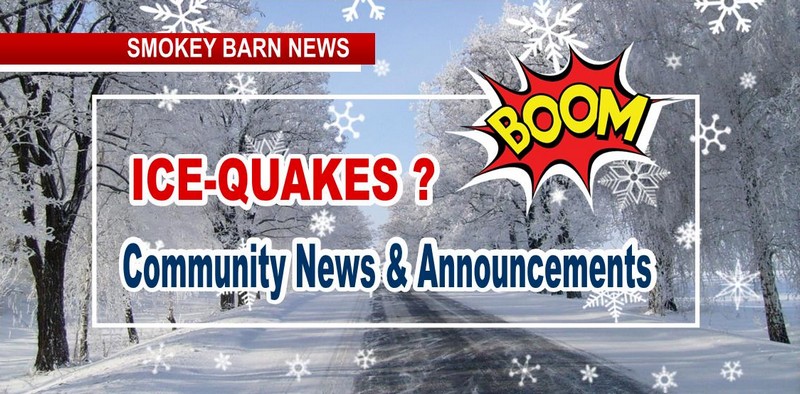 Is Robertson County Having Ice-Quakes? & Other Community News
ROBERTSON COUNTY TENNESSEE: (Smokey Barn News) – Another round of wintry weather is on the way Wednesday into Thursday and a Winter Storm Watch remains in effect from 3 Pm Cst Wednesday Until 6 Pm Cst Thursday
Light snow is possible tomorrow morning across the northwest but the bulk of accumulations start tomorrow night into Thursday. Travel may become difficult Thursday. Amounts can change…stay tuned!
Heavy mixed precipitation is possible. Total snow accumulations 1 to 4 inches and ice accumulations around one-tenth of an inch possible for West, Central, Northeastern Highland Rim, and Upper Cumberland Regions of Middle Tennessee.
Travel could be very difficult. The hazardous conditions could impact the morning or evening commute.
Announcements:
If your business, group or government office is closing or changing hours, email the info to [email protected] Announcements must come from a corresponding business/company email address. This will help us as each notice will need to be confirmed by Smokey Barn News staffers. New info will be added to this report.

PUBLIC ANNOUNCEMENTS
Byrum Porter Senior Center – Orlinda, Tn
Byrum Porter Senior Center will remain closed until Monday February 22nd

City of Adams, TN
Adams City Hall is currently closed. Sorry for any inconvenience. If paying property taxes, please mail in to Box PO 67 Adams, TN 37010 or drop in drop box on side of Bell School.

Town of Coopertown, Coopertown Police
*OPERATION LEND-A-HAND*
Coopertown Police are out patrolling the roads and neighborhoods. While some of the roads are clear, there are many surprise patches of ice. The back roads are covered and slick. Crews are out doing what they can to try and clear the roads, but we still recommend staying home unless you absolutely have to get out.
That being said, we realize there may be some Coopertown residents that may not be able to get out of their home. Coopertown Police are available to come and clear your porch and steps if you or someone you know in Coopertown is not capable. We have just a few boxes of food left from the Mayor's food drive. Please do not hesitate to let us know if there are any elderly or in-need residents in Coopertown needing our assistance.
Contact 615-598-2050 if you need us to Lend-A-Hand.

Robertson Mayor: County Office To Open Late Wednesday (Call Ahead)
ROBERTSON COUNTY TENNESSEE: (Smokey Barn News) – Due to concerns about the weather, the Robertson County Office Building located at 511 S Brown St in Springfield will OPEN two hours late (10 am) on Wednesday, February 17, according to Robertson County Mayor Billy Vogle.
Before heading out to the County Office Building, be sure to CALL ahead. For county department phone numbers, click here. Some offices may remain closed and department heads have been given discretion on asking their staff to come in, so please be patient. Some offices (if closed) may have boxes outside their doors to drop-off critical items. The key is to call ahead first.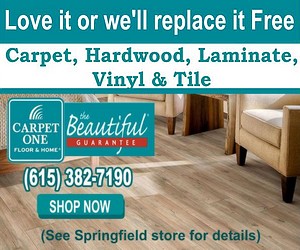 Mayor Vogle added that Wednesday's incoming storm may force the County Offices to close early so plan ahead and call before you leave.
According to Mayor Vogle, TDOT has done a great job clearing the main roads but there are hundreds of side-roads to get to and many are still treacherous, so if you do decide to head out, use caution and allow additional time to navigate the roadways.
County services like EMS, the Emergency Management Agency, Solid Waste and Animal Control are fully operational.
For county department phone numbers, click here.

Walmart (Springfield, TN) Only selling essential grocery items
The Springfield Walmart closed at 8:00 pm Tuesday due to weather concerns.
According to the Robertson County Chamber, only the grocery side of Walmart was open for essential items. Working with manual staff, the general merchandise side was not open Tuesday.
No word on if the entire store will re-open Wednesday. Best to call ahead if you are looking for non-grocery items.

Is Robertson County Having IceQuakes?
Over the past few days, Smokey Barn News has received numerous reports of loud booms. Some citizens reporting they both heard and felt them. With at least three rock quarries in and around Robertson County, it's logical to consider that but Chief Meteorologist Katy Morgan over at Fox 17 in Nashville has another possibility, "icequakes." In the video below she presents the scientific explanation of what an icequake actually is and what causes them.

REFRESH THIS PAGE FOR UPDATES.
City of Springfield, TN  
"The Public Works Department has made a lot of progress on roads today. Main roads are passable, however secondary streets remain slick. We encourage citizens to stay off the roads unless absolutely necessary.
City offices, to include The Center, will reopen tomorrow, Feb. 17 for regular business hours. City parks will remain closed.
Sanitation collection originally scheduled for Monday, Feb. 15 will be collected tomorrow, Feb. 17. For Tuesday customers who were not serviced today, sanitation collection will take place Saturday, Feb. 20."
City of Springfield, TN – Government

City of White House, TN
Since the weather situation and dangerous road conditions have not improved enough for safe travel, City offices and Library will be closed again on Wednesday, February 17th.
All Police and Fire services will continue to be provided. Please call 911 in emergencies or 615-672-4903 for non-emergencies.
Trash will NOT be picked up for Tuesday, February 16th and Wednesday, February 17th. Depending on road conditions, services will resume on Thursday, February 18th. "When in doubt, put it out."
For sewer issues, please call 615-672-3654.
For more information on all other City services or paying utilities online, please visit www.WhiteHouseTN.gov or download the City mobile app at www.WhiteHouseTN.gov/App

Citizens of Pleasant View
"City Hall will be closed tomorrow, February 17th due to inclement weather. Emergency services will be available.
Everyone stay safe and warm!"

REFRESH THIS PAGE FOR UPDATES.
Mobile: To See The Latest Stories or to share this article, scroll below