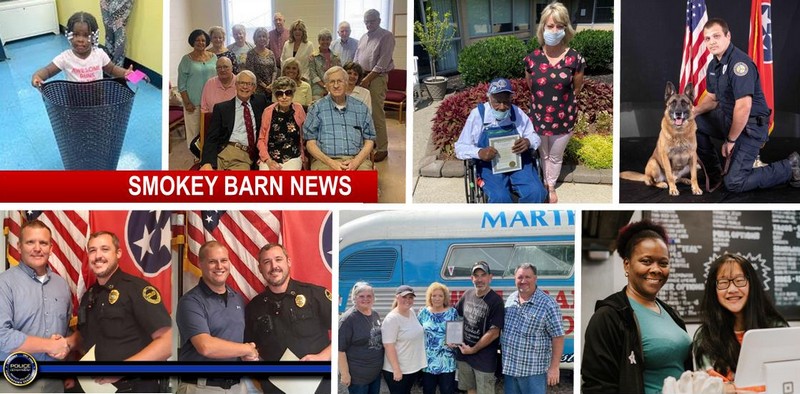 Smokey's Community Column, Stories Across Robertson County (9/5/2021)
ROBERTSON COUNTY TENNESSEE: (Smokey Barn News) – Welcome to Smokey's Community news column. It's a look back at this week's top community news in and around Robertson County.
Smokey's People & Community News column highlights local stories of people, schools, community events, and charities that continue to make Robertson County great!
BECOME A SPONSOR TODAY!! [email protected]
Got a story? Email your story ideas to our 24/7 news desk; [email protected]

City of White House, TN- Police Department
According to the White House Area Chamber of Commerce, almost 20 ladies participated and learned about the S.P.E.A.R.E. self-defense techniques and ways to keep themselves safe in a variety of situations. "Special thanks to the volunteers and Sgt. Enck with the WHPD for the presentation! If your group is interested in the S.P.E.A.R.E. Class can contact Sgt. Enck for more details.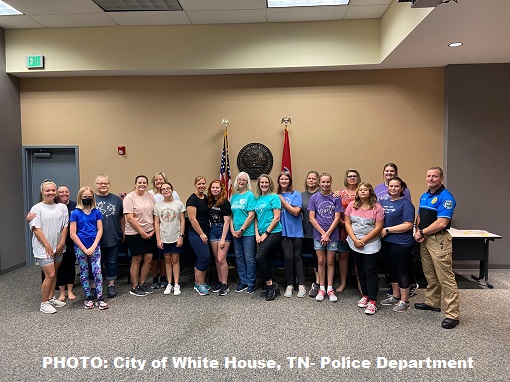 (Robertson County, TN)
Robertson County Sheriff's Office –
The Senior Awareness Service is for seniors, disabled residents, and their families who need that extra reassurance that someone cares. A deputy from the Sheriff's Office will call once a week to check on you or your loved one and ensure their needs are being met.
Are you eligible for the SOS program?
If you are a Robertson County citizen over the age of 60 and/or disabled, you are eligible for SOS. We will accept applicants as long as resources are available.
Why would you need this program?
If you are alone or feeling lonely.
If you have recently been discharged from the hospital.
If your friends and family live far away.
If you have a need for weekly contact with a caring person.
Does this program cost anything?
No. The Senior Outreach Service is funded by the Sheriff's Office. We have partnered with local churches, senior organizations, and volunteers to facilitate a network devoted to outreach for seniors.
What happens if I do not answer when they call?
If there is no response when we call, your emergency contact person will be contacted.
If your emergency contact does not know where you are, the Sheriff's Office will then do a wellness check. The deputy will respond to your home and ensure your needs are being met.
Need more information?
Lt. Nick Roberts
Program Coordinator
Email: [email protected]
Phone: 615-382-6190

Dark Fired Vapors To Expand In White House TN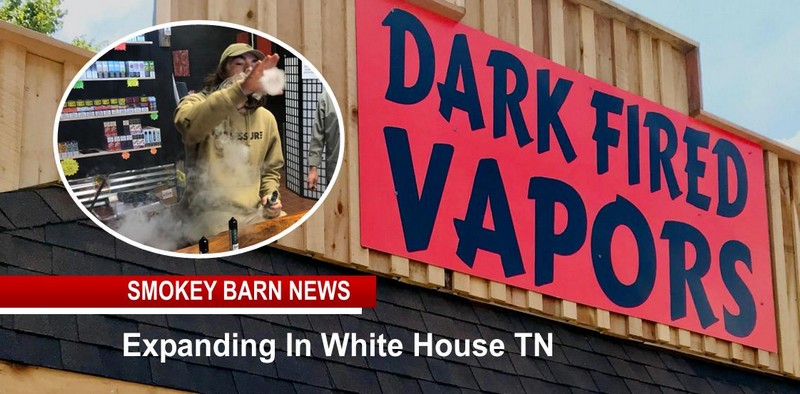 Less than a year after opening their first location in Springfield Tennessee,  Dark Fired Vapors is expanding.
In a release Thursday, they announced the opening of their second location, this one in White House TN. The new spot is perched at 3200 Highway 31 W. White House TN. Their grand opening was held Saturday.  Here's a link to their FULL STORY on Smokey Barn News.

(Springfield, TN) Sponsor
Springfield Carpet One – At Springfield Carpet One Floor & Home, we understand that life gets busy.
If you don't have time to stop by the showroom to pick out new floors, we'll meet you where you feel most comfortable. Whether you're at a coffee shop, working from home, or want to talk on the phone, we're here to work with you. Contact one of our experts today. Springfield Carpet One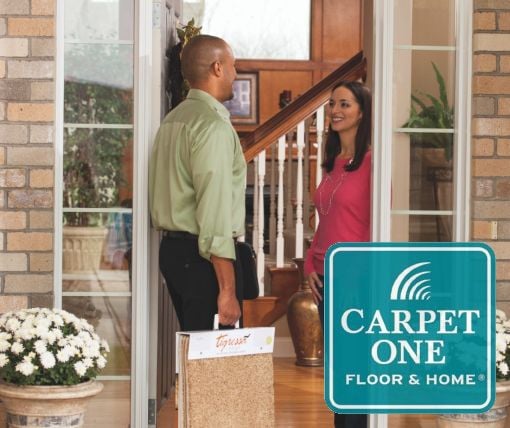 (Coopertown, TN)
On Wednesday, September 1, 2021, Coopertown Police swore in two new officers.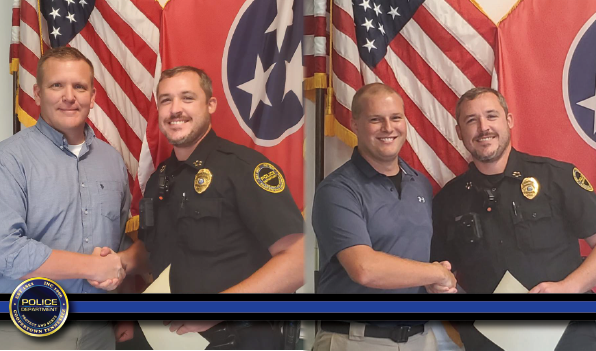 Coopertown, Tennessee
"The department would like to welcome Officer Austin Zumbroegel (R) and Officer Matthew Day (L) to the family. Both Officers are Ohio natives and bring a wealth of experience and skill to the team. Officer Day is a veteran of the U. S. Army and has many years of law enforcement experience. Officer Zumbroegel is a former firefighter and armed guard."
Got a story? Email your story ideas to our 24/7 news desk; [email protected]
(Springfield, TN)
The Garner Street Park gets a Beautiful Tennis Wall…
"Thank you to Kiwanis of Springfield TN and TERRIFIC Kids and Scholars from the Bransford Pride and SMS UT Extension after-school programs for the beautiful tennis wall at Garner Street Park!
The artists did a phenomenal job painting their artwork and were recognized today with a ribbon cutting ceremony!"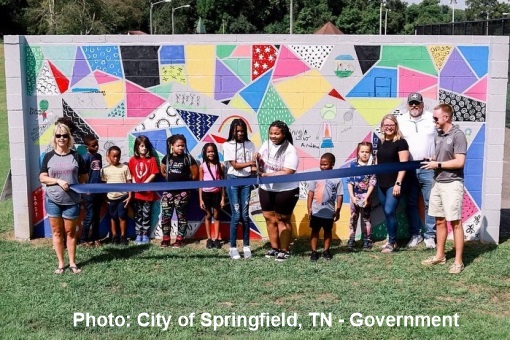 (Springfield & White House, TN) Sponsor
Ace Hardware Springfield – Mrs. Meyer's® Clean Day soaps and cleaners make short work of dirt and smell great doing it.
They're available in a variety of garden-inspired scents, on sale now at 3 for $9.99, or $3.33 each. *Offer valid at participating locations August 1–31. #MyLocalAce
Ace Rewards members can shop their favorite grills online for FREE assembly & delivery. Visit acehardware.com for details and exclusions. #TheHelpfulPlace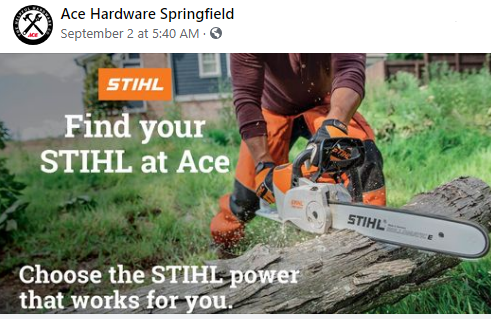 *****(CLICK HERE TO SEE ALL SALES)*****
(Springfield, TN)
Public Announcement
"We are saddened to announce that our beloved K9 Axel has passed away at the young age of 5. Axel experienced a blockage that caused internal damage, taking him from us on August 19.
"Let's remember this four-legged hero and honor his handler, Officer Tyler Edwards, who is heartbroken over the loss of his partner." Officer Edwards said, "He is more than a dog, he is family. I have spent more time with him than my own wife and kids lately. He will be missed."
"Thank you, Axel. We are forever grateful for your service to the citizens of the City of Springfield."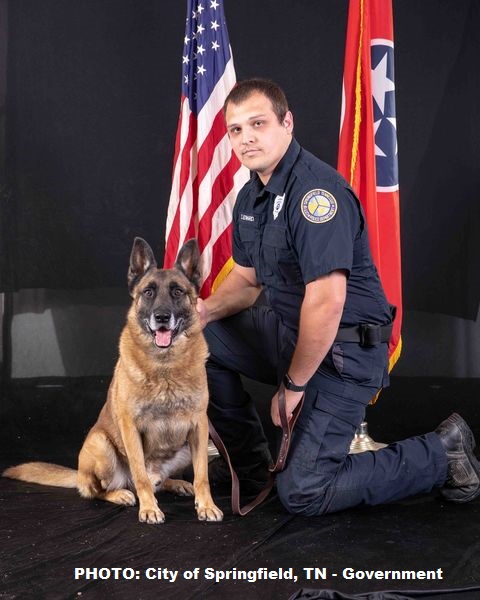 Great Companies->Great Jobs-> Who's Hiring In Robertson County
(Robertson County, TN)
The Robertson County Animal Control is overwhelmed by the current overpopulation of pets in our county
We have been working diligently to improve the situation in our area and lower our euthanasia rates. This has only been possible with support from our commissioners and mayor, and leadership of our Director Kevin Clinard. We promote spay and neuter. Please contact our office for information on low cost spay and neuter or to schedule to have your pet fixed.
Robertson County Animal Control
2900 W. County Farm Rd.
Springfield, TN 37172
Email: [email protected]
Phone: 615-384-5611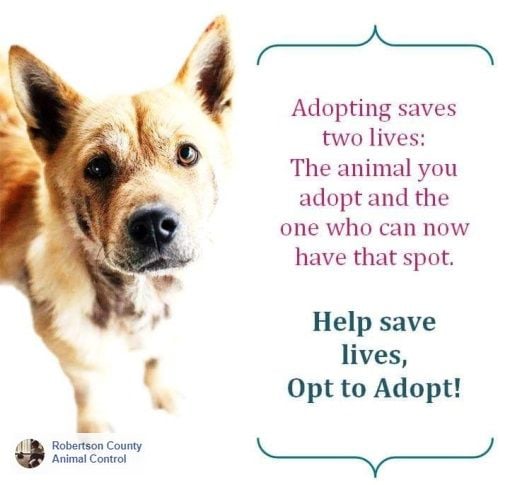 (Springfield, TN)
United Way's (Free) Community Laundry Love…
Our next Laundry Love day is set for Friday, September 17th – first loads in at 8am, last loads in at 11am. This free laundry day is available to anyone in need. I have attached the updated 2021 Laundry Love Schedule in both English and Spanish.
If you're able to join as a volunteer in September or any other month please let me know via email, phone, text, or stop by my office.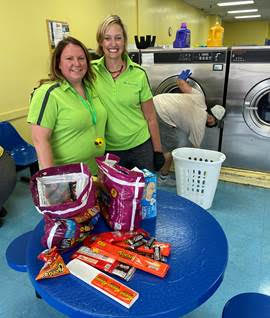 For August's Outreach:
August's outreach was sponsored by Tom Onstott's Sunday School Class at Springfield Baptist Church. This group has been supporting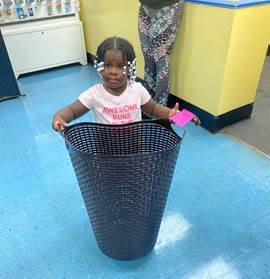 Laundry Love in various ways since its inception. Thank you, thank you for your generosity, and for believing in this community ministry!
We had 16 volunteers this month – we couldn't have made it through without each and every one of them!!! Two of our new volunteers were from Regions Bank (Springfield Branch). They not only spent their morning with us washing laundry, they also brought snacks for our friends. Check out some of our sweet friends' little ones who enjoyed snacks and helped out too.
Our volunteers washed, dried and freshly bagged 910 loads of laundry.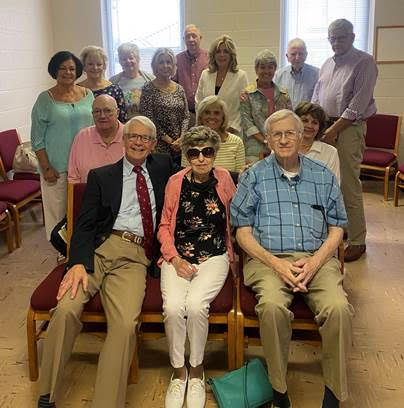 Community Support:
Robertson County 4-H'ers collected quarters during their quarterly meeting and brought us $51.75 of support from one meeting!
Girl Scout Troop 788 started collecting quarters in recycled detergent bottles. We were so grateful one of the troop members was volunteering with us because we needed some extra quarters to get us through all that laundry! They donated $26.75 in August and will continue to collect quarters – thank you!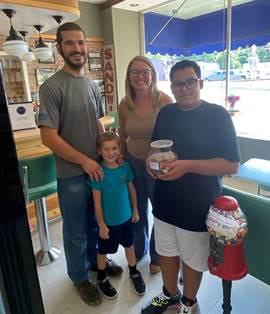 We had two anonymous donors provide us with $13. They dropped by interested in what we were doing and pulled out some money to support us – wow!
We want to give a huge shout out to our friend Ethan Black, a 7th grader from Coopertown Middle School. A while back Ethan came up with an idea to support our ministry by putting gumball machines in local businesses. He bought the gumball machines and the gumballs to go in them with his own money. One of our business friends who hosts a gumball machine, South Side Drug Co., called to let us know they needed a refill. We met Ethan and his mom in early August and he handed over a gumball container filled with $207 worth of quarters for us to use. Thank you Ethan for finding ways to support your community, it means the world to us!

(White House, TN)
International Tea and Coffee Company: White House, TN.
White House has a new coffee house, it's called; International Tea and Coffee Company. Join them and the White House Area Chamber of Commerce on Tuesday, September 14th at 11:30 AM for their official Ribbon Cutting. "Maci and Stacey are here to make all your #bubbletea dreams come true!" LOCATION: 132 Highway 76 White House, TN. (615) 581-0351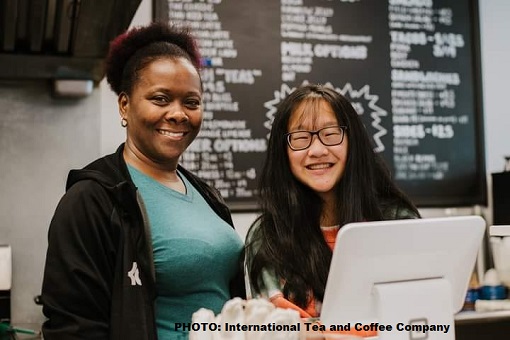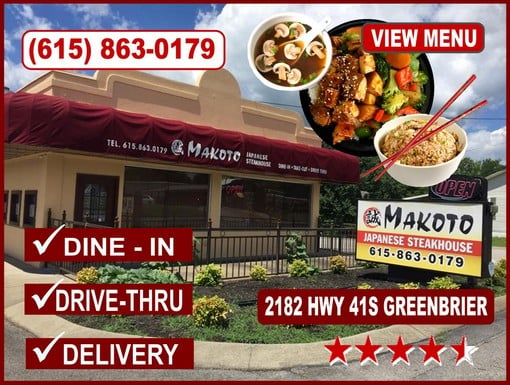 A bit of History from the Robertson County Sheriff's Office…
Did you know the Robertson County jail in the 1950s was not only the County jail but the Sheriff's house? The jail was on the first floor and the Sheriff lived with his family on the 2nd floor. When someone was arrested and brought to the jail at night, the Officer would hit the drainpipe with a piece of metal outside of the Sheriff's bedroom window to wake the Sheriff up. The Sheriff would come downstairs, let the inmate in, and book them into the jail.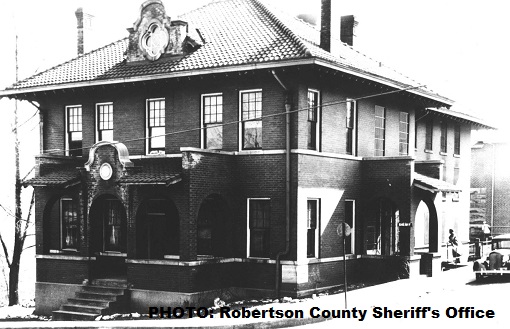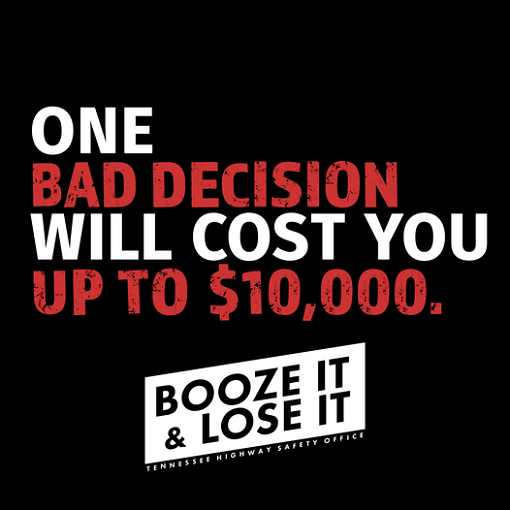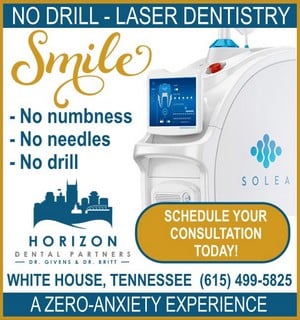 (Springfield, TN)
Frank Hilliard celebrates his 100th birthday and gets a proclamation!
Frank Hilliard, pictured with Springfield Mayor Ann Schneider turned 100 years young on August 30th. "Join us in celebrating Frank and his 100 years of life, which includes serving in World War II," said Mayor Schneider.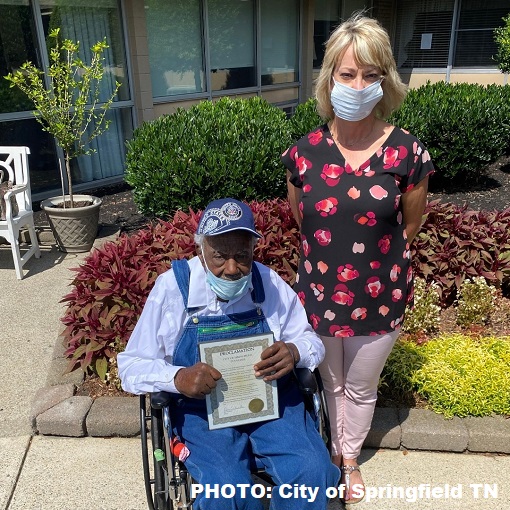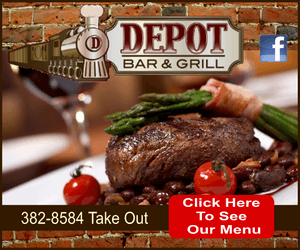 (City of Cross Plains, TN)
The Kilgore Bluegrass Festival honored the late Jim Forrester for his contributions to both our City and the Festival.
Sherlie Forrester, her son Timmy and her granddaughter Chelsea were presented with a plaque by Faye Ledbetter Stubblefield and David Mitchell.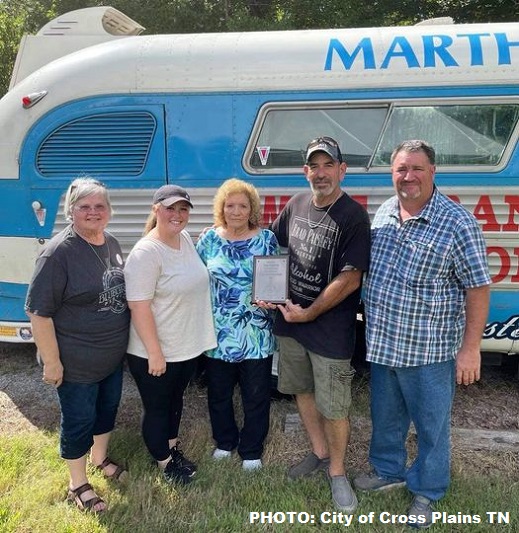 Do you have a story you would like to submit?
Smokey Barn News welcomes your community news and photos. Email your story ideas to our 24/7 news desk; [email protected]

(Springfield, TN)
Springfield's Payne Chevrolet Making Happy Customers for over 90 years!
Alex and Amanda came over from Clarksville the other day and picked up this Dodge Grand Caravan! "Thank y'all so much for your business, and we'd like to especially thank you for your service to our country. We appreciate y'all." Payne Chevrolet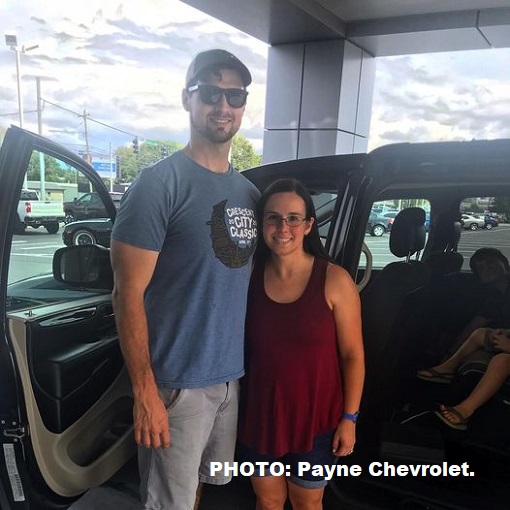 (City of White House, TN)
City Administrator Gerald Herman and department directors were able to tour the construction progress of the Community Event Center.
Some pictures of the tour are below. The first floor of the building will house a new Senior Center, event room with warming kitchen, and offices for the Parks and Recreation department. The second floor will contain the Board Room and offices for the Finance and Planning/Codes departments. The third floor will have offices for the Human Resources and Administration departments and an employee training room.
The building is located just south of the Library and west of the splash pad and playground.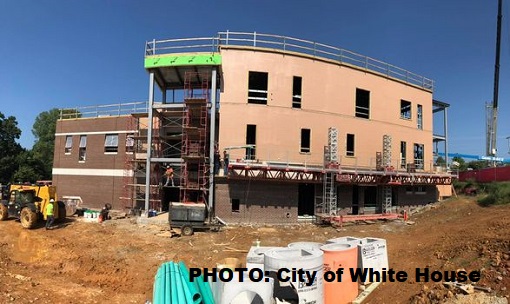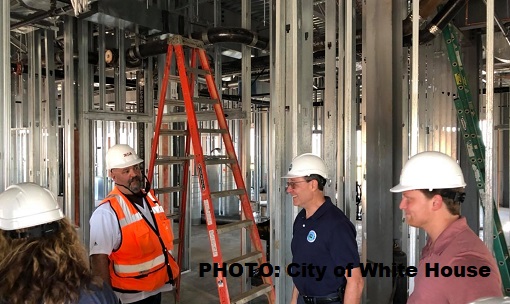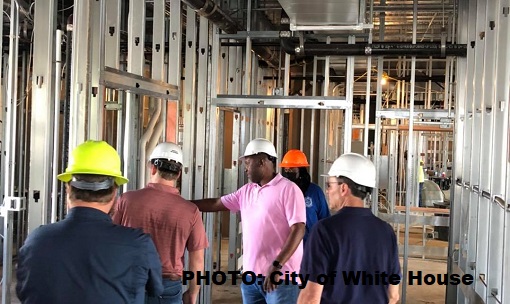 (Robertson County, TN)
TriStar/NorthCrest Medical – Meet the August baby of the month
Owen Russell McAlister! Owen was born August 12th at 11:34 AM, weighing 6 lbs, 15 oz and measuring 20 inches long. Congratulations to the McAlister family on your beautiful baby boy!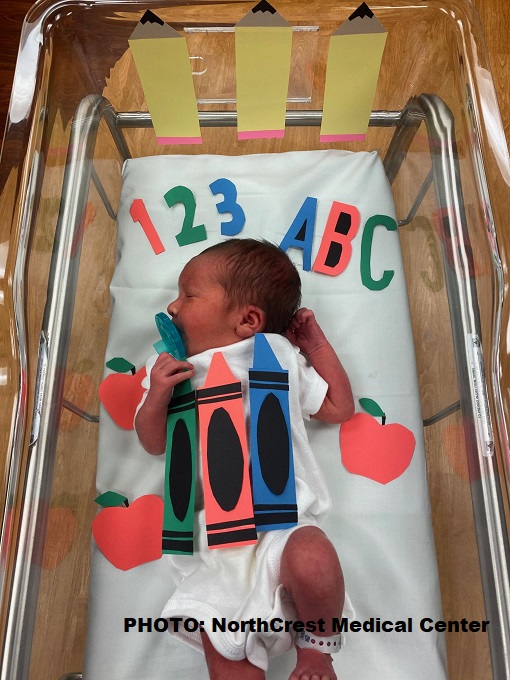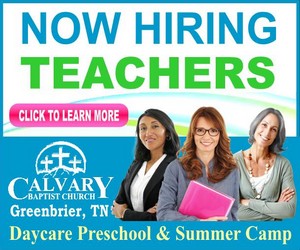 (City of Springfield, TN)
Meet Springfield Fire Department's newest full-time firefighters, Timothy Preston and James Langdon! 🚒🚒
These two started out as part-time firefighters, filling in when an employee had to take off, attending countless training sessions and already has several hours of shift work under their belts.
 Congratulating on their promotions!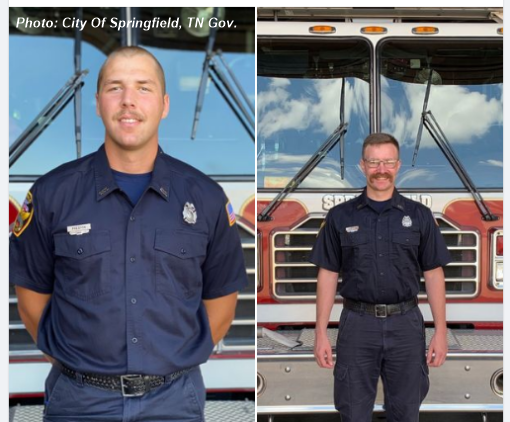 COMMUNITY EVENTS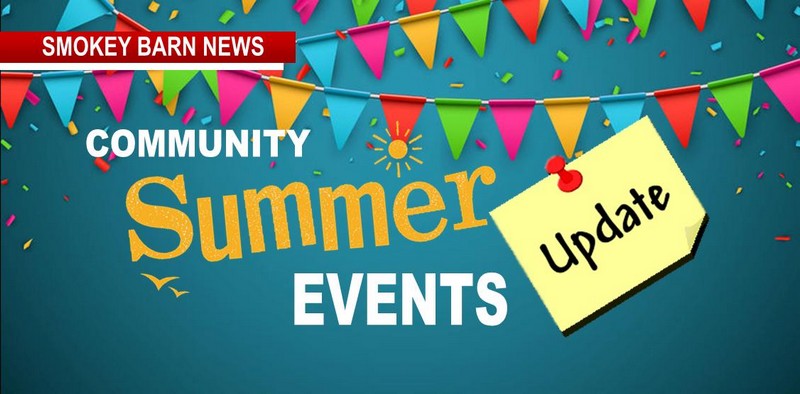 (Neighboring Adairville, KY)
Remembering 911 Flag Ceremony & Parade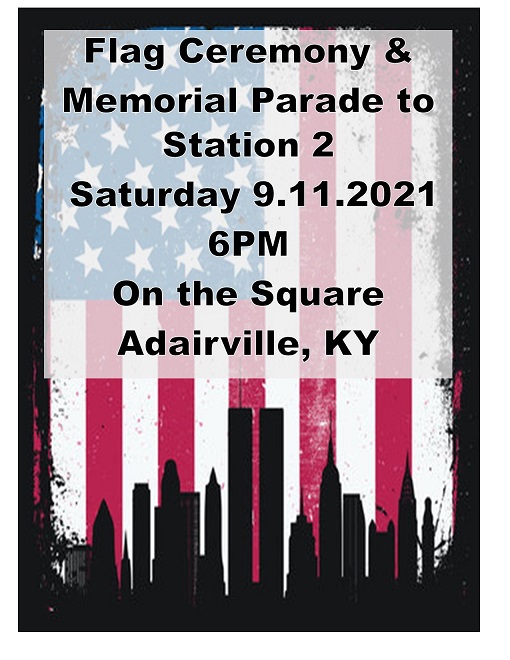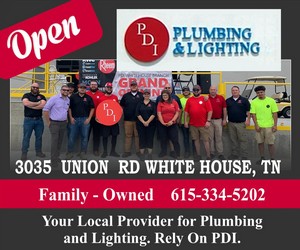 (Ridgetop, TN)
Ridgetop Fall Cleanup Day Sept. 18
For Ridgetop Residents Only. Proof of residency will be needed. Please be sure to double-check the things to know listed below.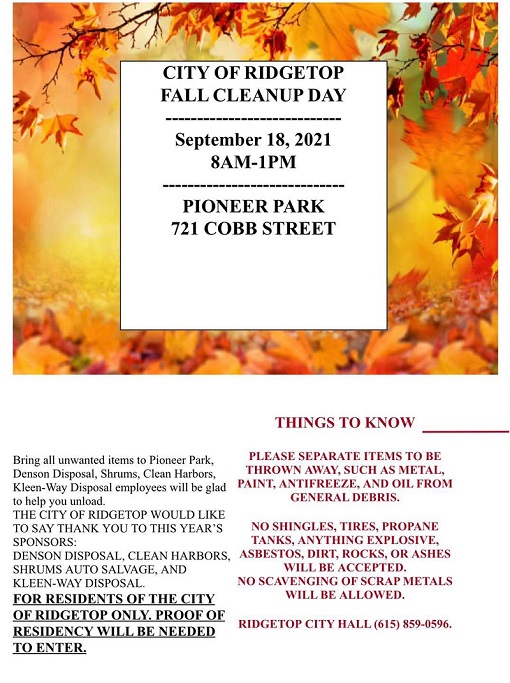 Robertson County Republican Party
Reagan Day Dinner – new location, sponsorship and auction items needed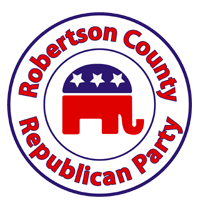 Monday, Sept. 27 will be our annual Reagan Day Dinner at Murph's Country Music Barn at 336 Winters Rd, in Cedar Hill. Please let your guests know that this is a NEW location from past years. Doors will open at 5:00 P.M. V.I.P. Reception in the Loft will be at 5:30 P.M. At 6:00 P.M.
Governor Lee will speak, and immediately following his speech we will enjoy a delicious BBQ buffet and special entertainment! Attire is Western. Tickets are $50 at the door, or $45 pre-sale. Pre-sale table of 8 is only $350. V.I.P. Reception tickets ARE LIMITED, cost $25, and are only available to those who are also purchasing a dinner ticket. Be sure to purchase your Reagan Day tickets, why not purchase a table for your whole family? The time is now to take back our country!
Reagan Day Sponsor opportunities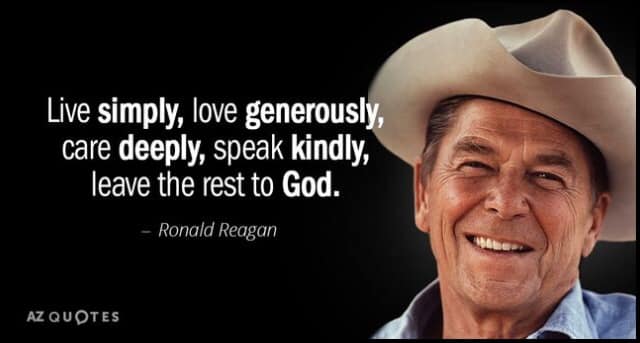 We have the following Reagan Day Sponsor opportunities available:
The Big Gipper: $3,000 Donation to the party includes priority seating for ten; Ten V.I.P. Reception Tickets; Big Gipper Gift bags; and Recognition in Program and Signage. Gold Sponsor: $2,000 Donation to the party includes table for eight; Eight V.I.P. Reception Tickets; Gold Sponsor Gift bags; and Recognition in program.
Silver Sponsor: $1,000 Donation to the party includes table for six; Six V.I.P. Reception Tickets; Silver Sponsor Gift bags; and Recognition in program.
Auction items needed:
We are also now collecting items for the silent and live auction. Please bring auction items to this Saturday's meeting, or if too large please let us know and we will arrange for it to be picked up. Please ask all the merchants that you currently do business with if they can donate a free service, etc.
May God bless America and may America bless God!
Robertson County Republican Party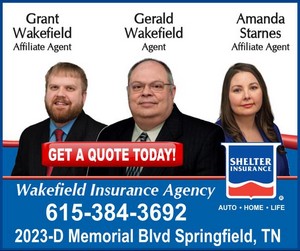 Calvary Baptist Church in Greenbrier is Hiring a music ministry.


Greenbrier Historical Society Book Sale…
SEPTEMBER BOOK SALE runs September 1 through 30, 2021 at Greenbrier Historical Society Museum & Library, 825 W. College Street across from City Hall.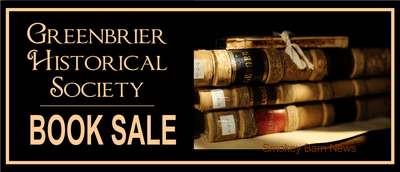 Open hours: Wed-Thur-Fri 10 AM-4 PM and Sat 10 AM-1 PM
Four rooms full of Fiction, Children's books, Cookbooks, History, Biography, Politics, Christian Life, Gardening etc. No limit!
Call 615-643-8461 during open hours for information.

ATTENTION SENIOR CITIZENS!
The Robertson County Fair is this week & Senior Adults over age 60 get in FREE Tues, Wed, or Thurs with a donation from the dsignated list. Bring items to gate in exchange for FREE admission! Find the full list by clicking the Fair Banner below. FREE admission DOES NOT include carnival rides.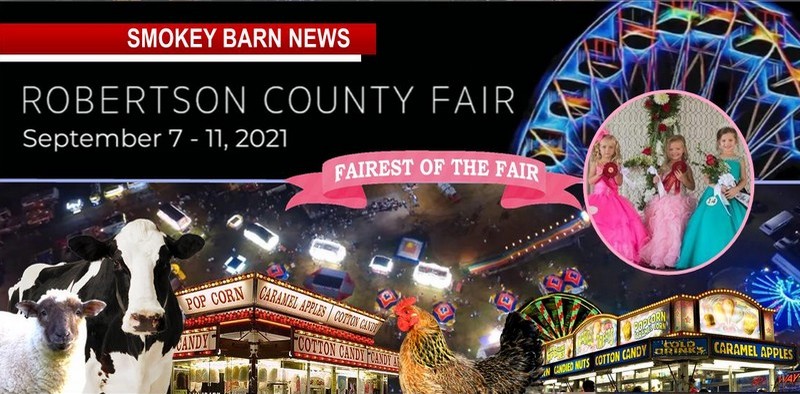 2021 Robertson Co. Fair, Tractor Pull, Carnival, Agriculture & Derby Coming Soon
SEPTEMBER 7-11
ROBERTSON COUNTY TENNESSEE: (Smokey Barn News) – The 2021 Robertson County Fair season is just around the corner and the Fair Board is hard at work finalizing the full schedule of events that will offer something for everyone.
The Robertson County Fair Association is an ALL VOLUNTEER non-profit organization that is completely self-supporting and is run solely by volunteers. Since its establishment in 1938, the Robertson County Fair Association has celebrated all things Robertson County by promoting agriculture, education, and community involvement through quality entertainment in a family-friendly environment.
For the full schedule of events and ticket info, click HERE

September 11, 2021: American Legion Riders – Unit 45 – Greenbrier MEMORIAL SERVICE
Calvary Baptist Church – 2806 US-41, Greenbrier, TN 37073
Service begins at 2:00 pm
All day family friendly events
Gates open at 10:00 am
BBQ Competition- $50.00 entry fee
For general or entry information email: [email protected]
BBQ dinner $10.00
Entertainment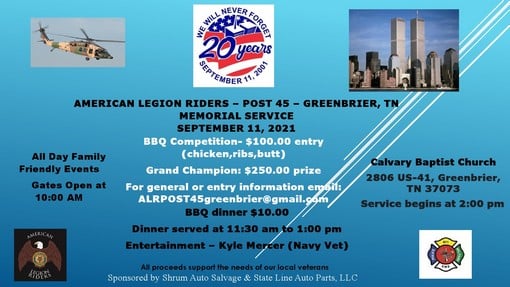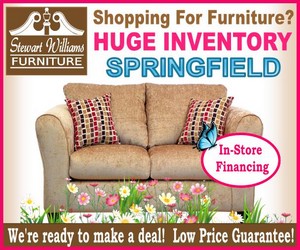 Springfield Parks & Recreation Free Movie Fridays & Summer Concerts
September 17: Raya and the Last Dragon
The Springfield Parks & Recreation Department is excited to once again partner with Walmart of Springfield to bring free, family-friendly movies to Springfield as part of Free Movie Fridays.
Free Movie Fridays will be held on the third Friday of each month, June through September at the Robertson County Fairgrounds.
All movies will begin at 7:30 PM. Guests should bring their own blankets or folding chairs for seating.

September 18: 3rd Saturday of each month thru October – Pleasant View's – Cruise'n N Groove'n 
Cruise'n N Groove'n at the Pleasant View Village on 41A, South of intersections Hwy 49 & Hwy 41A, Starts May 15th thru October. Times: 5pm – 9pm.
We have music, several food choices, shopping for the ladies, and lots of cars.
Each month the Mayor will select Mayor's Choice Vehicle, plus a "Pick of the Month" sponsored by O'Reilly Auto Parts.
At the October event, all six (6) Mayor's Choice Vehicles will be up for TOP pick for the year voted on by the people.
Location: 214 Village Square Pleasant View, TN 37146
For more info, contact 615-746-0600 or Jim Hutchens 615-517-1423 or Larry Rediker 615-419-5214.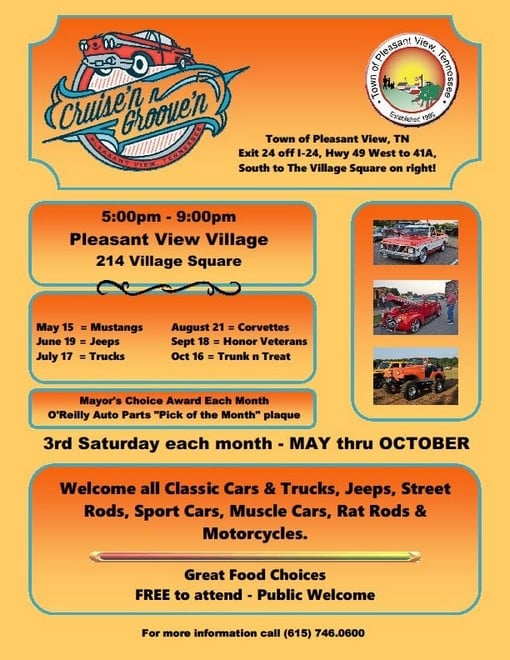 Sept. 25th: 25th Anniversary Celebration of Coopertown Tennessee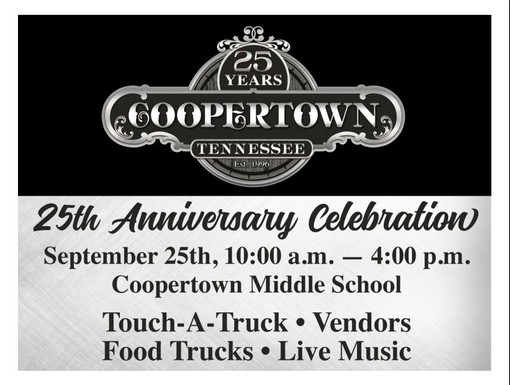 Join Coopertown in celebrating our 25th year since incorporating. Our celebration will kick off at 10:00 a.m. on the grounds at Coopertown Middle School with the final mile of the "25 in 25 for Coopertown walk.
The event includes:
* Touch a Truck – hosted by the Coopertown Police Department
* Live Music – including local recording artist Austin Williams
* Food Trucks
* Vendors
* Selection of the People's Choice award of the Coopertown
Photography Contest (info found here: https://www.coopertowntn.org/…/PHOTOGRAPHY%20CONTEST%20…and more…
We hope that you will make plans to join us on this special day.
If you are interested in being a vendor at this event, please email: [email protected]
Share the event with everyone on your friends list, grab your family and come out and celebrate your hometown!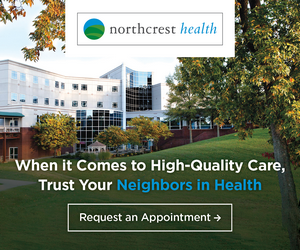 Sept. 26: Williams Chapel Baptist Church Homecoming Invitation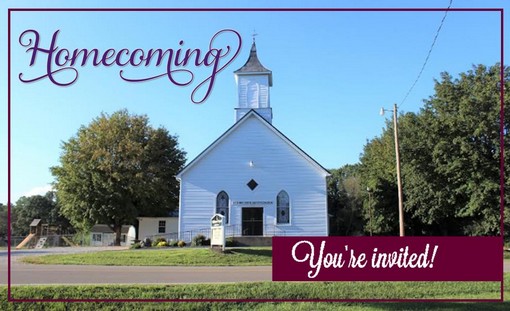 5946 South Lamont Rd. Springfield, TN
Phone: 615-654-3101
Brother Keth Wilson, Pastor
Dear Brothers and Sisters in Christ:
We would like to extend an invitation to all of our former and present members, families, and friends to join us for a day of sharing memories, Christian fellowship, and our love for Jesus Christ.
In the book of Romans we find this verse, "So we, being many, are one body in Christ, and everyone members of one another." It takes each one of us to make Christ's body, the church, complete. Without you, our homecoming would not be complete.
The celebration will be held Sunday, September 26 with worship Service at 11:00am with special music. Bro. Jerry Heflin will be the guest speaker. A special offering will be taken for the upkeep of the cemetery as on this day we will be celebrating the memory of loved ones buried in our cemetery. Donations can also be mailed to the Cemetery Treasurer in care of the church. An old fashion dinner will fo11ow.
NOTE: After we printed out invitations, Covid cases have been rising. We still plan on having our homecoming celebration with a few changes to keep us all as safe as possible. Masks are optional and we will have them and sanitizer available. Instead of a potluck fellowship lunch, the church will be purchasing all the food nothing prepared by individuals. Instead of a food line of serving yourself, our fellowship committee will be handing you a to-go box already prepared along with bottled tea, water, or soft drink. Tables and chairs will be set up inside the fellowship hall and outside under tents if you would like to visit with others while you eat. Don't forget the Cemetery is in wide-open fresh air for you to stroll through and reminisce about loved ones who have gone on to be with our Lord.
We will post any updates on our church Facebook page. You do not need to have a Facebook account to visit it since it is a public page.
Feel free to contact our homecoming committee: Diane White Fuquay 615-9 69-9263, diane.white [email protected] or Ann Mason 615-3 84-7165, [email protected]
Please make plans to attend this wonderful day of thanksgiving and commemoration.
Your friends in Christ, Homecoming Committee
Williams Chapel Baptist Church
Looking back with love…Pressing forwardin His service.

October 1st, 2021 – 1st Friday Night Market AT 6 PM CDT – 9 PM CDT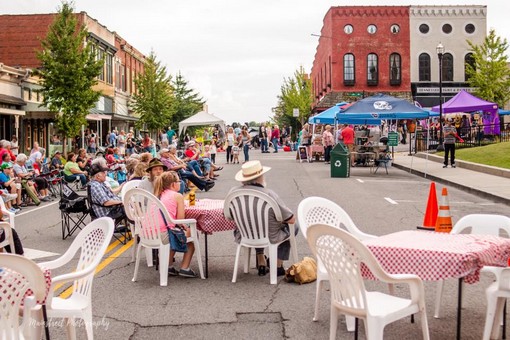 501 S Main St, Springfield, TN 37172-2866, United States
Join us the 1st Friday Night of each month from June until September on the Historic Downtown Springfield Square. Enjoy live music, food trucks, kids zone, classic car cruise-in, farmers market, shopping with local artisans/makers, and your favorite downtown merchants.
This is a FREE event and family/pet friendly!
October's Live Music starts at 6:30pm, courtesy of City of Springfield Parks & Recreation Department's Summer Concert Series (Bring your lawn chair and dancing shoes!)

Wednesdays In Springfield – Classic Tin Cruise-In Through October
"It's almost time for Cruise-In Season! Starting April 28th. Every Wednesday (weather permitting) Springfield!" Shelby Horner
Classic car Cruise-In for Springfield and the surrounding communities coming together, sharing and talking cars, trucks and bikes.
Family Fun!
Held every Wednesday, from spring till Halloween, Classic Tin Cruise-In will be in Springfield, TN. The classic car, truck, and bikes Cruise-In for Springfield and the surrounding communities coming together for some Family Fun!
Being held at 2008 Memorial Blvd, Springfield, TN, Between the Hardees and Burger King.
Any questions please call Shelby Horner at 615-336-2257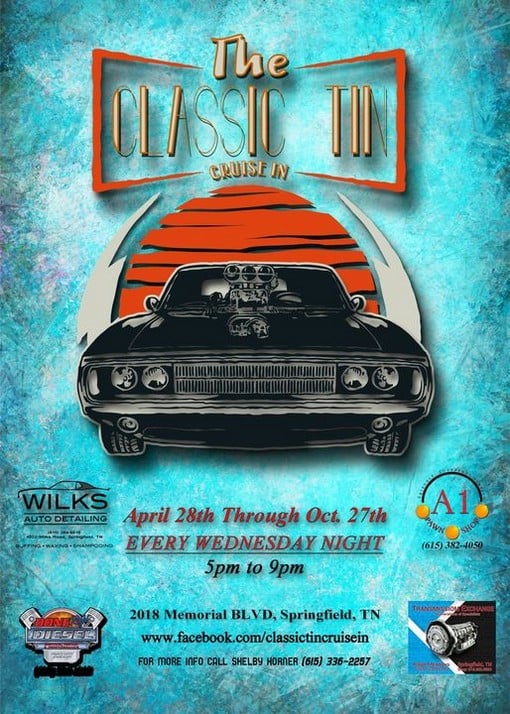 Monday Nights – White House Cruise-In 
5:00 PM to 8:30 PM
Location: Tavern 76 Parking Area (Only)
520 Highway 76
White House TN, 37188
Contacts Wayne Maligin 615-566-7343 or Bob Boone 601-354-3604 (Tavem 76 Parking area is located in the parking area in front of the Tavem 76)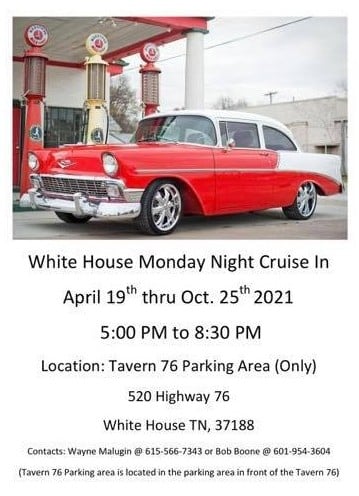 Saturday Nights…Portland, Tn – Car, Motorcycle & Truck Show
Bring your classic cars, trucks, motorcycles and everyday car and SHOW them off on Main Street under the lights in Portland, TN on Saturdays from 5:00PM to 9:00PM. First Saturday in April through the last Saturday of October.
Address: 125 Main St. Portland, Tn 37148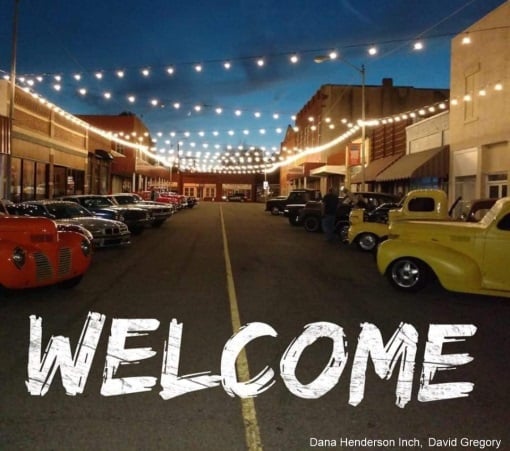 Robertson County Senior Center In Springfield, TN
Lots of fun events every month, sign up for the newsletter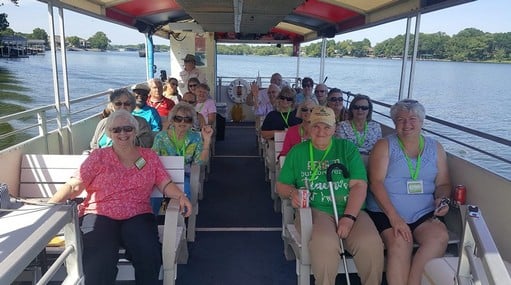 Our Operating hours will remain from 9:30am- 2:30pm. This allows adequate time to sanitize and prepare for activities.
We plan to add many activities in May like, our Harmonica class, another exercise class, etc. We also plan to start our "Out & About trips again!
WOO Hoo! Things are really looking up!
Can't wait to see your smiling face!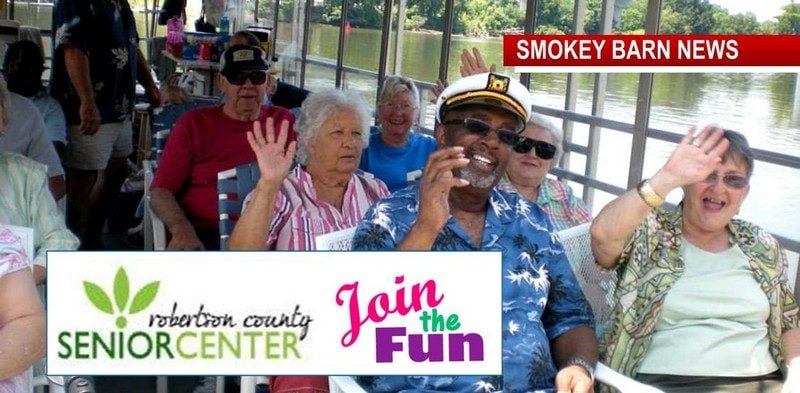 CHECK OUT OUR LATEST NEWSLETTER  –> HERE

(Springfield, TN)
Orlinda, TN Byrum Porter Senior Center
ORLINDA TENNESSEE: (Smokey Barn News) – The Byrum Porter Senior Center in Orlinda, TN offers…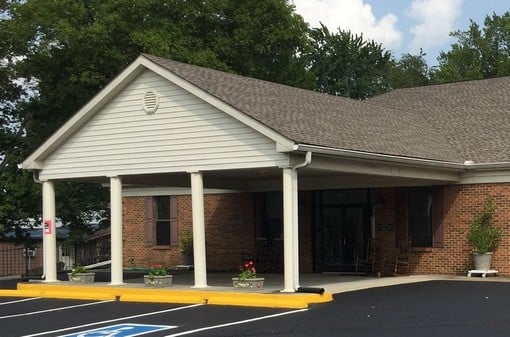 Byrum-Porter Senior Center in Orlinda, TN is open Monday – Friday from 8 am to 4 pm
We have everything from exercise classes, day trips, mystery lunches, extended trips, card games, dances and much, much more.
Checkout our newsletter to find out more about our dance themes, class times and trips on our website byrumporter.com or follow us on Facebook at Byrum-Porter Senior Center for all our fun activities.
Fitness after 50, Yoga & Tai Chi Exercise Classes, Dominoes, Canasta, Karaoke, Bridge, Shanghai Rummy, Footcare & Nail Appointments, massage appointments, paint classes and more. Request our monthly newsletter with all the details, just send an email to: [email protected]
Visit our exercise room
We have treadmills, stationary bikes, step climbers and a vibration training platform. If you can't get to our exercise classes or aren't comfortable in a group why not try this instead.
Thursday Night Dances: 
Come dance to the great tunes by The Good Time Charlie Band every Thursday night. Good Time Charlie Band rents the center on Thursday nights starting at 7 pm. Doors open at 6 pm. Limited menu available starting at 6 pm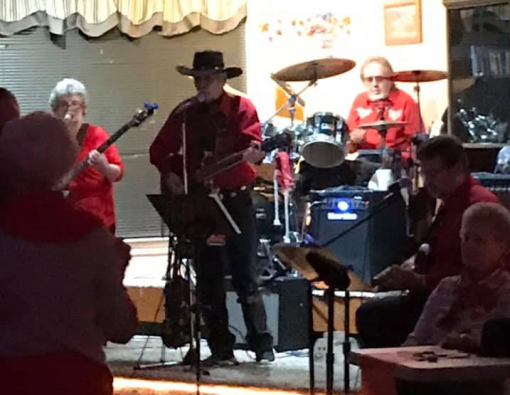 We love to Travel – Our 2021 Trips Collette Trips:
Canadian Rockies July 31- August 6th, learn more here.
Hawaii November 4th – November 13th, learn more here.
Diamond Tours ***** new information *****
Diamond Tours is requiring all travelers with their groups to have updated Covid 19 vaccine.
To view these trips, click here.
The Ark Encounter & Creation Museum
(new date) – September 13-17
Niagara Falls & Toronto – September 5-11
Beautiful Maine – October 9-17
*All trips are subject to change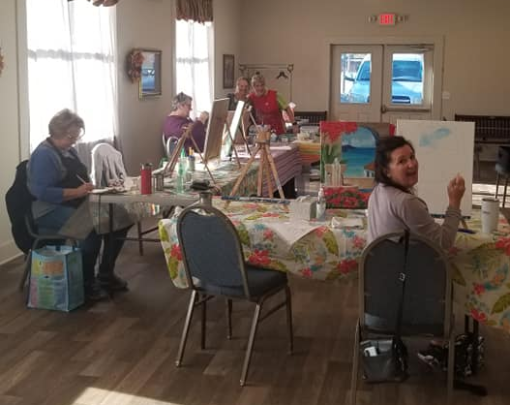 All events are subject to change. Changes will be posted on our Facebook page and our website.
Home Health supplies
We have walkers, canes, crutches, toilet risers, toilet bars, bed assist bars and a shower seat to loan if needed. We also have personal disposable hygiene items.
For updates call 615-654-3161
Location: 9123 Highway 49 E Orlinda, TN 37141
*The Center exists to make life more enjoyable for older adults, who reside in Orlinda and surrounding areas. Activities, Dances, Trips and much more.
*Coffee is always ready and waiting for you.
CHECK OUT OUR NEWSLETTER

NOTICE: Food Assistance Available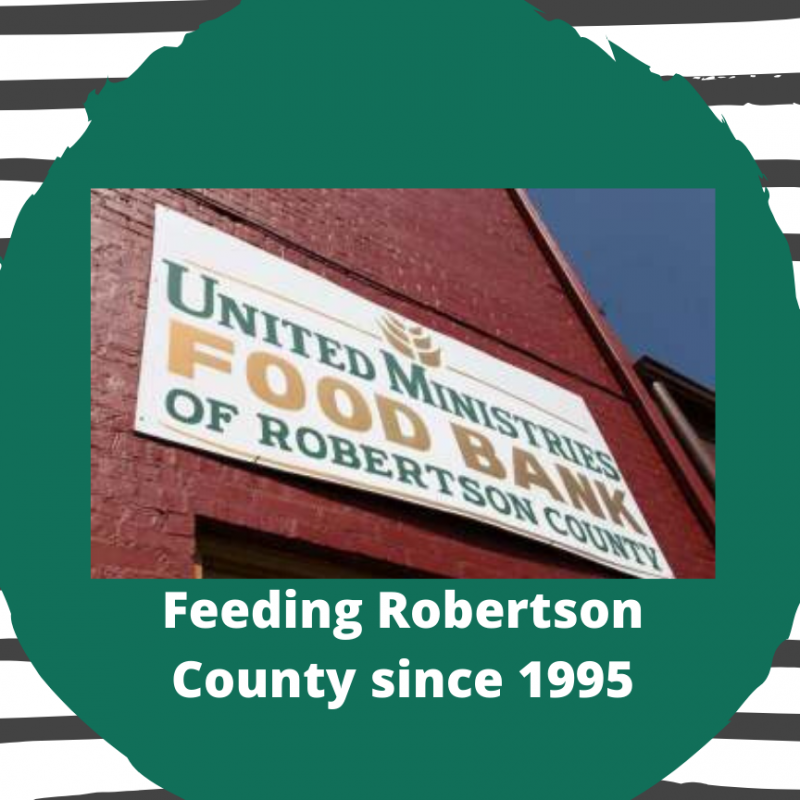 The United Ministries Food Bank would like to inform the residents of Robertson County that they are still helping with food needs.
If you are struggling to put food on your table they can help.
They are located at 808 S Main St. (beside Cope). Familes need to have ID's and Birthdays dates for all living at their residents.
Residents are welcome to come in monthly for assistance. If you have questions please call 615-384-8306.
Hours: Open Monday thru Thursday 10:30AM to 1:30 PM.

Notice: Food Pantry – Bethlehem Baptist Church Drive By Pantry 
Please drive up to Building A from the Hwy 76 entrance. Residents are asked to show proof of residence and an SSN# for each resident.
The drive-by pantry will be open on Wednesdays from 11am to 1pm.
NOTE: Beginning 9/2/2020 the pantry will be open 4:00-6:00 pm on the first and third Wednesday evenings of the month.
Bethlehem Baptist Church – 5081 Bethlehem Road – Springfield, TN. 615-643-0333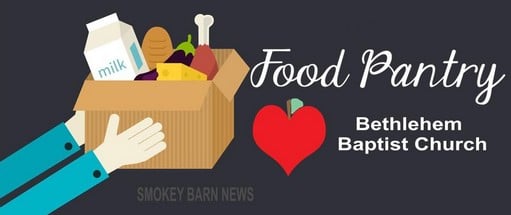 LOCAL LIBRARY EVENTS
Springfield, TN

Millersville, TN Library
Click the Banner below for the full calendar of events including Art ventures, storytimes, sign language and more!

White House, TN Library
Click the Banner below for the full calendar of events including sewing, storytimes, anime' drawing, chess club and more!

WANTED: Automotive Service Writer, Lube @ Springfield ATR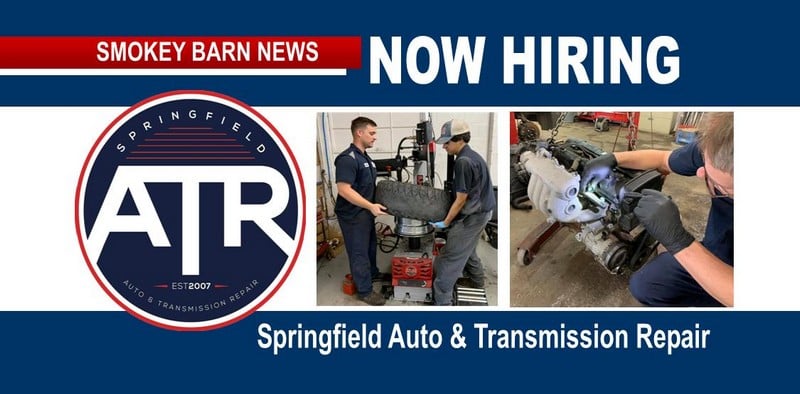 With over 14 years in Springfield, Springfield Auto & Transmission has developed a name for quality work at a fair price. With that reputation, they continue to grow. Here are two opportunities for anyone looking for a great career for a family-owned business in the automotive sector.
Springfield Springfield Auto & Transmission is located near the Robertson County Fairgrounds in Springfield Tennessee. MAP
CURRENT OPENINGS
• Service Writer/Advisor
We are super BUSY! and are looking for additional team members to show up for work every morning with a positive attitude, strong work ethic, and the knowledge/ability to produce quality repairs.
If you are a car enthusiast and knowledgeable in auto repair, a hard worker, and a motivated problem solver, then you are the candidate we are looking for.
Benefits
Our team-oriented environment also comes with Health insurance; Medical, Eye, Dental insurance. Paid Holidays and Vacation! Uniforms provided.
Automotive Service Writer/Advisor
(Domestic & Asian vehicles)
Qualifications & Requirements…
• Greet and assist customers with inquiries via phone or in person.
• Perform vehicle walk-around and document customer concerns
• Prioritize required services
• Write up estimates – collaborate with the diagnostician on what parts are needed etc to write an estimate. *Need to have some basic knowledge of cars, parts and systems.
• Greet and assist customers with inquiries via phone or in person.
• Keep customers informed of service expenses, and any possible changes as well as expected completion time.
• Follow-up on future service considerations
5 yrs of experience preferred. *Comp based on experience.
All applications are held in strict confidentiality, so you owe it to yourself to explore your options. There is no reason not to reach out and see if Springfield ATR would be a match for you.
Apply TODAY and let's talk! This is an 8-hour shift Monday to Friday. Pay is flexible and based on experience!
Call (615)382-0089 or
send a resume to [email protected].
Applicants can also mail resumes or apply in person to Springfield Auto & Transmission Repair, 4 N. Main Street, Springfield, TN 37172. (615)382-0089.

HIRING: Robertson Co. UT Extension Program Assistant

There is a current job opening for UT Extension Program Assistant at our Robertson County Extension Office at Springfield, TN.
Basic Duties include:
Deliver nutrition education for adults and youth through group classes in community settings
Develop and maintain partners with local agencies and organizations
Assist with community needs assessments and program evaluation requirements
APPLY:
All applications must be done online through the UT Taleo System.

Mobile: To See The Latest Stories or to share this article, scroll below