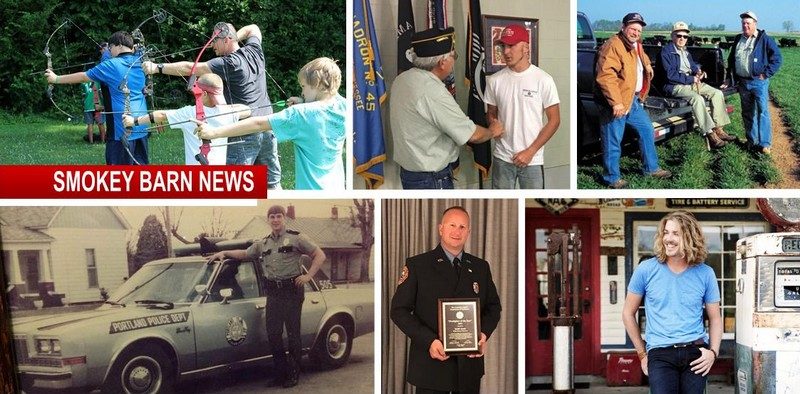 Smokey's People & Community News Across The County June 9, 2019
ROBERTSON COUNTY TENNESSEE: (Smokey Barn News) – Welcome to Smokey's news in review. It's a look back at this week's top stories with some stories you haven't heard about and may only see on Smokey as well as exciting local events coming up.
A lot has happened in cities all across Robertson County! We have over 30 stories for you this week. Don't be the only one around the watercooler this week that doesn't know what's going on!
Do you have a story you would like to submit? Smokey Barn News welcomes your community news and photos. Email your story ideas to our 24/7 news desk; [email protected]

In Greenbrier News
American Legion Boys State/Greenbrier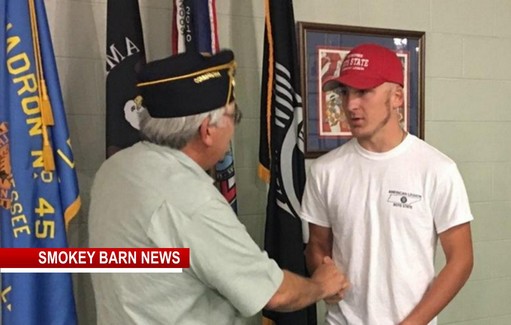 Tyler Hathcock of Greenbrier High School was presented with the TN American Legion "100 Years of Service" coin on Tuesday the 4th, after delivering a short speech on his experience at TN Boys State, sponsored by the American Legion of Greenbrier Post #45. Tyler was elected to the House of Representatives and also served as Squad Commander during the week-long program.
The American Legion was chartered and incorporated by Congress in 1919 as a patriotic veterans organization devoted to mutual helpfulness. It is the nation's largest wartime veterans service organization, committed to mentoring youth and sponsorship of wholesome programs in our communities, advocating patriotism and honor, promoting strong national security, and continued devotion to our fellow servicemembers and veterans. -website
Boys State has been a program of the American Legion since 1935. It is among the most respected and selective educational programs of government instruction for high school students & boasts notable alumni such as Former President Clinton, Michael Jordan, Jon Bon Jovi as well as numerous members of the House & Senate and high ranking Military officials.
———————————-
Greenbrier Names Baseball Field In Honor Of Braxton Fuqua
GREENBRIER TENNESSEE: (Smokey Barn News) – Greenbrier Mayor Bonnette Dawson read a resolution at Monday night's Board of Mayor and Alderman meeting dedicating field 2 at Louise Martin Park the, "Braxton Fuqua Memorial Field."
A year an a half ago Nicole Turnbow received the news that her son Braxton had cancer. The news triggered a long battle that ended last Wednesday night. FULL STORY
Mayor Bonnette Dawson addressed the meeting; "Whereas the city of Greenbrier is proud that Braxton Fuqua called Greenbrier home and whereas Braxton's strength, determination and his never quit attitude is what made this young man a hero to so many, and whereas one of Braxton's favorite places to be was Louise Martin Park, he loved it there and whereas Braxton's passion was playing baseball, not only did he love to play ball but he loved his team, his coaches and the entire ballpark atmosphere.
"Even when he couldn't play, he would watch the games and support his team and friends like he was standing tall beside them. The baseball players, coaches and other parents became an extension of his family and loved him dearly.
"Whereas a highlight in Braxton's baseball history was Greenbrier city sports and being a member of the all-star team that won the 2017 state tournament. So be it resolved the Board of Mayor and Alderman are proud and honored to name field 2 at Louise Martin Park the Braxton Fuqua Memorial Field. This resolution will be reflected in the minutes and added to the history of the city of Greenbrier."
For the full meeting and info on Tax increase CLICK HERE.
———————————-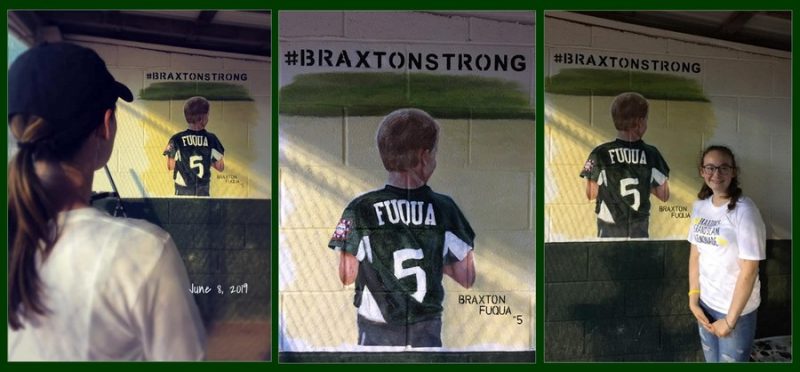 Braxton mural immortalizes beloved player and son
"Braxton's mural, located in the home dugout on his field, is so amazing!! Thank you so much for painting it, Mrs. Sharon!!" (Artist – Sharon Eden of Goodlettsville Tennessee)
)
"I was speechless at how amazing of a job she did with it," said Braxton's mom Nicole Turnbow. "Kelsey started crying. I am so thrilled Brax will forever be a part of Greenbrier baseball and his legacy will forever be carried on"

Robertson County Sheriff's Office: G.R.E.A.T Summer Games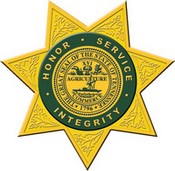 Another awesome year with the G.R.E.A.T Summer Games of Robertson County! We had a great turnout and the kids had so much fun. The Sheriff's Office wants to thank everyone who participated and volunteered. Without you all, this wouldn't be possible.
The G.R.E.A.T Summer Games is a program hosted by Robertson County Sheriff's Office School Resources Officers. Students participated in a week-long camp that consisted of activities such as crafts, archery, and fishing. This camp allows students to learn new skills and activities that they may not have been able to experience before. In addition to activities, our SRO's use this time to mentor and maintain relationships with students which is valuable in their continued education going from the school year into the summer break.

Annual Look At Crime (How Did Your City Do?) See The Numbers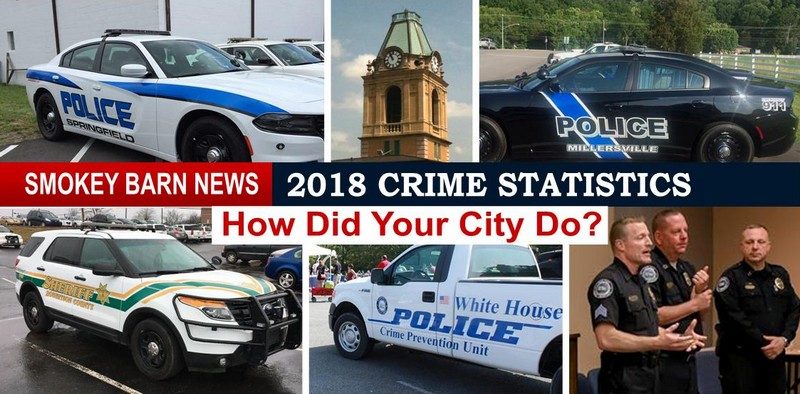 Throughout the year law enforcement agencies across the state report their crime totals to the TBI. At the end of each year, the TBI releases that data to offer cities and the State a way to look at how overall crime stats are trending.
Smokey Barn News took the numbers from 2017 and 2018 for cities in Robertson County and placed them side by side for your review. We have provided a brief summary for each city, but a link to the detailed numbers are listed for each city. To read more –> click here

Tumultuous Times in the House State Representative Report
Sabi Doc Kumar MD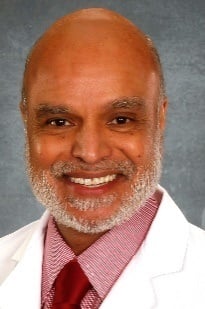 On June 1, 1796, Tennessee became the 16th state of these great United States of America! As my wife Linda and I celebrated the 223rd Birthday of our state, we looked back on the 2019 session of the Tennessee House of Representatives in the111th General Assembly. Despite good legislative achievements, the end of the session was marred by reports of offensive racial and sexual text messages between our Speaker and his chief of staff. It was tragic to witness the spectacular failure of these successful men. They were so fortunate and they had achieved so much!
The Tennessee House is a majestic Chamber! I am, always filled with awe as I enter and think of the leaders that preceded us. They, too, served in times that were good or and times that were trying. Although the election of November 2018 maintained the Republican super-majority in the House and the voters approved of the socially and fiscally conservative policies that have achieved economic success for our state, there were 30 freshmen among the newly elected 73 Republicans and 26 Democrats. This was a remarkable change. We also elected a new Governor and a new Speaker. These changes brought new priorities and directions.
After the grand ceremonial opening, we were excited to start work and conduct the people's business.
• We passed a balanced budget that included another significant increase in educational funding, teacher salaries, funding for school safety of our children, additional contributions toward economic development, mental health and criminal justice. We cut taxes by $35M. We added $239M to our rainy day fund, which is now over $1B strong. This adds to the financial strength and business confidence in our state.
• We passed several bold legislative measures. These included: a pilot project allowing school vouchers for eligible students in failing inner city schools, allowing online sports betting with revenues earmarked towards education scholarships, asking federal government to provide Tenncare funds as a block grant so the state can manage these more efficiently.
• We failed to address major problems including surprise medical bills, epidemic of electronic cigarettes and vaping among youth, need for more nurses in public schools. "Medical" marijuana bills failed, because these benefit the growers and sellers more than the patients. Proper medical supervision is not possible because of federal licensing laws.
• We honored our veterans by recognizing those exposed to Agent Orange, during the Vietnam War, and Mr. Ken Gamble for his efforts to provide The Orange Heart Medal to these heroes through a non-profit organization. We also invited and honored Mr. James Edwards, the Tennessee Cowboy Poet! Both of these occasions warmed our hearts!
• We did a few other things, including tax exemptions for ammunition, small gyms and car washes. Some utilities were "rounding up" your monthly bill to the next dollar. They will now need your permission to do so. We did not allow service of liquor at the Knoxville Zoo!
Tragedy befell when it was discovered that our Speaker had tolerated highly inappropriate text conversations from his chief of staff. We were deeply offended. The Republican Caucus met and passed a motion of "No Confidence" in our Speaker, who submitted a letter of resignation effective August 2. This may change. We will elect a new Speaker. There are several good candidates. I pray that our integrity and good moral values will be restored and upheld. We owe it to our good citizens. God Bless Tennessee and the United States of America!
Email: [email protected]

In Springfield News
New Springfield Theater Owner: A Game Changer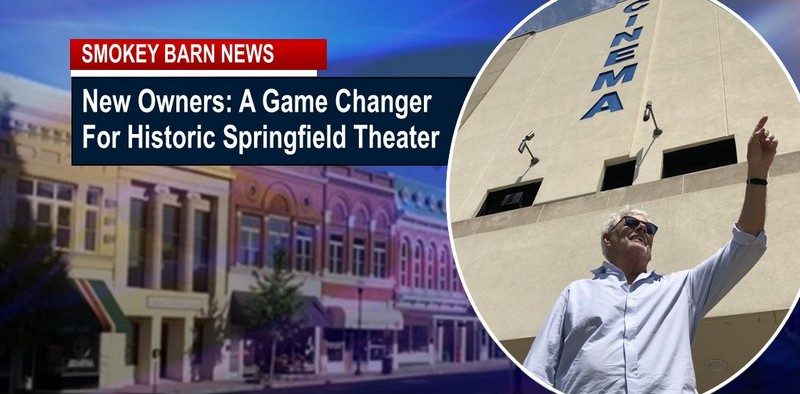 Well, it's official, the Springfield Cinema has new owners and it's going to be a game changer for the old theater, downtown Springfield and even Robertson County.
His name is Gary Bowie (no relation to the singer) and he and his team of architects, music professionals, and light and sound experts have big plans that will likely turn the old theater back into the centerpiece it used to be for Springfield's historic district years ago. Read more –> click here
———————————-
American Legion Post 48 Of Springfield And Post 45 of Greenbrier Celebrate Memorial Day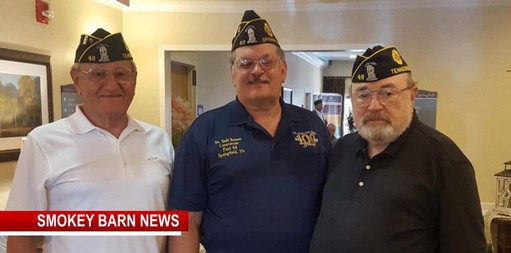 American Legion Post 45 – Greenbrier and Post 48 – Springfield joined together to celebrate Memorial Day with the Veterans and residents of Morningside Senior Living in Springfield, TN.
Memorial Day is an American Holiday, observed on the last Monday in May, honoring the men and women who died while serving in the United States military. Memorial Day was officially set by Congress in 1968. Congress passed the Uniform Monday Holiday Act, which officially set the last Monday in May as Memorial Day and to declare it a federal holiday.
In remembering our Veterans who died while serving in the US military service, we also remember D-day, the turning point of the war in Europe. On June 6, 1944 (75 years ago) more than 160,000 troops landed along a 50 mile stretch of heavily-fortified French coastline, to fight Nazi Germany on the beaches of Normandy, France. Allied Forces (United States, Britain, Canada, and free French forces) invaded five D-day beaches at Normandy (Utah, Omaha, Gold, Juno, and Sword). D-day was the beginning of the end not only for Germany but Hitler most of all. By the end of June 1944, about a million allied forces had reached France. The chief Allied Powers in WWII were Great Britain, France, Soviet Union (Russia) and the United States. Other allied nations included: Australia, Belgium, Bolivia, Brazil, Canada, China, Denmark, Greece, Mexico, Netherlands, New Zealand, Norway, Poland, South Africa, and Yugoslavia. During the battle of Normandy, over 425,000 Allied and German troops were killed, wounded, or went missing.
By March of 1939, Hitler had seized Czechoslavia and began to move on Poland, Great Britain, and France; and in 1940 Hitler invaded Norway, Denmark, Netherlands, Belgium, Luxemburg, and was advancing on France. On December 7th, 1941, the Japanese Empire attacks the American Naval Base at Pearl Harbor, Hawaii and Congress declare war on Japan the following day. On December 11, 1941, Germany and Italy declare war on the United States, and we are now involved in fighting a world war on two fronts.
The Treaty of Versailles, (Paris Peace Conference, Jan 18, 1919) signed after World War I, is believed to have caused D-day because its goal was to punish Germany and meet the goals of the various allied powers (Britain, France, Russia, Italy, and United States) against the defeated Central Powers (Germany, Austria-Hungary, the Ottoman Empire (Turkey), and Bulgaria). This treaty punished the Germans so severely that Hitler wanted to get revenge – which led to World War II and caused the need to defeat the Nazi forces occupying northern France
WW I is believed to have started after the assassination of the Archduke of Austria and his wife in July 1914 by a Bosnian revolutionary. Russia began to mobilize due to its alliance with Serbia and Germany declared war on Russia. On May 7, 1915, a German U-boat (submarine) torpedoed and sank the British ocean liner RMS Lusitania en route from New York to Liverpool, England. In March 1917, Germany's submarine attacks on American passenger and merchant ships including the sinking of five American merchant ships led to President Wilson's decision to lead the United States into World War I. On April 6, 1917, United States entered the war, after Germany announced unrestricted warfare in war-zone waters and sunk the American liner (ship) Housatonic, with a German U-boat. WW I would last until November 11, 1918.
Dr. Dale Barner, Post 48 Commander states, "Why remember these memories and facts of WWI and WWII? It has been proven true that those who forget the lessons of the past are doomed to repeat them. Therefore let us remember the atrocities and battles of WW I and WW II and seek a better future for our children, grandchildren, and great-grandchildren. Our military forces are made up of less than 2% of our population. We find peace through strength and constant vigilance. We find wisdom by learning from our past and by seeking divine wisdom. We find hope and joy in our God. "
———————————-
Update: Hwy 431 Expansion Timeline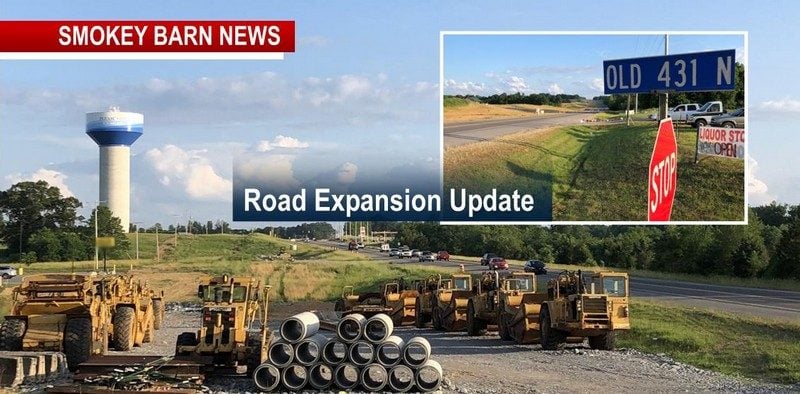 Few would argue that the Tom Austin Hwy expansion project in Springfield wasn't needed. It was, however, a bit of a headache for Springfield businesses along the route and their customers to endure. Read more –> click here
———————————-
Robertson County Animal Control Adoptions
Looking to adopt a kitten? We have quite a few adorable ones available. They've all been vaccinated, dewormed, etc. These boys and girls are so sweet, playful, funny and have lots of personality. We also have some great adult kitty's needing a new home too. Call (615) 384-5611 or email: [email protected]

———————————-
A Springfield Tradition
June 22: Annual Martin's Chapel Church All You Can Eat BBQ!
June 22nd from 4-8PM at Martin's Chapel Church Community House located at 2046 Martin's Chapel Church Rd in Springfield.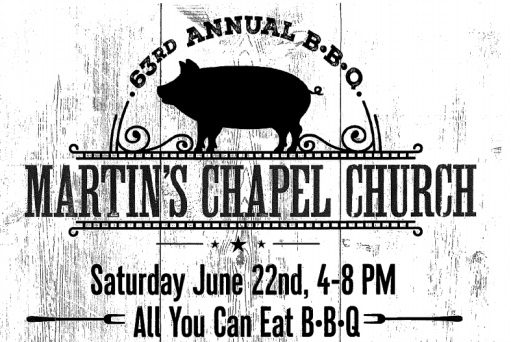 All you can eat tickets: $12. Children ages 4-12 are just $5. BBQ by the pound is $8 at the Pit. Drive thru to go plates at the church. Gospel music from 4-7PM. Quilt Auction at 6PM. Ice Cream & More. SEE FLYER –> Click HERE
———————————-
City of Springfield, TN Splash Pad Re-Opens After Maintenance
As a reminder, Parks and Recreation staff monitors weather conditions and may temporarily halt splash pad use until severe weather has passed. To see the Splash-Pad in Action and read community reactions on Facebook CLICK HERE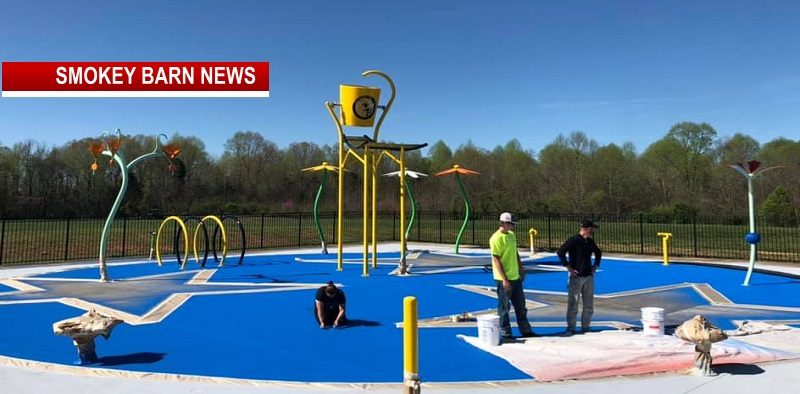 ———————————-
Lots Of Fun Planned for RC Seniors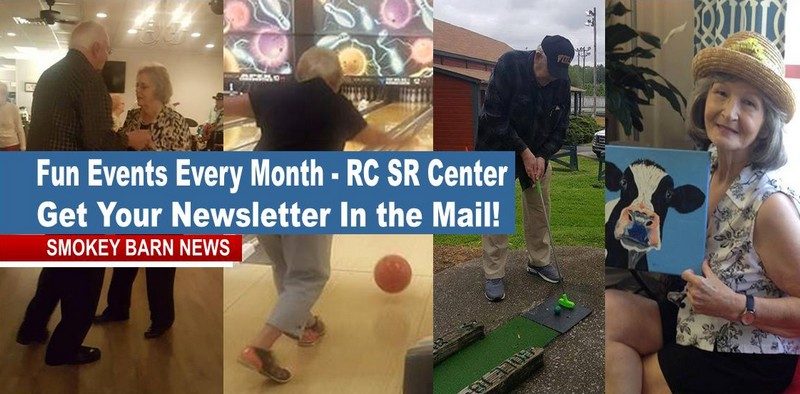 Are you 50 or older? Looking to make new friends and are not a member of Robertson County Senior Center? We would love to have you join our 'family."
Lots of fun events are planned for the month of June at the Robertson County Senior Center in Springfield. Lunch outings such as Cheddar's, Cracker Barrel, Grand Ole Opry Backstage Tour, dances, ice cream socials, concerts, Picnic in the park, Bingo, Knitting & Crocheting, Cornhole, Harmonicas for health, Sign language, Book club, Exercise & Yoga classes, Medicare counseling and more. There are even opportunities to help with the front desk and our membership drive.
The Robertson County Senior Center is located at 601 S Locust St Springfield, Tennessee. General Hours of Operation: Monday-Friday 9:00am-4:00pm. However, many dinners, dances, concerts, etc are often held Weekends and evenings.
Call (615) 384-6367
Be sure to follow us on FaceBook for updates and announcements or join us on a road trip in our new van OR Sign up for our monthly newsletter.
Send an email to: [email protected]
———————————-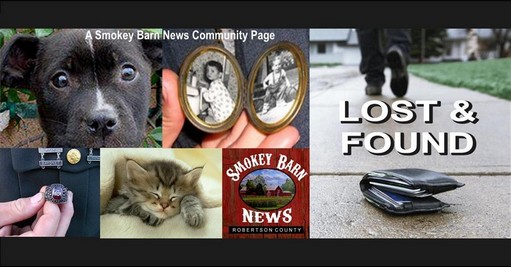 Check out The LOST & FOUND Robertson County TN page. Many people have been reunited with their lost pets and valuables. Join the community!

In White House News
State Of The City Address – Save the Date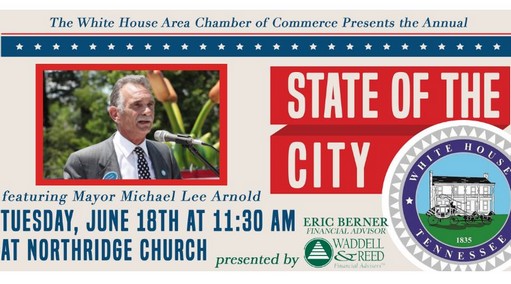 ———————————-
White House Fire Station Facelift
Check out what our neighbors are doing! We love their facelift and you will too! #DiscoverWhiteHouse #FireStation1
ALMOST FINISHED!! For the last few weeks, our Fire Station One has been getting some much-needed attention. Today we added a little color. "Operation Facelift" is almost complete! The last project is installing new decorative shutters to all the windows.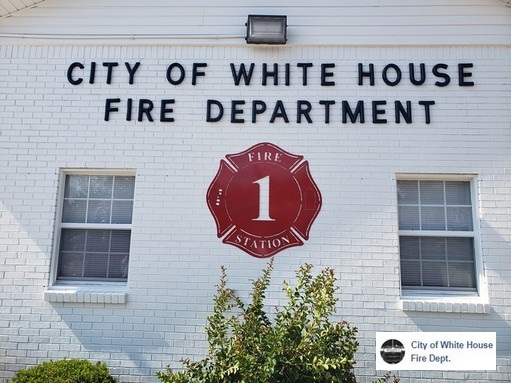 ———————————-
CONGRATULATIONS to Firefighter Keith Jerde!
The American Legion Department of Tennessee awarded our very own Keith Jerde as "Firefighter of the Year". We could not be more proud of him!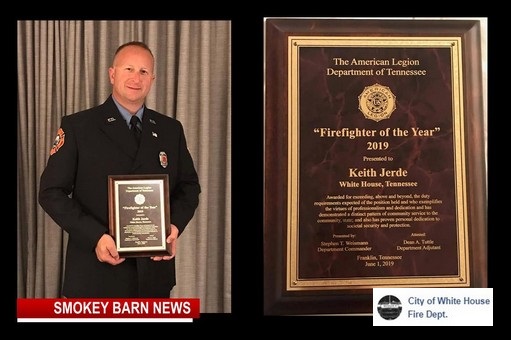 ———————————-
White House Area Chamber of Commerce Welcomes Pizza Hut
Our friends at Pizza Hut (White House) were absolutely awesome today! We celebrated their new location with a ribbon cutting and Power Hour. The facility is so nice and the staff is even better! Thank you, Pizza Hut! #DiscoverWhiteHouse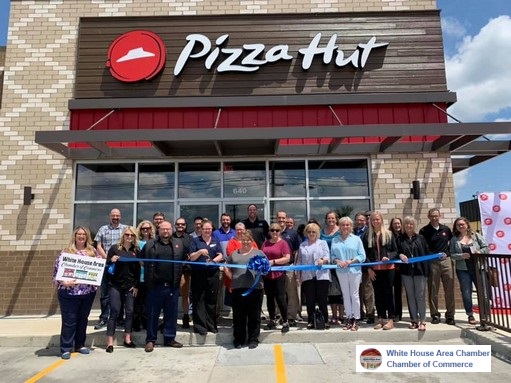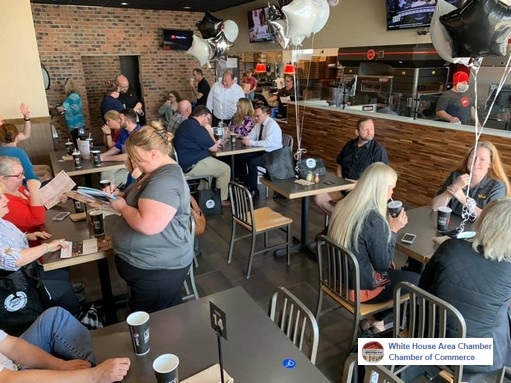 ———————————-
Food Pantry – Bethlehem Baptist Church in White House is now open WEDNESDAYS 11:00 am to 2:00 pm.
Please come to Building B to sign in. Hwy 76 entrance.
Bethlehem Baptist Church – 5081 Bethlehem Road – Springfield, TN. 615-643-0333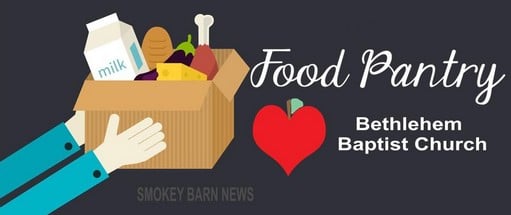 ———————————-
White House Office/Museum Construction
Our office and the museum will be closed to the public until our parking lot construction is complete. We'll be happy to come see you, just give us a call at 615-672-3937.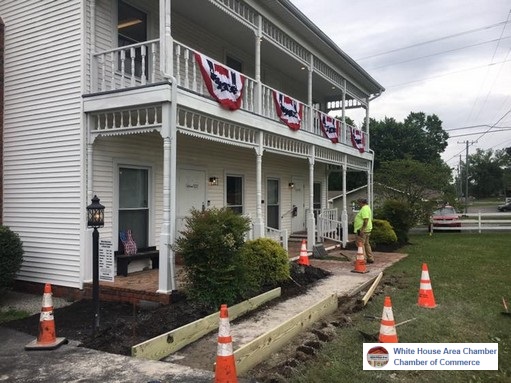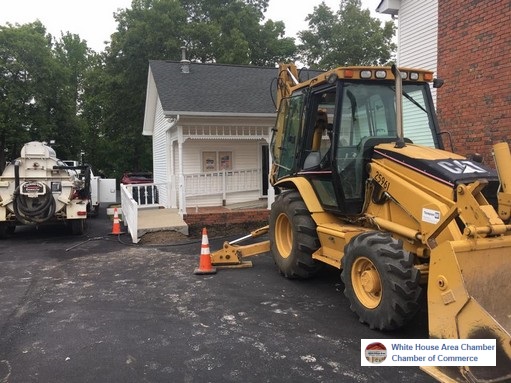 ———————————-
White House Farmers Bank Grand Opening
It was a GRAND day for The Farmers Bank as we celebrated their grand opening with a ribbon cutting. Again, congratulations to our friends. It was a great day! #DiscoverWhiteHouse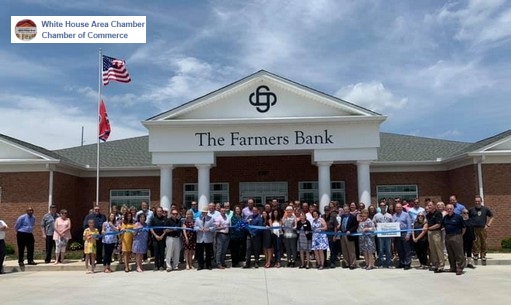 ———————————-
June 12: Milk Day at the Market by the White House Farmers Market and White House Area Chamber of Commerce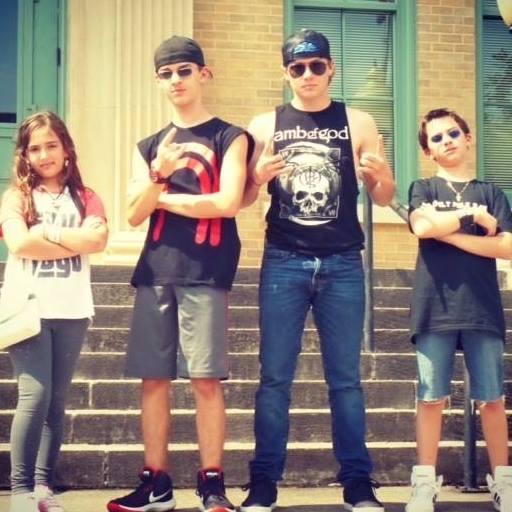 June is Dairy Month!!
Wednesday, June 12, 2019 at 3:30 PM – 7 PM: 105 College St, White House, TN
Free samples of yummy chocolate milk until supplies run out.
Local teens Spilt Milk Band will perform at the Fran Hutson Amphitheater at 5:30 pm!
You don't want to miss this bring, your family and friends for some great fun at the White House Farmers Market!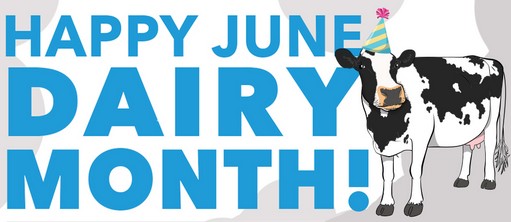 Local Farmer Directs America's Farmers Grow Communities Donation To Robertson County 4-h Youth Programs
• Each year, the America's Farmers Grow Communities program partners with local farmers to provide grants to local nonprofits.
• Sponsored by the Bayer Fund, the program provides farmers the opportunity to support and give back to nonprofit organizations they care about in their local communities by enrolling for a chance to direct a $2,500 donation to a nonprofit of their choice.
• Since 2010, the America's Farmers Grow Communities program has given more than $33 million to over 8,000 nonprofits across rural America.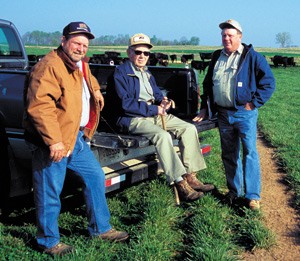 Springfield, TN (6-7-19) – County farmer Joe Elliott, directed $2,500 to Robertson County 4-H Youth Programs through America's Farmers Grow Communities, sponsored by the Bayer Fund. As part of their mission, the University of Tennessee Extension – Robertson County Office will use the funds for 4-H Scholarships and for 4-H Livestock Projects. "These 4-H Youth programs provide more opportunities to improve communities" said, Jeff Smith, County Director at the University of Tennessee Extension Office. Through research that Tufts University completed with over 7,000 youth in 42 states, they found that 4-Hers are: 4 times more likely to make contributions their communities, 2 times more likely to make healthier choices, 2 times more likely to be civically active, 2 times more likely to participate in science programs during out-of-school time, and 4-H girls (grade 12) are 3 times more likely to take part in science programs compared to girls in other out-of-school activities.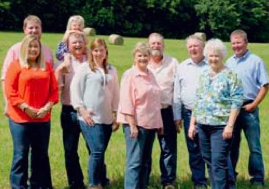 Celebrating its 10th year, America's Farmers Grow Communities partners with farmers to support nonprofit organizations strengthening rural communities. The program offers farmers the chance to direct a $2,500 donation to a nonprofit of their choice. It has awarded more than $33 million to over 8,000 nonprofits across rural America.
"A better life is Bayer's goal. Farmers are invested in their communities, they root for their neighbors, and they know when and where there is a need," said Al Mitchell, Vice President Corporate Engagement, Bayer. "Farmers are one of America's best resources, which is  why Grow Communities partners with them to direct donations to the organizations they are passionate about and that make a positive impact and a better life in communities."
To learn more about the America's Farmers Grow Communities program, visit www.AmericasFarmers.com or follow on Facebook at facebook.com/AmericasFarmers.
About America's Farmers
Started in 2010, the America's Farmers programs, sponsored by the Bayer Fund, a philanthropic arm of Bayer, have been dedicated to partnering with farmers to strengthen rural communities. The programs provide funding for ag scholarships, nonprofit donations and school STEM grants. Since inception the fund has awarded over $50 million to rural communities. For more information visit AmericasFarmers.com.
About the Bayer Fund
The Bayer Fund, is a nonprofit organization dedicated to strengthening the communities where farmers and Bayer employees live and work by providing funding for food and nutrition, education, and community development projects.
———————————-
SAVE THE DATE June 27…
TOBACCO, BEEF & MORE FIELD DAY AND TRADE SHOW
JUNE 27, 2019 8:00 A.M.–1:30 P.M.
HIGHLAND RIM AGRESEARCH & EDUCATION CENTER, SPRINGFIELD, TN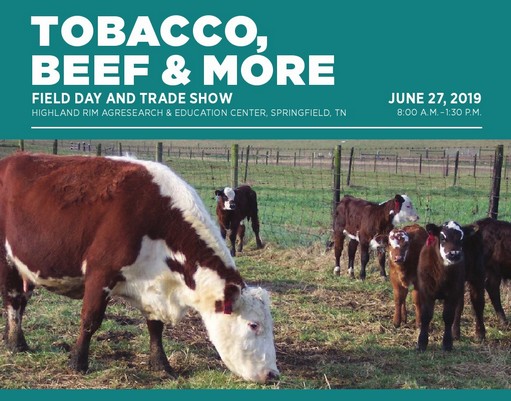 Tobacco Topics
• Variety Development
• Connecticut Broadleaf Production
• Foliar Diseases
Beef and Forage Topics
• Technological Advancements in Beef Production
• Herd Health
• New Forage Analysis Interpreter
Commercial Hemp Production Topics
• Agronomics of Hemp Production
• Regulatory Update
• Insect Management
+ Highland Rim AgResearch and Education
Center Overview Tour
TOURS:
· Tour A – Tobacco
o 8:45 am – 10:15 am
o 11:00 am – 12:30 pm
· Tour B – Beef & Forages
o 8:45 am – 10:15 am
o 11:00 am – 12:30 pm
· Tour C – Commercial Hemp Production
o 8:45 am – 10:15 am
o 11:00 am – 12:30 pm
TRADE SHOW:
· 8:30 am – 12:30 pm
LUNCH:
A sponsored lunch will be provided following the morning tours.
For more information or to request an accommodation for
accessibility, contact your county Extension office or the Highland
Rim AgResearch and Education Center at 615-382-3130.
———————————-
June – July Learn, Grow, Eat & Go UT Extension – FREE 9 Week Program for Rising 3rd -5th Graders.
This is a free nine week program for rising 3rd-5th graders featuring hands-on gardening, nutrition lessons, physical activity and food tastings.
Every Tuesday June-July from 9AM – 11AM. To register please call Rachael Ragsdale @ UT Extension 615-384-7936

In Millersville News
City of Millersville Police Dept. – Dispose of unwanted prescription drugs
You can now dispose of unwanted prescription drugs at Millersville City Hall during regular business hours. The drop box is located in the lobby.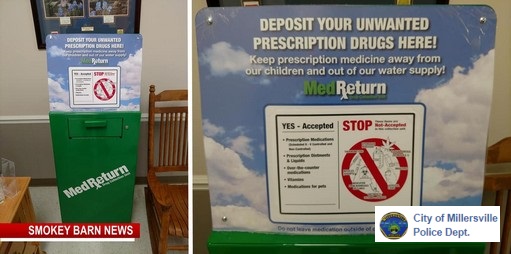 ———————————-
Millersville Parks and Recreation – June 14 FREE FUN!!!!
Friday, June 14, 2019 at 1 PM – 2 PM – Millersville Parks and Recreation1181 Louisville Hwy, Goodlettsville, TN
Dig for fossils, dinosaur craft and dino snacks.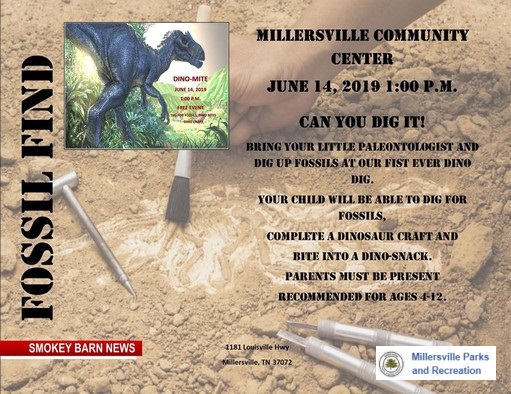 ———————————-
The City of Millersville Police Dept.  would like to congratulate Detective Pearce on being awarded Detective of The Year for Sumner County at this year's Child Protective Investigative Team appreciation luncheon.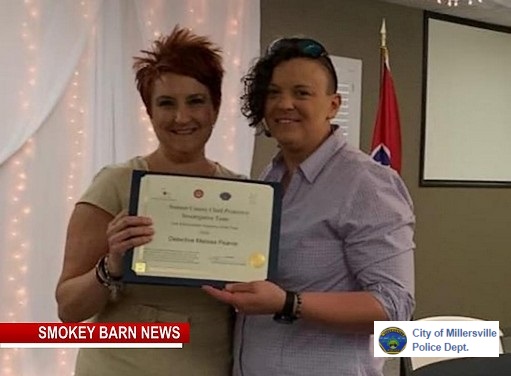 ———————————-
City of Millersville Police Dept. – Detective Pearce and Officer Riley at Millersville Elementary School career day.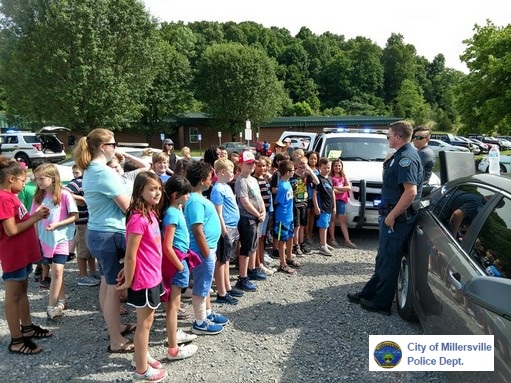 In Adams News
City of Adams, TN – Important Message about Firework Show in Adams 
For this year's Annual Firework Show, the date has been changed to Saturday July 6th.
This change is due to the State of Tennessee requiring a licensed exhibitor. Because of this law, the City of Adams had to hire a certified company, Impact Pyro, to perform the firework show. July the 6th was the only available date for the year 2019.
The City of Adams is very sorry for any inconvenience this may cause.
For the year 2020, the City plans on getting the show displayed on the 4th.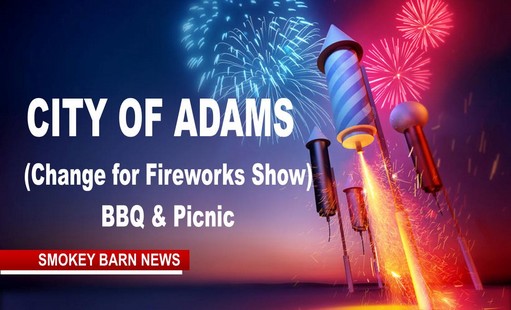 Annual BBQ Picnic for Independence Day will be held on the July the 6th.
Picnic starts at 11:00 A.M.
Fireworks will begin at dark.
All proceeds benefit the Adams Volunteer Fire Department

In Portland News
Portland TN Police Department
A little Portland PD Throwback Thursday, courtesy of Bill Sorrells. Bill was previously a Portland officer and is now the Assistant Chief at Gallatin PD. He stands beside a brand new 1983 Plymouth Fury.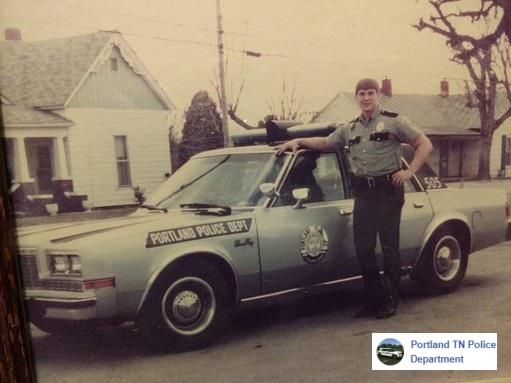 ———————————-
June 13: Music on Main In Portland featuring Bucky Covington by Portland Chamber of Commerce
Thursday, June 13, 2019 at 6:30 PM – 9 PM – Main Street Portland, TN. The first concert in Portland's Music on Main concert series for 2019! The concert will start at 7:00 pm on Main Street featuring Bucky Covington!
This is a FREE event! Bring your lawn chair or rent a chair for $2 and join us for a great night of music & entertainment!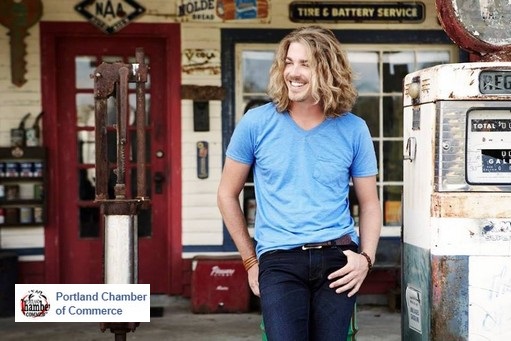 In Orlinda News
June 11 Tuesday at 7 PM FREE Robertson County Community Band Concert
Byrum Porter Activity Senior Center: 9123 Highway 49 E. Orlinda, TN 615-654-3161 Come one, Come all – All ages, friends, family, neighbors! SEE EVENT FLYER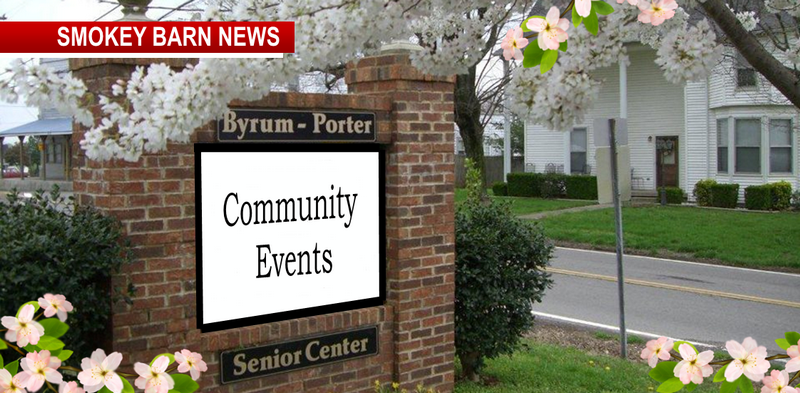 Also…
Byrum Porter Sr Center Is Hiring
Sponsored (Public Notice)
Smokey Barn News (Advertisement)
Smokey Barn News (Advertisement)
We bring you ALL the News in and surrounding Robertson County, Tennessee.