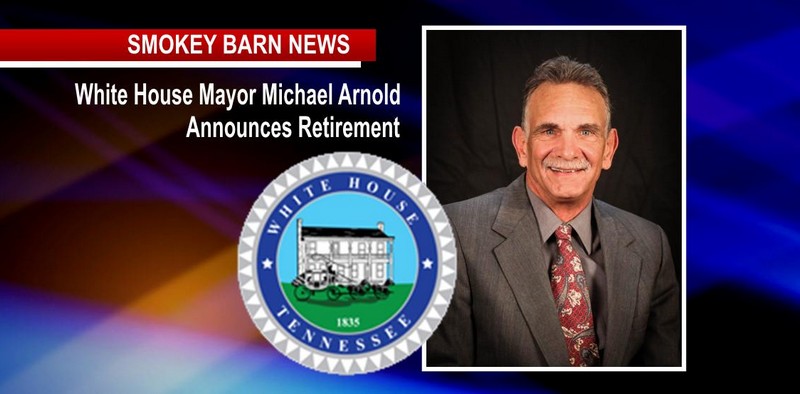 White House Mayor Michael Arnold Announces Retirement
WHITE HOUSE TENNESSEE: (Smokey Barn News) – After 17 years serving the White House community (6 as an Alderman and 11 as Mayor) White House Mayor Michael Arnold has announced he will be retiring effective January 20, 2022.
"Today I have officially announced to City employees my intent to retire. This is not a decision I took lightly!!! It has been the honor of a lifetime to serve the citizens of White House Tennessee. I've spent 17 years as an elected official and it's time for some younger voices with new ideas to come forward.
"During my tenure, we have accomplished much in this great City and I am proud to have been a part of it. The City of White House is staffed with the greatest leadership and employees it has ever had. The financial standing is the best it's ever been and the future holds nothing but promise.
"I send a heartfelt -Thank You- to all members who have served on voluntary Boards, my fellow Board members, a terrific group of employees, and a leadership staff that is second to none. Special thanks to all my fellow legislators be-it Local, State, or Federal who have helped me in my journey to make White House the best it can be!!!
"My biggest thank you is to the residents of the City of White House for entrusting me with your great City for all these years!!! I will conduct my last Board meeting on January 20, 2022, at which point my retirement will be in effect.
"I look forward to a healthy and restful retirement and all it has to offer and to have the freedom for my wife and me to spend quality time together with all our animals. Michael L. Arnold Mayor. City of White House
Vice Mayor Farris Bibb will fill the remainder of Arnold's term.
Mobile: To See The Latest Stories or to share this article, scroll below