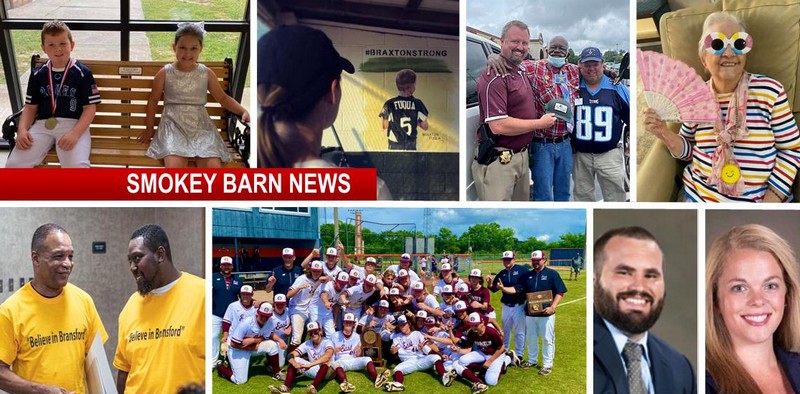 Smokey's Community Column, Stories Across Robertson County (5/30/2021)
ROBERTSON COUNTY TENNESSEE: (Smokey Barn News) – Welcome to Smokey's Community news column. It's a look back at this week's top community news in and around Robertson County.
Smokey's People & Community News column highlights local stories of people, schools, community events, and charities that continue to make Robertson County great!
BECOME A SPONSOR TODAY!! [email protected]
Got a story? Email your story ideas to our 24/7 news desk; [email protected]
(Cross Plains, TN)
CONGRATULATIONS!
STATE CHAMPS!
East Robertson Indians – WE ARE ER!
The City of Cross Plains is proud to be represented by such an outstanding group of young men and coaches! Indians 5-1 victory!
WE ARE PROUD OF YOU! WE ARE ER!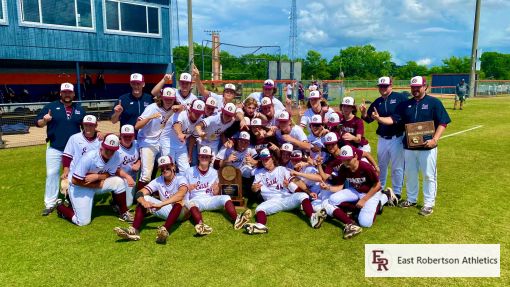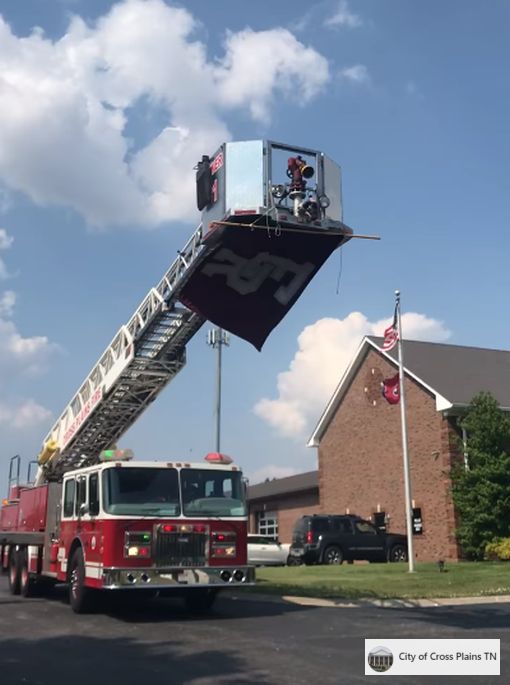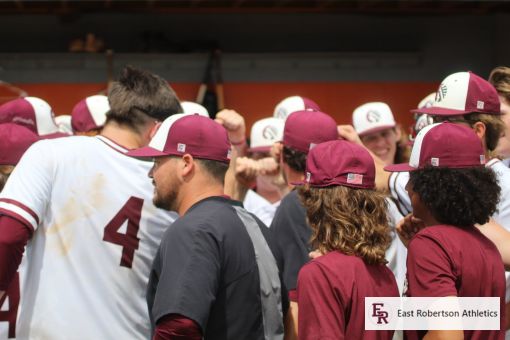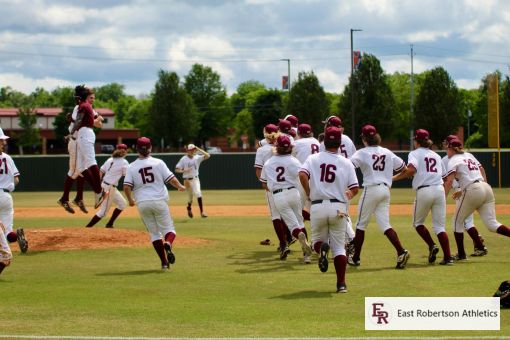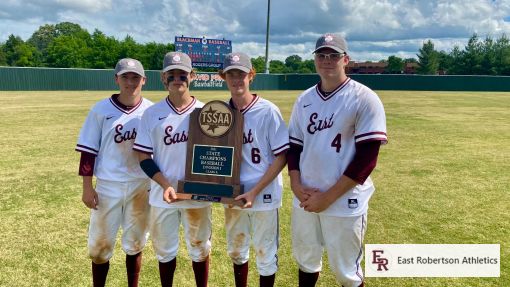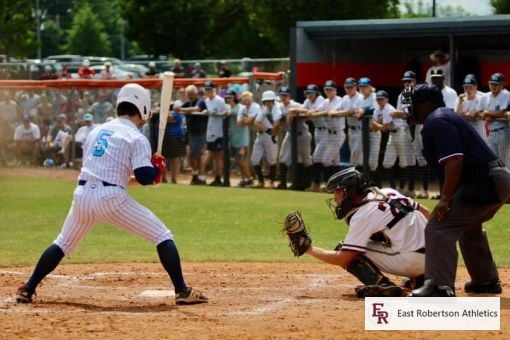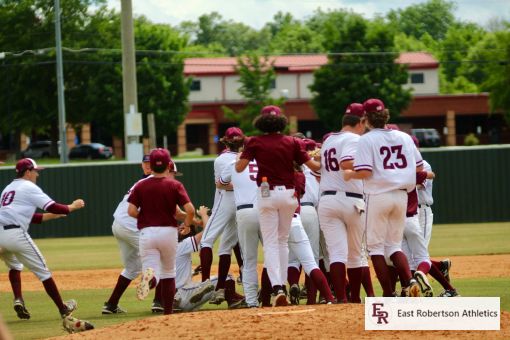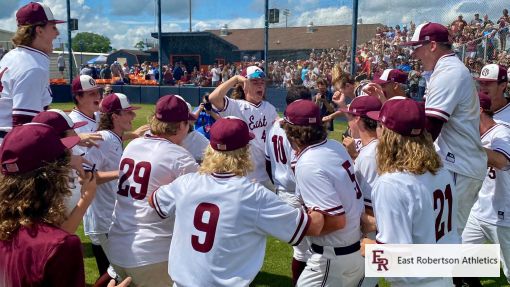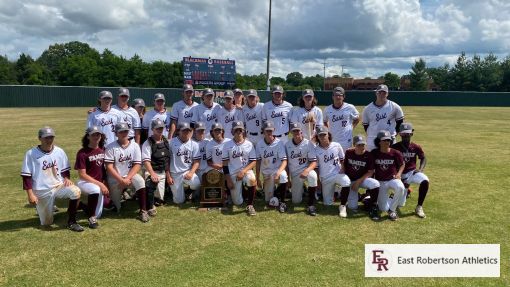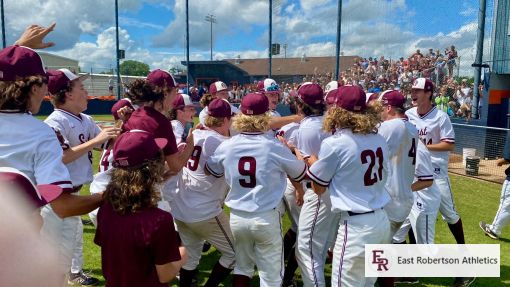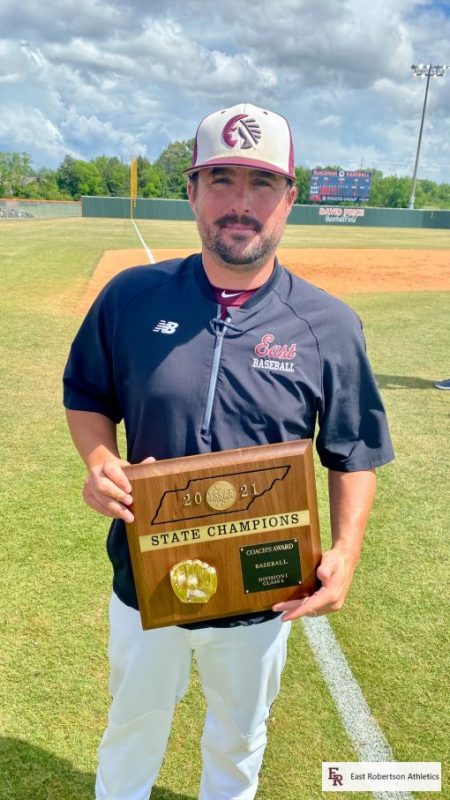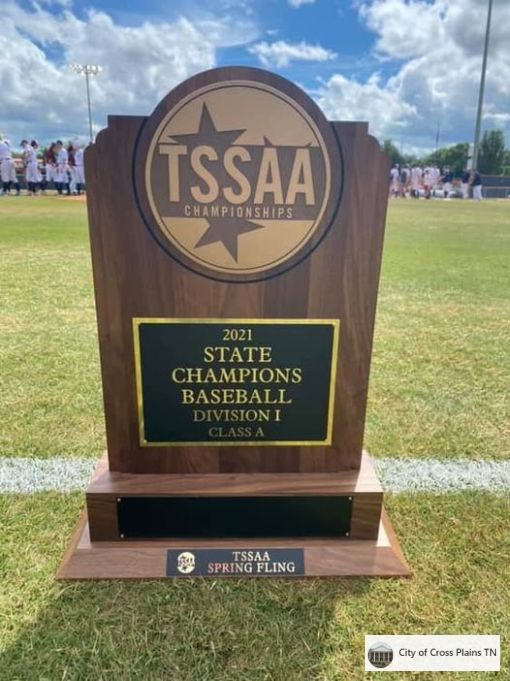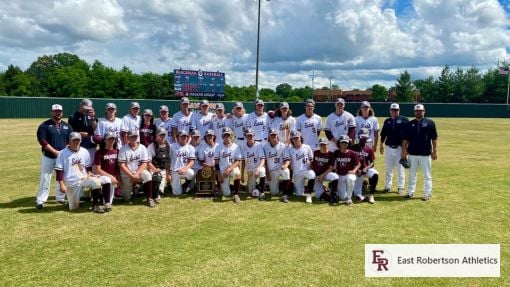 Robertson County Sheriff's Office – Big shout out to the East Robertson Baseball Team! 
The Sheriff's Office was excited to escort them on their way to the TSSAA Class A State Championship! ⚾️⚾️⚾️
Congratulations!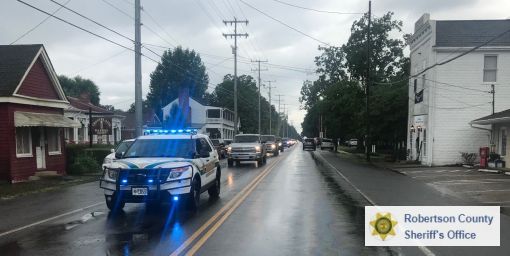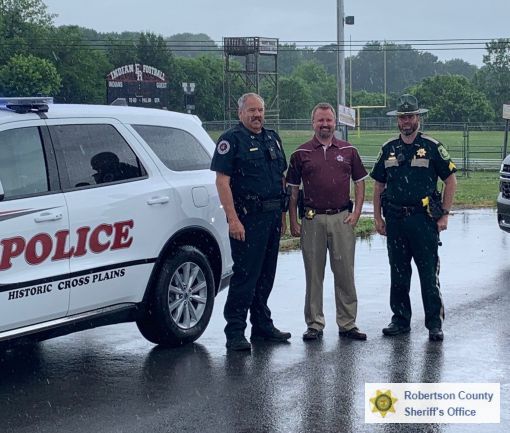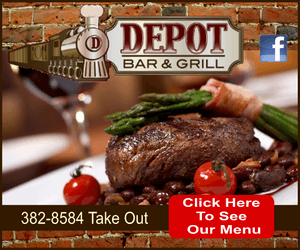 (Robertson County, TN)
Robertson County Emergency Medical Services – This weekend, as you enjoy time with friends and family, remember the hero's who didn't make it home.
This weekend we remember the ultimate sacrifice they made for our country. Have a safe weekend everyone!
(Springfield, TN)
Stokes Brown Public Library – We would like to thank everyone who gave blood yesterday at our first Blood Drive.
All 36 pints donated will contribute towards Robertson County's Remembering the Badges goal.
If you were unable to join us and would still like give blood, please follow the link to sign up for the July 1st event which will be held at the Fairgrounds.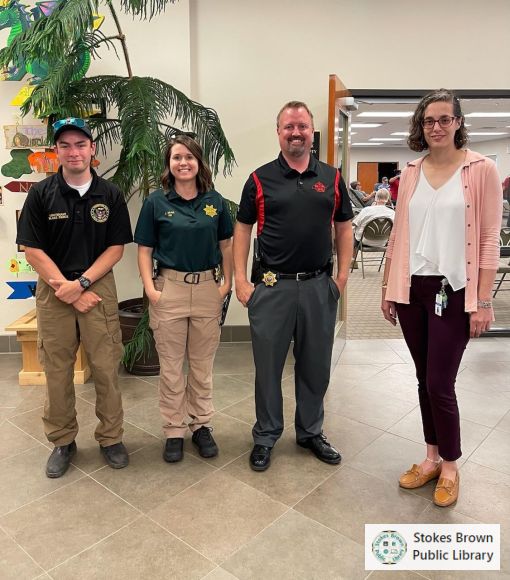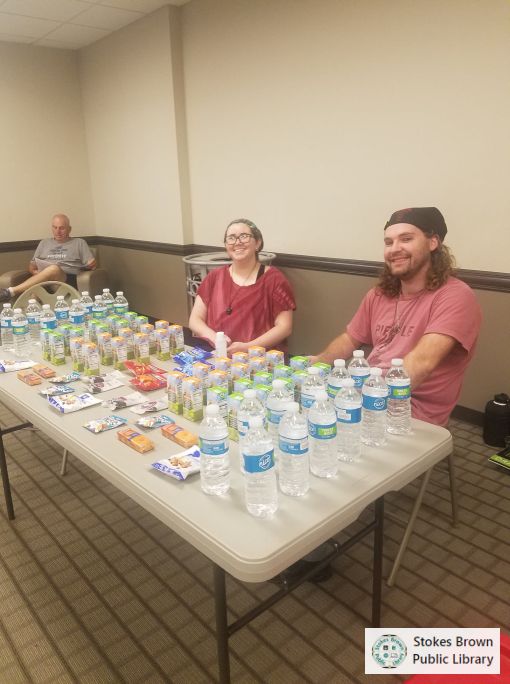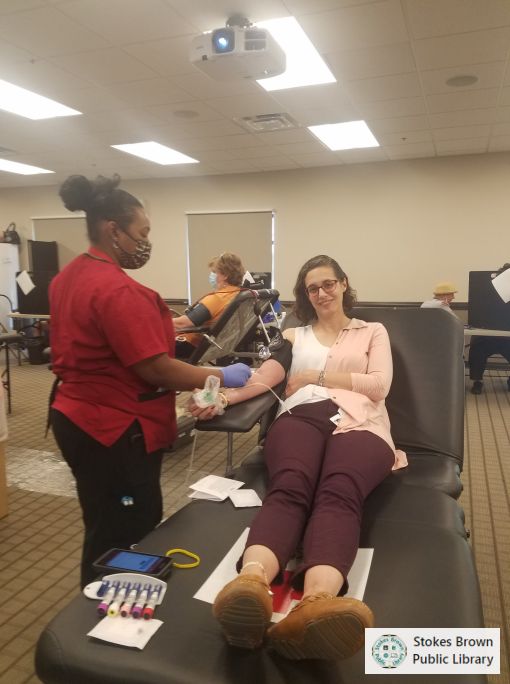 (Robertson County, TN)
Robertson County 4-H Shooting Sports – Shooting Tradition: You hit a Perfect 25 and you shoot your hat.
Congratulations to Brickey Cox for a Perfect 25 on Trap today!
(Hat thrown by David Spivey)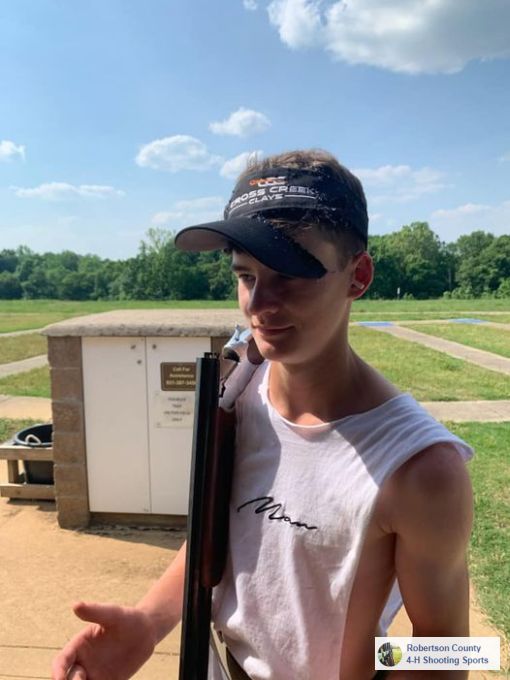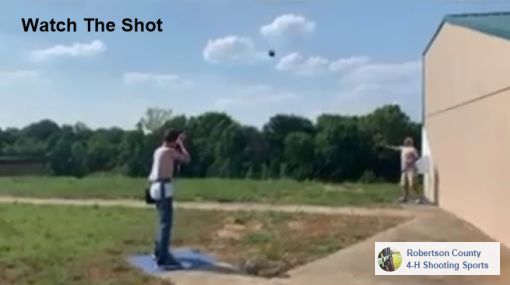 City of White House, Tennessee – Please join us on May 31st at 10:30 am in the auditorium of the Billy S. Hobbs Municipal Center for a ceremony honoring our fallen heroes. 
Memorial Day has come to mean the beginning of summer, a time for picnics and barbecues, and a holiday to gather around the family. That happiness and freedom, however, is a product of the real cause for the holiday: the sacrifice made by men and women who have fought and died for the freedoms and liberties Americans hold dear.
Memorial Day is a time to remember that the American way of life is not cheap but rather has been purchased by the lives and blood of so many who have sacrificed for us to live free and happily now.
#MemorialDay #MyWhiteHouseTN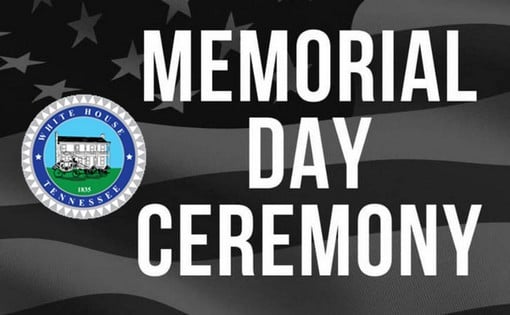 RC School Supply Lists For K-8 2021-22 Are Now Available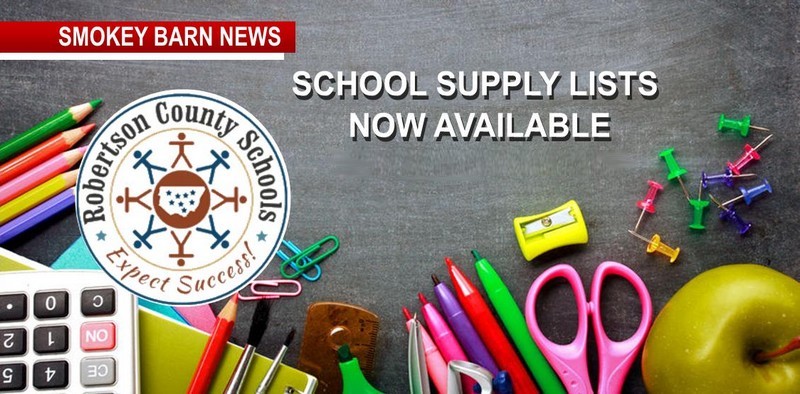 The Robertson County School district has released the 2021-2022 supply lists for K-8. These lists will help make sure your child is prepared for next year's school season with all the necessary items required.
Click on the LINK, then find your child's school. Once there, you can download your child's school supply list.
Have a fun and safe summer!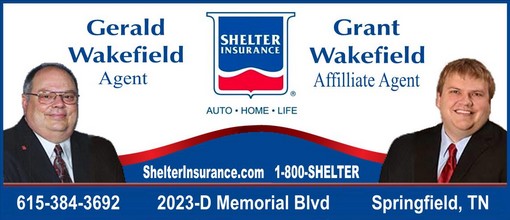 Springfield Middle School/UT Extension Afterschool  – Don't forget to apply for Summer Camp.
It's totally free and transportation if offered to those within city limits. Applications can be picked up at SMS or UT Extension-Robertson County.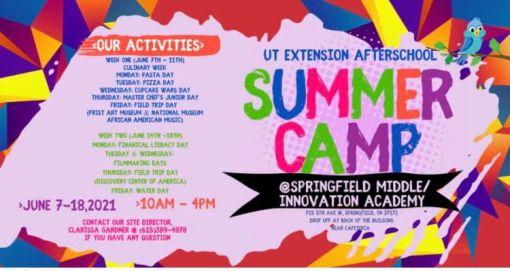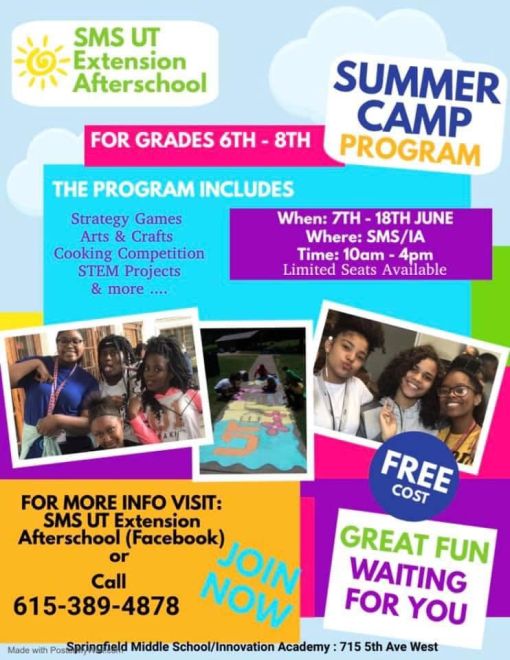 Robertson County Schools Announcement: 
Mr. Cory Willoughby has been named the principal for East Robertson Elementary School and Mrs.
Megan Keyes has been named the principal of Jo Byrns Elementary School.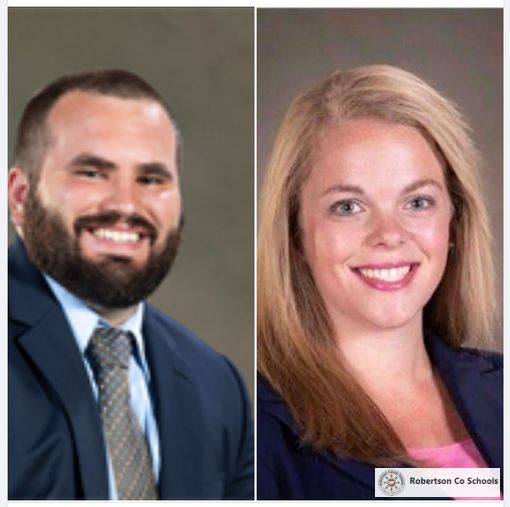 (Greenbrier, TN)
The Robertson County Veteran Service Office & Austin & Bell Funeral Home will be hosting a Memorial Day Observation on Monday, May 31 at 9:00 AM.
Please join them in honoring all of those who have served.

(Portland, TN) 
Portland TN Fire Department – This holiday weekend remember these fire safety tips when grilling:
*Move the grill away from siding, decking, and other things that can catch fire.
*Clean grills often and remove grease buildup.
*Make sure the gas grill lid is open before lighting.
*Stay with the grill the entire time you're cooking.
#portlandtnfire #FireIsEveryonesFight #GrillingFireSafety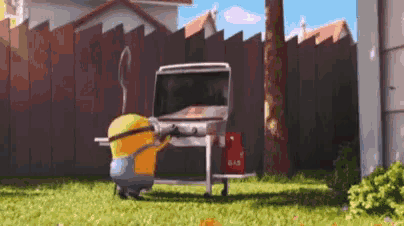 (Springfield, TN)
Springfield Heights – assisted living & memory care by Americare – Warm and 84 degrees!!! Mocktails, sunshine, gardening, and bird watching all in one day!!! We are worn out!!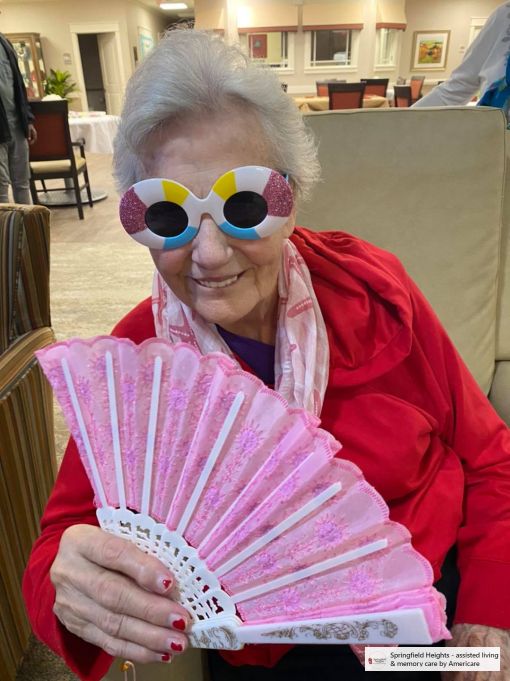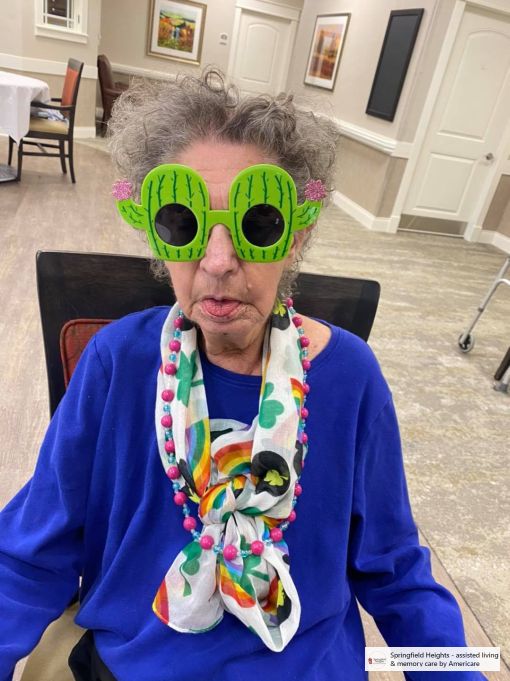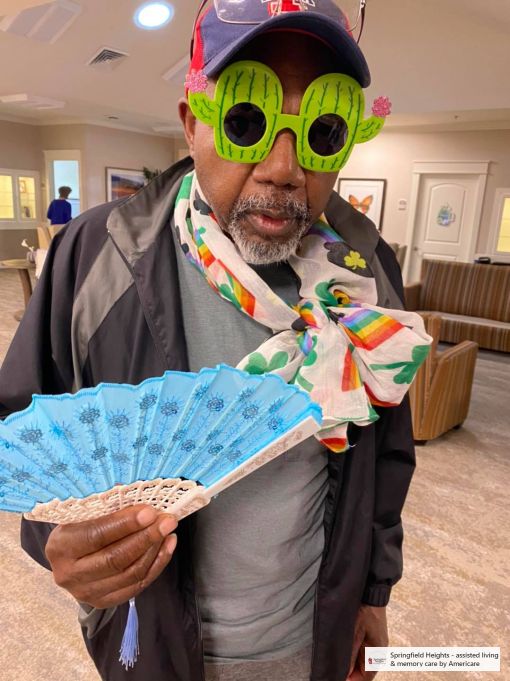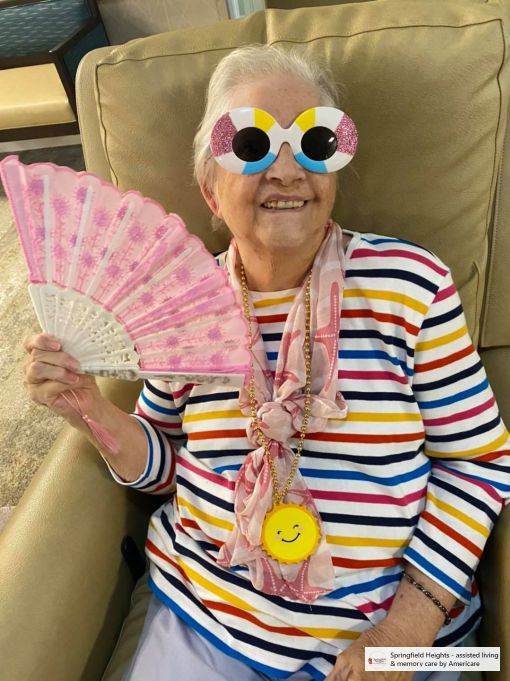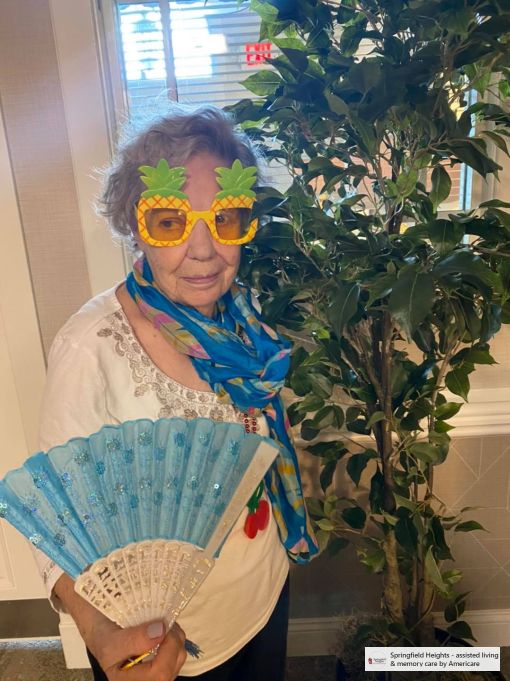 Springfield Heights – assisted living & memory care by Americare
Our residents take excellent care of our beautiful garden! It is really flourishing under their green thumbs.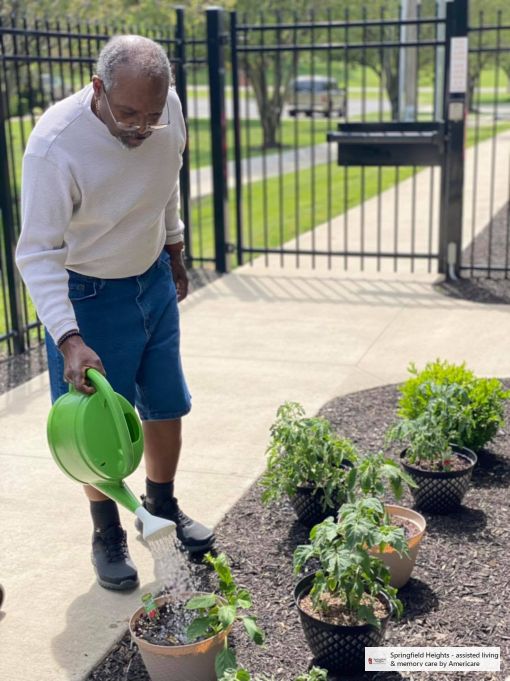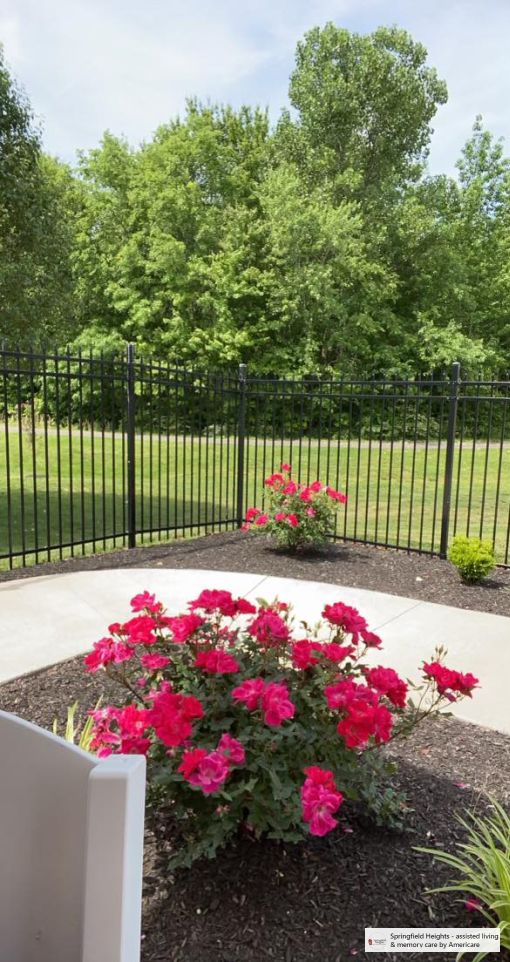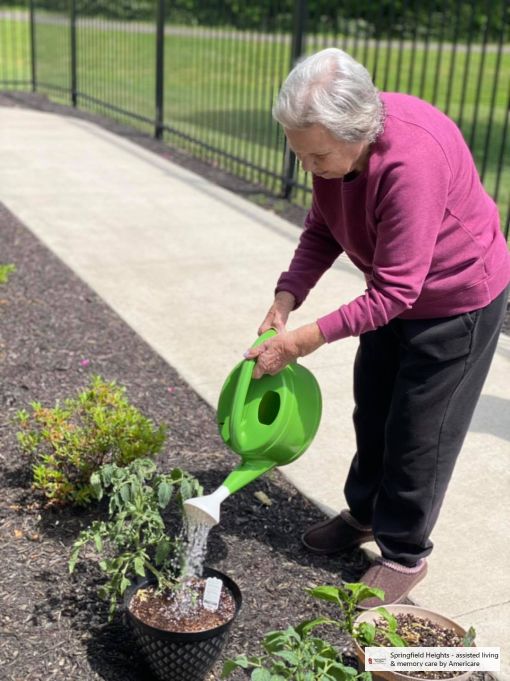 (Robertson County, TN) The Robertson County Health Dept. is moving its COVID Vaccination Pod
Beginning Tuesday, June 1st, the Robertson County Health Department will be moving it's Covid-19 vaccination POD from Volunteer State Community College in Springfield back to the Robertson County Health Department located at 800 South Brown Street in Springfield. (MAP)
The site will be located at the rear of the Health Department. Please enter the site from South Mabel Street. Hours of operation will be from 12:30pm – 3:30pm, Monday through Friday. No appointment is necessary.
Thank you,
Rachel Ellis
Robertson County Health Dept. Director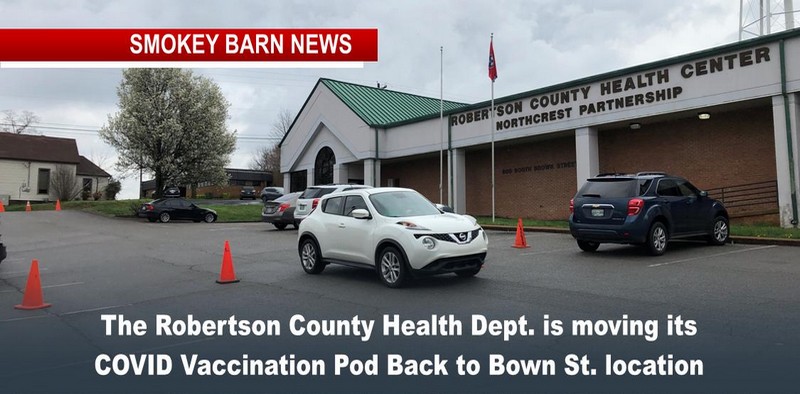 (Springfield, TN)
Springfield's Payne Chevrolet is at Payne Chevrolet. – Travis drove off in his brand new 2021 Silverado yesterday.
Thank you for your business, and we look forward to serving you again!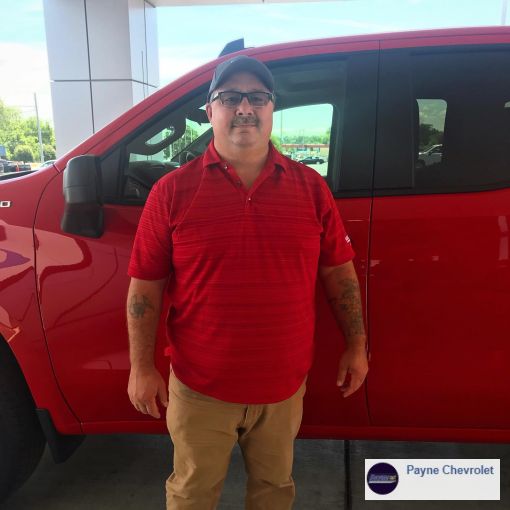 Payne Chevrolet – The new Corvette Stingray is an obvious choice to lead the pack.
Click Image to Check Out the Chevrolet Corvette Stringray Pace Car for the 105th Indianapolis 500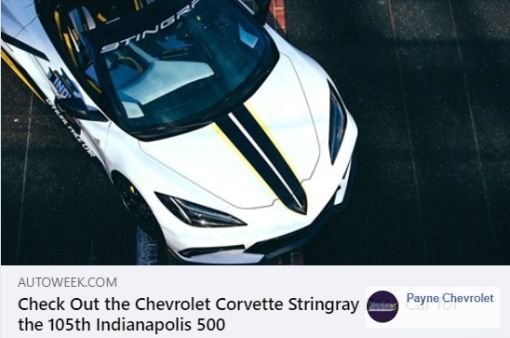 Great Companies->Great Jobs-> Who's Hiring In Robertson County
(Coopertown, TN)
Upcoming Community Event on Friday, June 4th – Remember the Removal Bike Ride by the Cherokee Nation will be riding through Coopertown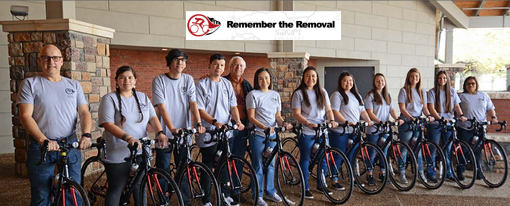 On May 26, 1838, 7,000 federal soldiers began rounding up Cherokee people in North Carolina, Georgia, Alabama and Tennessee for the process of moving them west to Indian Territory.
To bring awareness, and to remember their ancestors, The Remember the Removal Bike Ride was started by the Cherokee Nation in 1984 for Cherokee youth to retrace the Trail of Tears and get a glimpse of the hardships their ancestors faced when they made the same trek on foot years before. That year about 20 students, ride coordinators and two consultants from Boston College set out on bicycles followed by vans and a school bus of supplies, including tents and food.
The ride became an annual event starting in 2009 and the Eastern Band of Cherokee Indians joined the ride in 2011. Today, the riders are selected based on an interview process. Then, the riders will complete a physical test and train for six months.
During the bike ride, cyclists visit the Kituwah Mound in the original Cherokee homeland. They stop at unmarked graves of their ancestors; visit New Echota, the former Cherokee capital in Georgia; stop at Blythe Ferry along the Tennessee River, where Cherokees gathered during their forced removal; and take time to reflect on their ancestors at Mantle Rock and other historic sites historic to the Cherokee people.
On Friday, June 4, 2021, the Riders will pass through Coopertown, TN.
They will stop in Coopertown. The City of Coopertown and Community Development Committee will provide breakfast and other refreshments for the Riders.
If you would like to welcome the Riders, and/or donate food or drinks for the Riders, please come join us on June 4th, between 0800-1000, at Coopertown City Hall!
Also, if you would like to make a "Welcome to Coopertown" sign to welcome the Riders along the Original Route, that would be awesome, too!
You may drop off non-perishable food donations early at City Hall.
Donations items:
Granola bars, Water, Gatorade, Sausage Or Bacon biscuits, Fruit
Breakfast casseroles, Juices, Trail mixes, Anything else….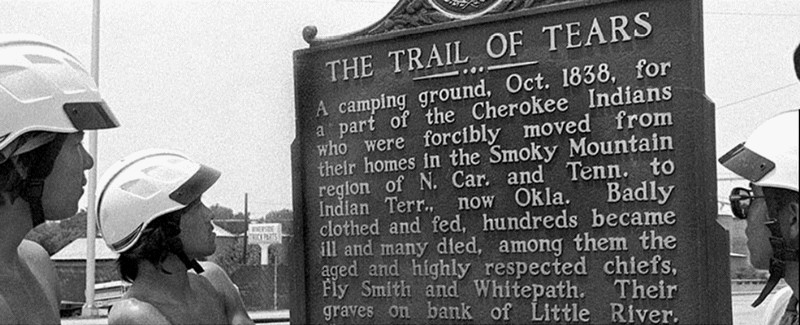 (Springfield, TN)
Bransford Community Center – We are mere months away from breaking ground.
We have officially retained a builder who works directly with an architect and designer, and we are finalizing plans for Phase 1 of construction, which will include a large gym and multipurpose room for us to house (and expand) our Bransford Pride program.
What an incredible feeling to know we are so close!
We believe in Bransford!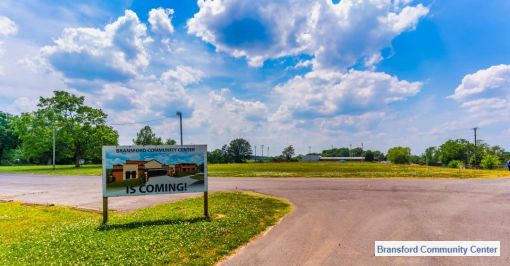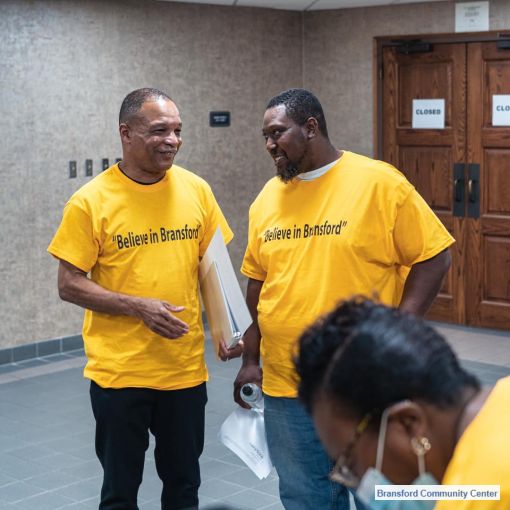 Looking for a great summer program?
Bransford Pride is still accepting applications! Reach out to Carolyn Woodard now to set up an appointment to sign up.
City of Millersville Police Dept. – Assistant Chief Carr Played tug-of-war against an entire first-grade class this week.
"We Always appreciate the opportunity spend time with the children in our community. The children really enjoyed winning!" Millersville Police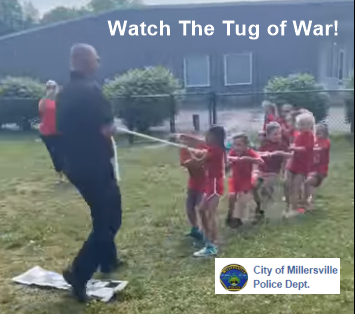 Cottontown Fire Department-TN
This morning our volunteers were called to respond to a structure fire. Upon our arrival, we were surprised to see a few good Samaritans fighting a garage fire with a garden hose!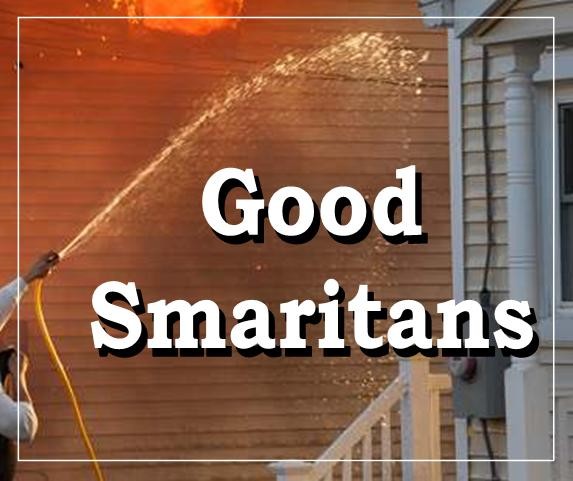 These wonderful unidentified heroes were simply going about their day, driving by, when they saw the smoke and felt a duty to act.
They stopped what they were doing, alerted the owner, and grabbed the garden hose to start fighting the fire…
Had it not been for these fine folks, the fire would have gotten much worse. Our volunteers put out some hot spots and ventilated some smoke. It's good to know there are still good people in our world.
We salute these folks that took a few minutes out of their day to help some complete strangers…
(White House, TN)
Robert F. Woodall Elementary – As this school year comes to a close, we continue to honor and pay tribute to one of the many educators who inspired our faculty.
A school library shelf and bench was recently dedicated in memory of Ms. Stephanie Mason.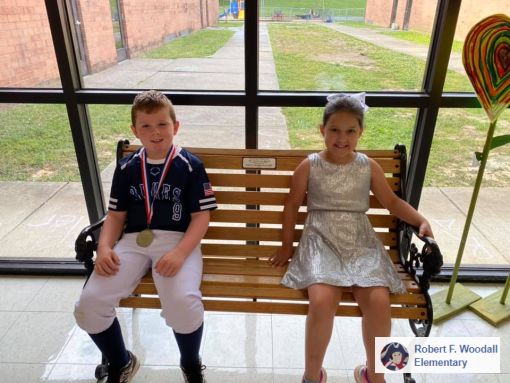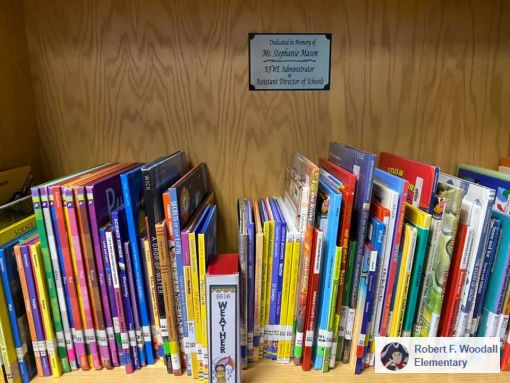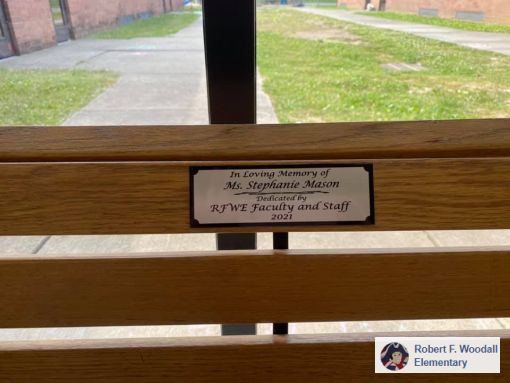 Related…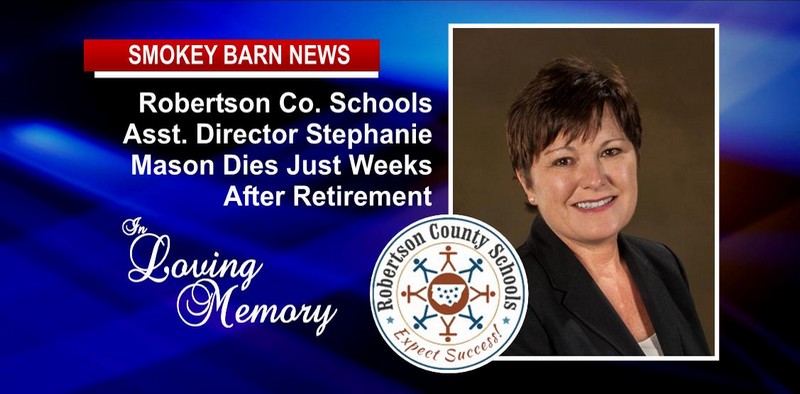 RC Schools' Asst. Dir. (Stephanie Mason) Dies Just Weeks After Retirement
ROBERTSON COUNTY TENNESSEE: (Smokey Barn News) – Just weeks after Robertson County Schools announced the retirement of Assistant Director Stephanie Mason following a 32-year-long education career, the district found itself announcing her passing.
"On Saturday, Jan. 30, Robertson County Schools received word that a respected and beloved member of the RCS family had passed away," the district announced Sunday evening. "Stephanie Dawn Mason died peacefully in her sleep the night before (January 29), leaving a loss to family, friends, and co-workers that simply cannot be measured. The cause of Mason's death has not been released. Read more…

Robertson County Sheriff's Office Carl from HATS loves the Sheriff's Office
He asked Sheriff Michael Van Dyke for a Sheriff's hat to add to his collection. We always love seeing you Carl!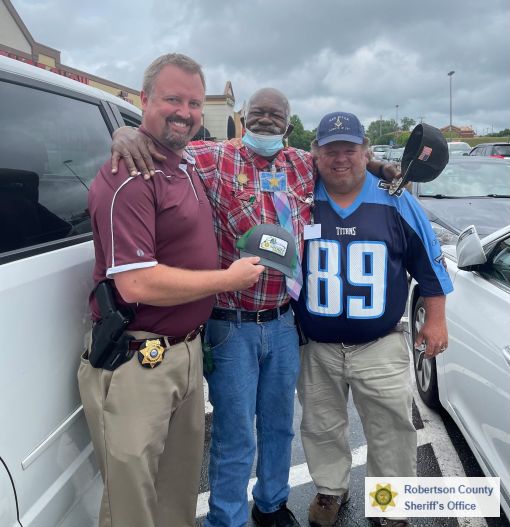 Robertson County Sheriff's Office – Congratulations Corrections Officer Lassiter on being May employee of the month for the Robertson County Detention Facility!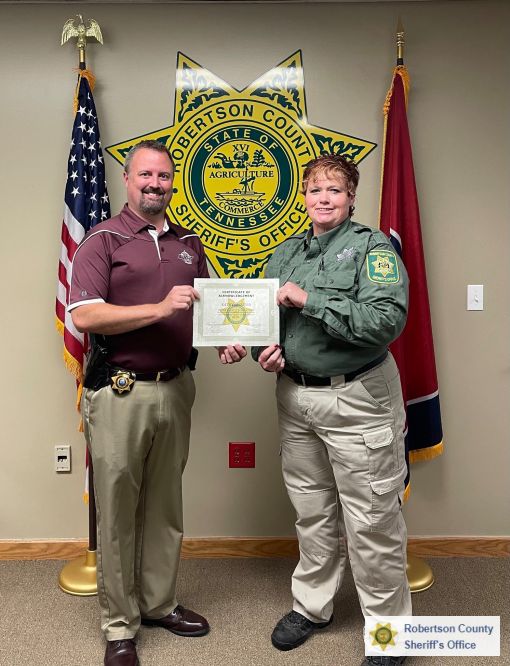 Robertson County Sheriff's Office – Keeping our children safe at school is a top priority, but our SRO's also love to have some fun with them too!
SRO Richards finishing out the school year with a kickball tournament for students at Jo Byrns Elementary School.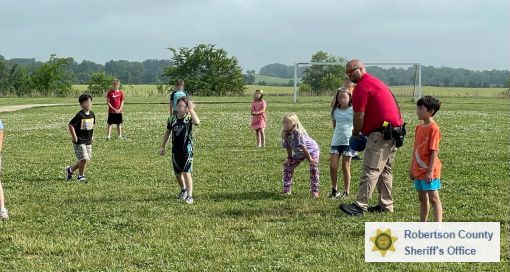 NorthCrest's Grapevine Gift Shop Needs Gently Used Books!
Now with more visitors to NorthCrest, the used book cart can use a few more titles on it. All of the proceeds from the Volunteer Book Cart go directly to the fund for college scholarships! Believe it or not, selling books at $1.00 or $2.00 really adds up! So clean out your bookshelves, and let our volunteers put them to good use!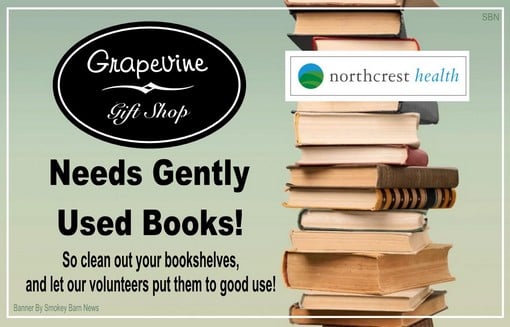 June 15: (Orlinda, TN) Free Concert by Robertson County Community Band
Community Band presents a Summer Concert
A Summer Concert will be presented by the Robertson County Community Band on Tuesday, June 15th at the Byrum-Porter Senior Center in Orlinda – 9123 Hwy 49 Orlinda, TN 37141. The concert will begin at 7:00 pm and is free. Refreshments will be served during intermission.
The community band will perform many well-known favorites including music from the Associations, Chicago, music from the 80's and Broadway hits, followed by patriotic pieces including "The Liberty Bell March", "Stars and Stripes Forever", "Fairest of the Fair", and many more.
The RCCB, in its sixteenth season, is always looking for new members. For more information about the concert, joining the band or sponsorship, please call the band manager, Janet Ozimek at (615) 384-2015. Ozimek can also be contacted at [email protected]
The RCCB will also be performing at the 4th of July celebration in Cross Plains.
We invite everyone in Orlinda and surrounding communities to come join us for our "Summer Winds" concert!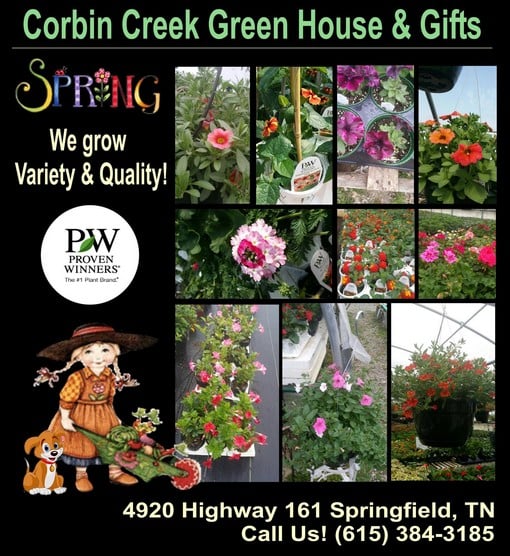 Wednesdays In Springfield – Classic Tin Cruise-In Through October
"It's almost time for Cruise-In Season! Starting April 28th. Every Wednesday (weather permitting) Springfield!" Shelby Horner
Classic car Cruise-In for Springfield and the surrounding communities coming together, sharing and talking cars, trucks and bikes.
Family Fun!
Held every Wednesday, from spring till Halloween, Classic Tin Cruise-In will be in Springfield, TN. The classic car, truck, and bikes Cruise-In for Springfield and the surrounding communities coming together for some Family Fun!
Being held at 2008 Memorial Blvd, Springfield, TN, Between the Hardees and Burger King.
Any questions please call Shelby Horner at 615-336-2257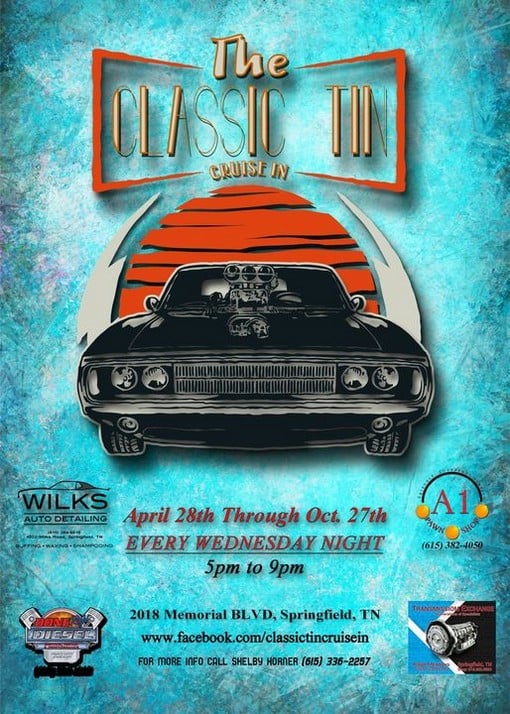 2nd "Angelversary" Celebration for Braxton Knox Fuqua aka BraxtonStrong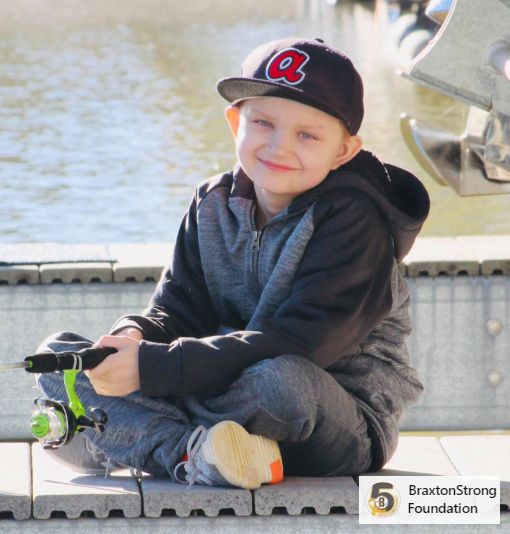 Braxton went to heaven two years ago. Several of his local close friends and family along with Bobby Bobcat gathered together on Braxtons baseball field in Greenbrier, to remember him on, May 29, his "angelversary." They led with a prayer, lit a home run around the diamond, and his teammates chanted "we are Braxtonstrong!"
"Tonight, makes…
Two years since my precious son gained his angel wings.
Two years without my son.
Two years without hearing his voice.
Two years without feeling his touch.
Two years since my life & heart felt whole." Nicole Turnbow
Tonight, we will remember him & honor him. Braxton, will never be forgotten and I will continue to share his bright light to others as long as I am alive.
#braxtonstrong #angelversary #twoyears #mysonmyhero #faithhopestrength #rememberingyou #liveyourfaith #family #myheart #oneday #mypurpose #timeisprecious
The BraxtonStrong Foundation was started by Braxtons mother, Nicole Turnbow to keep his memory alive and to continue spreading his love to others.
From Bobby Bobcat…
"Thank You Braxton for impacting my life and many others. You are truly loved by the people of Greenbrier and loved by many around. You and your family are always in my thoughts and prayers during events and games. Your love will always be with me throughout my career. Your impact will never be forgotten and your legacy is still going in the @braxtonstrongfoundation
Love and miss you Braxton! Your spirit will always be with us and we will always be #braxtonstrong" Bobby Bobcat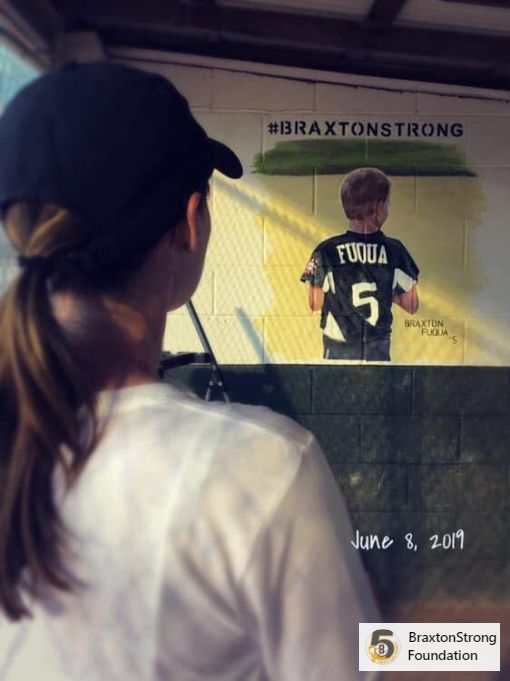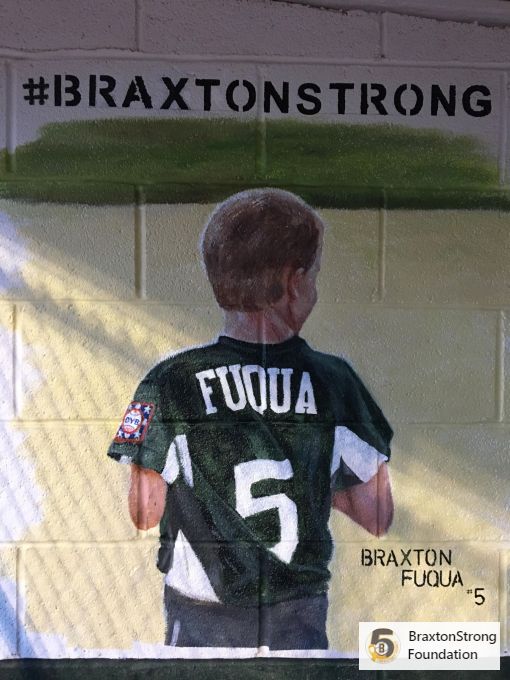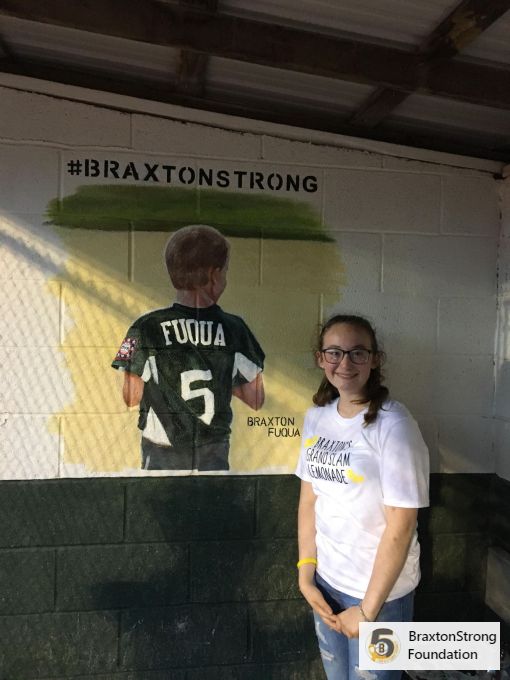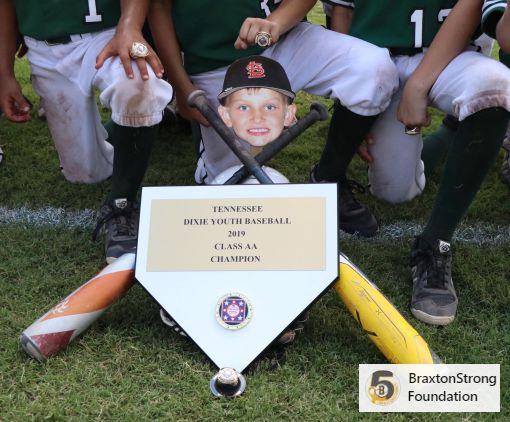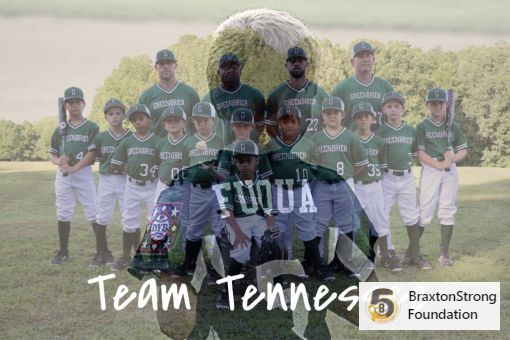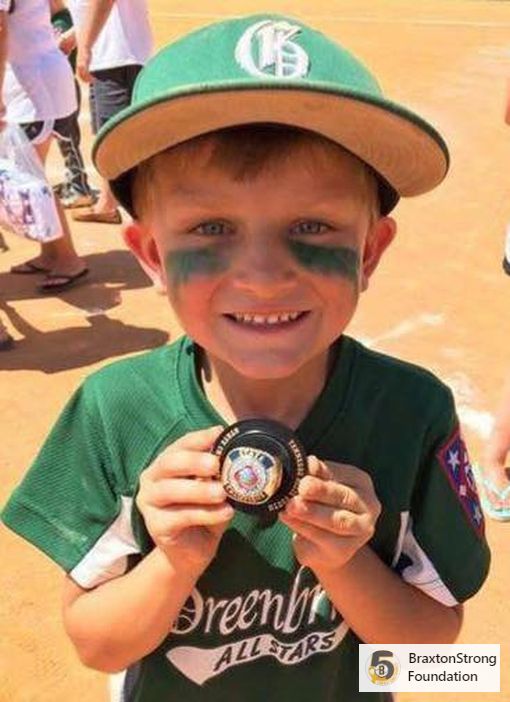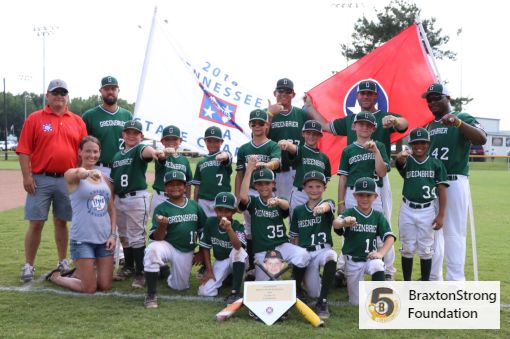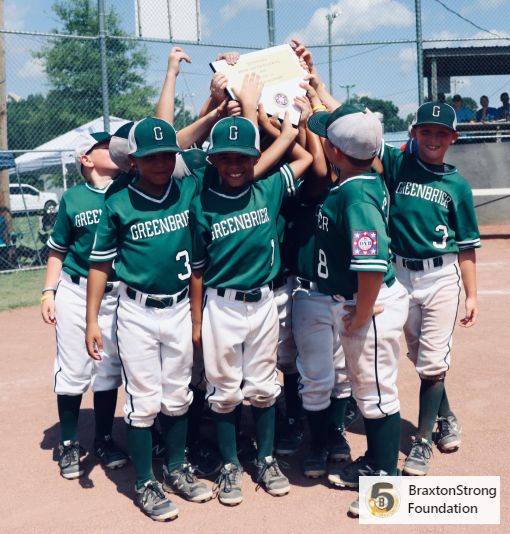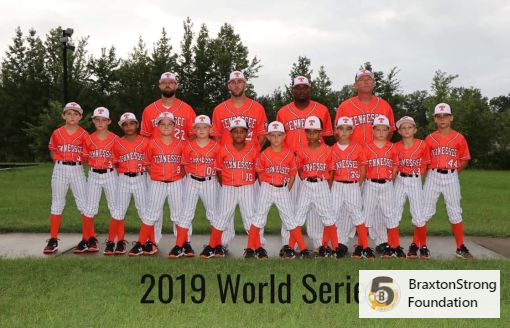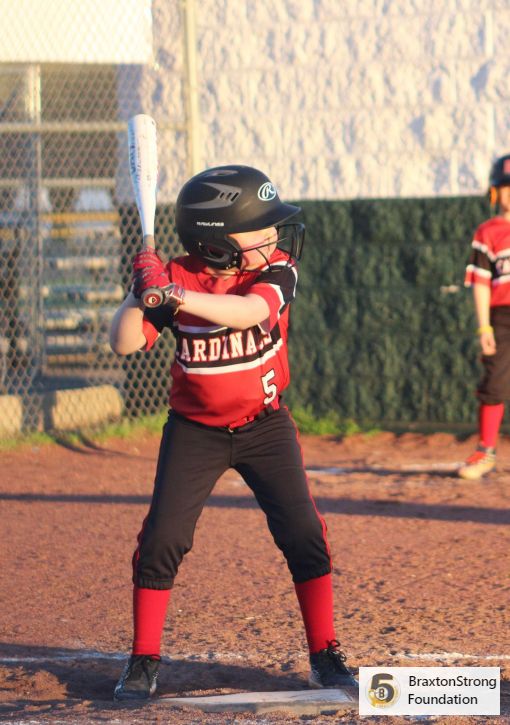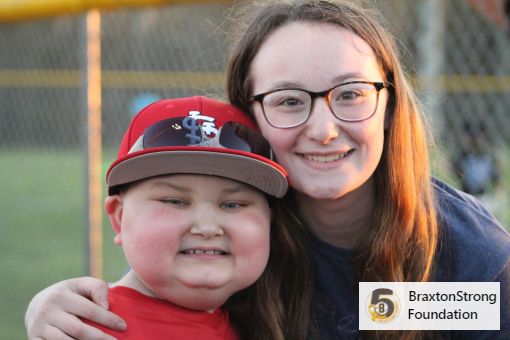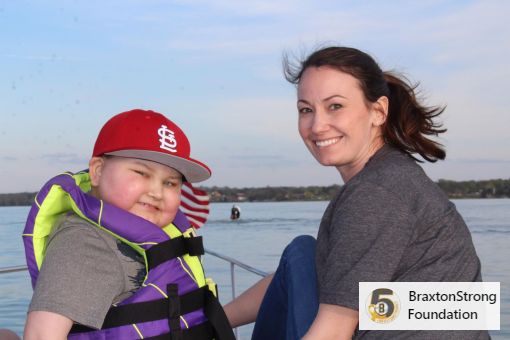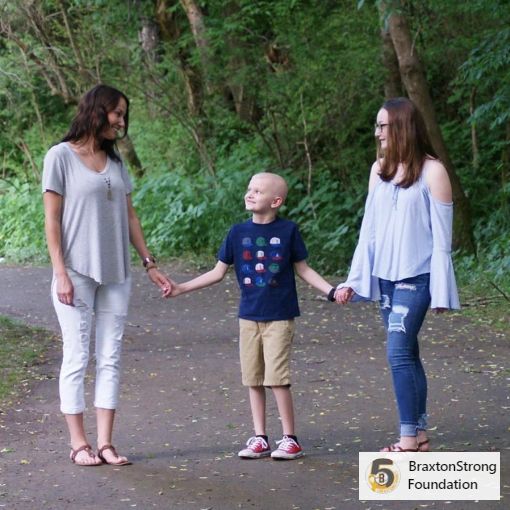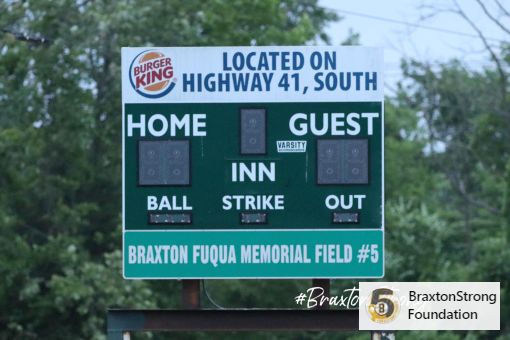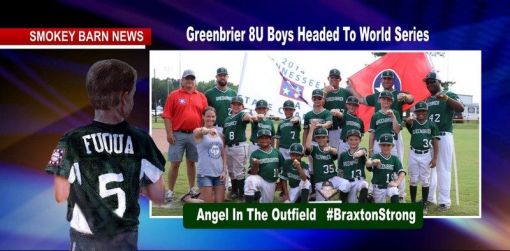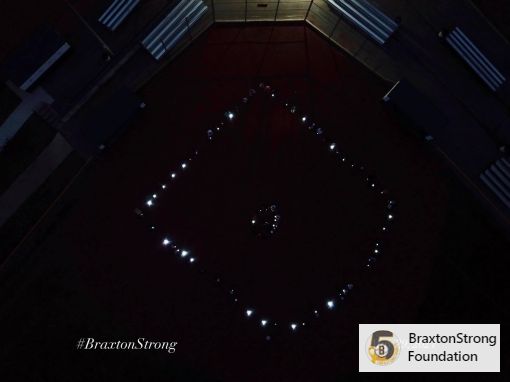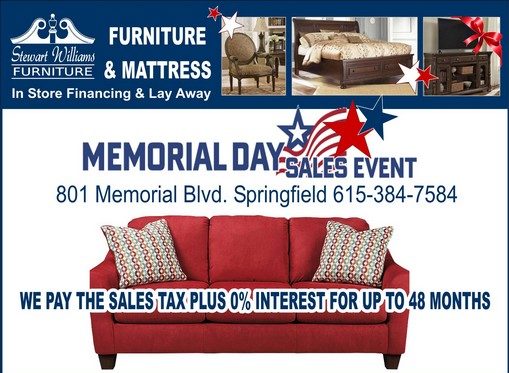 (Springfield, TN)
FREE Summer program – Robertson County Junior Golf Association
This program is Free for juniors ages 7 to 16. The program is called "Robertson County Junior Golf Association" and the Legacy Golf Course is having golf clinics to introduce the game of golf to the juniors.
"A brief history of participation, year one we had 16 juniors, year two we had 66 juniors, last year we capped it at 72 juniors and this year we had added a fourth week to hopefully fill the clinics to the capacity of 96 juniors."
Dates: June 7-8-9, June 14-15-16, June 21-22-23 & June 28-29-30. Three times a day 9:00am to 10:30am, 11:00am to 12:30pm & 1:00pm to 2:30pm. Limited to eight juniors per session.
If the juniors have golf clubs, please bring them. If you do not have golf clubs, Legacy will have some for the juniors to use.
To sign the juniors up: Call The Legacy Golf Course 615-384-4653.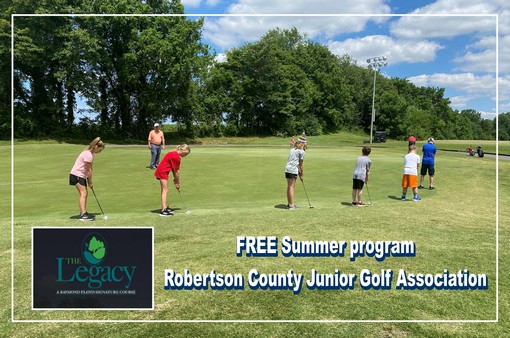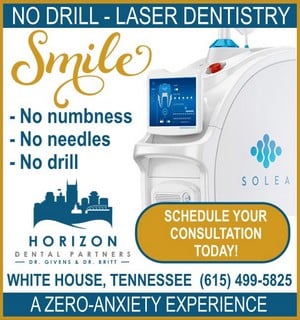 EVERY SATURDAY NIGHT IN GREENBRIER, TN – Racing Action/Family Fun At Veterans Motorplex At The Rim
Sponsor
Here's everything you need to know…
Pits open at 11 am
Grandstands at 4 pm
Racing at 6 pm
WHERE: 6801 Kelly Willis Rd, Greenbrier, TN – Call (615) 643-8725
TICKET INFO: FAMILY PACK – $30 for 2 Adults and up to 6 minor children!
Adults $12 Students, Seniors & Military $10, Children 6-12 $5.00
Great Concessions, Kids Zone and FREE PARKING!
Everyone can get great souvenir items as well as photos and videos of the racing action at the Souvenir Alley Souvenir Stand!
(Robertson County, TN)
Barbeque Throwdown Competition – Robertson County Fair Association
JUNE 11-12 come join the throwdown and serve up your best recipe for a chance to win CASH PRIZES in 5 different categories: Chicken, Ribs, Pork, Anything Butt & Friday Night Wings!
There will be 25 teams for this KCBS sanctioned event. Friday night will be a wing contest and everyone is invited to come taste the wings, put a lil' money in the jar for your best wing choice. Funds will go to the local non-profit "My Father's House" which offers shelter to those in need during the winter months. Saturday will be the BBQ tasting and People choice awards.  Don't miss out, see the teams and taste some great BBQ!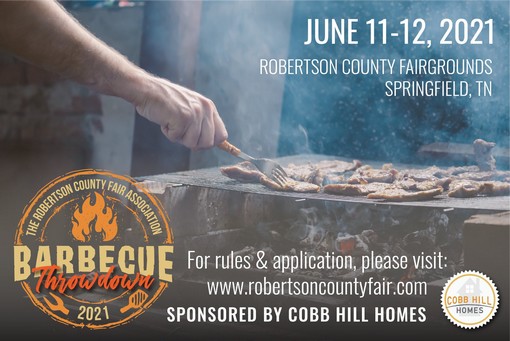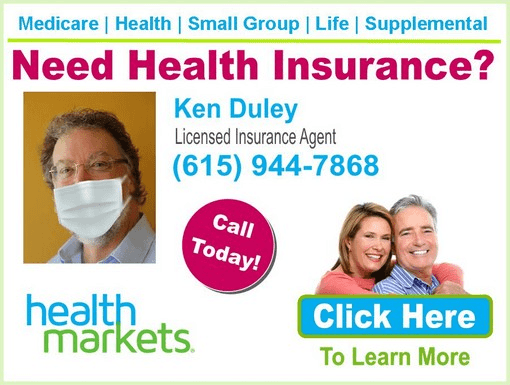 (City of Springfield, TN) Free Movie Fridays
The Springfield Parks & Recreation Department is excited to once again partner with Walmart of Springfield to bring free, family-friendly movies to Springfield as part of Free Movie Fridays.
Free Movie Fridays will be held on the third Friday of each month, June through September at the Robertson County Fairgrounds.
June 18: The Croods, a New Age
July 16: Moana
August 20: The Trolls World Tour
September 17: Raya and the Last Dragon
All movies will begin at 7:30 PM. Guests should bring their own blankets or folding chairs for seating.
(City of Springfield, TN) SUNSET CONCERTS ARE BACK!
Enjoy the sounds of summer at free sunset concerts downtown Springfield as part of the Historic Springfield Event Coordinator's First Friday Night Markets. Concerts begin at 6:30 p.m.
June 4: The Fortunate Sons
July 2: Howard Decker
August 6: Hot Lanta Allman Bros. Tribute Band
September 3: Jimmy Church Show/Dance Band
Important Message from the US National Weather Service Nashville Tennessee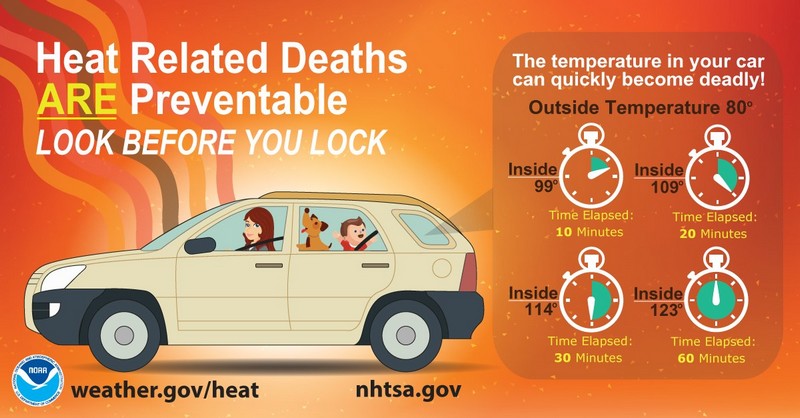 If you do have young children traveling with you over next few days with these seasonably hot conditions expected, remember this simple saying: "Beat the Heat, Check the Back Seat!" Tragically, nationwide 24 children died in hot cars in 2020 and 1 toddler already has died in April 2021. For Additional Heat Safety Tips & Resources: https://www.weather.gov/safety/heat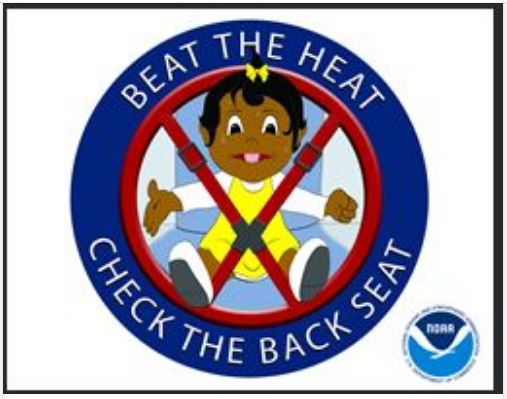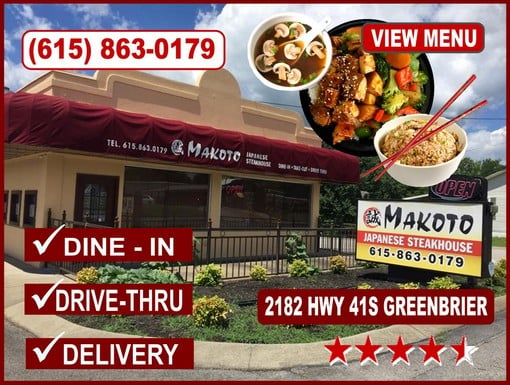 Monday Nights – White House Cruise-In 
5:00 PM to 8:30 PM
Location: Tavern 76 Parking Area (Only)
520 Highway 76
White House TN, 37188
Contacts Wayne Maligin 615-566-7343 or Bob Boone 601-354-3604 (Tavem 76 Parking area is located in the parking area in front of the Tavem 76)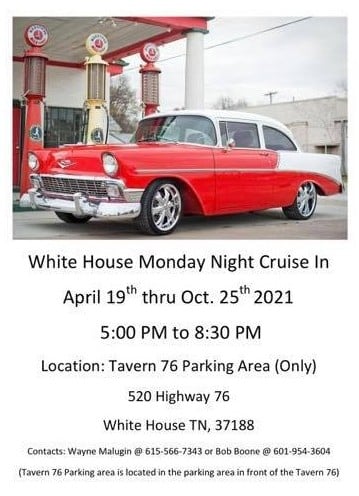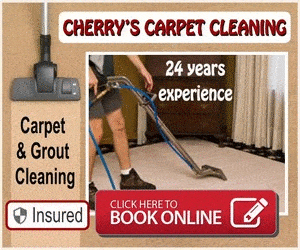 (Millersville, TN)
The city of Millersville presents its first annual bluegrass festival
The festival will be held at the Millersville Community Center, Friday, July 2 at 6 PM with stars of the stage,screen and radio: "The Tennessee Mafia Jug Band" and "The Ridgetop Ramblers" plus special guests! FREE admission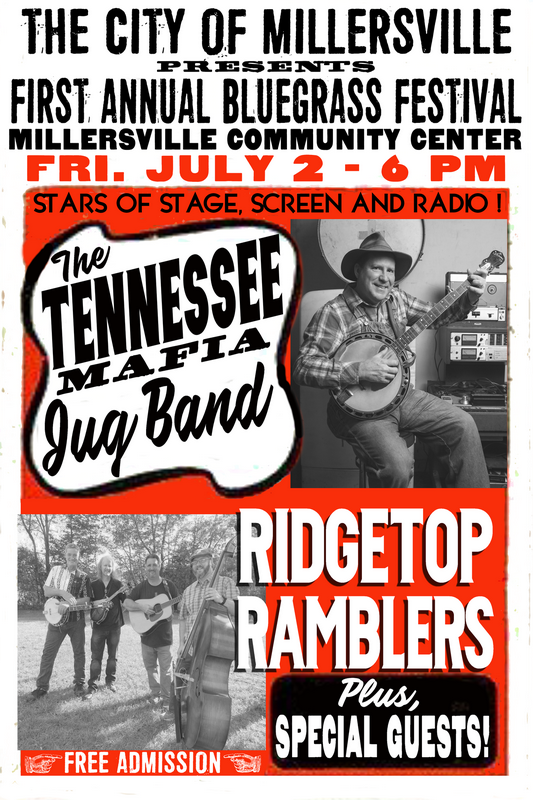 (Springfield, TN)
Springfield Opens First-Ever Accessible Playground With Sensory Features
After 3 years of planning and grants, the city of Springfield along with the Springfield Parks & Recreation dept opened its first accessible/inclusive playground with sensory features Saturday morning along with the official opening of the Splash-Pad at Martin Luther King Jr. Park. (MAP)
The new facility is a model inclusive playground with sensory features that allows children of differing ability levels to play together. The grounds and section of the equipment are wheelchair accessible. Watch our video report above to get a good look at this incredible new facility.
The playground is part of a larger project partially funded by a Local Parks and Recreation Fund (LPRF) grant of $500,000 that was awarded to the Springfield Parks & Recreation Department. Read More…
(Robertson County, TN)
The Robertson County Animal Control is overwhelmed by the current overpopulation of pets in our county
We have been working diligently to improve the situation in our area and lower our euthanasia rates. This has only been possible with support from our commissioners and mayor, and leadership of our Director Kevin Clinard. We promote spay and neuter. Please contact our office for information on low cost spay and neuter or to schedule to have your pet fixed.
Robertson County Animal Control
2900 W. County Farm Rd.
Springfield, TN 37172
Email: [email protected]
Phone: 615-384-5611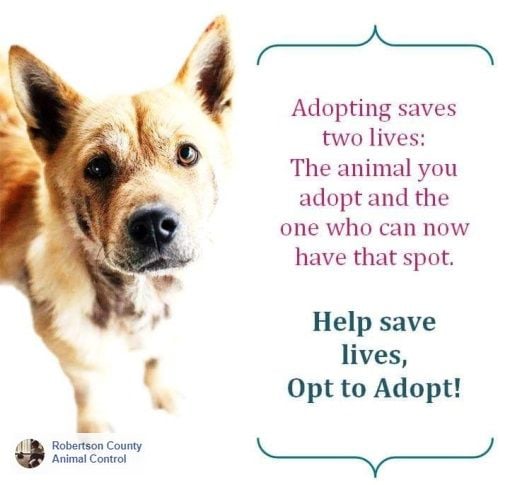 (Robertson County, TN)
Robertson County Highschool Seniors celebrate 2021 graduation. 
Congratulations to all the 2021 seniors from the Staff at Smokey Barn News.
"There are far, far better things ahead than any we leave behind."
—C.S. Lewis
"Twenty years from now you will be more disappointed by the things you didn't do than by the ones you did do. So throw off the bowlines. Sail away from the safe harbor. Catch the trade winds in your sails. Explore. Dream. Discover."
—Mark Twain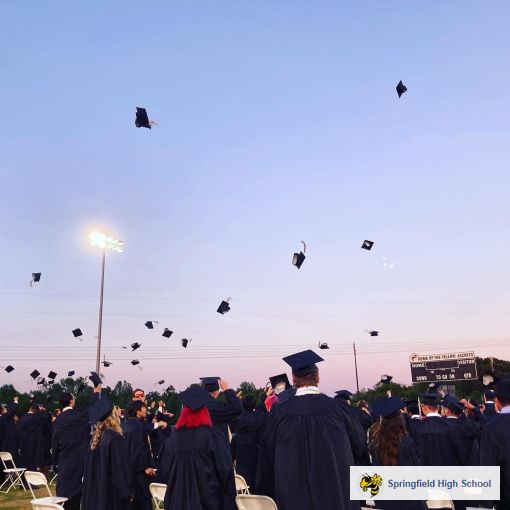 Greenbrier High Seniors celebrated their graduation at Veterans Motorplex at the Rim in Greenbrier. Smokey covered the event LIVE end-to-end. Click the pic to watch the video.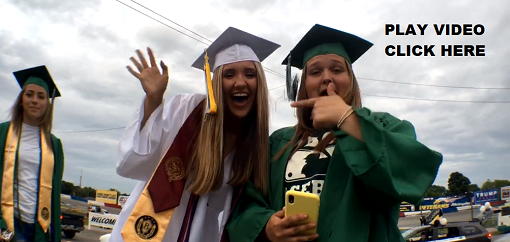 The Robertson County Scholarship Foundation has awarded 19 scholarships totaling $47,350 to graduating seniors of the class of 2021.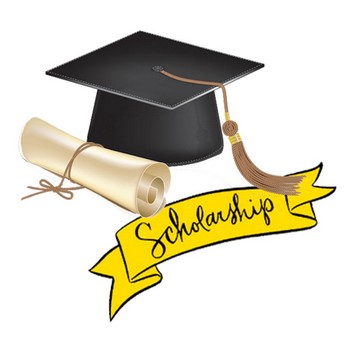 Scholarships are awarded based on student's GPA, ACT score, evidence of financial need, participation in extra-curricular and community service activities, and teacher recommendations.
New this year is the addition of the Stephanie D. Mason Aspiring Educator Memorial Scholarship which goes to a deserving Robertson County student pursuing a degree in education.
The Scholarship Foundation is privileged to assist Robertson County students by providing funds enabling them to continue their education following high school. Here is a list of the 2021 scholarship recipients:
• Talia Story, Greenbrier High School, Joe Ellis Family Scholarship
• Morgan Gunn, Springfield High School, C. W. Dean Family Scholarship
• Megan Sowell, Springfield High School, Nadine Sundell Memorial Scholarship
• Savannah Groth, Springfield High School, Northcrest Auxiliary Scholarship
• Mikayla Armstrong, Springfield High School, Northcrest Auxiliary Scholarship
• Emily Richter, Springfield High School, Federation of Women's Club Scholarship
• Halle Barnes, Greenbrier High School, Sanford Family Scholarship
• Colby Drake, Jo Byrns High School, J. W. Borthick Memorial Scholarship
• Darby Browning, Springfield High School, Morningside Achievers Scholarship
• Luke Pennington, Greenbrier High School, Springfield Rotary Club Scholarship
• Raquel Murillo, Springfield High School, Springfield Rotary Club Scholarship
• Brenner Rogers, Springfield High School, Springfield Rotary Club-VSCC/Highland Crest Scholarship
• Kenny Li- Greenbrier High School, Springfield Industrial Corp Scholarship
• Jessica Seeley, Springfield High School, Foundation Scholarship
• Zachary Logsdon, White House Heritage High School, Foundation Scholarship
• Ky'Asia Gardner, Springfield High School, Foundation Scholarship
• Keely Stewart, Springfield High School, Gary Benmark Scholarship
• Caroline Balthrop, Springfield High School, Kenna Brooke Gupton Robards Memorial Scholarship
• Mackenzie Williver, Springfield High School, Stephanie D. Mason Aspiring Educator Memorial Scholarship

3rd Saturday of each month thru October – Pleasant View's – Cruise'n N Groove'n 
Cruise'n N Groove'n at the Pleasant View Village on 41A, South of intersections Hwy 49 & Hwy 41A, Starts May 15th thru October. Times: 5pm – 9pm.
We have music, several food choices, shopping for the ladies, and lots of cars.
Each month the Mayor will select Mayor's Choice Vehicle, plus a "Pick of the Month" sponsored by O'Reilly Auto Parts.
At the October event, all six (6) Mayor's Choice Vehicles will be up for TOP pick for the year voted on by the people.
Location: 214 Village Square Pleasant View, TN 37146
For more info, contact 615-746-0600 or Jim Hutchens 615-517-1423 or Larry Rediker 615-419-5214.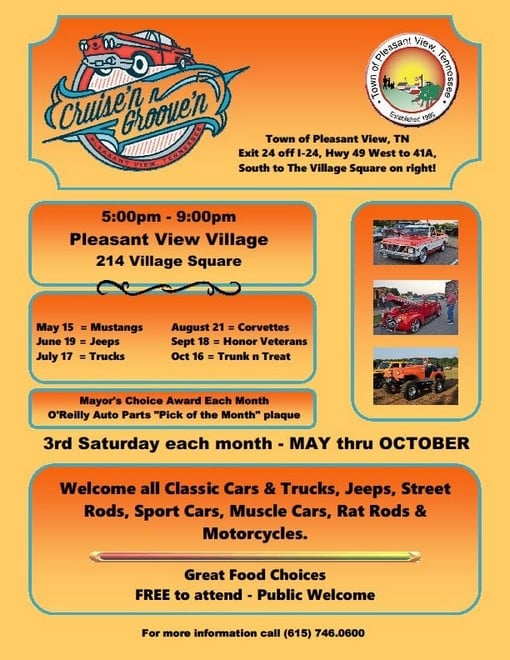 (Springfield, TN)
Stokes Brown Public Library –
Check out the calendars below for the full schedule of storytimes.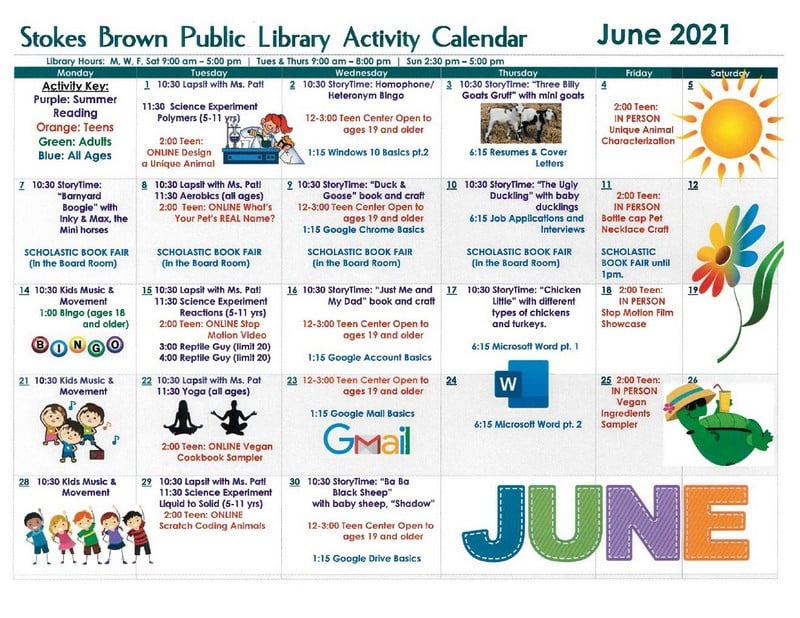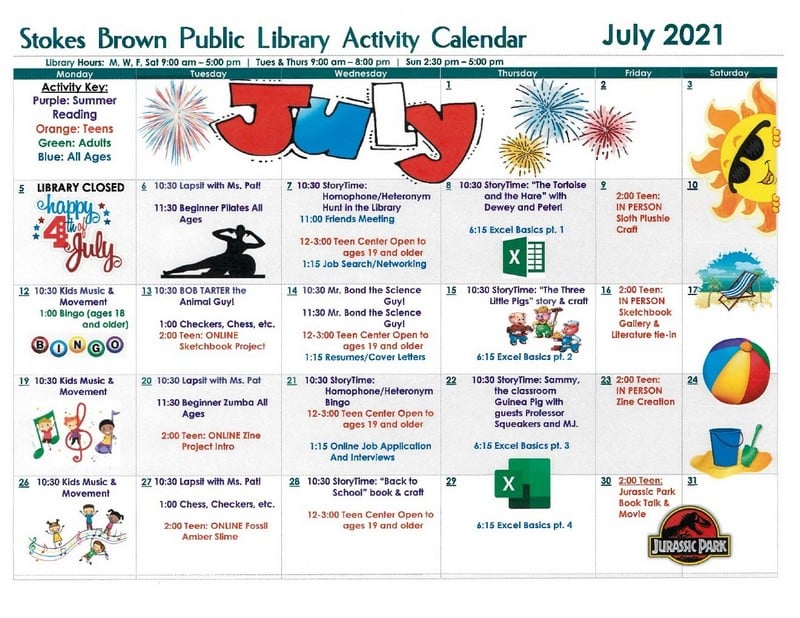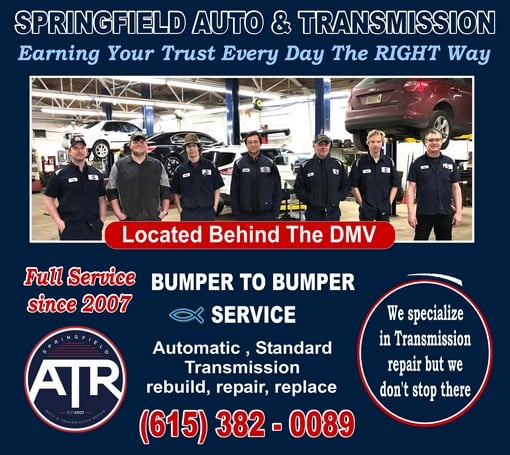 WEDNESDAYS – Farmers Market! – White House, TN 
When: Wednesdays from 3:30 PM CDT – 7 PM CDT
Come out and visit all of your favorite farmers!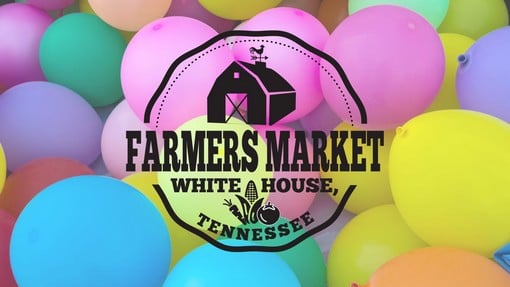 We are excited to announce that the White House Farmers Market is now accepting applications for the 2021 farmers market season!
Please visit our website at www.whitehousetn.gov/FarmersMarket to view the policies and procedures and fill out an application.
The NEW location for the market this year will be at the White House Municipal Park (located at 420 HWY 76)!
Spots will be limited this year, but we are hoping to have more than years past!
We look forward to a new and fun season this year!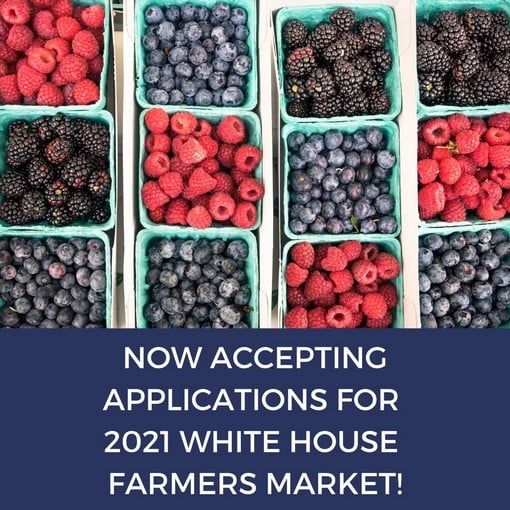 (Springfield, TN) Sponsor
Ace Hardware Springfield – We're here to help with your outdoor living!
We've got tons of grills, lounge chairs, canopies, tables, chairs, umbrellas, and more. Come see us soon!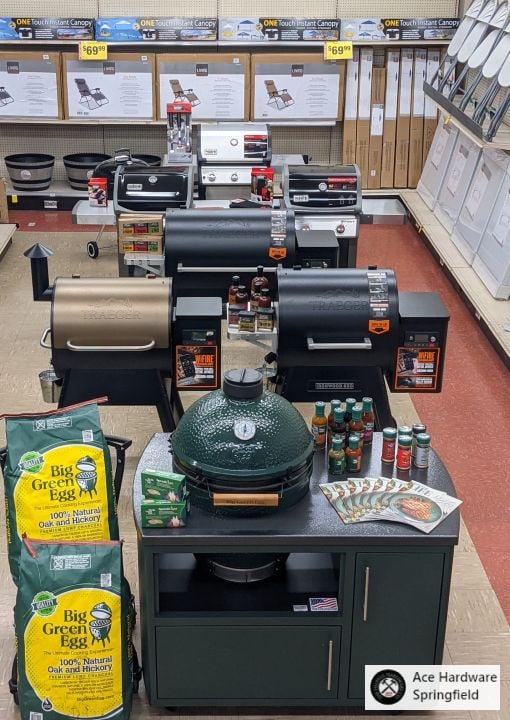 Ace Hardware Springfield Memorial Day Sale is on!
Great deals for a great day! Get into Ace and ensure your ready to celebrate!
*****(CLICK HERE TO SEE ALL SALES)*****

Got a story? Email your story ideas to our 24/7 news desk; [email protected]

JOBS: Greenbrier's Makoto Japanese Steakhouse Is Hiring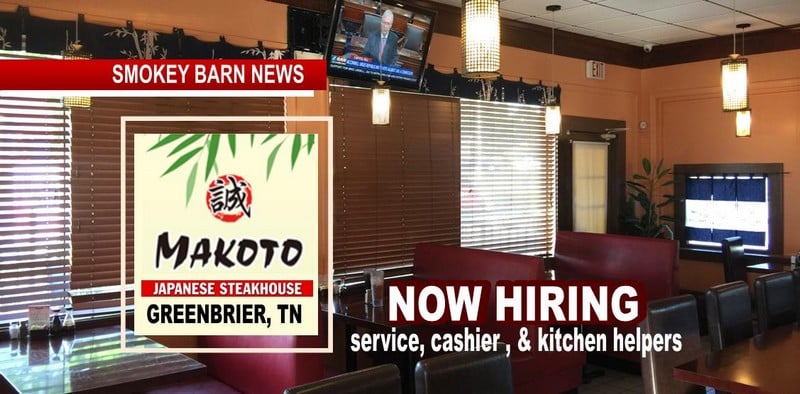 The Makoto Japanese Steakhouse in Greenbrier is hiring across the board.
Positions are open for service, cashier, and kitchen helpers.
Makoto is family-owned by long-time restaurant entrepreneurs and Robertson County residents and offers authentic Hibachi steak, chicken and shrimp, sushi, appetizers, bento boxes, kids menu, fried ice cream, and fried cheesecake along with beer and wine. Read More…

THURSDAY, JUNE 3:  Cedar Hill Farmers Market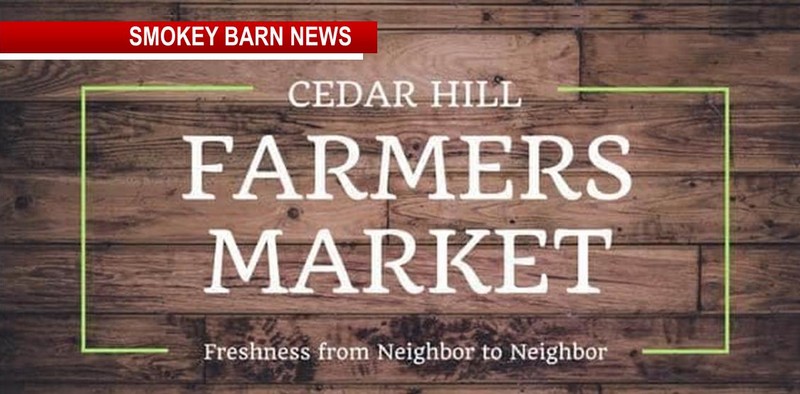 When: Thursday, June 3, 2021 at 4 PM CDT – 8 PM CDT
Runs every two weeks through October
Where: Located behind Cedar Hill City Hall: 290 S Main St Cedar Hill, TN 37032
Nearly two dozen local vendors selling produce, clothing, plants, leather products, jewelry, baked goods, knife ware, candles, decor, flowers and more. We're also excited to bring our local FFA chapter from JBHS in to assist support their program and to help shape and mold the future generations of farmers and create a long term sustainability for our Market.
Our Local Vendors:
Bellhollow Farms, Head Farms, Corbin Creek Greenhouse, Jo Byrns FFA, Gingham Roots, For The Love of Fabric, Sweet Loaves & Ivey, Hudson Barn, Roan Clay Designs, Wholesome Homemade Home, Easy Peasy Lemon Squeezy, Perfectly Imperfect Gifts by Michelle, Tennessee Keepsakes, Gracefully Plain Jane, Rampant Lion, Leathersmith, The Tree Maker, Rustique Essentials, Cedar Hill FCE, Sugar Roots Bakery.
Delicious food can be purchased from the Santa Fe Food Truck!! Picnic tables will be placed near the food truck to allow patrons to eat onsite if they'd like.
Big Mikes Little Doughnuts will be there for the perfect snack or dessert. Pick up some homemade ice cream from Heads Farm or some lemonade from Easy Peasy Lemon Squeezy.
Music will be provided by the guys from the Inglewood Old Time String Band.
You spoke and we listened. This year you'll experience expanded food truck options by alternating food trucks during markets. Santa Fe will be with us for a market each month and another always different food truck will be there for the other market during the month. Also, we've added some new local vendors and are switching several vendors out each market to ensure variety and help us keep our market exciting and fresh. We have increased our roster of local farmers and growers, so this year you'll be seeing more produce and organic products; especially as produce and other products come in and reach harvest time.
We work tirelessly to try and bring you local vendors with local products. If you are interested in being a vendor, please message me and let me know. Outside vendors are welcome, but priority will be set on local availability, range of products, etc.

City of White House, Tennessee – The Splash Pad will officially open THIS Saturday!
The hours for the Splash Pad this year will be:
Monday: 9am – 8pm
Tuesday: 2pm – 8pm
Wednesday – Saturday: 9am – 8pm
Sunday: 11am – 6pm
Weekends only after Labor Day until September 26th.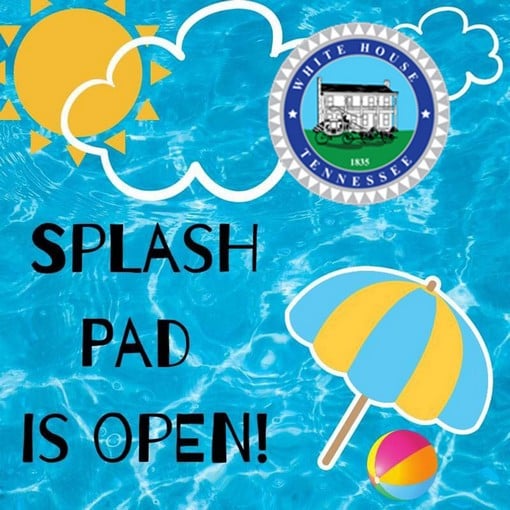 (Springfield, TN) Sponsor
Springfield Carpet One – Do your pets require unique floors made specifically with their needs in mind?
At Springfield Carpet One Floor & Home, we offer the durable and scratch-resistant floors you've been waiting for! Save up to $1,000 on pet-friendly flooring today during our Claws + Paws Flooring Sale.
Check out the details, click image below.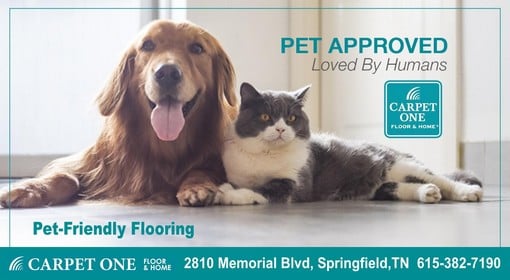 (Millersville, TN)
Millersville Public Library  – Are you ready to kick off Summer Reading with us? Join us for a Foam and Water party on June 5th in the library yard!
Enjoy some fun in the sun and sign up for Summer Reading. We'll see you there!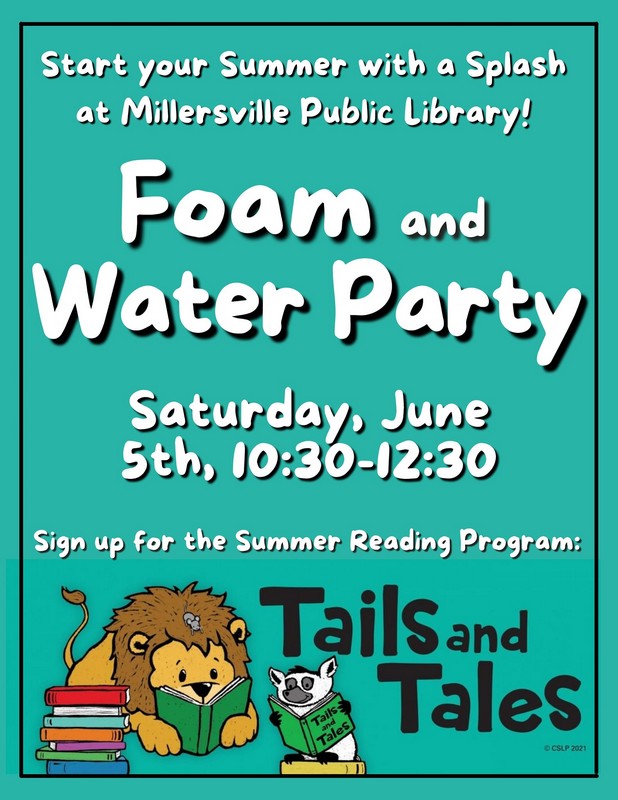 Saturday Nights…Portland, Tn – Car, Motorcycle & Truck Show
Bring your classic cars, trucks, motorcycles and everyday car and SHOW them off on Main Street under the lights in Portland, TN on Saturdays from 5:00PM to 9:00PM. First Saturday in April through the last Saturday of October.
Address: 125 Main St. Portland, Tn 37148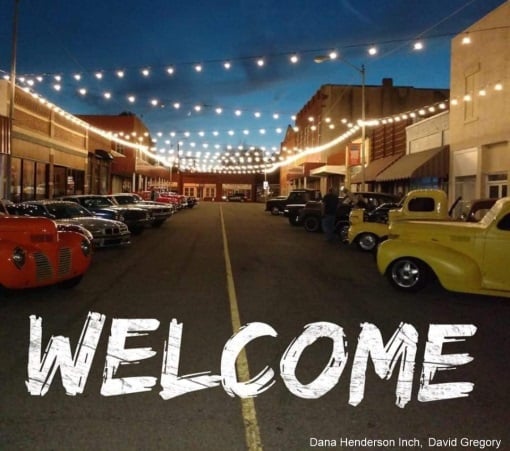 City of Cross Plains TN
The City of Cross Plains would like to say "Thank You" for your service to East Robertson Elementary School Principal Renee Fehrman.
Enjoy your retirement! You earned it!
(Pictured with husband Keith)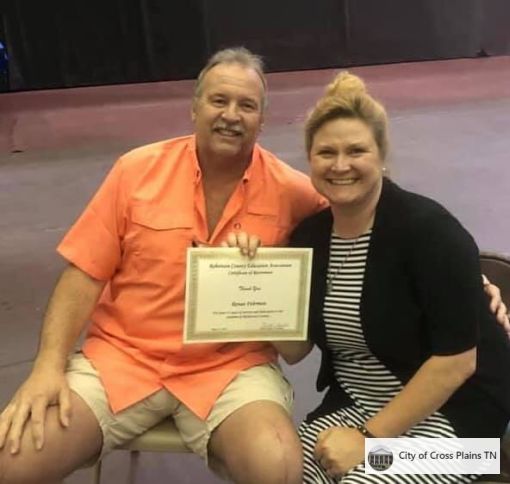 NorthCrest Medical Center Sponsor
HEART Pin Recipients
A big thank you (and congratulations of course!) goes to Amber Ozment, Care Partner, Bobbie Dye, LPN, and Rebecca Davis, RN for earning their HEART pin(s)!
Next Level HEART Pin Recipients
Join in CONGRATULATING Emily Ballard, OT Lymphedema and Holly Blake, RN on earning the next level of HEART pin recognition – the ruby pin. Emily and Holly were recognized by their patients for providing excellent care more than 25 times. Way to go!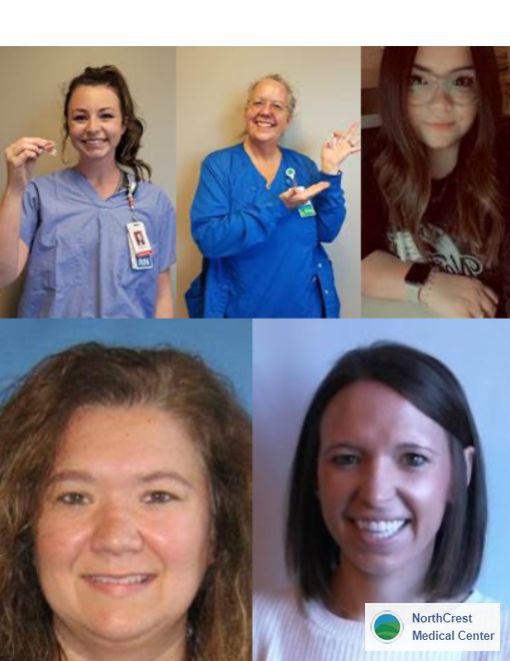 NorthCrest Medical Center – Do you know the signs, symptoms, and treatment options for strokes?
Dr. Love Anani answers all your stroke related questions in this month's Q&A blog. Click below to learn more about strokes: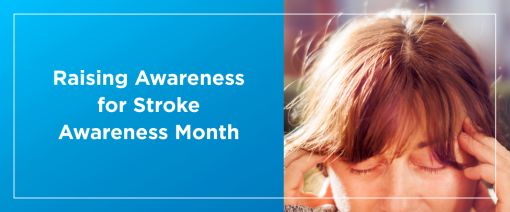 Strokes are the leading cause of long-term disability. Make sure you know what signs to look for and seek medical attention right away.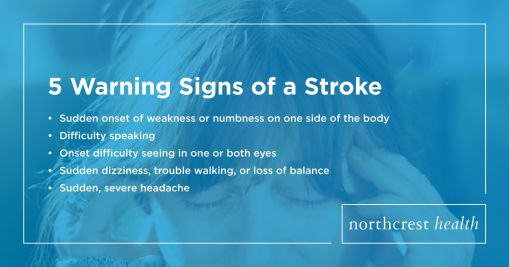 Martin's Chapel Annual BBQ Is Back, Set For June 26
The annual Martin's Chapel Barbecue tradition in Springfield, TN is back this year but with a few minor changes. Event coordinators have been hard at work trying their best to finalize plans.
"Thanks to Debbie Mayes and Holly Biggs, with Lindsay Wilson treasurer, and help from the whole community, this could not be done without everyone's help," said coordinator Brenda Wilson.
Saturday, June 26, 2021, is the big day from 3 to 7 PM at Martin's Chapel United Methodist Church located at 2046 Martins Chapel Church Rd, Springfield, TN 37172 (MAP).
"The event will not be as normal, but just glad to be back. We are so glad to be back this year! Read More…

RE: Rezoning: Cedar Hill Vice Mayor: Don't Just Hear; Listen To Our Concerns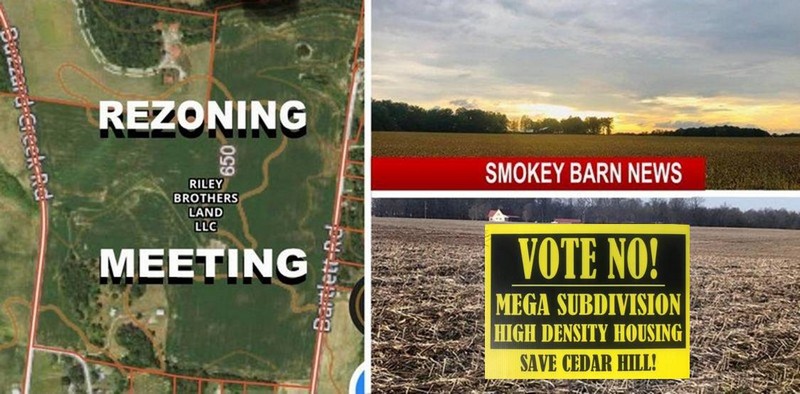 Cedar Hill's City Commissioner/ Vice Mayor John Edwards is once again expressing his concerns over the proposed rezoning of a section of agricultural farmland in Robertson County.
According to Edwards, the reasoning of the proposed site will push the home density too high for the community, see map below. In a letter to Smokey Barn News, Edwards addresses his concerns for the housing project.
"Over the last month, the small community of Cedar Hill has spoken clearly and loudly, asking the developers of a hundred+ acre property not simply to hear us but to listen to the concerns of the community. These concerns are shown by the community's outpouring of opposition to the development and by the overwhelming number of signs around the area and down main roads to illustrate the fact that this is not the type of growth our community wants or needs. Read More…

White House Public Library – Hey everyone, we are days away from our Fandomcon! June 5th
Checkout the schedule and map. We hope to see you there and remember, this event is the kick-off to our summer reading program. We will have two months' worth of programs and a reading challenge as well!

NEIGHBORING ADAIRVILLE, KY
Market Days are back on the Town Square in Adairviile Ky!
Wednesdays 12 PM to 5 PM and Saturdays from 8 AM to 1 PM. Quality products from people you know. Fresh produce market, Artisans, Crafts, Baked Goods and more…
Photos: Felicia Rivers and Kim Hayes Fowler



(Neighboring Adairville, KY) 
Sat. June 12: Adairville Fire Dept Fundraiser – Adairville City Square
Saturday, June 12, 2021 at 11 AM CDT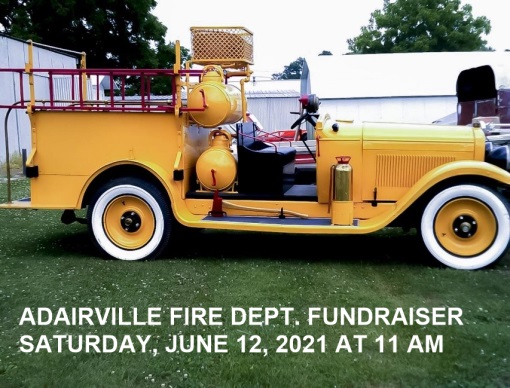 The Adairville Fire Department is having a fundraiser on Saturday June 12th. This is in conjunction with the City Market Days and the guest band, No Deposit, the city is planning on having Friday and Saturday night on the Square.
Fire Department members and volunteers will be set up on the square in Adairville selling BBQ plates (sandwich, beans, chips, dessert and a drink) Saturday June 12th from 11:00AM until they sell out. Cost of plates will be by donation. They will also offer a pound of BBQ with no sides for $9.00.
Proceeds will be benefiting the restoration of their 1927 Fire Truck. This truck is one of the original trucks that serviced Adairville. Through a journey that spanned about 20 years and several states they re-acquired it to bring it back home to its rightful place.
The department is hoping to get enough donations to have it professionally restored to the red exterior, with Adairville Fire Department lettering. As well as vintage equipment true to the original issue.
This is a project that has been in the works for several years and one that the fire department knows would make all of Adairville proud to see accomplished. So please come out and enjoy some fine food, do some shopping at vendor booths and listen to some great music.
City Chief Zach Rouse
Rural Chief Teddy Smith
And the Adairville Fire Department

Do you have a story you would like to submit?
Smokey Barn News welcomes your community news and photos. Email your story ideas to our 24/7 news desk; [email protected]

Mobile: To See The Latest Stories or to share this article, scroll below