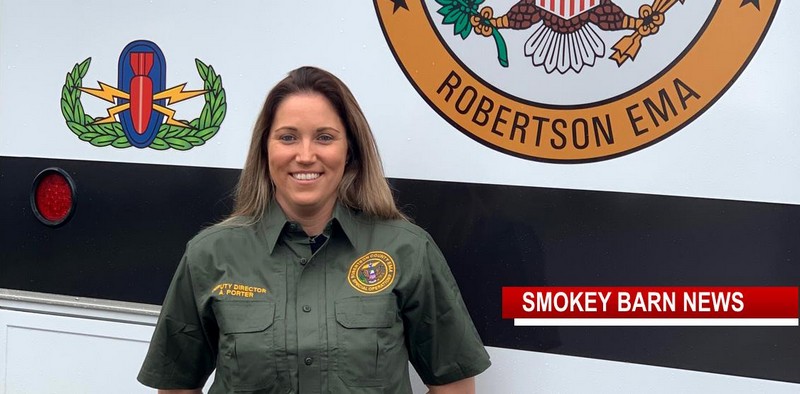 New Deputy Director Of Robertson County EMA Announced
ROBERTSON COUNTY TENNESSEE: (Smokey Barn News) – Following the retirement of RL Douglas as the Director of the Robertson County Emergency Management Agency, (full story) and the subsequent appointment of Chance Holmes as the new director, (full story) now the agency has announced that Amanda Porter will step in as the new Deputy Director following Chance Holmes.
In 2000, at age 14 while still in high school, Porter started her career with the Cross Plains Fire Department as a Jr. Firefighter. By 2004 she knew the fire service was where she wanted to be. After 4 years with the Cross Plains Fire Department, Porter transferred to the Greenbrier Fire Department where she volunteered until 2011.
Porter was then offered an opportunity to join the City of Springfield as a full-time firefighter where she would spend the next 13 years.
"Throughout my 13 years with the city, I was able to attend training and obtain many certifications that range from basic firefighting to Fire Officer 2. While employed with SFD, I also successfully completed the Advanced EMT coursework at Volunteer State Community College and began working at Robertson County EMS," Porter said.
In 2017, with cooperation and expertise former Director R.L. Douglas and current Director Chance Homes, the Robertson County Special Operations Team under the Emergency Management Agency was reactivated. (full story) While still with the Springfield Fire Department, Amanda joined the new EMA team.
After two years in a volunteer capacity with EMA, Porter has now made the leap to become the agency's full-time Deputy Director.
Over the years Porter has obtained certifications as TEMA Hazmat technician, Swift water tech, Confined Space tech, Trench Rescue tech, along with all required training through TEMA for Deputy Directors.
"I want to thank the county for entrusting me with this great opportunity. I look forward to continuing to serve the county and its residents just in a different role. I am very excited about the future of our agency and Robertson County," Porter said.
"We are very pleased to make this announcement and feel Amanda Porter will be a great asset to the agency and citizens of Robertson County. Amanda was named the role of Deputy Director effective February 24th. Porter can be reached by telephone at 615-384-2186. Her office is located at 1305 hill street in Springfield," said EMA Director Chance Holmes.